The importance of an effective NFT portfolio tracker cannot be overstated. As NFTs continue to make headlines, with some fetching astronomical prices, the need for a reliable NFT tracker has become more apparent than ever. This article delves into the world of NFT portfolio trackers, providing insights into their functionality and importance.
Just as cryptocurrencies are stored in digital wallets, NFTs too need a secure storage space. But beyond storage, there's a need for a tool that can provide comprehensive data about your NFT portfolio. This is where an NFT portfolio tracker comes into play. It not only helps you keep track of what you own but also provides valuable insights into the potential worth of your NFTs, their rarity, price fluctuations, and much more.
NFT profit tracker can provide you with a wealth of information, helping you make informed decisions about your NFT investments. This article explores some of the most popular and detailed NFT portfolio trackers available today, helping you choose the one that best suits your needs.
Remember, in the fast-paced world of NFTs, staying updated with the latest trends and market movements is crucial. And an efficient NFT portfolio tracker can be your best ally in this endeavor. So, are you ready to optimize your NFT portfolio management? Let's dive in!
The best NFT portfolio tracker apps
---
Before we go into the detailed explanations of the best NFT portfolio trackers each, let's first have a quick look at the best 3 options. After that, we will go through some of their competitors as well.
CoinStats
---
CoinStats is your one-stop hub for securely and easily tracking and managing all CeFi, DeFi, and NFT assets across multiple wallets, exchanges, and platforms on one intuitive platform. 
It offers a suite of revolutionary NFT portfolio management solutions, such as the CoinStats Midas, NFT Floor Price Alert, and NFT Collection Tracking, helping traders make fast and informed decisions.
CoinStats users can connect their NFT portfolio to CoinStats to manage all their NFTs on a single dashboard, get timely and detailed information about NFT collections, such as price history, rarest items, recent sales, owners in the last 24 hours, etc., and set price alerts and notifications on any NFTs.

CoinStats Midas is a smart and user-friendly alert system for monitoring the bustling NFT market and discovering new and promising NFT collections as early as the minting stage before they pump. Midas saves users' time by filtering out the market noise and providing meaningful push notifications on their phones at the exact moment minting starts, NFT reveals happen, or whales and influencers make their next move. 
Midas' algorithm leverages the on-chain activity data and statistical significance that selects and follows the most ROI-positive wallets in real-time to alert users about best-performing wallets' collective NFT purchases. One of its standout features is the PnL checker, which conducts automatic checks every three months to ensure the tracked wallets remain profitable.
NFT Floor Price Alert is a tool that notifies you when the NFT collection's floor price changes in a way that matters to your investing strategy. Users can receive instant floor price alerts when their selected NFT collections' prices go up or down on mobile devices. They can customize the conditions and frequency of the notifications they receive. Plus, CoinStats constantly adjusts the percentages based on NFT's rank and volume to make helpful notifications. 
NFT Collection Tracking helps users quickly discover newly released NFT collections, browse their favorite NFT collections, and monitor the NFT industry without toggling between platforms. CoinStats NFT Collection Tracking provides you with real-time insights and trends, all without leaving the CoinStats platform.
Dappradar
---
Dappradar is mostly known for its amazing tracking of everything in the dApp world. Decentralized apps such as games, DeFis, casinos, dex's, and many other things all get listed there. That is how people could check what is the latest popular thing and all the already known big names. This allowed them to grow bigger and they added a wallet feature as well.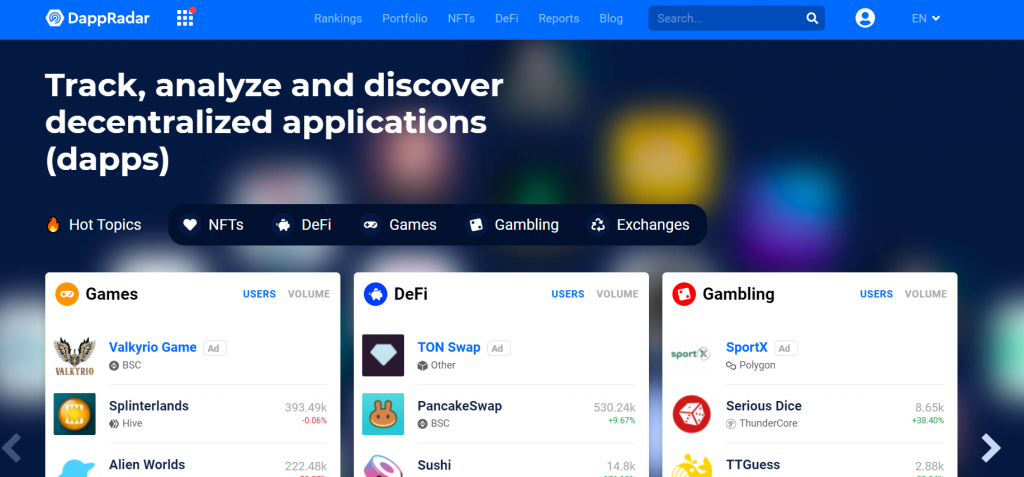 Normally this is to put your wallet in there, connect it to the website, then you get to see all of your token portfolio and their total value. Obviously, this is a marvelous feature as well for Dappradar and one that could be used with joy because it shows exactly the things you want to see. However, with your wallet connection, you also get to see NFTs as well, which allows you to check all of the NFTs in your wallet, and thanks to this feature you can constantly follow their situation.
As a place that is already loved by the community a lot even before this feature, it is clear which portfolio tracker would be the most popular one on our list. This doesn't make them the best as well, it just makes them the favorite, however just as their other features, the portfolio tracker also got a lot of love from people as well. It is definitely a great feature that you can rely on an already established website, which makes them the most trustworthy one as well.
NFTBank.ai
---
NFT bank is a bit different, it actually uses an algorithm to calculate how much your NFT should be worth. They take all the NFTs in that collection and the latest prices, calculate the rareness and the parts individually, then check your NFT and see how much it should be worth based on the market prices. This allows you to be a lot more in the know both about the market and also for your portfolio as well.
The only reason why they do not world shatteringly famous right now is the fact that the market doesn't always react the same. One thing that is commonly going for 100$ doesn't mean a rare one will go to 1000$ which is the reason why calculations are hard. NFTBank is trying its best, but for an art that is rare, it is highly difficult to calculate a price, since it's subjective in value for everyone in the world.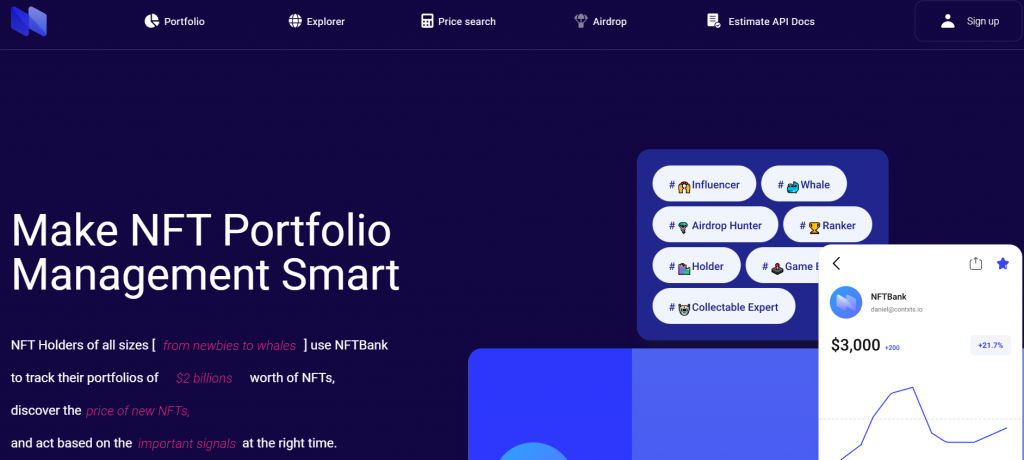 All in all, it is definitely the most high-tech NFT portfolio tracker in this group. It is highly suggested to check your NFT's value before you sell them, and NFTBank is a great way to check before you end up selling.
Bitscrunch
---
With another machine learning "AI" system, Bitscrunch focuses on finding value but also forgeries as well. In any case that you feel like what you are buying may not be original content and could be stolen art that someone other than the owner is selling, Bitscrunch is a great way to double-check.
You may know Mona Lisa, but you probably do not know every single art in the world, hence using Bitscrunch to make sure it is OG and not some fake is definitely good work. Plus they do try to search for low-priced but high-rarity NFTs for you to buy, however so far people who are a lot more active and have the capital for it ended up snatching them up a lot faster than most people. It is certainly a favorite if you are constantly online and can spend hours on the NFT market just like how a day trader works all day.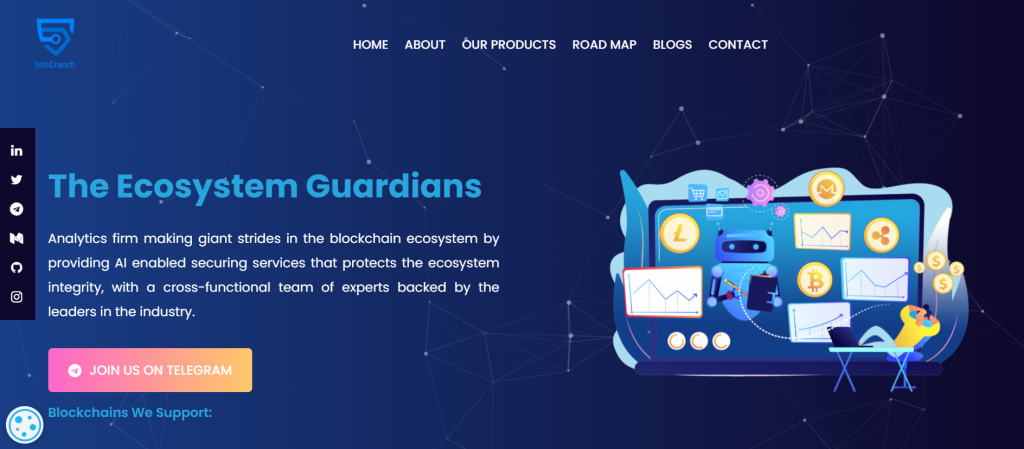 Not for the people who only buy a few and store them aside. This doesn't mean people who are long-term NFT investors can't or shouldn't use it, it just means it might be a bit overkill for everyday investors, yet it would still be understandable to use it.
Artcentral
---
With an impressive Drop Calendar and a great Leaderboard feature, ArtCentral definitely has one of the best data analytics websites in the crypto world. They do have a portfolio tracker that estimates the losses and profits as well, as a market analyzer to see how the market is going.
However, the leaderboard feature definitely helps to realize which great collector does a certain thing to get ahead. This way you get to learn from the best and can arrange your collection accordingly if you want to. Obviously just because someone made a great return doesn't mean they are well versed, it could be based on luck as well. This is why we suggest not making investments based on just other people, but also doing your own research before you buy anything.


With Artcentral you could also see all the big actions going on while it is happening, that way you get to see which NFTs go for high prices live-action just like watching a movie. It is certainly one of the most "fun" features. They also provide a sleek portfolio tracker without too many complex points unless you want to go into detail, so it makes things easier to check as well.
Where to buy NFTs?
---
If you would like to learn about good NFTs and how to find them, you can read our article regarding this topic. There are plenty of markets for NFT that you could use. For the ones in the BSC network, you could check this article out as well. For ETH marketplaces you could check out OpenSea, Rarible, SuperRare, Mintable, Nifty, Foundation, Makersplace, and Hic Et Nunc.
All of these places have their own version of how an artist could apply and how it works for the investors. Selecting a marketplace is about the reason you want to buy an NFT as it is about the marketplace quality itself. While in some of them you are just an investor trying to buy something that will go up in price. In others, you could be an artist trying to make a consistent profit on royalties for the art you lease. So it is important to pick one based on what you are looking for in the NFT world.
If you decide on what you want, and why you want to get into the NFT world, making a decision on which market you would like to use becomes easier. The most popular place being OpenSea, they are definitely the favorites for most collectors. However, they focus on mainly ETH-based NFTs, which means if you want to use another chain, then you will select another marketplace. There are situations like these that help you make your decision more precise.
Read also:
Conclusion
---
NFT market is a vast one, it is definitely very difficult to scan through it all by yourself. This is why there are portfolio trackers. It allows you to both check the NFTs you own, their rarity, their value, and the ups and downs of their price. This way you get to be on top of the situation at all times.
Most of them also allow you to check the market as well, this way you get to make decisions based on the market momentum, without being left behind. Being always active and always checking the prices and purchases could be difficult and time-consuming. With these places, you get to do that by just checking their related page.
This saves you time and allows you to be constantly aware of the market without going through every data yourself. Data analysis is definitely a growing market in the world, in all sectors. NFT market did not stay behind too long and started using it to get ahead of all the other investors. This way you will have an advantage against everyone who doesn't use these places in their decision-making process.
Frequently Asked Questions
---

CaptainAltcoin's writers and guest post authors may or may not have a vested interest in any of the mentioned projects and businesses. None of the content on CaptainAltcoin is investment advice nor is it a replacement for advice from a certified financial planner. The views expressed in this article are those of the author and do not necessarily reflect the official policy or position of CaptainAltcoin.com