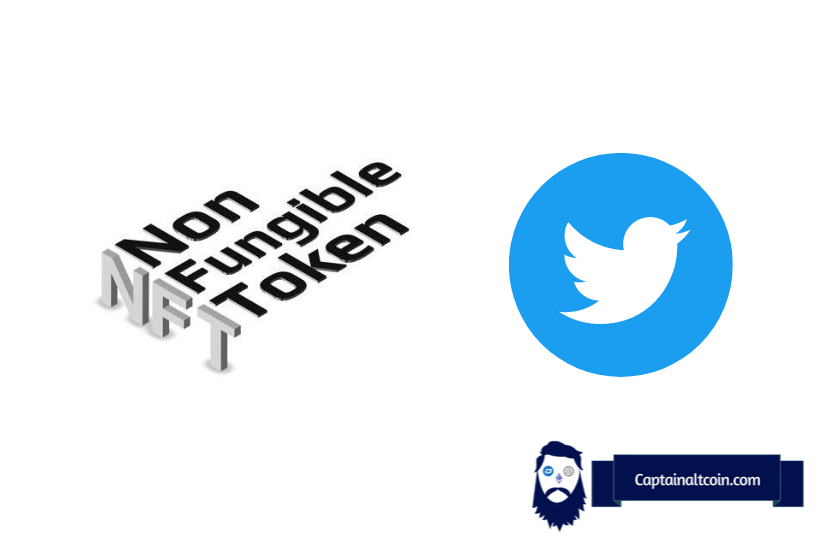 NFTs are digital artworks and intellectual property such as music, videos, images, and tweets purchased and sold via cryptocurrency. Keeping up with the newest industry developments can be difficult with NFTs becoming more popular every day which may be challenging and overwhelming for beginners.
Experts are using Twitter to educate, inspire, and elevate the community. You can also contribute to living audio conversations through Twitter's "Spaces" feature, a hosted room where you can join in and participate. These masterminds will provide you with practical guidance by tweets and threads on avoiding getting screwed in this industry. Here are the 20 NFT Twitter accounts to follow in 2022.
20 Best NFT Twitter Account to follow in 2022
---
Matty (@DCLBlogger)
---
Concerning NFT related topics, Matty is the most active user. He has been a YouTuber for 3 years which provides content about NFTs. Matty always shares education-oriented content on NFT via tweets, blogs, and Youtube videos. It is one of the few Twitter accounts to publish NFT content.
Deeze (@DeezeFi)
---
DeeZe manages a decentralized protocol called Fractional Art. Through the protocol, NFT holders can fractionalize their tokens and mint tokens in return. He specializes in photography NFTs, and he has a large gallery. His Twitter spaces also feature other photographers and top artists to educate new audiences. DeezeFi regularly holds enlightening Twitter Space discussions with NFT Pricing and Fractional Fridays.
Beeple (@beeple)
---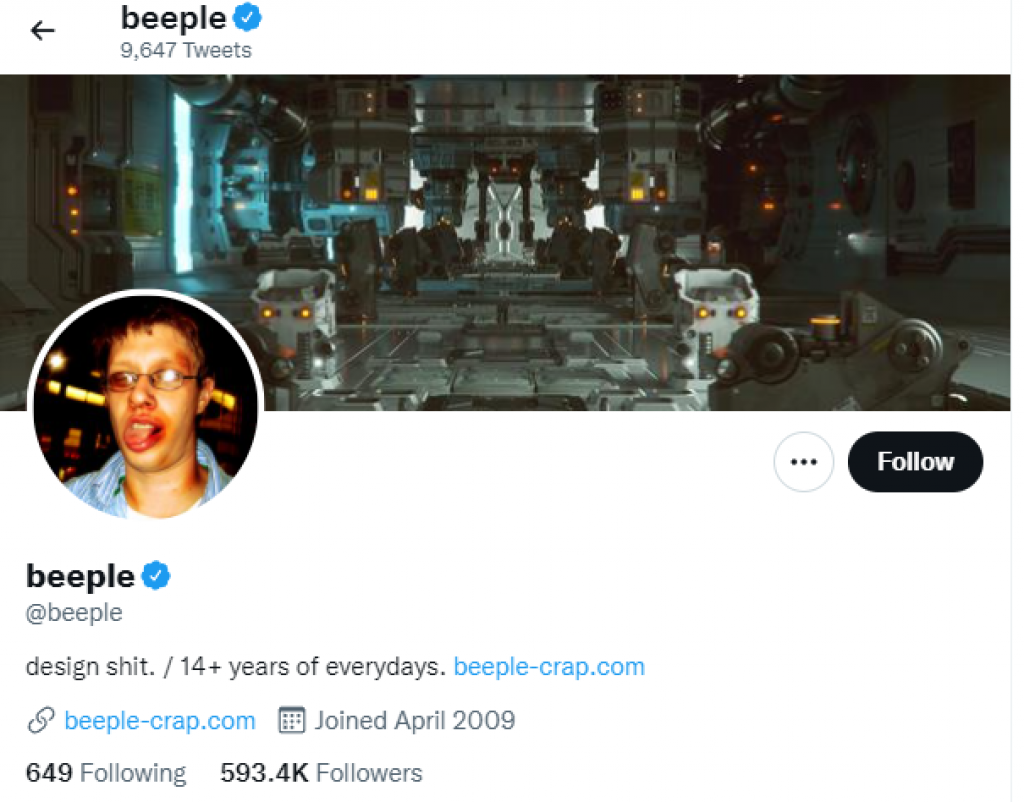 Beeple is one of the famous and vital Twitter accounts related to NFT. He is an artist that created the NFT called "The First 5000 Days," which sold for approximately 69.3 million dollars. On his accounts or through Twitter space, Beeple posts images of his NFTs, encouraging messages for other creators and insights into the market.
NFT Lately (@NFTLately)
---
The NFT Newsletter, NFT Lately, and their Twitter account cover NFT news, updates, drops, and more. If you want to stay updated on the news about NFT, then follow NFT Lately.
TY Smith
---
Ty Smith is the founder of the Coinbound podcast and Managing Director of Coinbound. In addition to expressing his opinions on blockchain-related events and explains how he sees NFTs fitting into the larger picture through his Twitter account. By managing the agency where some of the most influential brands in the NFT world were represented, TY Smith gained valuable insight into the world of NFTs.
Cryptobaristas
---
The team of crypto-baristas has one mission, to open an NFT-funded cafe in NYC, which has already gained a lot of attention in the space community. For all coffee lovers, Crypto Baristas is the project for them. They gain caffeinated benefits for life. Their plans include opening more physical locations, possibly opening a roastery and education space in New York City, and perhaps working with a Honduran coffee farm.
Rac.eth (@RAC)
---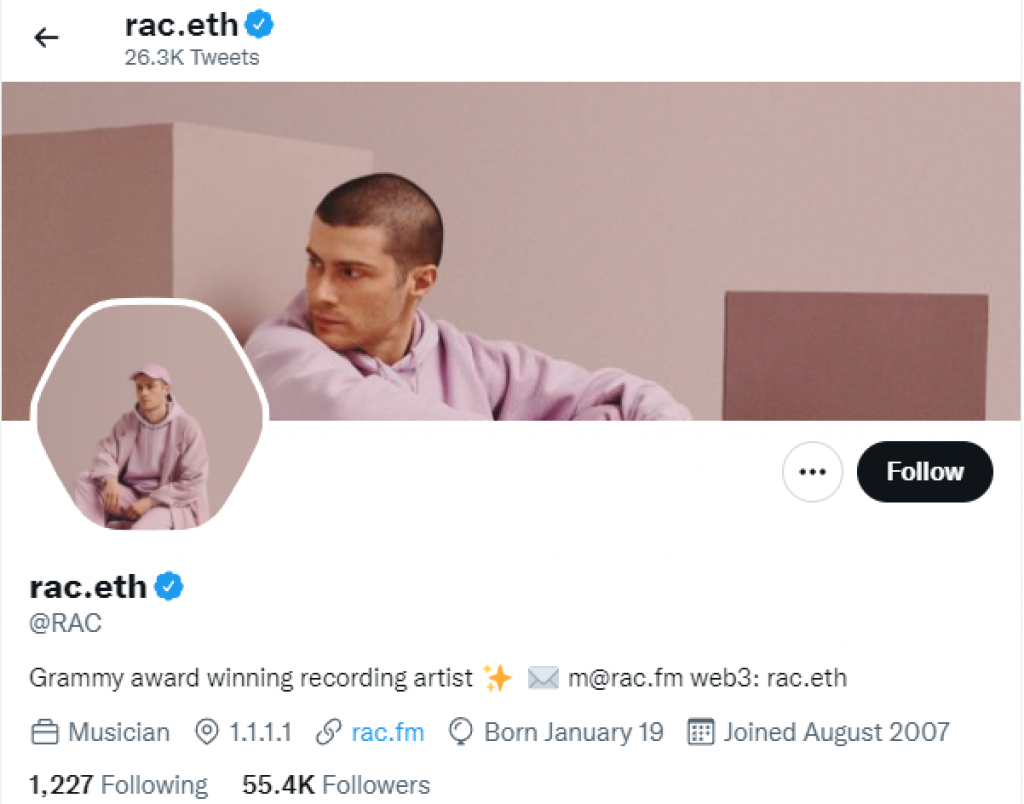 RAC has been a pioneer in shaping the music industry in the blockchain age and is a Grammy-winning recording artist. RAC said he made more money with one NFT drop than 15 years in the music business. He wrote a recent article describing NFTs, the blockchain, and the shift from web2 to web3. A must-follow for anyone who likes music, NFTs, and the blockchain.
j1mmy.eth
---
J1mmy.eth (Jimmy NMcNelis) is the co-founder and CEO of nft42. Furthermore, he founded Dito (an enterprise cloud services provider that developed and advanced on-chain NFTs and the metaverse), Nameless (a project that partners with companies to launch NFTs), Avatars, and Tokensmart. He tweets on up-and-coming projects, opinions, and inspirational quotes.
RealmissNFT
---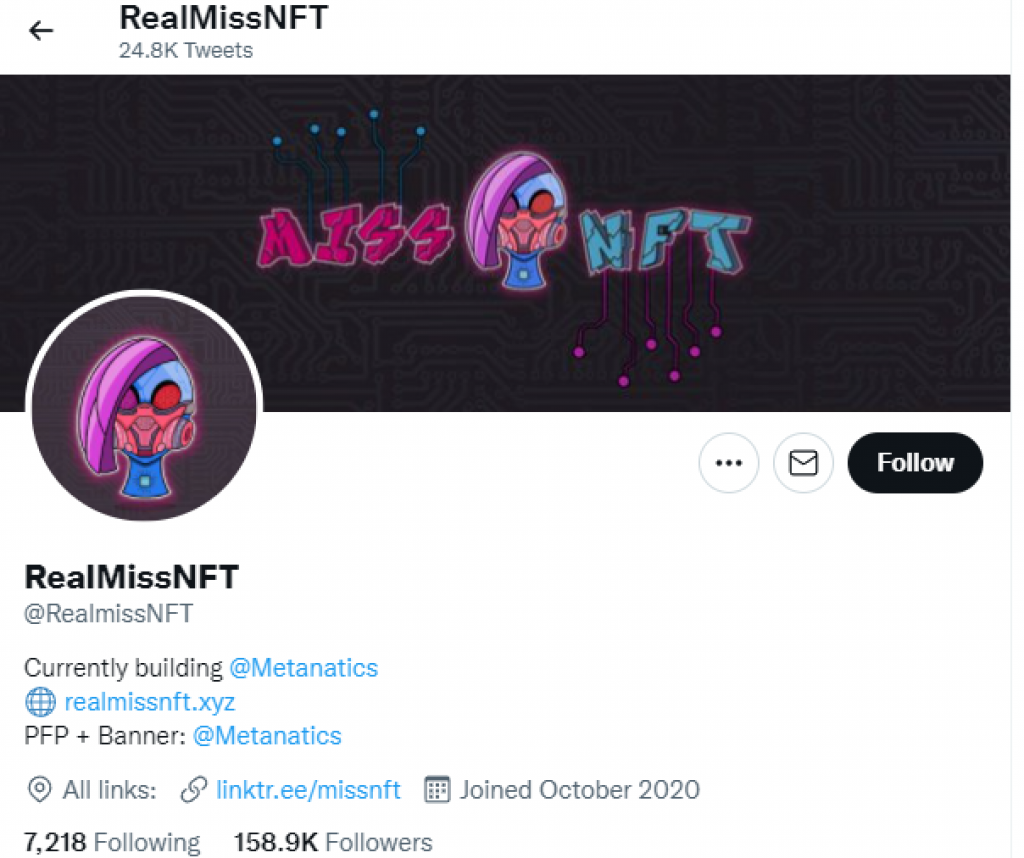 RealMissNFT is a significant advocate of NFT artists and musicians. She is a journalist for nft plazas, where she discusses trends and showcases creators of the week. As she helps many small accounts on Twitter, her daily tweets inspire many artists. Additionally, RealMiss drops several updates on upcoming NFT collections with fantastic potential.
Farokh
---
Farokh (Farokh Sarmad) founded Rug Radio on Twitter Spaces, which frequently and popularly discussed NFTs on Spaces. As a Twitter user, Farokh conveys positivity through his tweets and actively participates in discussions across multiple projects and communities in the NFT space. He is also an avid collector of Bored Apes, Cool Cats, and Cryptopunks.
NFT.NYC
---
NFT.NYC features tons of great content on its Twitter feed and is more than just a conference. NFT.NYC should be on the top of any NFT enthusiasts list as they are constantly bringing together the community for debates and discussions and feature the top minds in blockchain tech.
Nounsdao
---
Nouns focus heavily on community, governance, and treasury (Nouns DAO). The Nouns project is unique in that the funds raised through the sale of their NFTs will be used for a decentralized autonomous organization/fund, which the holders will control. Ultimately, project owners will only receive a character once several releases have been sold.
BoredApeYC
---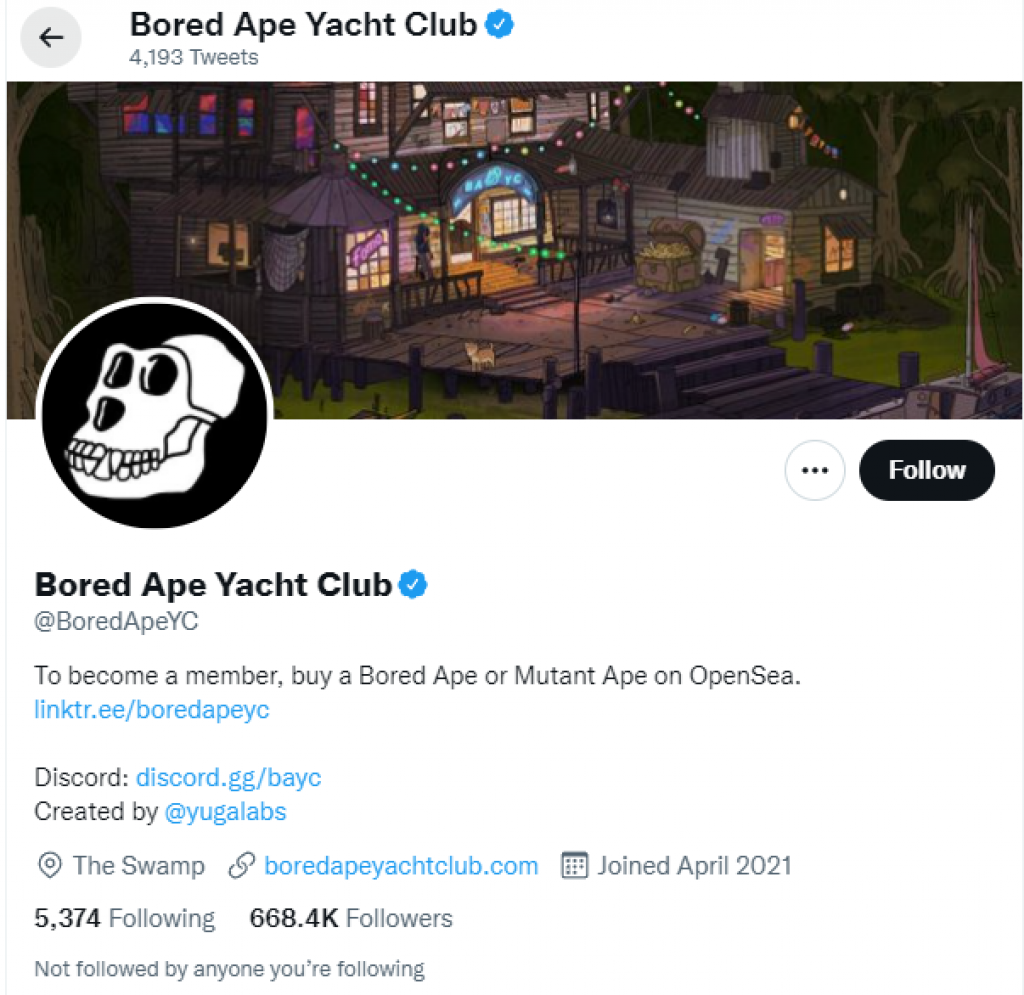 Among the hot NFT projects of 2021, the Bored Ape Yacht Club is the most talked-about one. In addition to being a generative art project, the project has attracted celebrity fans such as Timbaland and even Jimmy Fallon, who went on board. He has more than 22.8k followers.
Dikasso_
---
Dikassisso is one of the most active NFT buyers on Rarible. He's a VR and digital artist and a Pro NFT collector. Regularly, he shares projects of interest or hosts giveaways for followers. He has more than 22.8k followers.
Max Maher
---
Max has one of the most substantial followings on YouTube in the NFT space, currently with over 821k subscribers. His Twitter accounts (@maxwell_maher) also feature news on NFTS and link to his YouTube channel. Cryptocurrency and NFT are powerful topics on his channel. He's content to be very well researched, and he delivers it in a way that is easy to grasp for a beginner.
Gary Vaynerchuk (@GaryVee)
---
Gary Vaynerchuk is a speaker, author, and entrepreneur on the leading edge of everything NFTs. The VeeFriends project has allowed Gary to advance our understanding of what an NFT is and can be. On his Twitter spaces, he also continuously educates those who listen to NFTs, explaining the fundamentals and how to select appropriate projects for beginners. Gary frequently shares NFTs with other Twitter users who have not yet purchased an NFT. Over 2.7 million followers are following him.
NFT Times
---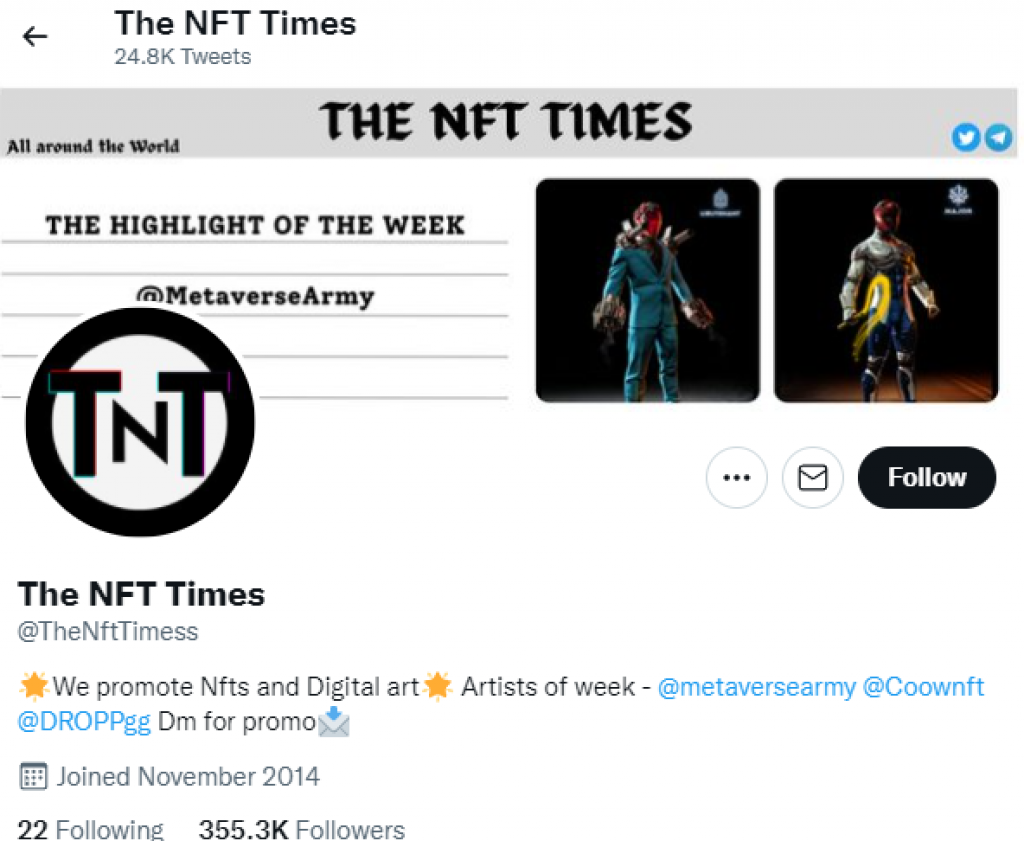 If you are just starting in NFT, The NFT Times is a great resource. What is excellent about the NFT Times is that they are solely focused on NFTs; for example, "how to promote NFT art using Twitter" and "the #1 reason you can't sell your NFTs". NFT Times will never diverge from their name; they are unique in this way.
Beanie (@beaniemaxi)
---
Beanie owns some of the best NFTs like Meta Hero, Cool Cats, and Crypto Punks. He is an investor in Web3 native protocol and a partner at Gm capital, part of a company investing in NFT and DEFI projects. He keeps you up-to-date on developments in the NFT and DAO space. Over the last couple of months, Beanie on Twitter has multiplied. Currently, he has over 182k followers.
Packy McCormick (@packyM)
---
McCormick founded notboring.co, a newsletter designed to decode the potential of companies. In total, over 100k people have subscribed. Packy believes that Crypto, NFT, Web3, and Creator economy are essential. He thoroughly analyses NFT and Solana and is a Web3 advisor at A16Z. More than 140k members follow Packy on Twitter.
Naval Ravikant
---
Naval, the founder and chairman of AngelList, firmly believes in the Web3, Crypto, and NFT communities. He is among the top tech minds in the Silicon Valley area. In addition to being liked by over 180K members, his "How to Get Rich without getting lucky" was retweeted by over 66.5K members as well. Web3 and crypto are not the only things you can follow. His philosophical perspective on life is also noteworthy.
Read also:
Conclusion
---
The Crypto Twitter community is dominated by Non-Fungible Tokens (NFT). Users of Twitter seem to have a weird monkey profile picture, and Crypto Twitter users seem to brag about buying NFT by altering their Twitter avatars.
It is on Twitter where all announcements about NFT from well-known artists, collectors, and builders are shared, and then mainstream media will catch up later. We will help you find a legit NFT project, and a great profitable NFT project you can invest in if you are interested in learning more about NFT. Secondly, you must expose yourself to the valuable NFT information that's exclusively shared on Twitter.
Frequently Asked Questions
---
Who are the biggest NFT collectors on Twitter?
---
Starry Night (@StarryNight_Cap)
WhaleSharkdotPro (@WhaleShark_Pro)
Pablo (@pablorfraile)
MetaKovan (@MetanKovan)
PAM (@cryptophilip)
Who are the NFT influencers?
---
Snoop Dog@snoopdogg with over 19.6 million followers
Mark Cuban @mcuban with over 8.6 million followers
@IAmSteveHarvey with over 4.5 million followers
Gary Vaynerchuk @garyvee with over 2.7 million followers
@kevinrose with 1.6 million followers
JRNY Crypto @JRNYcrypto with 798k followers
Alex Becker @zssbecker with 794k followers

CaptainAltcoin's writers and guest post authors may or may not have a vested interest in any of the mentioned projects and businesses. None of the content on CaptainAltcoin is investment advice nor is it a replacement for advice from a certified financial planner. The views expressed in this article are those of the author and do not necessarily reflect the official policy or position of CaptainAltcoin.com