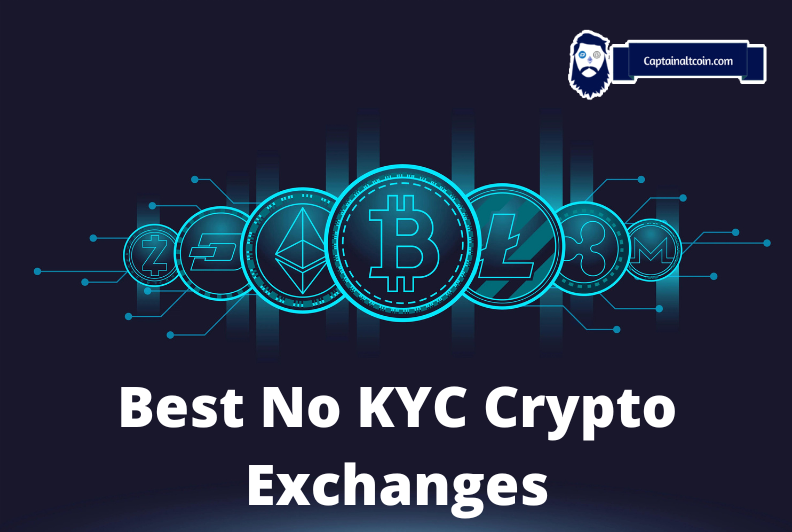 KYC: What is It?
---
KYC stands for Know Your Customer or Know Your Client in the financial world. It refers to the responsibility placed on financial institutions (or in the crypto world exchanges) to conduct specific identity and background checks on their users before enabling them to access their platform or product. It is a system of a larger package of tools that regulators around the world employ to combat money laundering and scamming.
KYC: Why Would Anyone Want to Avoid It?
---
People tend to get skeptical when they need to leave personal documents on some platform, and since KYC requires it, there are some crypto investors who like to stay anonymous and avoid verification.
Moreover, there is always a chance for human mistakes in processes that involve manual work. Due to lack of information, inadequate training, and security complications, some crypto organizations are at a greater risk of fraud because KYC checks depend on a person to authenticate the identification documents.
Finally, KYC can last for days on some platforms preventing you to use it until your verification is done. So, even if you want to verify your account on some of the platforms where that's mandatory, try to investigate how much time you will need to go through the process.
7 Best No KYC Crypto Exchanges
---
In this article, we will investigate the best crypto exchanges that do not require KYC. Based on our thorough investigation, the best no KYC crypto exchanges are ByBit, KuCoin, Binance, Phemex, FTX, Bisq, and HODL HODL. Let's go through each of them in more detail.
Best Non KYC exchanges for crypto-to-crypto trading
---
Bybit
---
Bybit is widely considered one of the leading crypto exchanges globally that were launched back in 2018. Ever since, Bybit has been climbing in the crypto world, and today, it has more than 100,000 active trades. Bybit tends to be a global exchange available in all countries, and due to this, you can use the platform in English, Chinese, Traditional Chinese, Korean (South and North Korea), and Japanese.
This exchange lets you use it without any KYC but keep in mind that you will have limited access. For instance, the withdrawal limit without verification is 2 BTC per day. If you decide to go through the verification process, then the limit will be increased to 50 BTC per day.
Please read our full review of the Bybit exchange here.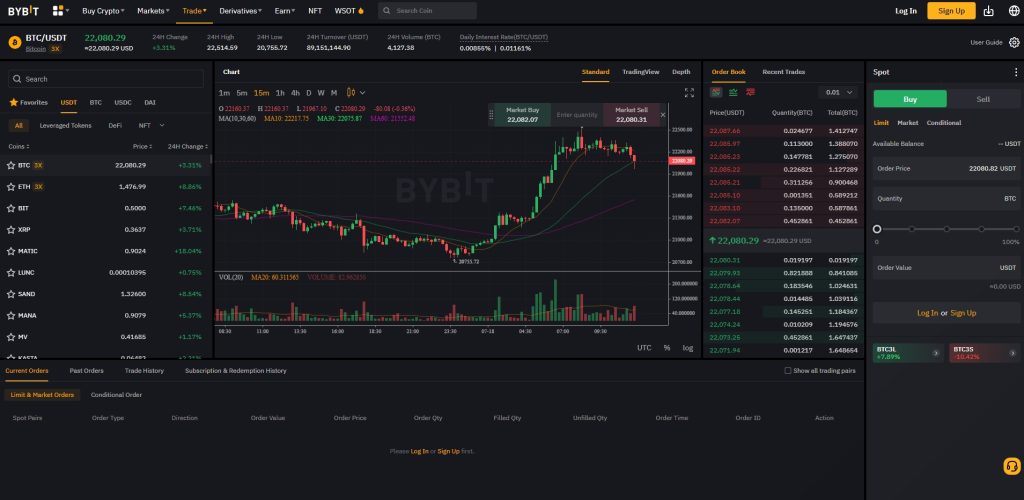 KuCoin
---
Yet another popular crypto exchange that lets you trade and withdraws without KYC is KuCoin. There are two main reasons why KuCoin is so big in the crypto world – low fees (when compared to the market's average) and a beginner-friendly user interface. Depending on your holdings over the previous 30 days, the trading costs on the KuCoin exchange drop below 0.1%. The fees could also drop as you make more transactions.
Similarly to ByBit, the withdrawal limit for non-verified accounts is 2 BTC while it can go up to 500 BTC for verified accounts.
Please read our full review of the KuCoin exchange here.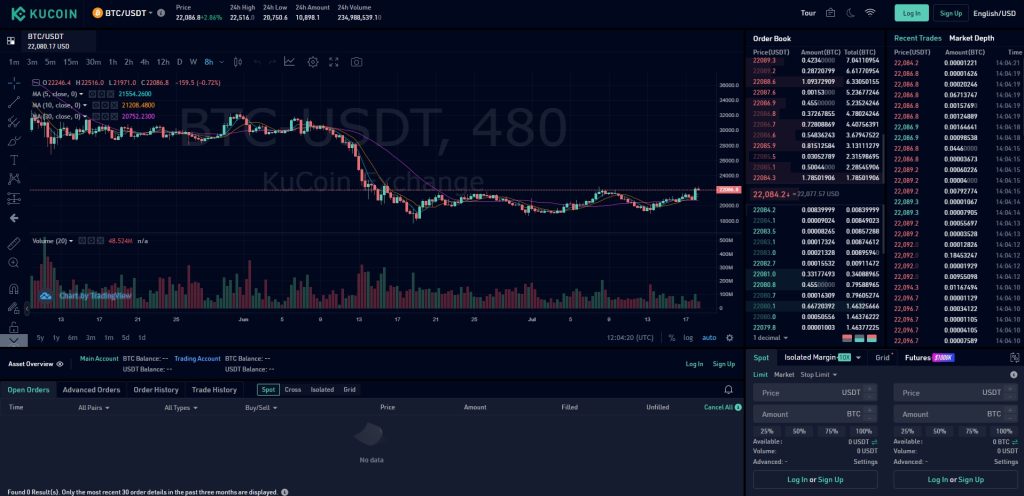 Binance
---
When we talk about the real giants among crypto exchanges, Binance is probably the first name that comes to mind. This is one of the most popular crypto exchanges, if not the most popular crypto exchange in the world. In terms of the daily trading volume of cryptocurrencies, Binance is the largest cryptocurrency exchange in the world. It was established in 2017 and has Cayman Islands registration. Changpeng Zhao, a developer who had previously produced high-frequency trading software, launched Binance.
Traders who failed to complete their KYC verification had their withdrawal amounts restricted by the Binance cryptocurrency exchange. Unverified users' daily withdrawal limit was decreased from 2 Bitcoin to 0.06 Bitcoin.
Please read our full review of the Binance exchange here.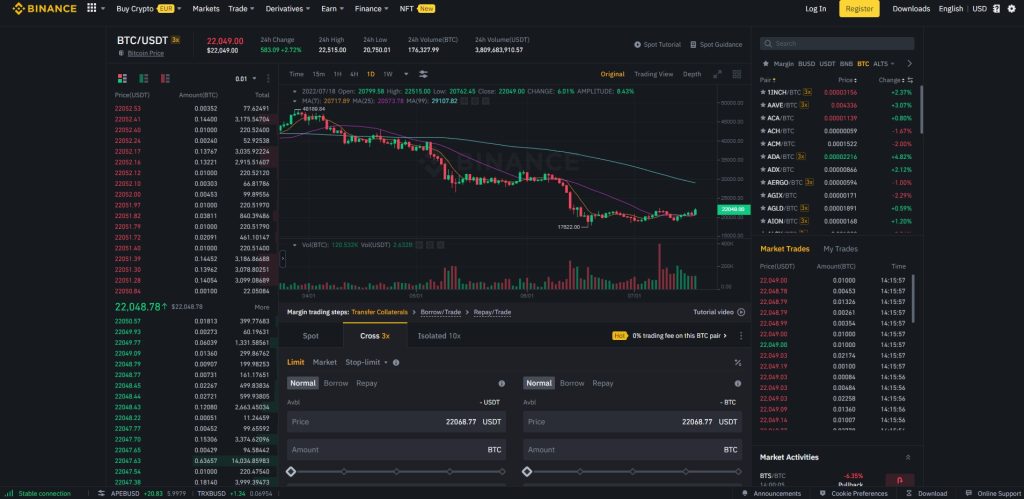 Phemex
---
The Greek Goddess of fame and good repute, Pheme, gave the bitcoin trading platform Phemex a cheerful nickname. It is one of the market's more recent exchanges for crypto derivatives that lets you trade and withdraw without verification.
Phemex Financial Pte. Ltd. is the owner of Phemex, which was launched in November of 2019 in Singapore. Their stated objective is to uphold a user-oriented approach while becoming the most reliable bitcoin derivatives trading platform in the world. Like many other crypto firms of a similar nature, the corporation is offshore and registered in the British Virgin Islands.
Similar to ByBit and KuCoin, Phemex limits you when it comes to withdrawal if you do not want to go through the verification process. Unverified accounts can withdraw up to 2 BTC per day. 
Please read our full review of the Phemex exchange here.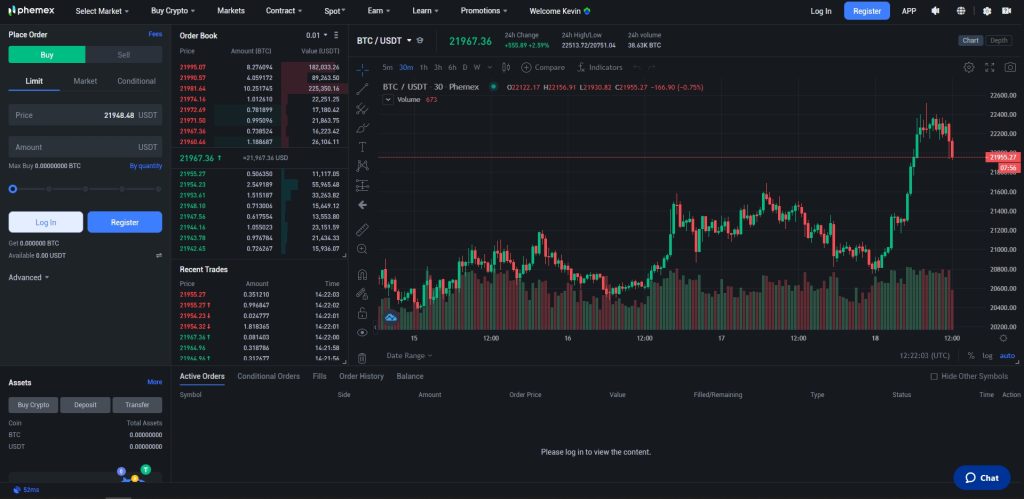 FTX
---
With the clever heading  "built by experienced traders, for traders," FTX is a cryptocurrency exchange that focuses on crypto derivatives. The high leverage token and index offer sets FTX apart from its rivals and establishes this platform in the financial world. Advanced traders particularly enjoy it.
FTX was founded in May 2019 and is run by Alameda Research and owned by FTX Trading LTD, a business registered in Antigua & Barbuda. FTX exchange operations, however, are headquartered in Hong Kong.
FTX does require you to enter personal details to use the platform (so the registration with email only is not enough), and you can use the exchange with limits if you do not go through KYC. However, unverified accounts can withdraw only crypto up to $2,000 per day. 
Please read our full review of the FTX exchange here.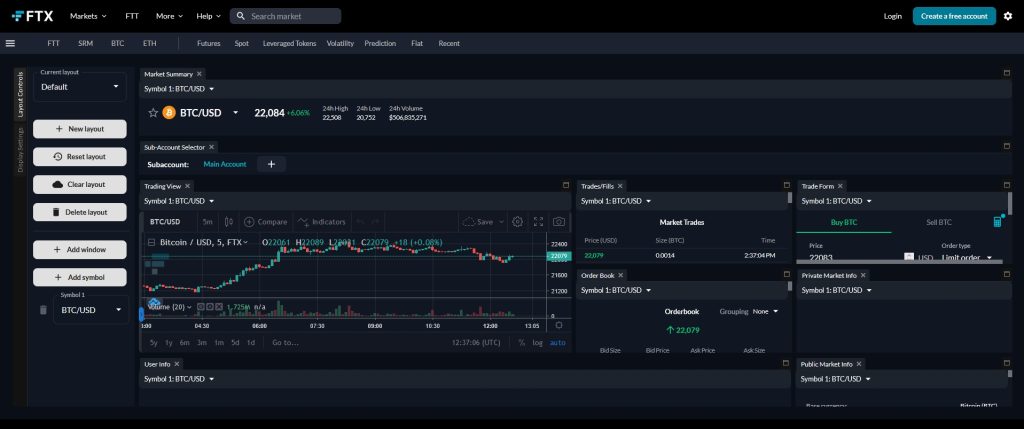 Best crypto exchanges without KYC for fiat to crypto purchases
---
Upon investigating various exchanges, I found two where you can buy crypto for fiat money without KYC.
Bisq
---
Bisq is the first one. This exchange was founded to maintain the original spirit of cryptocurrencies (above all Bitcoin), The original purpose of Bitcoin was to enable trading without relying on a centralized authority to approve or process transactions. However, Bisq does not rely on the conventional financial system, unlike other cryptocurrency exchanges with a similar goal that requires identity verification. Bisq is a DAO, or Decentralized Anonymous Organization, rather than a business.
This decentralized exchange supports various fiat currencies such as EUR, BRL, USD, GBP, CAD, CHF, SEK, AUD, THB, or NZD. Bisq is a peer-to-peer (P2P) exchange that supports pure and traditional blockchain characteristics that include decentralization, transparency, and anonymity.
Please read our full review of the Bisq exchange here.

HodlHodl
---
Similar to Bisq, HodlHodl is a peer-to-peer (P2P) cryptocurrency exchange platform that specializes in trading Bitcoin. The platform's major aim is to minimize the participation of middlemen in the transaction between buyers/borrowers and sellers/lenders.
The platform was introduced in 2016 by London-based Hodlex Ltd. HodlHodl takes pride in its philosophy of anonymity, which specifically excludes users from any KYC or AML requirements.
As a non-custodial platform, it doesn't keep any of the money belonging to its users' accounts. Instead, HodlHodl mediators facilitate communication between buyers and sellers through the platform, assuring that everything complies with their escrow policy.
Please read our full review of the HodlHodl exchange here.


Best Decentralized Non KYC exchanges for crypto-to-crypto trading
---
Let's go through Uniswap, SushiSwap, 1inch, and Thorswap in more detail since these are the best DEXes for crypto-to-crypto trading with no KYC required.
Uniswap
---
Uniswap is one of the most popular decentralized exchanges for crypto-to-crypto trading globally at the moment. This is a decentralized network protocol-based cryptocurrency exchange. The business that created the Uniswap protocol originally went by the name of Uniswap. The protocol uses smart contracts to enable automated transfers between cryptocurrency tokens on the Ethereum network.
Before actually using Uniswap, you have to connect your Ethereum wallet to the exchange.
Please read our full review of the Uniswap exchange here.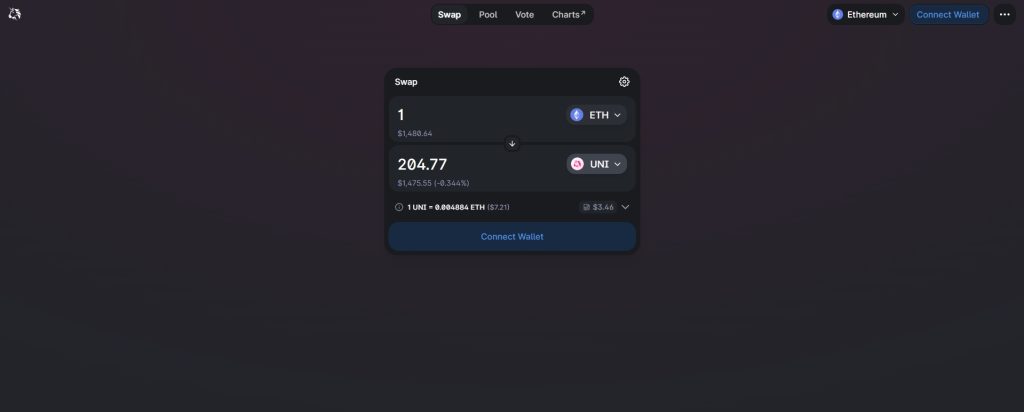 SushiSwap
---
SushiSwap is an Ethereum-based software program that aims to motivate a network of users to manage a marketplace where people may buy and trade digital assets.
SushiSwap accomplishes this through a network of liquidity pools, much like platforms such as above mentioned Uniswap. Crypto-to-crypto trading occurs when users secure assets in smart contracts, exchanging one token for another as they purchase and sell cryptocurrencies from these pools.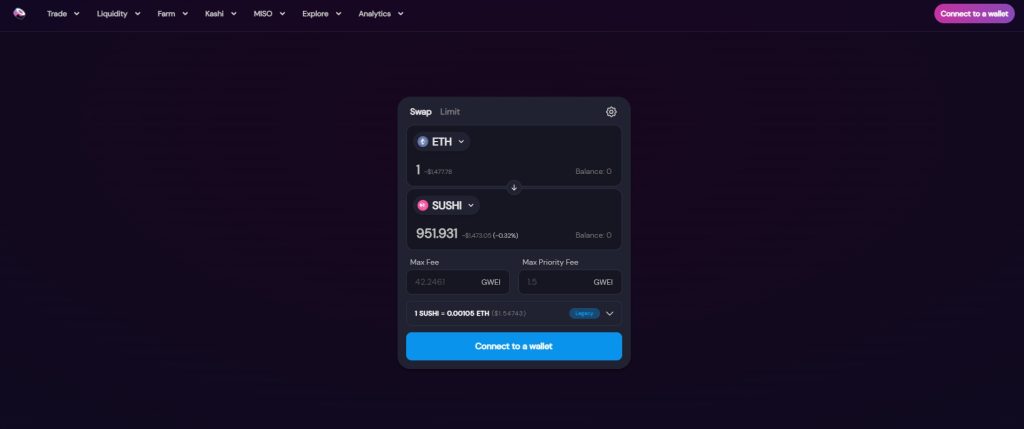 1InchExchange
---
1inch Exchange is yet another extremely popular decentralized exchange where you can perform crypto-to-crypto trading without KYC.
The 1inch exchange lists more than 20 liquidity pools, including Kyber Network, SushiSwap, Balancer, and Uniswap. Users must initially sign up by connecting to their Ethereum wallet (MetaMask,for instance), where they can deposit their contributions to the liquidity pool, lend their cryptocurrency assets to borrowers, and receive interest payments.
Users can select the assets they wish to trade and compare the best rates after connecting to the wallet. Users can test out multiple exchanges using the DEX aggregator in order to determine their preferences and maximize their profits.
Please read our full review of the 1inch exchange here.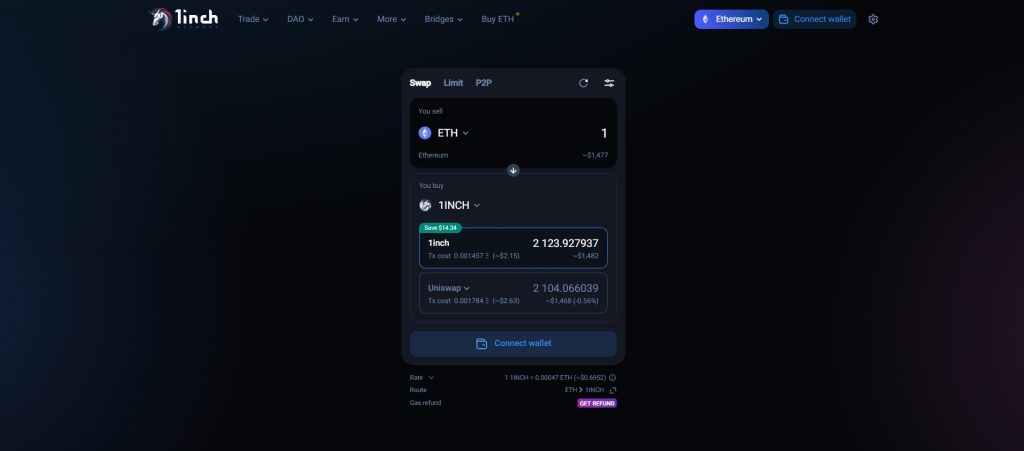 Thorswap
---
And last but not least, the decentralized exchange where you can do crypto-to-crypto trading without any KYC is Thorswap. Decentralized and non-custodial cross-chain L1 swaps between 20+ crypto assets on 5+ blockchains are currently supported by THORswap. Liquidity providers can also contribute liquidity to each underlying liquidity pool, allowing BTC holders to receive income on native BTC (no wrapped or pegged BTC necessary).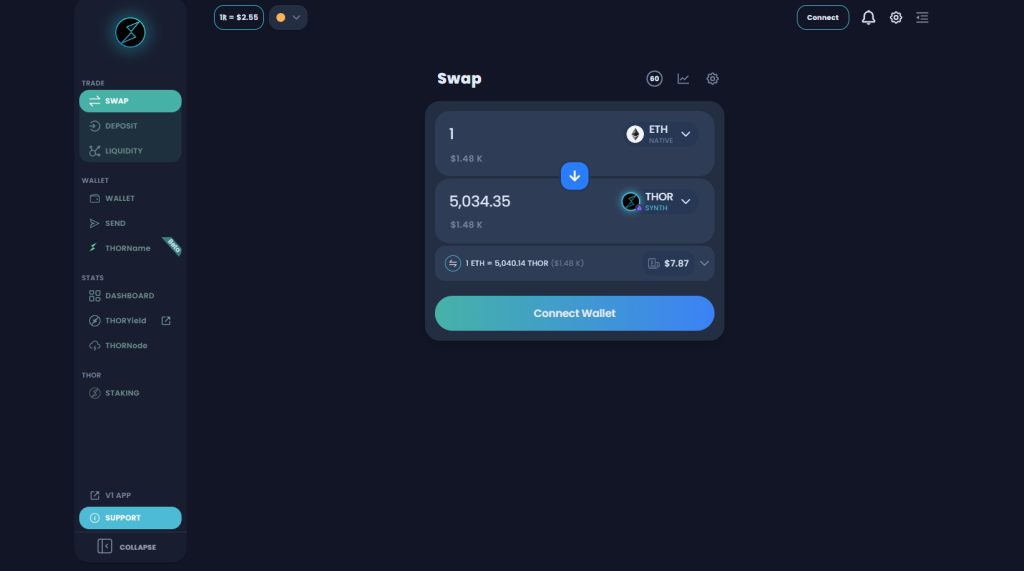 Why Does Crypto Need KYC?
---
Many firms in the cryptocurrency and financial sectors who want to continue to comply with AML regulations and standards find that the KYC procedure is essential. These financial rules contribute to creating a secure and lawless environment where businesses can grow.
Furthermore, KYC is used to prevent scammers from coming to the platform. When onboarding a new customer, it is advisable that KYC is performed, but it is best practice to repeat these checks periodically to ensure everything is in order. This kind of account monitoring allows for faster detection of inappropriate actions.
Why is KYC Important?
---
KYC can be super important for crypto platforms since the risk of onboarding users involved in money laundering, fraud, or other illegal actions like funding terrorism is eliminated via KYC processes. This is crucial when hiring someone who may be a target for bribery or corruption because of their political exposure, such as a public figure.
Is KYC Safe for Customers?
---
Because KYC is based on your biometric information and biometric verification procedures, it is impossible to track users. Keep in mind that your data is not transferred across servers or other platforms. Your personal storage space is made, and your data is encrypted. In fact, KYC has a system in place that won't put individuals through hardship.
FAQs
---

CaptainAltcoin's writers and guest post authors may or may not have a vested interest in any of the mentioned projects and businesses. None of the content on CaptainAltcoin is investment advice nor is it a replacement for advice from a certified financial planner. The views expressed in this article are those of the author and do not necessarily reflect the official policy or position of CaptainAltcoin.com