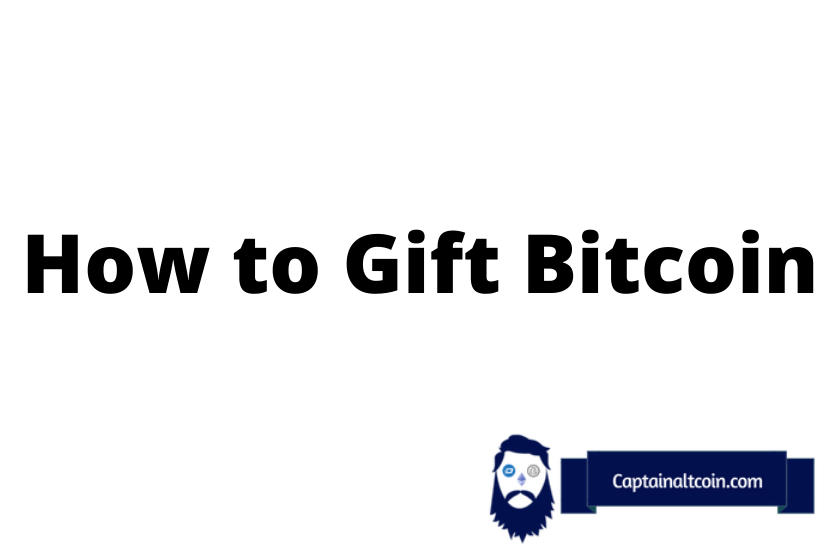 This article aims to outline how to gift Bitcoin (and other cryptocurrencies) to someone.
Don't worry if you've never bought cryptocurrency before, as we will be outlining all the steps required to make a purchase, how to gift Bitcoin, and how the recipient can sell their Bitcoin when they desire.
We will look at a few different ways to gift Bitcoin, some more personal than others, allowing you to add a special touch to your gift.
How to Give Bitcoin (and Other Cryptocurrencies) as a Gift
---
A straightforward way to gift cryptocurrency is to buy it and send it to the recipient's wallet. The only downside is that the recipient will need to have their own wallet. This method also lacks a personal touch; if you are looking to give a more personalized gift, you may want to skip to the next section.
If using this method, we recommend using Coinbase or CashApp as both of these platforms are geared towards first-time investors and make the buying process straightforward. 
How to gift cryptocurrency? If you are looking to Gift Bitcoin, we recommend Binance Gift cards; if you want to send another cryptocurrency, Coinbase is the best platform.
Binance
---
Binance Gift Cards are a new feature on their platform.
To create these electronic gift cards, simply open the Binance app and tap the "Profile" icon on the top left to open the sidebar. Then, choose "Gift Card" and enter the cryptocurrency and amount you want to send.
Great thing about this Binance Gift card is that you can gift it to anyone, regardless if they have an account on Binance or not.
You can send it via email or a unique digital code. Like any electronic gift card, Binance Gift Cards are delivered near-instantly to the intended recipient. Non-registered Binance users will need to create a Binance account to redeem their gift card.
Another big plus for bitcoin gift cards from Binance is there are no fees when you send or redeem gift cards. You read that right. You can gift bitcoin to nearly anyone, anywhere without any fees thanks to Binance.
Coinbase
---
Coinbase makes it straightforward to buy and send Bitcoin or other cryptocurrencies. They support a range of the most popular coins and accept payment via debit or credit card and some other popular payment methods, such as PayPal.
After making a Coinbase account and completing the verification process (required by most cryptocurrency platforms), you will be able to buy and send cryptocurrency to the recipient's cryptocurrency wallet by following these steps:
Login to Coinbase
Buy some Bitcoin (or whichever asset you wish to gift)
Click the send button
Choose the currency you have bought
Enter the recipient's wallet address for the corresponding currency
It's important to note that you can only send Bitcoin to a Bitcoin address; sending any other cryptocurrency will result in lost assets.
For clarity, you CANNOT send Ethereum to a Bitcoin address.
CashApp
---

If you are looking to send Bitcoin as a gift, then CashApp is a more straightforward option than Coinbase.
You can't buy other currencies with Cash App, so it's only ideal for sending Bitcoin.
You can use CashApp to give someone Bitcoin if you both have an account and both have completed the verification process to enable withdrawals and deposits of Bitcoin.
To give Bitcoin as a gift using Cash App, all you need to is buy Bitcoin through the app and then send it to the recipient's CashApp account using their $Cashtag!
It's also worth mentioning that both Coinbase and CashApp are compatible. If one person has Cash App and the other has Coinbase, Bitcoin can be sent between the two platforms using Bitcoin receiving addresses.
When using Coinbase, you can find your receiving address by heading to the request section and selecting Bitcoin. In CashApp, head to the banking tap. Select Bitcoin and then wallet to find your wallet ID.
Let's look at some more personalized methods of how to gift Bitcoin.
How to Gift Bitcoin for Holidays (or any other occasion) – 3 Best Ways
---
Craft a unique paper wallet
---
A paper wallet allows you to gift someone Bitcoin while still giving them a physical gift. Not only are paper wallets great for gifting they are also one of the most secure ways to hold Bitcoin. Making a paper wallet is quite straightforward and allows you to get creative.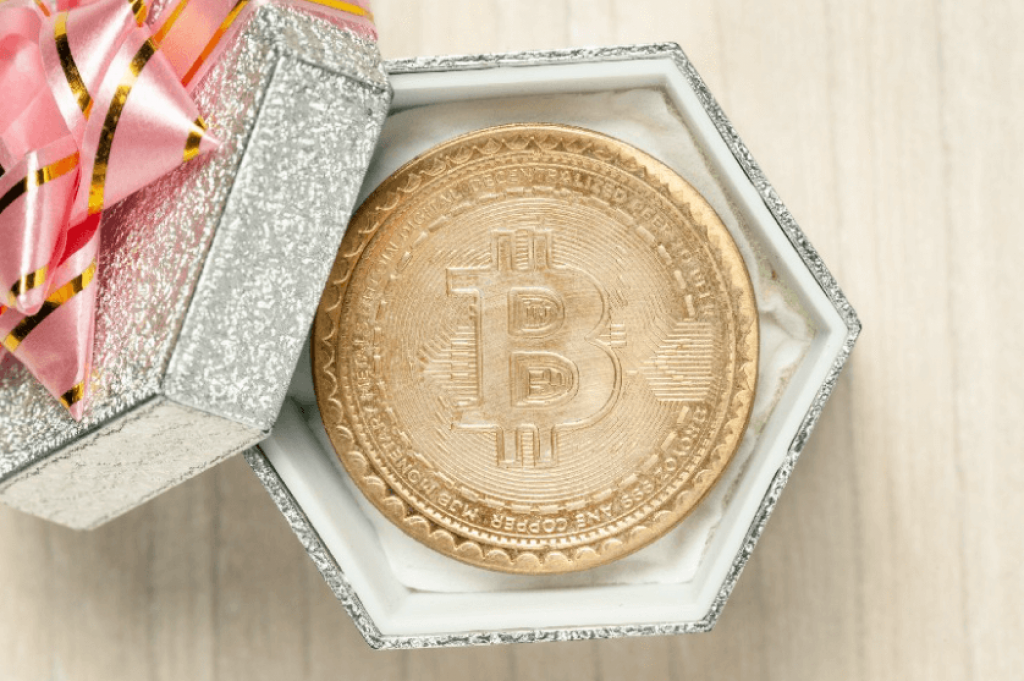 How To Make A Paper Wallet
---
Making a paper wallet is fairly straightforward. Just follow these steps:
Go to bitaddress.org.
Move the cursor around the page until the randomness shows as 100%
Click the Paper Wallet button.
In the Addresses to Generate field, enter 1.
You can make more than 1 wallet at a time, but we recommend just making 1, so you can get used to the process.
Click the Generate button.
You will be shown your paper wallet.
Click the Print button.
If you want to make a more personalized gift, you can make your own wallet and then copy the details generated in the previous steps onto the wallet you have created.
Things you will need to copy onto the wallet you make are the private key and the public key.
It's recommended you make a few copies and store the public and private keys in a safe place.
Top Tip: A good idea is to laminate the paper wallet you are giving as a gift; this way, it is protected and less likely to be damaged by the recipient.
⚡️ Load the wallet with Bitcoin
---
After you've made the paper wallet, you'll want to add some Bitcoin.
First, you'll need to purchase some Bitcoin. We recommend using CashApp as it makes the buying process extremely accessible for first-time buyers.
After buying some Bitcoin, you'll want to transfer it to the paper wallet.
When using CashApp, click send; make sure to select Bitcoin and enter the public key on your paper wallet as the recipient.
After making the transfer, search for the public key of the paper wallet on blockchain.info to check the transaction.
Transaction times will vary. Bitcoin transactions typically take between 10 minutes to 1 hour to be fully complete.
The recipient will collect their bitcoin by importing the private key displayed on the paper wallet into their platform of choice. If they are already invested in cryptocurrency, they may already know how to do this; if they are unsure, a quick google search will help them find the information needed for whichever platform they are using.
Hardware Wallets (Best Choice)
---
A hardware wallet is a physical wallet that can store assets; it is considered the most secure method of storing cryptocurrency.
Gifting with a hardware wallet makes for an extra special gift as you can also give the recipient the hardware wallet and some funds.
A great manufacturer of hardware wallets is Ledger with its top two models Nano X and Nano S.
A Ledger or any other kind of hardware wallet will be a well-received gift for any enthusiast.
Notable brands include Ledger, Trezor, and Keepkey.
Get Ledger Now Get Trezor Now Get KeepKey Now
How to Load a Hardware Wallet with Crypto
---
These instructions will assume you are using a ledger wallet; if using another wallet, you will find instructions on the official website for the hardware.
The first step is to set up the wallet. Follow the instructions that come with the wallet and ensure that you note any private keys and passwords and store them somewhere secure.
After setting up the wallet, you'll need to buy some assets, again we recommend CashApp (If buying Bitcoin) or Coinbase due to the usability of these platforms.
After buying some assets on Coinbase, or CashApp, the next step is to move them to the hardware wallet.
Adding funds to a hardware wallet may be confusing at first; these instructions are for a ledger wallet; if working with another wallet, you may want to refer to the instruction manual or find a how-to video for the wallet you are using.
Set Up the Ledger.
Get the Ledger live app and set up an account.
Plug in the ledger to your PC with the supplied USB cable.
Open the Ledger live app and log in.
Select receive on the menu.
Choose an account and select the currency.
Open the respective app on ledger live app (for Bitcoin, open the Bitcoin app, and so on).
Wait for the device to verify.
Select continue on the verification screen.
Check that the address on the ledger live app matches the address on the device screen.
Select the button on the right of the ledger wallet.
Copy the address shown on the ledger.
Go to Coinbase or CashApp, select the correct asset, and select send, enter the address copied from the ledger.
Funds will arrive on the ledger.
Get updates on the Bitcoin transaction from blockchain.info by entering the wallet address on the explorer.
Click here to learn how to stake coins on Ledger or how to send coins from Ledger. Also, read this guide in case you lost or damaged your wallet and see what do you need to do in order to recover your crypto.
Gifting Bitcoin Through Gift Cards
---
Bitcoin gift cards are perhaps the most straightforward way to gift Bitcoin, and they eliminate the complicated process of actually buying the assets yourself.
Bitcoin gift cards will typically come with a code that can be used on a company's company's website. The cash value of the card will then be added to the recipient's Bitcoin wallet.
Bitcoin gift cards will usually redeem at the current market rate.
If buying Bitcoin gift cards, it's essential to get them from a trustworthy supplier; Azteco is a great supplier of Bitcoin gift cards.
Don't Mail or Email Private Keys
---
It's important to note that private keys should not be sent via email or mail. These keys should be written down and stored in a secure place; it's recommended to make a few copies in case you lose the original password.
Can You Gift Physical Bitcoin?
---
As Bitcoin is a digital asset, it can't be gifted physically. Novelty products such as physical "Bitcoins" exist and can make for a great gift when given alongside a paper wallet containing Bitcoin.
Wrapping up – How to give crypto as a gift
---
There are many options when it comes to gifting Bitcoin.
While simply sending Bitcoin directly to the recipient's Bitcoin wallet is effective, it lacks a personal touch.
In our opinion, the best way to gift Bitcoin is to give it alongside a hardware wallet such as a Ledger or Trezor wallet.
Other personalized options include crafting a paper wallet or buying physical bitcoin gift cards.
Novelty products such as physical "Bitcoins" also make for a great gift when given alongside a paper wallet.
It's important to note down private keys and passwords on paper and store them somewhere secure, make copies in case you lose the original.
Remember, private keys and passwords should be written down and kept private.
Read also:

CaptainAltcoin's writers and guest post authors may or may not have a vested interest in any of the mentioned projects and businesses. None of the content on CaptainAltcoin is investment advice nor is it a replacement for advice from a certified financial planner. The views expressed in this article are those of the author and do not necessarily reflect the official policy or position of CaptainAltcoin.com