CoinCheck Review – Fees, Supported Countries, Deposits & Withdrawals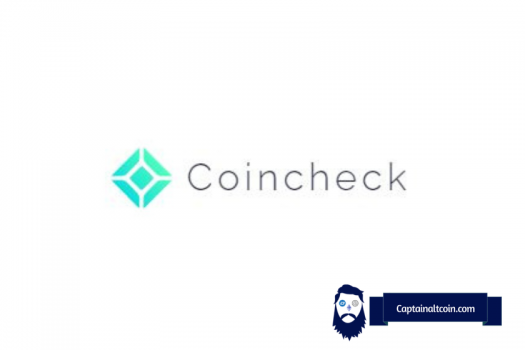 CoinCheck Review – Fees, Supported Countries, Deposits & Withdrawals
It has an attractive website interface. Also, the UI interface is straightforward enough even for beginners
It supports bank transfer and bank cards payment methods
For now, there are no fees charged on maker and taker orders
It is a strong cryptocurrency exchange backed by deep liquidity. It proved this by coming back up even after one of the biggest hacks in crypto exchange history.
It provides an intuitive mobile experience through its mobile applications on the Android and iOS systems.
Coincheck is one of the top exchanges in Asia and arguably the leading Japanese cryptocurrency exchange. It was created in 2014 by crypto enthusiasts Keisuke Wada and Yusuke Otsuka. It is ranked among the top twenty crypto exchanges worldwide and rakes in more than 200 million dollars of traded volume in 24 hours(when this article was written).
Apart from trading Bitcoin and other cryptocurrencies, Coincheck also offers services like electricity and gas bill payments in Bitcoin. Customers who use this feature get cashback in the form of Bitcoins. Also, the exchange offers rewards in Bitcoin, Ethereum, or Ripple for customers who complete surveys on the site. Through these and other activities, it seeks to establish itself as a one-stop-shop for financial activities
Being a top exchange in the Asian territories(which are known to be significant influencers of the crypto markets), it merits proper consideration. This article will take you through the depths of the exchange and show you whether or not it suits your needs.
OVERVIEW
---
It is duly registered and regulated under Japanese authorities
It provides digital wallets compatible with the Android and iOS operating systems.
It focuses more on large-cap cryptocurrencies
The Japanese Yen is the major currency. It also accepts United States Dollar
It accepts fiat deposits through bank transfers or bank cards
Crypto assets are stored in cold storage wallets
It suffered a major hack in 2018 but has since bounced back.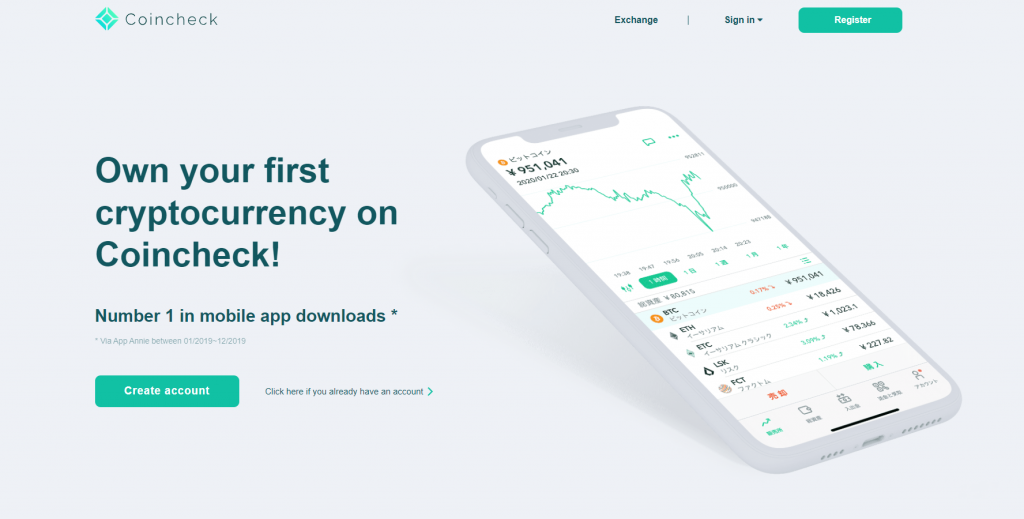 SERVICES AND FEATURES
---
BUY AND SELL CRYPTO
---
With as low as 500 JPY, you can buy crypto on the Coincheck platform and sell it afterward. There are sixteen different coins you can buy on the exchange, and the base currency is either JPY or BTC
EXCHANGE
---
The exchange is the focal point of Coincheck's services. It contains links to most of the platform's services, including OTC trading, NFT marketplace, IEOs, etc.
COINCHECK RESERVING
---
It's an arrangement by Coincheck that enables users to purchase crypto with a set amount of money at regular intervals. This type of crypto trading is known in the finance world as Dollar-cost Averaging, and it has proven to be one of the best ways to manage volatility risks over time.
There are two plans under the Coincheck Reserve. You can either choose the daily plan or the monthly plan. The amount is automatically transferred from your bank account when due.
There are 15 coins currently available under this feature, with BTC and ETH taking the lead among them. Also, the minimum amount to sign up for this feature is 10,000 JPY monthly, while the maximum is 1,000,000 JPY monthly.
COINCHECK LENDING
---
With this feature, users can lend the exchange their crypto assets for some time and gain up to 5% interest on them per annum. The service is open for all kinds of crypto as long as it's in your wallet. However, you would need to first apply with the Coincheck team, who would then examine it before deciding whether or not they would activate the program based on the amount you offered and the deposit period.
STAKING
---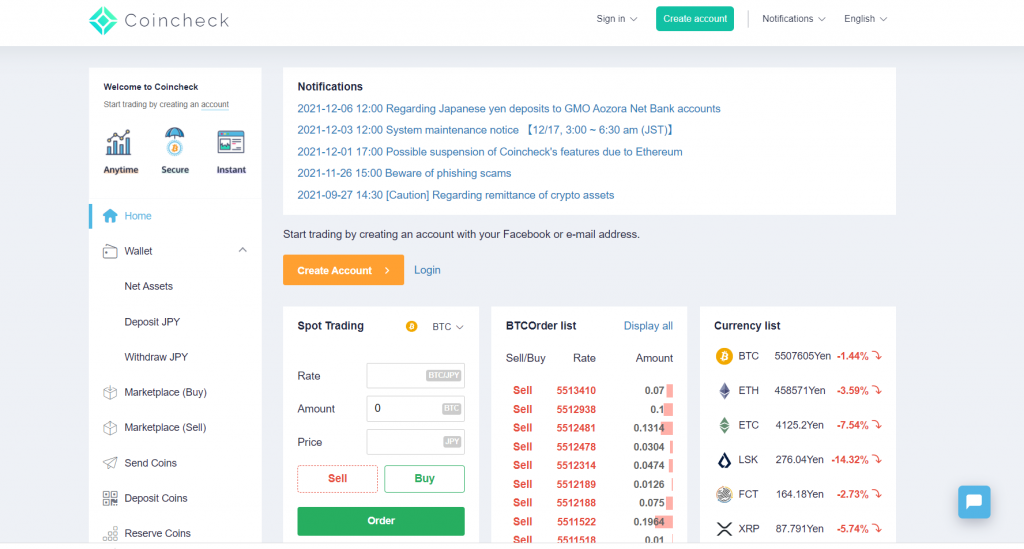 It's a similar concept to the one above because you are also putting down your crypto and gaining interest in it. However, the difference is that you are lending your coin to the particular protocol(the team) behind the coin. Thus, the interest rate may or may not be higher than that offered by Coincheck for lending. Coincheck kickstarted this process in January 2020 with LSK staking.
COINCHECK NFT MARKETPLACE
---
NFTs are big in crypto right now, and hardly would you find any significant crypto exchange that does not have an NFT branch nowadays. Coincheck has one, too, and the NFT marketplace can be accessed from the exchange function on the website. The Coincheck NFT marketplace is still in its Beta version, though, under the ERC-721 token standard on the Ethereum Blockchain.
IEO(INITIAL EXCHANGE OFFERING)
---
As the name probably betrays, initial exchange offerings are token sales that are opened and supervised directly by cryptocurrency exchanges. They have been the more reputable forms of launching new coins after many ICOs (Initial Coin Offerings) have proved to be fronts for crypto scammers. An example of a coin launched through Coincheck's IEO is Palette, an NFT blockchain platform that incorporates Anime, Manga, Sports, and Music.
OTC(OVER THE COUNTER)
---
This refers to a private deal between a buyer and a seller to trade a coin at a specific quote price that may or may not be similar to the exchange's price. Once an order is placed, the trader endeavors to deliver the assets according to the predetermined conditions. Big corporations usually use it to purchase large amounts of crypto without hassle.
COINCHECK SUPPORTED COINS
---
There are sixteen coins currently supported by the Coincheck exchange. They are Bitcoin, Ethereum, Ethereum Classic, Lisk, Ripple, Litecoin, Monero, Basic Attention Token, NEM, Factom, Bitcoin Cash, Monacoin, Qtum, IOST, Enjin coin, and OmiseGo network.
COINCHECK DEPOSITS AND WITHDRAWALS
---
Cryptocurrency deposits and withdrawals on Coincheck follow the same standards as applicable in exchanges around the world. In order to deposit a coin to your Coincheck wallet, you get the wallet address from your Coincheck account and paste it into the sender's column of the wallet or exchange you're depositing from. You don't need to pay any fee to Coincheck before depositing crypto.
To withdraw crypto from your Coincheck account, you enter the receiving address in the column provided for it when you click the 'send' button on the particular coin you're about to send. In doing so, you have to pay fees to the miners of such coins depending on the network speed and congestion at that point.
The case is quite different for depositing and withdrawing fiat (JPY). Deposits of JPY through bank transfer attract no fee, except the one customers might pay to the bank handling the deposits. However, for deposits through convenience stores, users will pay a fee of 770 JPY for deposits below 30,000 JPY and 1018 JPY for deposits between 30,000 JPY to 300,000 JPY.
For quick deposits, the following rules apply:
| | |
| --- | --- |
| Amount Deposited | Fee |
| Less than 30,000 JPY | 770 JPY |
| 30,000 JPY – 499,999 JPY | 1018 JPY |
| 500,000 JPY and above | Amount x 0.11% + 495 JPY |
JPY withdrawals in any form attract a flat fee of 407 JPY, while the fee is 2,500 JPY if withdrawing USD from the platform. Also, USD deposits attract a flat fee of $25, while deposits from banks outside Japan come with a fee of 2,500 JPY.
For NFTs, deposits are free. However, network fees would still be paid to miners. Listing of NFTs on the marketplace is also free, while there is a withdrawal fee of 0.01 ETH and a sales fee of 10% of the selling price.
COINCHECK TRADING FEES
---
Interestingly enough, the exchange charges zero maker or taker fees for trading on its platform. This is a major selling point as that is very rare in the crypto world. However, it mentions certain handling fees that it charges based on a predetermined tier and the type of currency. Therefore, those planning to use the exchange should find out more about what the handling fees entail not to be caught unawares.
DOES COINCHECK REQUIRE KYC?
---
KYC (Know your customer) regulations are implemented by most crypto exchanges around the world to fight against fraudulent and money laundering activities. Coincheck is not left behind in this aspect. We will treat the KYC regulations as we proceed with our discussion.
COINCHECK SUPPORTED COUNTRIES
---
Coincheck is accepted worldwide except for the United States of America. However, since it is a Japanese institution, it is biased towards Japanese users in terms of less strict KYC regulations and reduced deposit and withdrawal fees from banks inside Japan.
HOW TO START WITH COINCHECK
---
REGISTRATION
---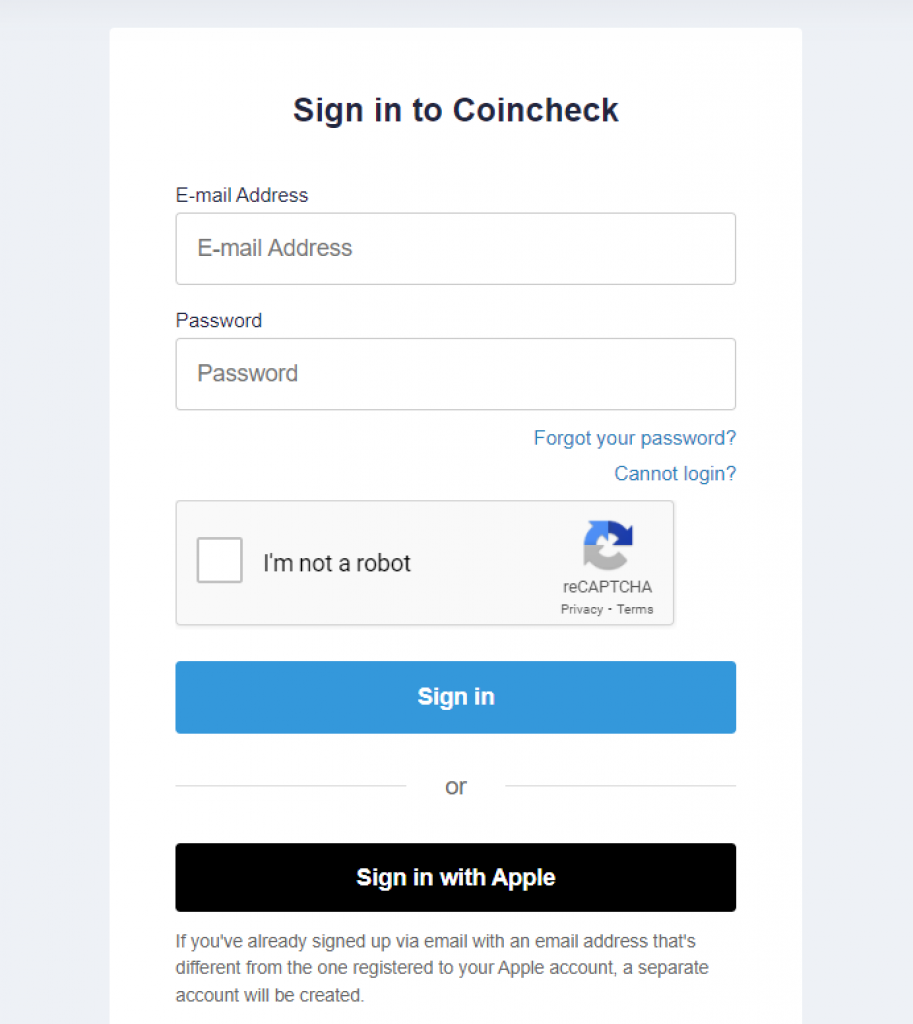 Registration is easy on the Coincheck platform. You can choose to go through the mobile application or the website. Let's say you want to go through an application; you can follow the steps below:
Download the app for free from any of the online stores compatible with your phone
Scroll down the screen and press 'membership registration.'
Provide your email address in the section provided and click 'Next.'
On the next page, create your password with which you will be able to access your account. Make sure it is a mixture of letters, numbers, and symbols. When that is done, click on 'Register.'
You would get an email at the provided email address. Open the email and activate your account by clicking on the link.
You have successfully created an account with Coincheck. The next step is verification.
VERIFICATION
---
The verification process starts with SMS verification to make sure that it is really your phone number that was put down for registration. After that, we proceed to identity verification. If you are an individual, you will need any of the following to verify your identity:
International Passport(if you are from a non-English speaking country, this is the only accepted form of identification
Driver's License
Residence Card
Special Permanent Resident Certificate
Also, you would need to take a selfie in which you are holding your identity document in clear view. Lastly, you need proof of address documents.
For corporate institutions, the following documents are needed:
A checkbook or account statement with the name of the corporate institution stated clearly as the owner of the account
A recent high-resolution copy of the company's corporate registration documents
Identification documents for the major stakeholders of the company
Selfie of the significant stakeholders of the company holding their ID documents in clear view.
Corporate Transaction Manager Notification Form.
DOES COINCHECK HAVE A NATIVE TOKEN?
---
At the moment, the exchange does not have a native token. There are also no indications of it coming up in the future, although that cannot be ruled out.
IS COINCHECK LEGIT AND SAFE?
---
Being one of the largest exchanges in Japan, Coincheck takes the security of users' funds very seriously. Consider the following security protocols (a cold wallet for instance) it has in place:
It doesn't move users' funds. They are kept safely in regulated institutions
The cryptocurrencies are stored in cold wallets, air-gapped from the online world.
It encourages user accountability by supporting two-factor authentication using either SMS or Google authentication or both. Thus, funds cannot be withdrawn without the users' consent
Ever noticed a lock symbol next to a URL link? That means the website is protected by Secure Socket Layer(SSL). This extra level of protection blocks out MITM(Man in the middle) interference and ensures no one is intercepting the information you enter on that website. If you check the Coincheck official website, you'll find this symbol there too
If you have logged in to your Coincheck account and haven't done anything on it for some time, the website automatically logs you out to prevent someone else from gaining access to your account.
However, the exchange was hacked in January 2018, and the still-unknown hackers carted away approximately 523 million dollars worth of NEM tokens. The exchange acknowledged after that incident that the hackers were able to operate because of the shortage of employees they had at that time. Subsequently, the exchange refunded all customers who suffered losses. 
The incident once again reinforced the fact that cryptocurrency trading is a very risky endeavor. Therefore, no matter how secure an exchange or wallet looks, it's best to maintain caution and not invest more than you can afford to lose.
IS COINCHECK REGULATED?
---
Yes, the Coincheck exchange is licensed. In fact, this license served to restore lost trust in the exchange and its services after the major hack it suffered in January 2018. After that hack, the exchange was forced to suspend services for a while in order to comply with the Government's directive that it should beef up its security.
The exchange started coming up slowly as it was bought by Japanese brokerage giant, Monex. It began full resumption of its activities in November 2018. Two months after that, it secured a license with the Kanto Financial Bureau under the Japanese Payment Service Act. The license was approved by the country's Financial Services Agency(FSA), proving its authenticity.
CONCLUSION
---
Choosing a cryptocurrency exchange to manage your crypto assets is a delicate matter. Is Coincheck for you? Let's do a brief recap. The exchange is based and regulated in Japan and offers various financial services, including lending, dollar-cost averaging, payment of bills, IEOs, and NFTs, among others. However, it seems to favor Japanese and Asian customers above others
It was once hacked but came back stronger, and it slowly increases the number of coins it supports. Does it sound like something that will work for you? We urge you to use the facts presented in this article to determine the answer to that question. If the answer is no, please check other articles on this website. You never can tell; you may find the one that is meant for you.
If you are not fond of the Coincheck exchange, make sure to check out our guides on other cryptocurrency exchanges:
FREQUENTLY ASKED QUESTIONS
---
Deposits & Withdrawal Methods
9.5
PROS
It has an attractive website interface. Also, the UI interface is straightforward enough even for beginners
It supports bank transfer and bank cards payment methods
For now, there are no fees charged on maker and taker orders
It is a strong cryptocurrency exchange backed by deep liquidity. It proved this by coming back up even after one of the biggest hacks in crypto exchange history.
It provides an intuitive mobile experience through its mobile applications on the Android and iOS systems.
CONS
The website seems to only be designed for Japanese customers. Not all sections are translated; even the ones that are translated are poorly done
There are complex regulatory procedures for Non-Japanese users.
It is scanty in the number of coins supported
Only two fiat currencies are supported on the platform, USD and JPY.

CaptainAltcoin's writers and guest post authors may or may not have a vested interest in any of the mentioned projects and businesses. None of the content on CaptainAltcoin is investment advice nor is it a replacement for advice from a certified financial planner. The views expressed in this article are those of the author and do not necessarily reflect the official policy or position of CaptainAltcoin.com