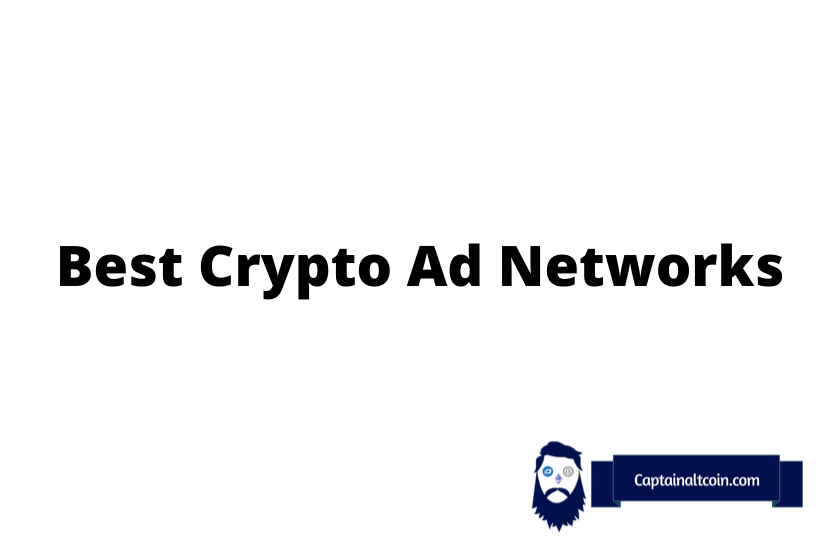 Ad networks provide service to two kinds of people. One with a website, and one with a marketing need for their project. We all know how centralized google AdSense could become. These types of places allow people who would like to see their ads on websites and those websites owners directly.
This results in many people considering crypto ad networks for their crypto advertisement. There are a lot of websites regarding crypto where you can share your ads, and there are a lot of crypto projects who pay for their ads to be shared.
It is smart to limit it to a "niche" topic so that you know your ads are shared with people who are interested in crypto. This also allows people to pay a lot less for ads since it is targeted and you get the cheaper per person compared to google. It provides more money for publishers too because instead of small amounts per visitor, you could earn a lot more per click when you have crypto-related visitors and crypto-related ads on your website.
Ad networks divide into two, advertisers and publishers. Advertisers are the people who pay websites to share their ads, and publishers are the ones who own websites and share others' ads. It is not easy to find a good amount of publishers and advertisers for your ad network.
The sector is competitive and everyone checks all networks to find the best prices. Meaning publishers will want more and more payments, whereas advertisers will look for less. This is why it is not easy to become a great ad network, finding that balance between the to is %90 of the job. Some even go as far as letting people decide themselves and do not get involved with the pricing at all.
There are even some places that provide visitors by paying people to click on ads as well. Let's take a look at some of the top crypto ad networks and find which of them have the balance perfectly, which of them focuses on what aspect, and all the small or large differences between them.
Let's check out where crypto creators can find the highest paying Bitcoin advertising for publishers.
Best bitcoin advertising networks
Bitmedia
---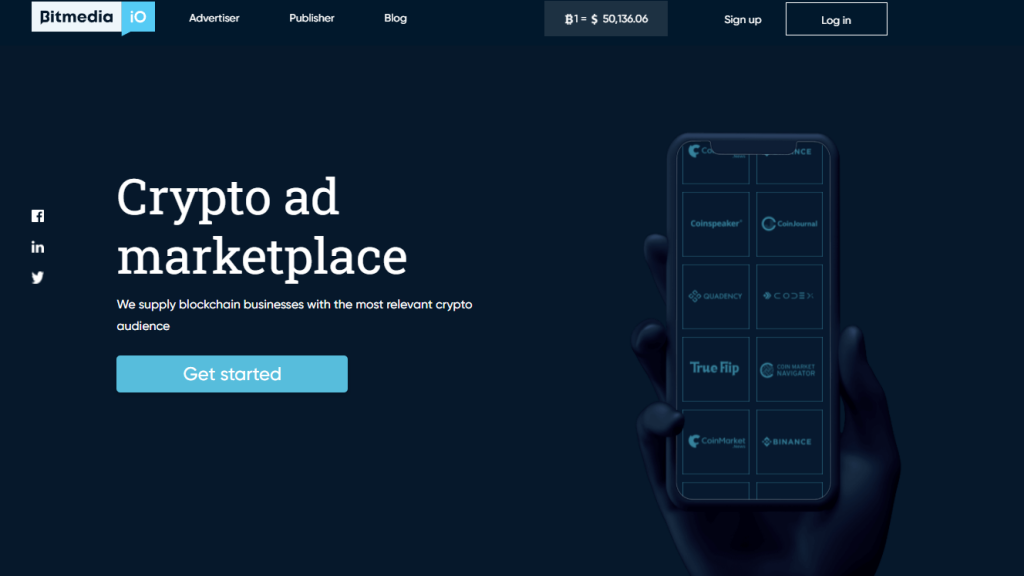 Started all the way back in 2015, Bitmedia is one of the high-end crypto ad network websites in the world. Having absolutely no discrimination against casinos, Bitmedia grew incredibly fast thanks to casinos in the crypto world using Bitmedia for their advertisements. Stake, cloudbet, betcoin.ag 321 casino and many more uses Bitmedia for their crypto-targeted advertisements.
Obviously, there are a lot more companies who use it as well, such as famous exchange okex too. There are two sides to using a crypto ad network, the publisher and the advertiser. Even though there is a big community that loves Bitmedia from the advertiser side, the publisher side is not always the same.
They have a very strict vetting process, which means that if you let your website use Bitmedia ads, that will result in you getting paid before you are vetted. This could result in Bitmedia doing a chargeback for your website and could result in a big loss for your website. It doesn't require you to do anything illegal like fake visitor numbers, which would be easily banned. However, even the simplest targeted rush such as a giveaway from a tweet that resulted in thousands to join might be red-flagged by mistake.
Overall it is one of the oldest and best websites to use for both publishers and advertisers, there could be some small problems here and there but it is certainly at the top level without a doubt.
Coin.Network
---

Coin.Network was founded in 2017. It's one of the first crypto ad networks created to help finance and crypto publishers monetize their websites through high quality, contextual ads. Coin.Network connects publishers with crypto-focused advertisers seeking to create powerful ad campaigns within the crypto community.
The network offers a complete ad stack for publishers, including programmatic display ads, a native ads network, and a self-serve ad buying platform. Their programmatic solution provides display banner placements that focus on the user experience. In addition, Coin.Network's native ad network is one of the only networks created to serve crypto native ads.
Coin.Network serves over 1B ad impressions a month. The network comprises 50M+ active users in the display network and 10M+ active users in the native network in the crypto space.
Getting started with Coin.Network is quick and easy. Advertisers and publishers can both sign up through the website. Then someone from their team will reach out to discuss next steps. After that, you're connected to an account manager (ad ops expert) who regularly takes care of the campaign performance and ad optimization.
Coin.Network is owned by BuySellAds—a privacy-focused contextual advertising platform. They sold their first crypto ad in 2013 and were the first company to enable Bitcoin ad payments for Reddit in 2014.
Ad Dragon
---


More commonly known by their website name "Dragon X", Ad dragon is a peer-to-peer advertisement network. This means they are just providing the marketplace and advertisers could speak with publishers directly or could take up on their offer. This way they remove themselves from the equation and this gives a decentralized version of ad networks.
Even though this could cause some problems in the long run, it is freeing at the same time as well. Yes, you may indeed end up with a website that doesn't provide enough clicks, yes it could be fake clicks to get paid, all of these are security concerns in a decentralized network. Yet, this doesn't mean that giving people the freedom to handle everything together instead of putting all the power in one place is a bad idea. Certainly, a unique approach that did not grow. The idea seems to be not liked by many, and with a mere 200 (not even) followers on Twitter, it is a big letdown.
CoinZilla
---
Coinzilla once was the name of freedom in the advertisement. They are still as free as it gets but there are other competitions now. Being one of the first places that accept crypto payments that allowed casinos, adult websites, exchanges and many more before anyone else did, they got famous very quickly. This allowed thousands of websites to advertise their platforms that they couldn't anywhere else before.
Allowing publishers to pick and choose who they wanted to work with and reject the ones they do not want to, it has a great dashboard that helps them as well. Advertisers getting a good amount of data from an ad network is common, but publishers usually need to rely on their own stats which is lacking data that could be dire for many publishers. Coinzilla got rid of that problem and even sends weekly/monthly reports as well.
Being crypto heaven for ads, the targeted ads end up getting very good returns as well. Working with some of the best publishers in the crypto world, Coinzilla offers advertisers to work with websites that have started from a few hundred to tens of thousands of visitors daily. Considering how the visitors are from a crypto website, the crypto project ads get equally as much interest and attention as the website they come from. With an amazing CPM and CPC model, they are definitely a great website to work with.
AdEx Network
---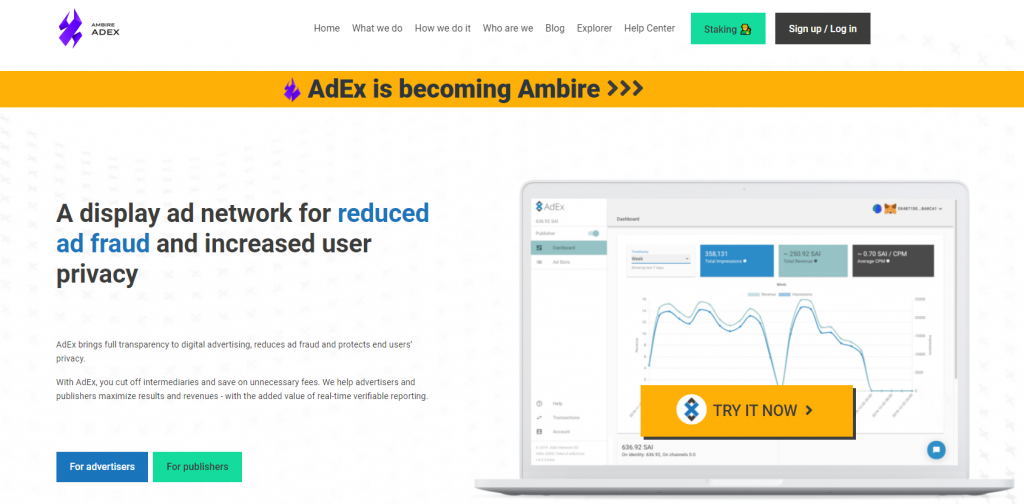 Something a little bit different and unique compared to all the websites we have seen, AdEx has a token they work with as well. This way without needing to wait, publishers could earn the amount of money for the clicks they provide with the token, whereas advertisers could use this token for getting those clicks as well. Creating a new ecosystem via their ETH-based token, AdEx aimed at creating a platform that utilizes blockchain power to decentralized ad networks.
So far the idea has not gained any traction and seems to be not seen with much interest. Obviously, it is a tough challenge and requires time to grow big when you are first out of the door. This means the idea is not totally without merit, but if you would like to use it, then you need to realize it could be good as a publisher but could be risky as an advertiser since they are not picked up by a lot of websites.
AdBit
---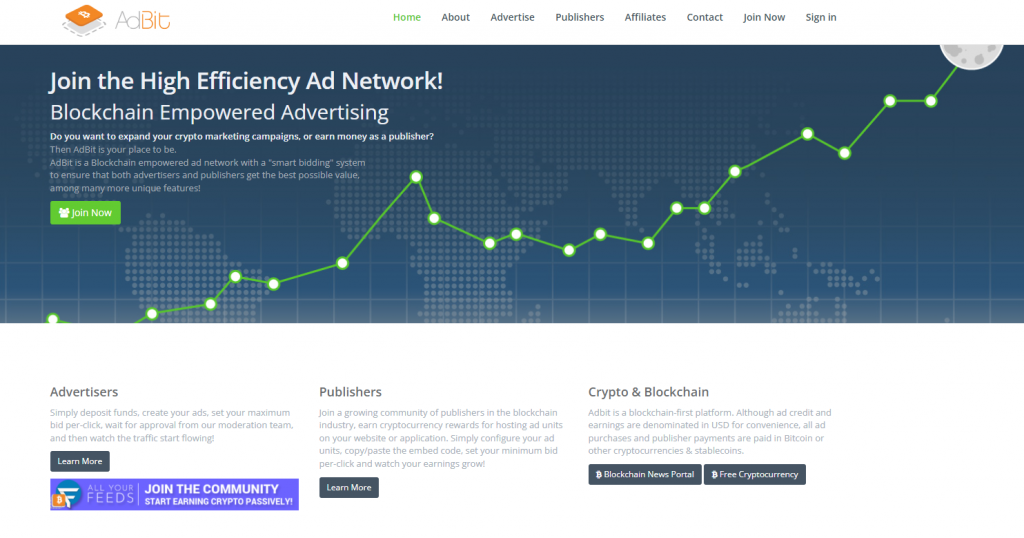 Adbit is an enigma in the crypto ad network. They claim to be one of the leading ad networks in the crypto space. They claim a lot of visitors and clicks for advertisers and yet it seems like they do not have any data to back any of this up. Making most live data hidden, they are not really providing too much safety and security feeling.
With the auction-style payments for ads, you are usually bidding against each other for something that you do not know what you will get. This type of chaos causes Adbit to be a little vague and mysterious. It also causes them to be not so much trusted at the same time as well.
On top of all of this, they also do not have a great social media presence either, their last tweet coming in June 2019, it is easy to say they are not really marketing themselves very well while being in the marketing world. Yet they still claim to be used a lot, and there are still bid wars going on, so maybe they are right and people are happy with the clicks they are getting for what they pay.
Cointraffic
---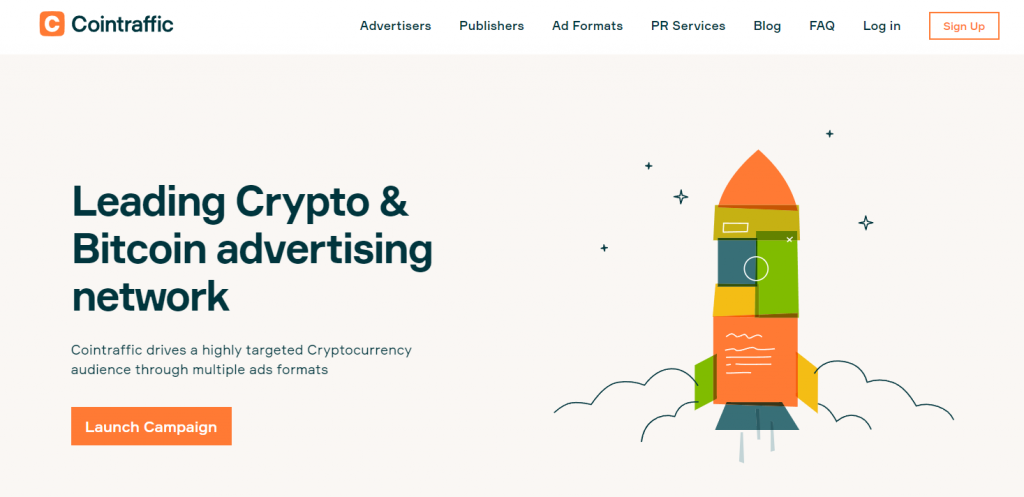 A great place for publishers to earn their best bang for the buck, Cointraffic made it their focus to help the publisher side the most. This caused a lot of great websites and countless smaller blogs to use Cointraffic. Even though it could be slightly higher than average for most advertisers to use Cointraffic, if you would like to get the best then you have to accept to pay a bit more. Plus since there are too many publishers, it is easier to find publishers fit for your price range as well. From only a few dollars a day to tens of thousands of dollars a day, there are options available for every size.
In the end, Cointraffic is one of the most known and used ad networks in the crypto world. This is mainly due to their focus on being fair towards everyone and protecting everyone's rights. In a world where injustice and indifference from ad networks, the heavy involvement of Cointraffic to help everyone and an impeccable support staff definitely helped them.
It is quite easy to start using Cointraffic if you are an advertiser all you have to do is sign up, deposit, and then pick where you want to advertise, all within a maximum of 5 minutes and you will be ready.
Publishers have a little bit more work to do, they need to provide some code in their website that checks the data and pays accordingly, but it shouldn't take more than 15 minutes, less if you are using WordPress to help you out. So between the great help, the fact that they defend your rights, and how easy it is to use, it is definitely suggested to check them out at the very least.
Conclusion
---
Crypto ad networks are not that much different from general ad networks in their work. However, it is certain that limiting the network to a niche that is huge like crypto allows these networks to grow bigger while still keeping it in a single topic.
Even though some of them are not close to the top, the main rule stands; it is not about which network but more about which publisher you use. You could be using the best network but overpay on a publisher that doesn't return a good amount of visitors, or you could use a mediocre one and end up with a lot more visitors than you expected.
This means the best case for all the advertisers is to check the website you are putting your banners in. If the website seems to be decent and passes the Alexa test, then you should be fine in whatever network you use. Since most websites use multiple networks, it would be possible to find them in most of them, especially if they are big and heavily visited websites.
Read also:
FAQs
---
Which crypto ads network is the best?
---
Bitmedia, Coinzilla, and Cointraffic are the top three in this industry. Usually, the difference between them is negligible enough that which website you advertise matters more than which one of them you pick.
What is the highest-paying crypto ad network?
---
For publishers, Cointraffic and Adbit are the top contenders. Cointraffic because it is one of the most used ones and they have a heavy focus on the publisher side. Adbit because they have an auction style of bidding for ad spaces which means you could get overpaid for a spot if you are lucky.
How do you advertise a crypto coin?
---
Just like with any other project you could advertise. You need to have banners in all sizes, then join an ad network and find the best optimum place to get your banners published on other websites. This way you get visitors clicking on that banner and come visit your website or wherever else you want them to visit.

CaptainAltcoin's writers and guest post authors may or may not have a vested interest in any of the mentioned projects and businesses. None of the content on CaptainAltcoin is investment advice nor is it a replacement for advice from a certified financial planner. The views expressed in this article are those of the author and do not necessarily reflect the official policy or position of CaptainAltcoin.com