Founded in 1982, TradeStation is a US-based stock brokerage company regulated by Financial Industry Regulatory Authority (FINRA) and Security Exchange Commission (SEC). Customers are eligible for protection of up to $ 500,000 per account (including cash up to $ 250,000). 
Moreover, the company holds a safe market reputation because of its association with the Monex Group (listed on Tokyo Stock Exchange), its long track record, and transparency in financials.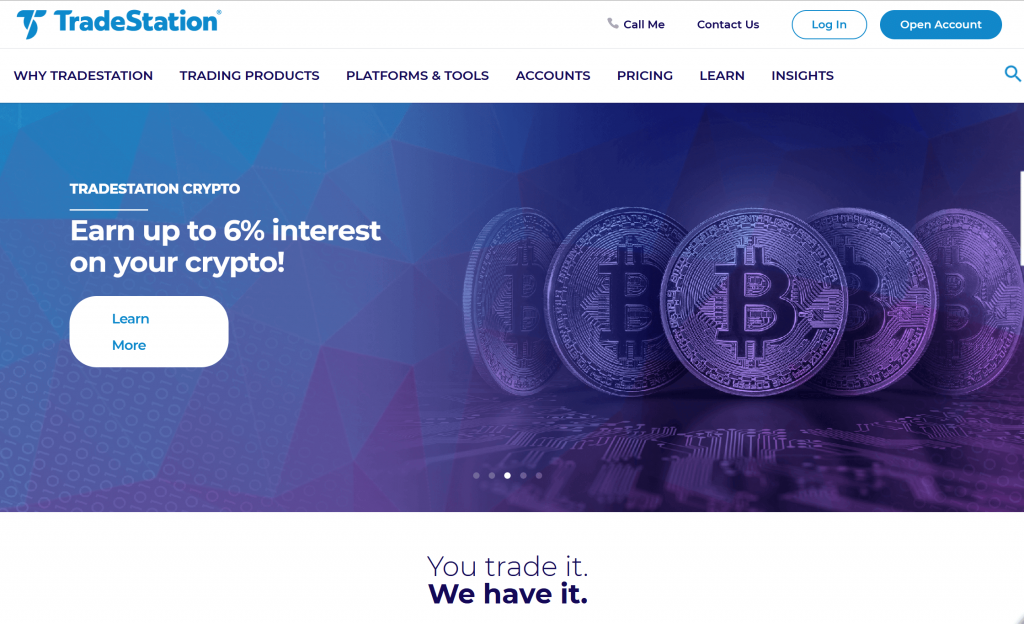 TradeStation Pros and Cons
---
TradeStation is well-known for its user-friendly and incredibly designed web and mobile platforms. Moreover, it has low stock and ETF expenses; plus, the educational section is highly organized and rich in content. 
However, customer faces inconvenience with withdrawal and deposit, as a bank transfer is the only medium. Additionally, there is no forex in exchanging and mediocre customer assistance that requires improvement.  
Pros
Cons
·         User-friendly and well-designed mobile and trading platform
·         Low stock and ETF expenses
·         Rich educational tools 
·         Inconvenience in withdrawal and deposit 
·         No forex exchanging
·         Mediocre customer assistance.
Fees
---
TradeStation is less expensive in trading fees and provides various fee structures to choose from; however, on the other hand, withdrawing the amount can be costly.
Pros
Cons
·          Low stock and ETF expenses
·         Low trading fees
·         Various fee structure choices
·         High withdrawal charges
How we rank fees?
---
TradeStation Trading Fees
---
Trading fees offered by the TradeStation are significantly low and provide an opportunity to choose from three given packages. 
Per-share: The commission is $0.01 per share, with a $1 minimum requirement. If you exchange regularly, but in small amounts, this arrangement is recommended.
Per trade: There is a fixed trade cost of $5. This structure is suggested to high-volume traders. 
Unbundled Pricing: The 'per share' option is used to price trades. Fees steadily decline if you exchange more than 100,000 shares a month. It provides the perfect solution for high-volume traders.
Stock fees and ETF fees
---
TradeStation has a significantly low ETF and stock commission. 
US residents that apply for TS GO and TS Select Scheme can avail themselves of the opportunity of ETF and commission-free trading equities. 
Moreover, check out TradeStation's margin pricing if you prefer to trade stocks on margin.
Trading on margin entails borrowing money from the dealer for trading and paying taxes on the borrowed money. This rate is known as the margin rate. It will account for a large portion of your trading expenses.
The margin values on TradeStation are very high.
Fund fees
---
The mutual fund fees charged by TradeStation are reasonable.
Bond Fees
---
In comparison to most other brokers we've looked at, TradeStation has relatively low bond fees. Nonetheless, they are better than the bond fees charged by IB.
Option Fees
---
Option fees on TradeStation are modest. There is, however, a $14.95 flat fee for engaging or being assigned an option.
Future Fees
---
Futures fees at TradeStation are modest but not the lowest on the market. Micro E-Mini contract prices were reviewed.
Crypto Fees
---
The amount of crypto fees is according to your account balance. With a higher account balance, one needs to pay a lesser amount. 
Furthermore, if your orders are immediately marketable, taker fees will be applied; however, you are accustomed to bearing maker fees if your orders are not immediately marketable.
Non-trading Fees
---
TradeStation accounts for an average structure for non-trading fees, with no account or deposit fees. Plus, the ACH withdrawal is free of cost. 
But at the same time, non-trading fees can be expensive if certain things are left neglected. Like, after one year, the inactivity fee is added. Furthermore, an international transfer of wires costs $35; whereas, a transfer in the US costs $25, which is a considerable sum of money.
If you use the per-trade fee structure, the TradeStation inactivity fee is $50 per year, concerning that your account balance is below $2000 or if you make only five trades per year. 
While using the per-share fee structure, you will be charged $149.95 per month of inactivity fee; however, the fee is waived if, 
You have ten round-turn futures and/or futures options contracts OR 
your account balance is greater than $100,000 OR 
you make more than $5,000 a month or have 50 options trade per month. 
These benefits are only offered to a high-volume active trader.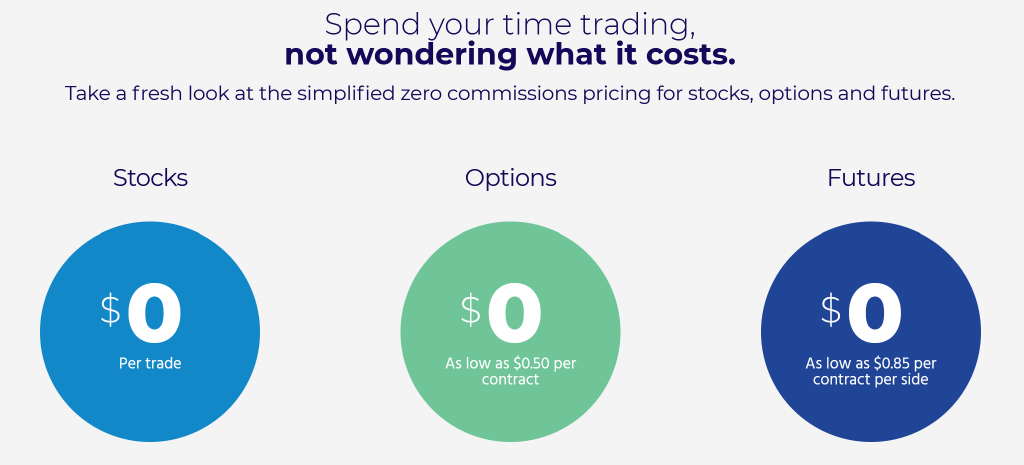 Account Opening
---
The process of opening a TradeStation account is entirely automated, easy, and fast. The only available base currency, on the other hand, is the US dollar (except for futures accounts).
Pros
Cons
· Fast
· Fully automated
· Easy to use
· Accounts must be in US dollars (unless you trade futures)
Can you open an account?
---
Despite the TradeStation being a US broker, it allows clients everywhere to avail of its facilities; however, few restrictions exist. Like, a non-US customer will not be leveraged to access all products, account types, and fee structures (such as no commission trading). 
Citizens from all countries can avail this opportunity and open their accounts; unless they belong to a country with barred financial markets, such as Sudan or North Korea.   
Read also:
What is the minimum deposit at the TradeStation?
---
The minimum deposit varies depending on the account form.
Equities accounts
A minimum deposit of $1 is required to open a cash account.
A minimum deposit of $2,000 is needed to open a margin account.
The initial deposit for a day-trading account is $25,000
The initial deposit for a futures portfolio is $5,000.
Account Types
---
At TradeStation, you can select from a variety of account forms.
TradeStation account by Tradable Products
Stocks, ETFs, bonds, trusts, and options are all available from an equity portfolio.
Futures will be accessible through a future access account. 
Future options can be utilized through a future options account. 
Cryptocurrency can be exchanged via crypto accounts. 
In June 2020, TradeStation Crypto was launched. If you already have a TradeStation account, you can request crypto access through the TradeStation Client Center. If you don't already have one, you'll need to build a TradeStation Crypto account as well as a TradeStation Securities (Equities) account. The equities account's reserves (cash) are used to trade in the crypto account.
2. TradeStation account by taxation and ownership.
Individual – account with a single authorized owner
Joint – account claimed by multiple owners
IRA – Individual Retirement Account/ Personal Saving Account (only available for US citizens)
Entity – Business Accounts
Custodial Accounts – for minors (18 to 21 years old) who an adult must supervise. 
For further information, visit the TradeStation account type's page. 
3. TradeStation account by the leverage (Margin availability)
Trading on margin is not possible with a cash account; a $1 minimum deposit is needed.
Trading on margin is permitted with a minimum deposit of $2,000.
How to open your account?
---
The process of opening a TradeStation account is fully digital and user-friendly. US brokers are unable to open the account immediately due to regulatory requirements. Despite this, TradeStation has one of the fastest accounts opening times among US brokers. The approval of your account typically takes 1-2 business days.
The following steps are required to open a TradeStation Account.
Account Setup: Choose the type of the account; plus, you can also avail yourself of the option for a personal account manager. 
Personal Information: Share personal details like name, address, and date of birth. 
Employment Information: Enter information about your employer and employment status.
Financials and Experience: This step asks for sharing previous trading experience, estimated annual income, and net worth. 
Verification: Verify the given details. Plus, TradeStation accepts a driver's license, visa, or national ID card as an identity. You may use a water bill or a bank statement as proof of address.
Deposit and Withdrawal
---
The deposit and withdrawal options on TradeStation are very restricted, as you can only use bank transfers, and wire transfer withdrawals have a high cost.
Pros
Cons
· Zero deposit fee
· Deposit and withdrawal facilities in cryptocurrencies.
· High cost for transfer and withdrawal
· Only USD account (unless trade futures)
· Credit/Debit cards are not allowed.
Account Base Currencies
---
Just USD is required when opening an equities account. The following base currencies are available for futures accounts: USD, EUR, GBP, AUD, CAD, HKD, SGD, CHF, and JPY.
But why is it important? There are two explanations for this. You won't have to pay a transfer charge if you fund your trading account in the same currency as your bank account or exchange money in the same currency as your trading account base currency.
Opening a multi-currency bank account with a digital bank is an easy way to avoid currency transfer fees. Moreover, these usually deliver multiple currency bank accounts with excellent currency exchange rates and free or low-cost foreign bank transfers. It takes few minutes to open an account using the phone. 
Deposit Fees and Options
---
There is no deposit fee for TradeStation. But, a bank transfer is the only medium. This is a bit of a letdown, but it's a regular occurrence at other US brokers as well.
US residents have a facility to use ACH or checks. Furthermore, the equities account holders can set up an Automated Account Transfer (ACAT) to transfer cash and shares electronically from another financial institution. 
Similarly, for US citizens, bank transfers are completed in a day, whereas, for a non-US citizen, it can take up to 15 business days. When tested, it took four days to transfer. 
You can only make deposits from accounts that are registered under your name.
TradeStation Withdrawal fees and options
---
ACH withdrawal from the TradeStation is free of cost. On the other hand, Wire withdrawals cost $35 for non-US clients and $25 for US clients.
Withdrawing money works in the same manner as depositing money: non-US citizens can only use wire transfers, while US citizens can use ACH, wire transfers, or checks.
The process of withdrawal through a bank transfer took one business day.
You can only withdraw money from accounts that are registered under your name.
How do you withdraw money from the TradeStation?
Access the TradeStation Client Center by logging in.
To transfer funds, go to the 'Transfer Funds' page.
Select a withdrawal method.
Fill in the desired number, currency, and date.
Check the removal request and confirm it.
Deposit and Withdrawals in Crypto
---
Cryptos can be used for both deposits and withdrawals. For both methods, the following cryptocurrencies are available:
Bitcoin (BTC)
Ethereum (ETH)
Withdrawals are only collected on business days, Monday through Friday from 9:00 a.m. to 5:00 p.m.
Web Trading Platform
---

TradeStation's online trading site is attractive and user-friendly, with a secure authentication mechanism, but it lacks price warnings.
Pros
Cons
· Easy to use
· Full fee report
· Secure authentication mechanism
· No price warnings
In 2018, TradeStation updated its online trading site. The well-structured website and user interference provide a pleasant trading experience for both beginners and experts. 
English is the only available language on a web trading platform. 
Look and feel
The trading platform provides a personalized experience, as you can choose from nine different layout styles or build your own. Furthermore, the tabs can be resized and moved with ease. 
Login and Security
TradeStation allows you to set up a two-step login for added security.
For added protection, you can use this feature. You must first download the Symantec VIP Access smartphone app to use it.
Search Functions
TradeStation search feature functions well, but initially, it is difficult to locate. You can scan for items under the 'Quotes' tab rather than the traditional magnifying glass search area.
Placing Order
The order management functions of TradeStation works remarkably. 
You can search orders from professional to most basic level:
Market
Limit
Stop
Trailing Stop
Bracket
You can also choose from a number of different order terms:
Day
At the opening
At the close
1/3/5 minute
Alerts and Notification
We were unable to configure order updates or price warnings. In future updates, this functionality will be beneficial.
Portfolio and Fee report
The Client Center allows you to verify the status of your account and the fees you've received. Under the 'Account' tab, you can see your results, which indicate your profit/loss history as well as how much you've paid in fees.
Mobile Trading Platform
---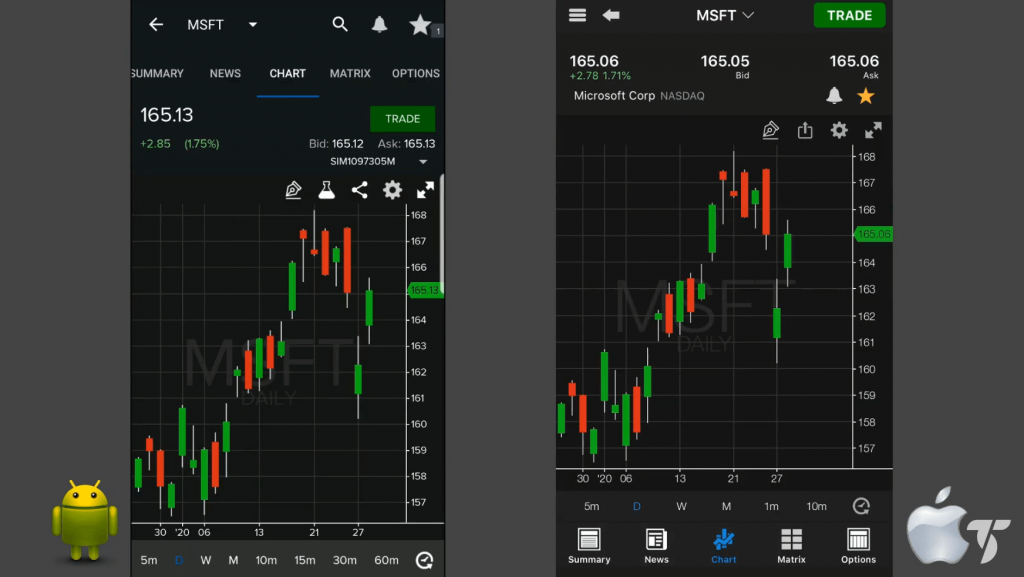 The smartphone app offered by TradeStation is outstanding. It's easy to use and well-designed, with price warnings and efficient order management. The search functions, on the other hand, may be improved.
Pros
Cons
· Easy to use
· Secure authentication mechanism
· Variety of order types
· Restricted search functions
The mobile app Trading platform of TradeStation is easily accessible on both IOS and Android devices; however, it is only available in English. 
Look and feel
TradeStation provides a well-organized and neatly designed mobile trading platform.
Login and Security
TradeStation has safe authentication options. You will use two-step verification to log in and then set up biometric authentication after that.
Search Functions
The mobile platform's search features are adequate. But, there is no option for filtering according to asset type; however, you can search for a symbol by typing it in. 
Placing Orders
On the online trading website, you can use the same order forms and names.
Alerts and Notification
Unlike a web trading platform, one can set notifications and alerts on TradeStation mobile platform. 
Desktop Trading Platform
---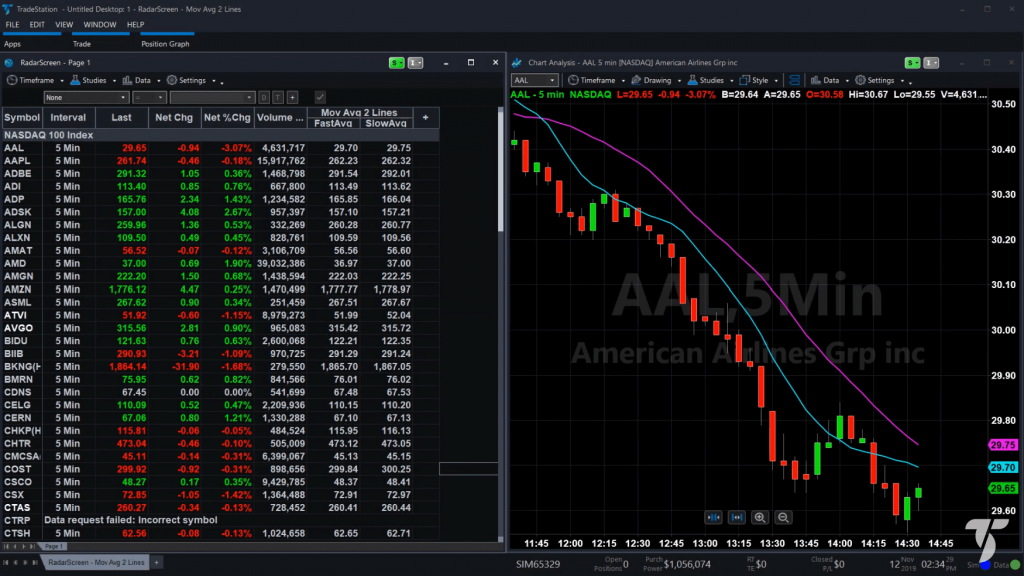 TradeStation desktop trading application includes several sophisticated features and customization options, and because of this, it is not recommended for beginners.
Pros
Cons
· Customized experiences (through charts workspace)
· Secure authentication mechanism
· Variety of order types
· Not easy to use
· Poor search function
· Poor structure
The desktop trading app from TradeStation is so sophisticated and has so many features that even a separate analysis will be insufficient to cover them all. Nonetheless, we have attempted to provide a comprehensive overview.
The desktop platforms were only available for Windows and in English.
Look and feel
TradeStation desktop platforms for trading have an outdated design and is not easy to use. It is ideal for experts and advanced users. However, it gives a tough time to beginners or long-term experienced investor. 
The platform can be easily customized. Pre-defined workspaces, such as a day trader or a futures trader workspace, are also available.
Login and Security
The search function is challenging to use since each tab has its own search function.
Placing Orders
On the online trading website, you can use the same order forms and names. Advanced functionality, such as an authentication rule, may also be configured.
However, it is difficult to locate a location where you can actually put an order. When you open the Active Trader layout, you'll see a tab labeled 'Trade' at the end.
Alerts and Notifications
The desktop trading application provides a feature for setting up alerts and notifications, but it is very complex to figure out how to do it. 
Portfolio and Fee reports
Under 'Trade Manager,' you can see the profit/loss balance, but not the fees you've charged.
Market and Products
---
TradeStation has access to a wide range of US goods, but its penetration of non-US markets is limited. Forex and CFDs are still unavailable.
TradeStation has a strong selection of US stocks. Its portfolio, choice, and future offerings are approximately comparable to those of its closest competitors.
Stocks and ETFs
---
TradeStation allows you to trade on the major US stock exchanges, such as the NYSE and NASDAQ. Non-US stock markets are not available for trading.
Also, if you are a European customer, you can buy ETFs traded on US markets. This is a one-of-a-kind deal that few European brokers offer.
TradeStation's stock and ETF coverage are comparable to tasty works, but it lags behind Interactive Brokers, which has a larger coverage area.
Funds
---
TradeStation's fund's coverage is average. However, it contains some of the most well-known labels, such as BlackRock and Vanguard.
Bonds
---
Bonds can only be traded over the phone with TradeStation; they aren't available on any of the websites.
Options
---
Options on equities and futures may be traded at TradeStation. Options coverage is better than tastyworks but not as good as Interactive Brokers.
Future
---
TradeStation allows you access to the most important futures markets in the United States, such as the CBOT and ICEUS.
Compared to its direct rivals, TradeStation offers a more extensive futures range than tastyworks, but it trails Interactive Brokers, which offers global coverage.
Cryptos
---


TradeStation began offering cryptocurrency trading in June 2020. There are more cryptos to pick from than at Interactive Brokers or tastyworks.
Following cryptos and cross pairs can be traded at Trade Station:
TradeStation is one of the few brokers that allows you to deposit and withdraw in cryptocurrency.
Research
---
TradeStation does excellent analysis, providing comprehensive fundamental data and reliable reporting. Some testing instruments, on the other hand, are not accessible.
Pros
Cons
· Good dynamic map
· Trading suggestions
· Fundamental data on assets
· Certain testing add-ons aren't free.
Trading Ideas
TradeStation is a website that offers trading ideas, but it is only available on the desktop platform. TradeStation employees have written guidelines for each asset class.
Customers of TradeStation can create, test, and automate trading strategies for any trading idea.
Fundamental Data
Yahoo provides very comprehensive fundamental details to TradeStation. It is, however, only accessible through the desktop platforms for trading.
From financial statements to earnings ratios, you'll find a wide range of information.
Newsfeed
A high–quality news feed is available from TradeStation. It can be found on the public TradeStation website and the trading platforms under the 'Market Insights' section.
Market Insights categorizes news by-products and industries. You can browse news on trading sites depending on a variety of factors and look for an asset icon.
Other Research Tools
On the desktop app, you can use a wide variety of analysis add-ons created by TradeStation and third-party developers. Some of them are unrestricted, but many of them require a monthly subscription.
Customer Service
---
The internet, live chat, and email service provided by TradeStation are adequate, but they are only available on weekdays.
Pros
Cons
· Phone Support
· Live Chart
· No support 24*7
TradeStation can be reached at:
The customer service application is only available in English
The phone service provided by TradeStation is adequate since, much of the time, they get prompt and appropriate responses.
Live chat is also available on TradeStation. While the wait times can be lengthy. 
The email service was adequate, with responses arriving within 1-2 business days, but the relevance of the responses was not always the strongest.
Also, services were not available 24/7
Education
---
The instructional resources provided by TradeStation are excellent and include high-quality resources such as a tutorial account, interactive videos, and posts.
Pros
Cons
·          Tutorial accounts
·         Interactive videos
· High-quality educational resources
· None
You can practice at TradeStation in the following ways:
Demo/Simulation account
Platform tutorial videos
General educational videos
Webinars
Quality educational articles
Booklets
Live events
A demo account can be used to familiarize yourself with the platform. It can be the perfect way to learn how to use the TradeStation trading platform and can only be used for people who have a sponsored account.
Educational tools can be found on two pages:
TradeStation University
Education section under the 'Market Insights' tab
You can watch platform tutorials and general instructional videos at TradeStation University. You will use keywords to browse or sort objects depending on your level of expertise.
You can still find some planned live activities under this page, but they are more located in the United States.
Safety
---
Top-tier US regulators control TradeStation, and its parent corporation is publicly traded, increasing transparency. Negative balance security, on the other hand, is not available.
Pros
Cons
· The majority of clients are affiliated with a top-tier financial authority;
· there is a high degree of investor protection;
· financial information is freely available; and
· the parent firm is publicly traded.
· There is no insurance against unfavorable balances.
· Lacks a banking license
Is TradeStation Regulated?
---
The Securities and Exchange Commission (SEC) and the Financial Industry Regulatory Authority (FINRA) are also in charge of regulating it.
The company TradeStation was established in 1982 in the United States. 
Is TradeStation Safe?
---
It is advised to double-check two facts to be sure:
What happens if anything goes wrong, and what is the history of the broker?
TradeStation manages all of its clients from a single legal body in the United States.
This is important because you are covered by the US Investor Security Fund (SIPC). This system, however, is only available to equity accounts. As a result, if you have a futures portfolio, the money in that account would not be covered.
Investor insurance offered by SIPC guards against the destruction of cash and shares if a broker goes bankrupt. SIPC security has a cap of $500,000, with a cash limit of $250,000. If something goes wrong with TradeStation, the SIPC treats non-US citizens the same as US residents. These sums are far larger than those offered by other European investor security schemes.
SIPC does not cover all investmebonnts. SIPC covers notes, options, bonds, mutual funds, other investment firm stakes, and other licensed assets. Unregistered insurance bonds, unregistered limited partnerships, fixed annuity contracts, currencies, and shares in gold, silver, or other commodity futures contracts or commodity options are not included.
TradeStation, on the other hand, does not provide negative balance protection.
Background
---
TradeStation first opened its doors in 1982. The longer a broker has been in business, the more evidence we have that it has effectively weathered recent financial crises.
Furthermore, Monex Group, a Japanese online dealer, owns TradeStation. It is listed on the Tokyo Stock Exchange and is one of Japan's leading online brokers. This is a positive trend, since publicly traded firms are more accountable and subject to more rigorous scrutiny than privately held companies.
Being supervised by the SEC and FINRA and providing annual financial statements are both positive indicators of TradeStation's protection.
Bottom Line
---
TradeStation is an excellent American broker.
The online and smartphone platforms are all very user-friendly and have a wide range of functions. It also has low trading fees for stocks and ETFs. Furthermore, TradeStation's educational materials are well-organized and of excellent quality.
The deposit and withdrawal features, on the other hand, are not user-friendly, so you can only use bank transfers. There is no forex dealing, and the customer experience could be better.
TradeStation is a good option for buy-and-hold buyers with at least some experience.
PROS
User-friendly and well-designed mobile and trading platform
Low stock and ETF expenses
Rich educational tools
CONS
Inconvenience in withdrawal and deposit
No forex exchanging
Mediocre customer assistance

CaptainAltcoin's writers and guest post authors may or may not have a vested interest in any of the mentioned projects and businesses. None of the content on CaptainAltcoin is investment advice nor is it a replacement for advice from a certified financial planner. The views expressed in this article are those of the author and do not necessarily reflect the official policy or position of CaptainAltcoin.com


TradeStation Review – Can It Be Trusted? How Much Does It Cost?