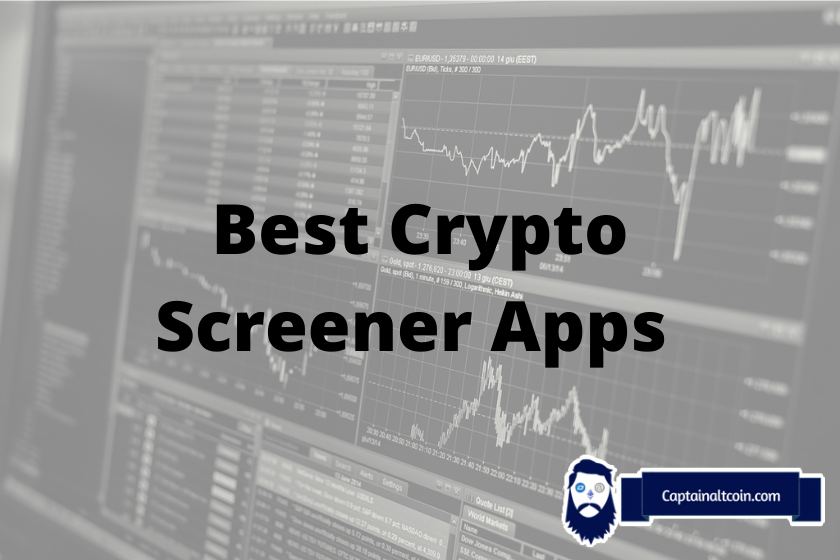 In the vast digital landscape of finance, the power of a robust crypto screener cannot be underestimated. As cryptocurrency continues to redefine the boundaries of investment and trading, the need for the best crypto screener becomes increasingly crucial.
This article will guide you through the intricacies of cryptocurrency screeners, their importance, and how they can be your compass in the complex terrain of digital currencies. With the right crypto screener at your fingertips, you can unlock a wealth of information, making your journey in the cryptocurrency market not just easier, but also more profitable. So, let's delve into the world of crypto screeners and discover how they can elevate your trading experience.
| Screener | Summary |
| --- | --- |
| 📊 AltFINS | Advanced automation and comprehensive analysis platform. It has an automated chart pattern recognition engine and provides high-quality, consistent technical analysis of the top 50+ coins. |
| 🐸 Coingecko | Best for new users. It features data on over 7,500 coins from over 450 exchanges. It also offers a portfolio creation feature and access to newsletters, reports, podcasts, books, guides, etc. |
| 🌐 Coinmarketcap | Close third to Coingecko. It gathers data on over 10,000 coins from 350+ exchanges. It offers tools for portfolio creation, watchlists, and viewing upcoming airdrops and events. |
| 📈 Messari | Best for onchain data. It offers a wide variety of tools for obtaining very specific data. It has 15 filters for on-chain data. |
| 📉 TradingView | Best for asset choice and charting. It lists over 8,000 coins in detail and allows users to run a chart within the browser itself. It offers over 50 tools and 100k+ technical indicators. |
| 💼 Cryptolume | Best for professionals. It's a paid service offering a wide range of tools and data for over 2,000 cryptocurrencies. It also provides its own analyses and summaries of market events. |
| 🌐 Dappradar and DefiPulse | These are DeFi screeners. DappRadar provides data on dapps (decentralized apps) and DeFi data. DefiPulse provides information regarding DeFi including exchanges, tokens, communities, education, podcasts, etc. |
What is a Crypto Screener?
---
Trading crypto is a task that requires processing a significant amount of data in order to make sound predictions that could translate to profits for the trader, but such tasks can be very demanding for an individual, especially under the stress of trading.
A crypto screener does these tasks for you, and it does so far better and faster than a human being could. It is a tool every trader can utilize to strategize and spot opportunities based on their predictions. Similar to a search engine, they bring up your desired cryptocurrencies and display data according to a set of available criteria that can be adjusted or removed by the user.
Advanced Automation and Comprehensive Analysis: AltFINS
---
AltFINS, a leading platform in the crypto trading sphere, is revolutionizing the way traders interact with the market. The platform's automated chart pattern recognition engine is a game-changer, capable of identifying 26 distinct trading patterns across multiple time intervals, including 15 minutes, 1 hour, 4 hours, and 1 day. This innovative feature saves traders an immense amount of time, allowing them to focus on strategic decision-making rather than getting lost in the labyrinth of data analysis.

In addition to its advanced automation, AltFINS stands out for its commitment to providing high-quality, consistent technical analysis of the top 50+ coins. The platform's analysis is grounded in the key concepts of Technical Analysis (TA): Trend, Momentum, Volume, Chart Patterns, and Support and Resistance.
With over 30 pre-set market filters, or signals, AltFINS empowers traders to discover lucrative trading ideas with ease. Moreover, the platform offers research on top Coin Picks with significant long-term potential, along with insights from other credible sources and industry leaders. This comprehensive approach makes AltFINS an invaluable tool for both novice and experienced crypto traders.
Best for New Users: Coingecko
---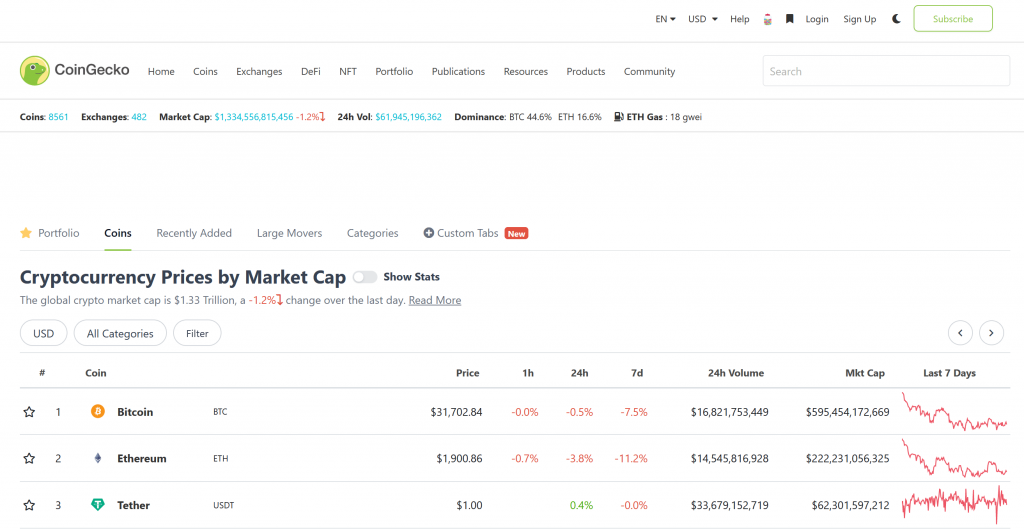 Coingecko is one of the most popular cryptocurrency analysis websites on the planet, featuring data on over 7,500 coins from over 450 exchanges that can be sorted and categorized in a variety of ways. Over the years it evolved to offer more than raw data, and today users can create a portfolio and access newsletters, reports, podcasts, books, guides and much more through their website.[1]
What makes Coingecko a great place for beginners is a combination of simple layouts and helpful info that are available for free across their website and their IOS and Android apps.
Close third: Coinmarketcap
---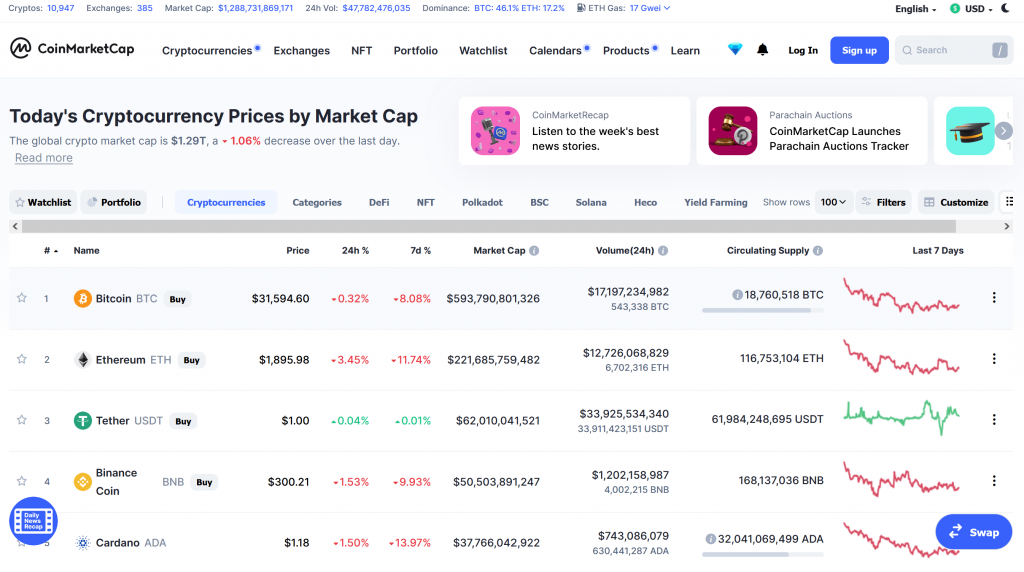 Another extremely well-known cryptocurrency screener, Coinmarketcap gathers data on over 10,000 coins from 350+ exchanges across the crypto world. Coinmarketcap is one that is beloved by many traders for the amount of tools and data it offers for free. Here, users can create their portfolio, add coins to watchlists, view upcoming airdrops and events, and much more.[2]
Their tools are accessible on their website, or on IOS or Android where they have over 1,000,000 downloads.
Best for onchain data: Messari
---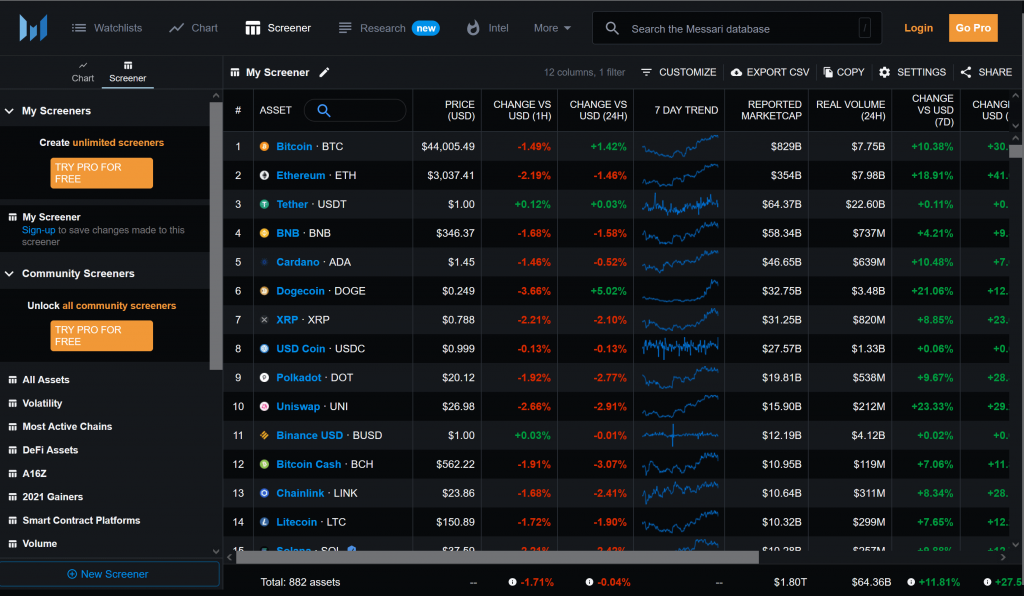 While not entirely free, Messari offers an insanely wide variety of tools that can be used to obtain very specific data. What makes Messari the best screener for on-chain data is the extent to which users can filter through the data generated on various blockchains; there are currently 15 filters in this category alone, and all 15 of them are entirely free to use.[3]
Users can sign up for a 7 day free trial for Messari Pro to see what it has to offer, which includes benefits like daily crypto news and advanced features. Although targeted towards more serious data analysts, what it offers for free is a gem for traders that value the on-chain data.
Best for Asset Choice and charting: TradingView
---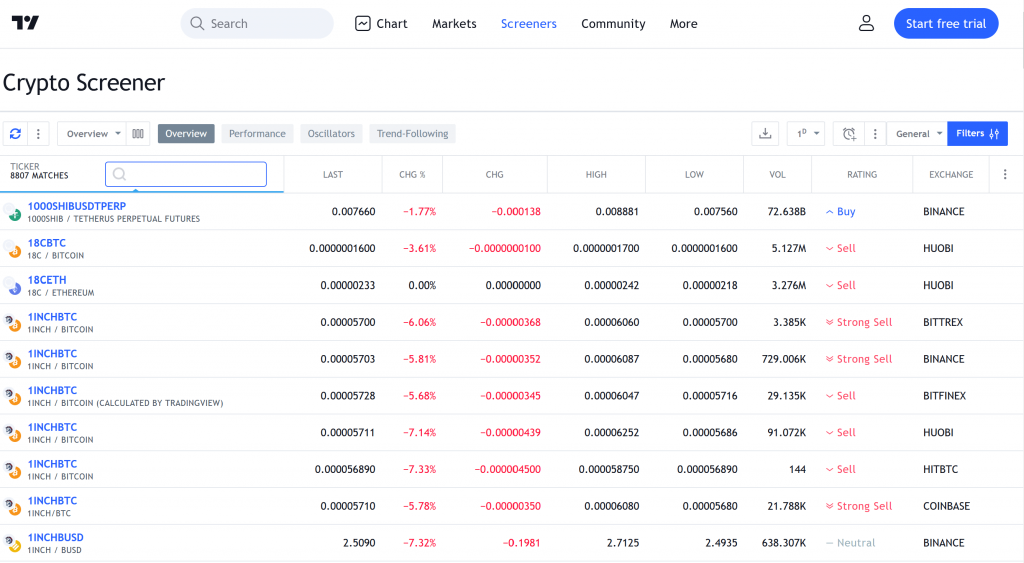 With over 8,000 coins listed in detail, TradingView is a solid screener that isn't only exclusive to cryptocurrencies, but what separates it from other websites is how it allows the user to run a chart within the browser itself. Once opened, users have access to a long list of tools that they can, among other things, use to mark, analyze, note and highlight any point on the chart.[4]
The basic features are free, which include over 50 tools and 100k+ technical indicators, and those who wish for a package that is suited for more serious traders can check out their available plans that they can try out for free for 30 days.
Best for Professionals: Cryptolume
---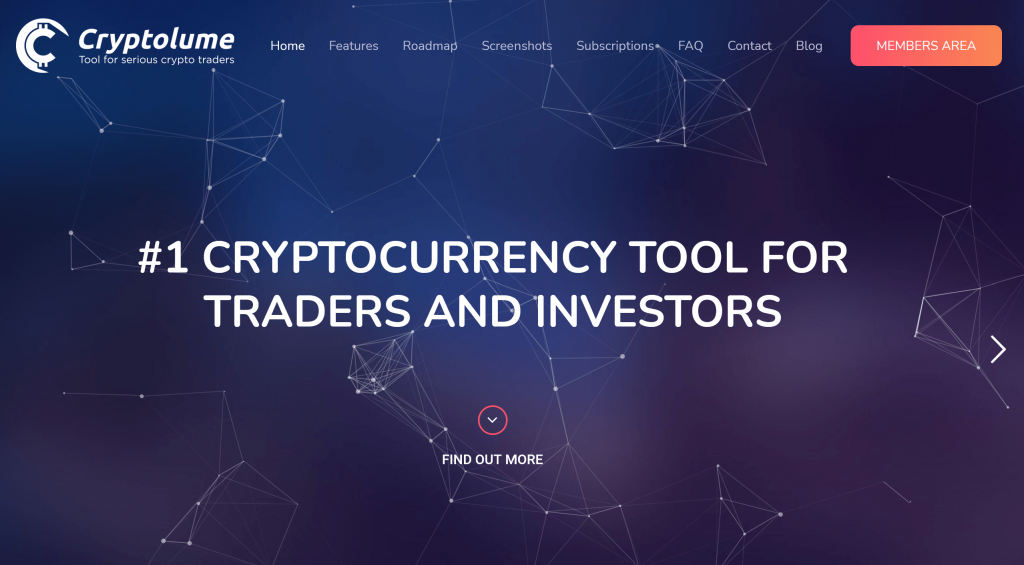 A premium choice for those dedicated to trading crypto, Cryptolume is a paid service that not only offers a wide range of tools and data for over 2,000 cryptocurrencies, but also their own analyses and summaries of the events that are taking place in the market, development updates for current projects, statistics, percentages, additions, alerts and far more.[5]
It may not be the ideal option for those that are just discovering crypto screeners, but rather a considerable choice for those that are looking to optimize their trades using the most advanced tools available.
Quick Tip: DeFi screeners (Dappradar and DefiPulse)
---
Those who are into DeFi (Decentralized Finance) would probably be interested in a crypto screener with a stronger focus on the decentralized parts of crypto.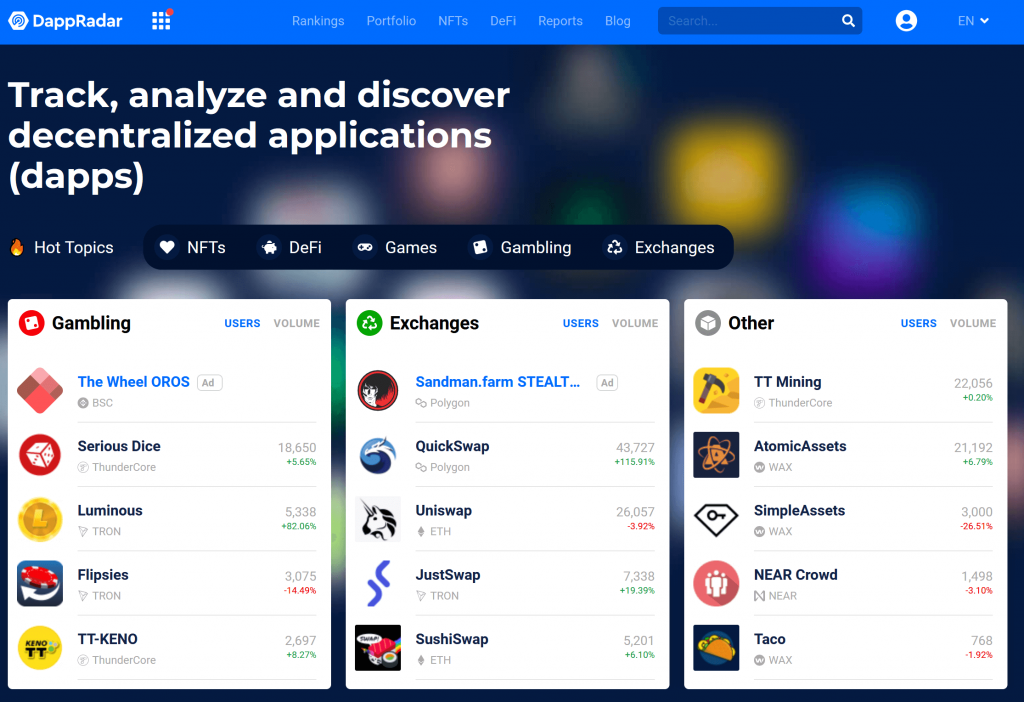 DappRadar welcomes over 500,000 users every month where they discover the world of dapps (decentralized apps). Upon 5000+ dapps, users can also access DeFi data, which, relative to those above, is a lot simpler.[6]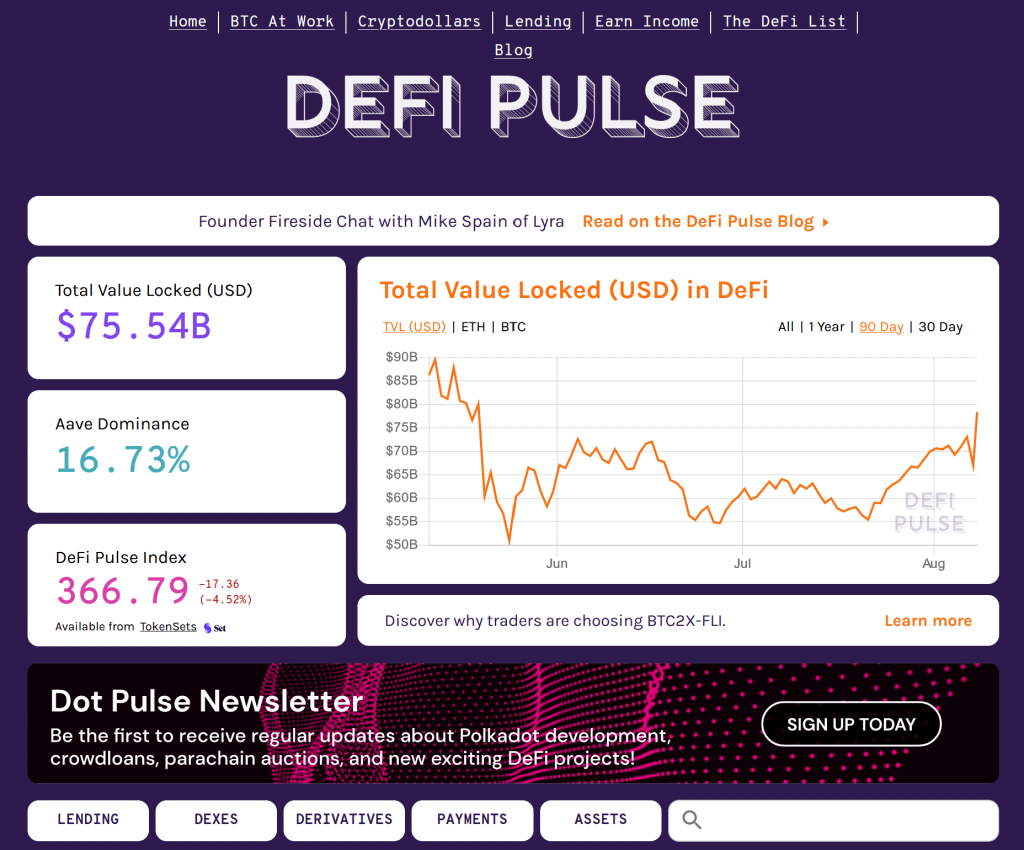 DefiPulse is a simple website where visitors can access a wealth of information regarding DeFi including exchanges, tokens, communities, education, podcasts, and so much more. On top of those, it also provides analytics and rankings for defi protocols.[7]
Benefits of Crypto Screeners
---
Because the features that different crypto screeners offer vary, they might not all possess the same benefits, nevertheless, here are some benefits you would experience using a crypto screener:
Saving time and effort: There is no doubt that users can save tremendous amount of time using screeners to access, sort, layer and highlight information almost instantly, which would otherwise take them hours to do.
Identifying scams: Experienced traders can use the data provided by screeners to identify scam tokens by noticing suspicious patterns being developed on the charts.
Identifying new projects: Some crypto screeners have calendars and notifications in place to alert potential investors of new crypto projects, and those that don't would still list new coins on their charts. Being able to go through the provided information on new tokens or coins could pave the way for a good investment in a promising project.
Identifying charting patterns: The AI that some screeners utilize can be used to spot charting patterns in the market that could guide traders to profitable points of entry.
Optimizing strategies: The ability to find patterns in the market can help traders better understand different trading strategies, and can use their newly obtained knowledge to optimize their trades.
Holistic viewing angles: Some screeners present current market data in a holistic way, i.e., from an angle from which users can see the entire market and how it is performing, which is a very useful perspective since an objective viewpoint is important in the world of trade.
How do Crypto Screeners Work?
---
In essence, crypto screeners utilize AI to obtain and organize data from a myriad of sources to present users with information that they can then play around with using the tools provided by the website. Rather than manually searching for different assets, users can use the screener like they would a search engine, and obtain data that would have otherwise taken them a great deal of effort.
These search functions contain criteria and perimeters that when set, the AI refers to in order to fetch the very specific data the user asked for. The more sources of information the AI has access to, the more data it can fetch. Once the user has the data they wanted, they are only limited to the amount of tools at their disposal.
Using a Crypto Screener to Enhance Your Trading
---
The quality of a trade is as good as the information it was based on, therefore it follows that in order to make good trades, one should seek out good information. The amount of data generated in the crypto trading world alone can be overwhelming; there are too many factors to consider, and looking for specific data manually can be a long and tiring process.
The ability to organize all that data according to your trading needs makes the otherwise repetative and dull process a breeze, and a positive mental attitude in an otherwise stressful environment can positively impact decision making.
Psychological conditions aside, easy access to data such as trends and patterns can help traders distinguish good trades from bad ones, can help determine the right strategies for the right conditions, and can aid traders to spot opportunities that they otherwise would have missed.
Read also:
Frequently Asked Questions
---

CaptainAltcoin's writers and guest post authors may or may not have a vested interest in any of the mentioned projects and businesses. None of the content on CaptainAltcoin is investment advice nor is it a replacement for advice from a certified financial planner. The views expressed in this article are those of the author and do not necessarily reflect the official policy or position of CaptainAltcoin.com