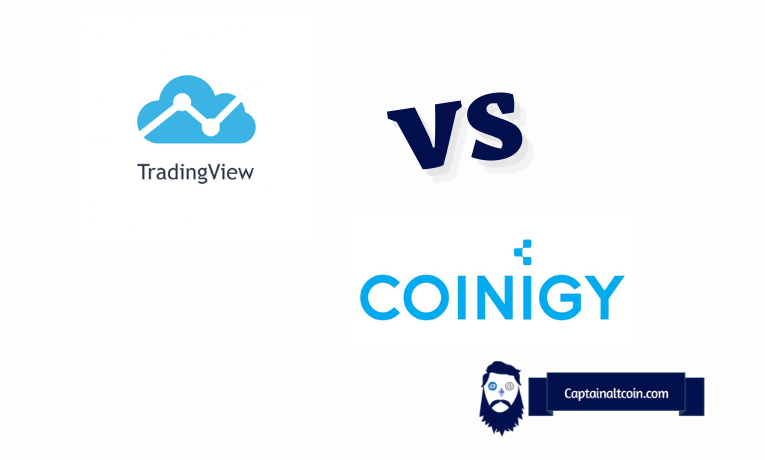 A crypto charting tool is one of the most important items that a cryptocurrency trader needs. These intuitive and analytic tools help crypto traders to track crypto market changes, compare past and current price changes to project future price movements and market trends.
Tradingview and Coinigy are two leading crypto charting apps/sites in the virtual currency industries. Below is a detailed review and a side-by-side comparison of the two tools;
TradingView vs Coinigy Comparison Table
---
| | | |
| --- | --- | --- |
| Feature | TradingView | Coinigy |
| Rating | 5-star | 5-star |
| Year of launch | 2011 | 2013 |
| Headquarters | New York, NY | Milwaukee, Wisconsin |
| Alexa Rank | 196 | 52,321 |
| Cryptocurrency Screener | Available | In production |
| Social media screener | Available | In production |
| Arbitrage viewing | Not permitted | Permitted |
| Customized Scripts | Available | Not available |
| Fees | Free – $59.95 per month | Free 30-day trial – $99.99 per month |
| Security | Good | Good |
| Community Trust | Good | Good |
| Customer Support | Good | Good |
| Mobile App | Available | Available |
| Beginner Friendly | Yes | Yes |
| Buy | Try Now | Try Now |
Coinigy vs TradingView: Background
---
Tradingview is a charting and technical analysis tool used by traders to better visualize market data and draw useful and actionable trading insights. Traders can use the all-rounded, feature-rich platform to analyze bonds, stock, currencies, commodities, indices, cryptocurrencies, CFDs, and futures. The New York-based company was launched in 2011 and allows users to learn and share technical data and analysis and also collaborate with other traders.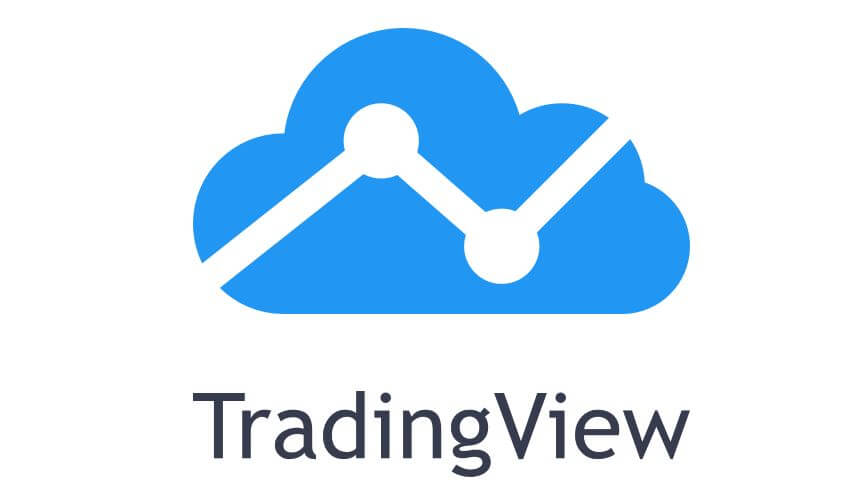 TradingView was designed by the same team that launched the popular MultiCharts 12, online trading software. With more than three million monthly users, TradingView stands out as the most popular charting platform in the cryptocurrency industry. Some of the platform's stand-out features include a market-leading social network platform and a highly intuitive user interface.
Through the TradingView platform, users share trade ideas, strategies, and market insights through the social platforms, opening a window for professional traders to horn their skills and build their reputation while newbies and less-less experienced traders benefit from a free archive of knowledge.
Coinigy is a charting and market analysis platform that allows traders to manage several accounts at more than a dozen cryptocurrency exchanges through a single app. The web-based desktop and mobile charting software is much similar to TradeView but also has a few unique features that enable it to curve its own space. A key feature that makes Coinigy stand out among its peers is the ArbMatrix tool, which enables users to easily identify and capitalize on arbitrage opportunities between different exchanges.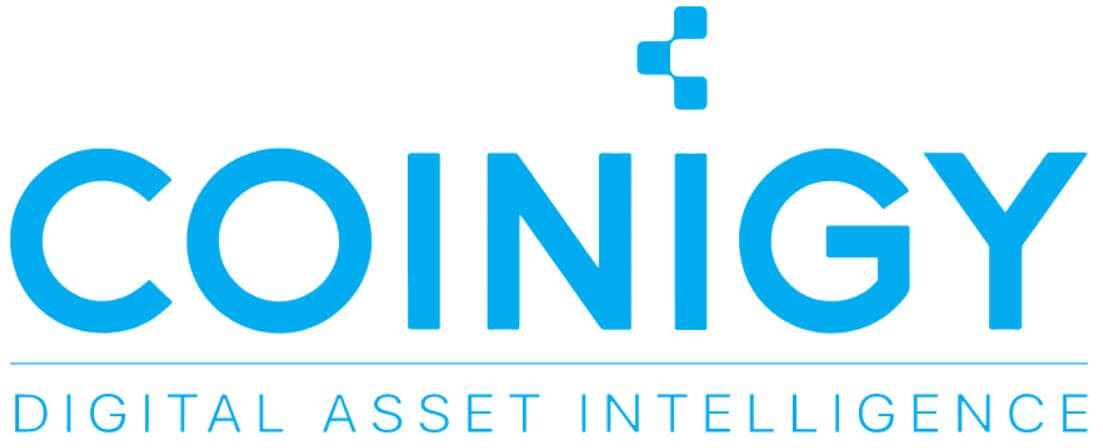 With Coinigy, traders can chart 38 crypto exchanges, 3,349 markets, and 6,957 currencies, all from a single app.
Charts
---
Charting tools are very important in any online trading ecosystem. Both TradingView and Coinigy have candlestick charts with a variety of other chart features that can be selected manually. However, TradingView offers HTML5 charts, which allow users to choose from more than 50 intuitive drawing tools. TradingView's support for multiple markets allows traders to diversify their portfolios and better manage and analyze trends.
In total, TradingView has 11 types of charts i.e baseline, area, line, Heikin Ashi, hollow candles, and bars, which are available on all plans and Renko, line break, Kagi, point & figure, and range charts, which are available to premium subscribers.
In addition to offering technical analysis infrastructure, TradingView has a news platform where users can mine data to conduct fundamental analysis.
Coinigy also offers closely similar charts although it offers slightly fewer options. In addition to the candle chart, Coinigy offers area, line, Heikin Ashi, hollow candles, and bars. Coinigy offers streamlined services and allows users to trade a variety of cryptocurrencies as opposed to TradingView that mainly supports popular coins.
Coinigy also offers streamlined services and allows users to diversify their trading with multiple cryptocurrencies compared to TradingView that only lists the major currencies. As opposed to TradingView's HTML5, Coinigy users can integrate charts from their favorite exchanges and trade on multiple platforms.
With access to multiple exchanges, Coinigy users are able to compare price differences and benefit from pricing disparities. The platform supports more than 40 exchanges with users able to 11 directly from Coinigy.
Indicators and scripts
---
Going by numbers, TradingView offers 100 in-built indicators compared to Coinigy's 75. That said, however, both platforms offer the most commonly used indicators including Bollinger bands, stochastic RSI, relative strength index, Ichimoku cloud, and correlation coefficient among others.
While many users will only utilize the in-built indicators, others with more specific and complex trade requirements may need more indicators to satisfy desired functions. In this regard, TradingView seems to have an upper hand as it allows users to create customized scripts, also called Pine Script, with just a few steps.
To help users get to grips with Pine Script, TradingView offers a comprehensive guide including videos and tutorials on how to build several basic strategies. The platform even has a public scripts library from where users can access scripts created by other users.
For users running custom scripts and scanners, TradingView may be the right choice. In addition to offering a large number of indicators and scripting functionality, TradingVieware able to conduct backtesting for all default and custom indicators in order to validate strategies against historical data and identify situations with higher trading advantage.
Price alerts and custom notification
---
A key feature of any market tracking platform is the ability to offer real-time automatic trade alerts based on predetermined criteria. These are especially to traders with busy schedules that find it hard to sit before a computer to manually scan charts.
Trade alerts ensure that traders do not miss any trade opportunities and also protect their investment in the event of a market fall. Users of both TradingView and Coinigy can set price alerts, which are delivered in form of e-mail, SMS, in-browser notifications, audio signals, and visual popups. In addition, TradingView offers additional webhooks and notifications that are ideal for automating the trading process.
There are several conditions upon which traders can set trading alerts including percentage movements, entering channel, exiting channel, crossing up, and crossing down. Besides, TradingView users can also set highly complex trade alerts using Pine Scripts.
TradingView users can still get their alerts even when the app is not running and the alerts are delivered based on the type of account held.
Coinigy allows users to select exchanges from where to get alerts and also offers default alert options including all-time high, all-time low, and monthly low.
Pricing
---
While both TradingView and Coinigy have capable free versions, users seeking improved capability may pay a subscription fee to access a full range of available premium features.
TradingView's first tier is the free-trial tier which can be accessed for 30 days. This tier offers 1 chart per layer. The Pro tier costs $9.95 for a 2-year billing cycle or $14.95 for the monthly billing cycle. The Pro tier offers 10 server-side alerts, 2 charts per layout, and 5 indicators per chart.
Another paid subscription plan on TradingView is the Pro+ going for $19.95 for the two-year billing cycle or $29.95 monthly for the monthly billing cycle. With this tier, users can access up to 4 charts per layout and can use two different devices simultaneously. Finally, Pro+ users get 30 server-side alerts and 10 indicators per chart.
TradingView has the Premium Package going for $59.95 for the monthly billing cycle and $39.95 per month for the two-year billing cycle. The package offers users an unlimited trading experience.
Coinigy offers three pricing plans, with two paid ones. In all three plans, users get a 30-day trial during which they have unlimited access to features in the Pro Trader plan which goes for $18.66 a month. With this plan, users have access to a mobile app, 24/7 portfolio management, Access to third-party charting, and Multiple chart layouts among other features.
Customer support
---
TradingView and Coinigy have invested well in their customer support systems. For instance, Coinigy has lined several tutorials to help users navigate through the platform. The platform also offers support in email, social media platforms, and mobile phones. Coinigy has more than 18,000 followers on Twitter. All Coinigy users access the same email support regardless of their subscription package.
Mobile-friendliness
---
Both platforms seem to realize the importance of having user-friendly layouts and designs, especially for loaded and heavy websites. They have built simple and intuitive designs that allow seamless trading.
TradingView has an analysis sharing tool that helps new users to access timely signals and fast-track their learning curve. Both Coinigy and TradingView allow mobile trading through their mobile app. From the mobile app, users can track price fluctuations, get notifications on moving averages, and enter trades. Both apps can be used on iOS and Android devices.
Security
---
Security is a key factor in online trading. The cryptocurrency, in particular, has made headlines in the past years due to security breaches that have led to loss of millions in investor's crypto assets. Hacking and scammy Ponzi schemes have tainted the already fragile infant industry that is still struggling to gain full acceptability.
Coinigy has installed key security given the fact that it plugs into many third-party exchanges. The platform also has special portfolio-tracking tools for all coins held in crypto wallets.
TradingView has a bounty program that rewards people who find and report security issues on the platforms. It is a way of identifying security vulnerabilities from the user end based on user experience. Both Coinigy and TradingView uses two-factor authentication.
What are some good alternatives to Coinigy and TradingView?
---
Coinigy and TradingView operate in an already crowded market with key competitors including;
Here is a full list of the best TradingView alternatives we made a while back. Some would argue that top crypto bots like Cryptohopper, Bitsgap or Quadencycan also be considered as a good TradingView alternative as they all allow you manual trading with integration to top crypto exchanges.
NinjaTrader
---
NinjaTrader is mainly designed for trading forex, futures, CFD, and stocks. In addition to charting, NinjaTrader is also a trading portal offering brokerage services for futures and forex. The platform has a variety of algorithms and indicators in addition to backtesting and advanced trade simulation tools.
NinjaTrader can pay for two subscriptions-an annual package for $720 and a lifetime license for $1099. The platform also integrates with thousands of third-party trading indicators, apps, and strategies, which expand and diversify user's capabilities.
Sierra Chart
---
Sierra Chart has been in the industry since 1996 making it one of the oldest and most reputable trading and market analysis platforms. Sierra Chart users can use the platform to create customized, and advanced charts to suit and any market that displays real-time price data.
Users can customize their experience based on more than 400 built-in technical indicators and studies as well as various timeframes. Besides advanced market analysis capabilities, Sierra Trade offers advanced trading functionality that offers users the convenience of managing their orders and portfolio from a mobile app.
The platform offers two premium service packages- Service Package 3 and Service Package 5, priced at $26/month and $36/month respectively.
CryptoWatch
---
Cryptowatch is a market analysis tool that supports over 27 crypto exchanges. As opposed to previous market analysis tools we have discussed, Cryptowatch serves exclusively bitcoin and altcoin traders. This creates some form of specializes but on the flip side, it limits traders' choices.
Between Cryptowatch vs TradingView, traders can use Cryptowatch to access more than 8,000 markets and feature-rich charting tools among them extensive alerts functionality, dozens of indicators, and a variety of chart types.
Users can sign up for the free option or premium packages going for $15/month for the basic package and $75/month for the pro package. They now have pay as you go pricing with most core functionality free: EG Charting/Analysis/Trading. Only paid options today are alerts (1 cent each) and API data: https://cryptowat.ch/pricing
Apart from just Crypto markets, they support trading for a growing number of stocks and commodity markets at places like FTX.
Coinigy is an excellent platform that gives you the possibility to aggregate all your wallets and exchanges' accounts …
TradingView is a trading and social networking platform surrounding the activity of market trading. It aims to bring …
FAQs
---
What is better than TradingView?
TradingView stands out as one of the leading trading and market analysis tools in the crypto industry.
Can you actually trade on TradingView?
In addition to charting tools, TradingView allows users to connect to other trading platforms where they can trade various instruments.
Is there a free version of TradingView?
Yes. TradingView offers a free package that offers limited features including one alert with three indicators and the layout.
Is it worth paying for TradingView?
TradingView offers advanced charting and market analysis tools that offer the users full value for their money.
Is TradingView better than Coinigy?
While both TradingView and Coinigy offer almost similar services, TradingView offers additional and more advanced features allowing users to have a customized and refined trading experience.
It takes time, effort, and patience to become a successful coveted trader. However, with the right tools, you can shorten the learning curve. TradingView and Coinigy are two of the leading charting and market analysis tools that have dominated the industry for some time.

CaptainAltcoin's writers and guest post authors may or may not have a vested interest in any of the mentioned projects and businesses. None of the content on CaptainAltcoin is investment advice nor is it a replacement for advice from a certified financial planner. The views expressed in this article are those of the author and do not necessarily reflect the official policy or position of CaptainAltcoin.com