Altrady Review – How To Use This Crypto Trading Platform?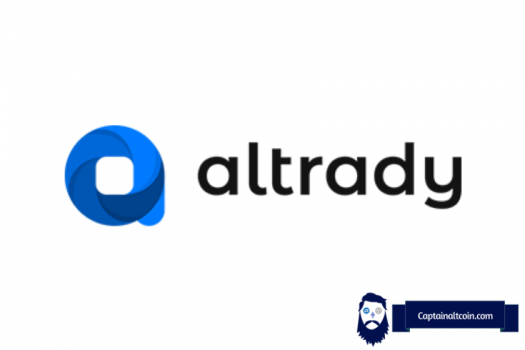 Altrady Review – How To Use This Crypto Trading Platform?
Everything in one place, automated trading, innovative order types, fully customizable, trader-focused tools
The community is strong
The company's ethos appears to be about delivering a great product to its customers
This platform is clearly masterminded by people who know trading from a trader's point of view
There are dozens of cryptocurrency exchanges, so how do you decide which ones to use? The biggest restriction is that some coins and tokens are listed only at particular exchanges, so you'll probably need to use several to build the perfect portfolio of crypto assets. 
This is where Altrady comes in. It gathers all your trading activity across multiple exchanges into one platform. That's pretty useful in itself, but Altrady is designed by people passionate about trading. They've developed innovative and powerful tool, making them accessible and affordable to the average retail trader. 
Intro to Altrady
---
Altrady was founded in 2017 by Benoist Claassen after years of being part of the trading community. He listened to what traders wanted and responded with Altrady, a comprehensive trading terminal with multiple cool functions. We'll look at some of the most useful tools below, but if you like the look of it, please check the free trial version out for yourself here.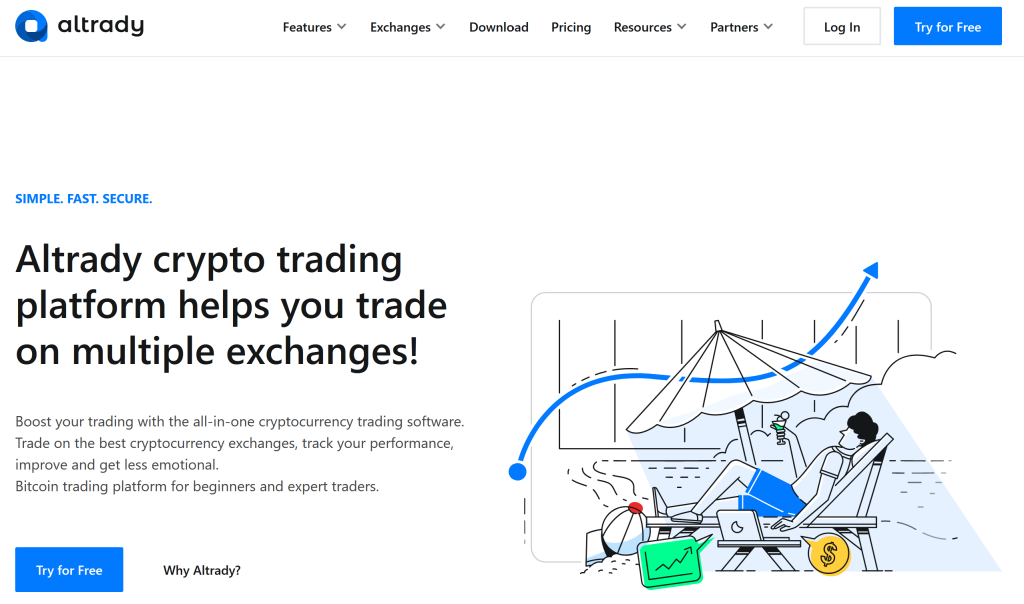 Smart Trading
---
You need to pay attention when you are day-trading. It's the most exciting way to trade but things can change in a split second. You need to take progressive profits at just the right moments, but be ready to bail out in an emergency. Timing is everything in day-trading. Even with a great strategy, your entries and exits need to be perfectly executed to extract all the possible value from a trade.
Altrady's smart trading features can take the pressure off with 'take profit orders' and 'trailing stop orders.' You can configure your orders, for example, to take profits on a pre-defined portion of your trade while moving your stop-loss upwards to protect your gains thus far (this is not yet fully implemented, it is coming up soon according to their roadmap). 
The market reacts to news in a matter of seconds, and there is no effective way to close out multiple positions at the same time manually. Nor can you simultaneously update your stop losses by hand to protect your gains. By automating your orders, you guarantee you won't be caught out and lose value. Remember, day trading margins are tight and every pip counts.
Another typical Altrady feature is their Scaled Ladders. I say 'typical' because this is so simple and useful, that I suspect it was a crypto trader who came up with this, not the marketing department. You can automatically generate a series of ascending trades and stipulate the size and frequency of the orders. This is often the safest strategy for entering a market position. It's the same principle as dollar-cost-averaging, but over the far shorter timescales required by day-traders. It's a great hedge against the capricious volatility of the cryptocurrency markets.
Another excellent time-saver is their Position with P&L feature. When you start to trade a token, your profit or loss will be calculated – that's the easy bit. When you buy more at a different price, it gets tricky trying to figure out your average buy price and your break-even point. Altrady does all the hard work so you can see exactly where you are in a long-term, complex trade. 
Web Trading
---
You have the option to download the application to your computer or mobile phone or use the Altrady web app. Under normal circumstances, I would recommend running your own instance of the software. But if necessary, you can log onto your account and manage your crypto portfolio from any internet-connected device. Always make sure to protect your login details by not having a shared device save your username and password. 
Personalized Layouts & Moveable Widgets
---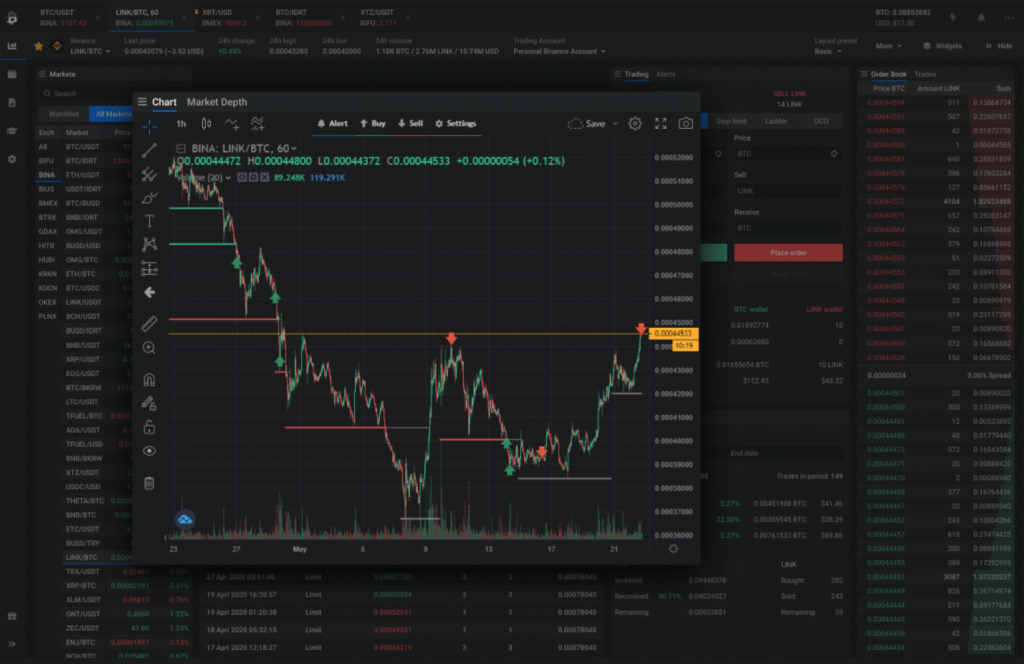 This simple but crucial feature allows you to configure your trading dashboard just how you like it. People prefer to have different information on the screen – indicators, moving averages, volume, RSI, etc. You can choose how much space is devoted to your main chart, the order book, or your open orders. 
You can build unique configurations for your various devices. Your home setup could have several monitors displaying multiple consecutive trades, whereas your mobile phone might have a trimmed-down version with just the essentials.
Trading Analytics
---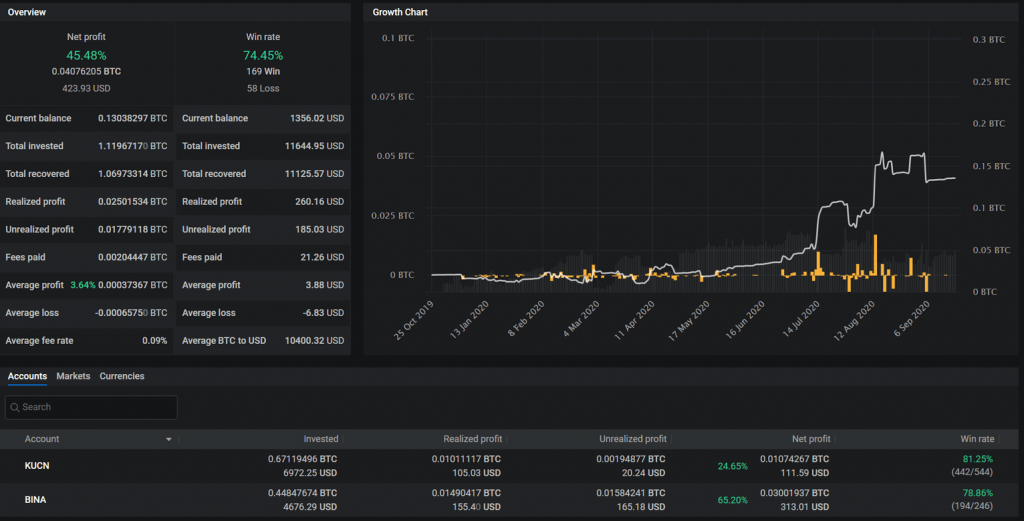 If you want to improve your effectiveness then you need to look at your performance data. That's where the truth lies. It's easy to become emotional about what's really happening with your trading strategy. Raw data displayed dispassionately leaves no room for doubt. It might not always be good news, but it's the only accurate way to assess your trading performance.
Basic analytics will tell you your profit and loss, but there are features with which you can assess your trading strategies against real market data. An important thing to note when testing a strategy against historic data is that it's a best-case scenario. It does not factor in the 'noise' of a chaotic, real-world, live trading environment. The actual result of a trade will depend largely on the timing of your entries and exits and the prevailing market mayhem at the time. 
For example, if you ever tried to exit a position manually when the market was tanking, you'll know that you are unlikely to have your order filled before the price has fallen further. Worse, panic selling your position at the 'Market' rate will ensure you get the lowest price for your crypto. 
The analytics don't capture these chaotic market conditions, so always take results based on historic data with a very large pinch of salt. As I am fond of mentioning, predicting the past is much easier than the future.
Read also:
Real-Time Alerts
---
If you've ever waited for the price of a coin to fall before you bought, you'll know how much time you can waste checking your trading accounts every 2 minutes. Altrady enables you to set up alerts from all your crypto exchanges all in one place, in an organized fashion. You can receive updates as emails and straight to your device running the application. 
Profitable trading is all about timing. With real-time alerts, you know you have the best chance of timing the markets right. You can plan your strategy rather than react to a rapidly moving spot price. This is important. A pro-trader I know has a motto on his office wall, "Planning is always better than reacting."
Real-Time Market Data and Alerts
---
Critical to the success of any day-trading strategy is receiving prompt news and alerts. In the time that price change information and market news take to arrive on your device, an opportunity could be lost. Low latency and frequent refreshes are key to this timeliness, and Altrady claims to get the data to your trading terminal faster than other platforms. 
Multi-Exchange
---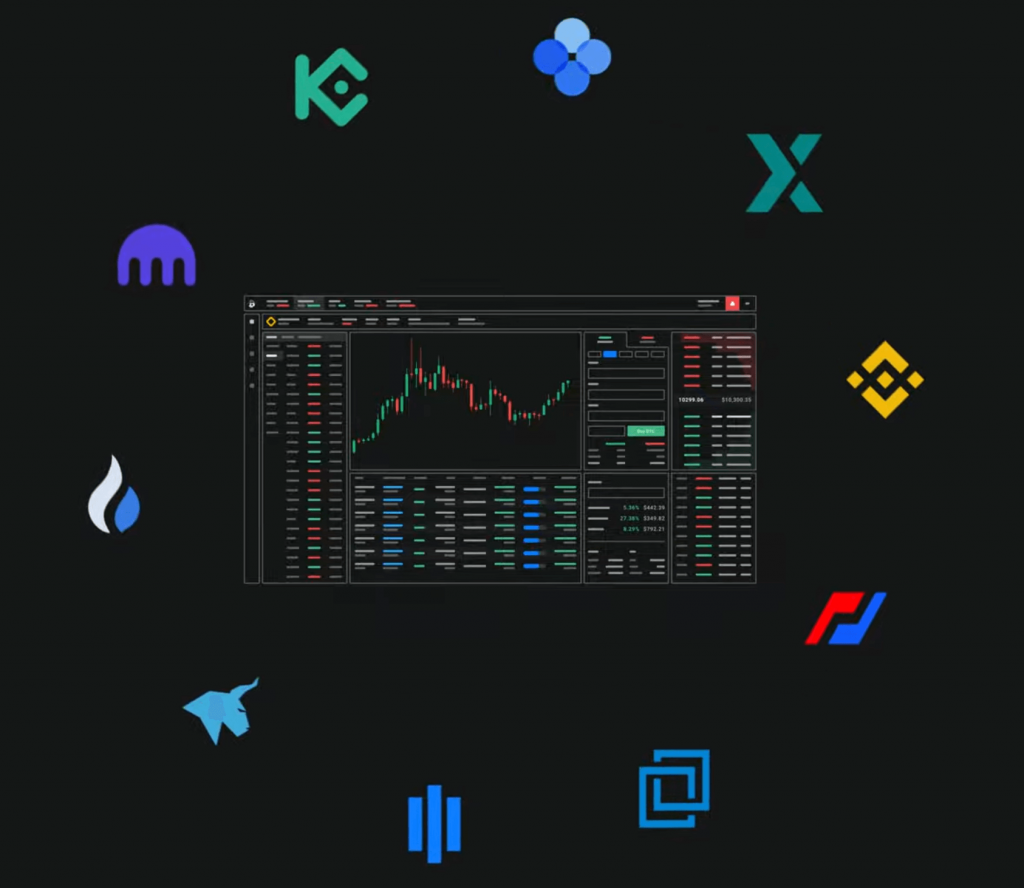 Altrady is compatible with all the major exchanges. Binance, Kraken, Coinbase Pro, Bittrex, Huobi, Poloniex, HitBTC, and OKEx. If a token isn't listed on one of these exchanges, I would question whether I want to hold it. 
With the Essential and Premium options, you can have trading pairs from several different exchanges on the screen at the same time. This would be an important feature for me, so would rule out the cheapest Basic package from Altrady.
There are alternative platforms with more exchanges, so you need to check if all your essential coins and tokens are covered by Altrady.
Portfolio Manager
---
This is really useful. Altrady's portfolio manager displays all the crypto assets you hold in one place and does the math too. This helps keep an accurate overall picture of your crypto portfolio.
Here's a working example. I recently found an old HitBTC account with some Dogecoin 'dust' from 2018. This was an amount so small it couldn't be converted into anything useful. Turns out Doge has gone up since then and it's now worth something. Yay! I don't want to transfer it to another exchange because of the fees and hassle, so there it sits, having been partially traded for some Chainlink. (Oops!) 
Most of my altcoins sit on Binance and Kraken, so to keep track of my overall position I would have to look at 3 exchanges and do some painful mental arithmetic. Signing in to all three accounts with 2FA would be a chore, but with a couple of clicks, I have all the info on one Altrady page. Simple.
Quick Scan
---
This feature rapidly informs you of interesting activity on any given crypto-pair. You can scan for all sorts of unusual behavior across all markets to have the best chance of capturing those scalping moments. If a price shoots up, the RSI is high, it's bouncing off resistance, Quickscan will tell you and you can make your play. 
Crypto Base Scanner
---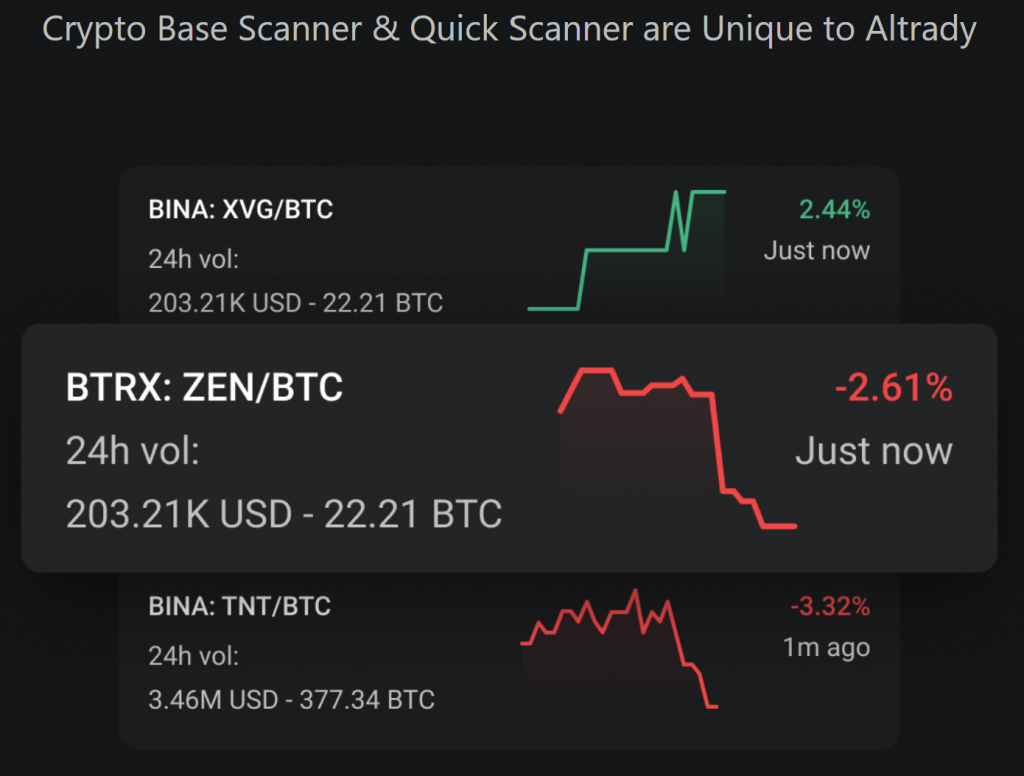 The QFL (Quickfingers Luc) trading bot searches for profitable trading entry points. The simple idea is that what goes down will likely bounce back up. QFL endeavors to identify these bounce events and calculate the appropriate entry and exit points. It's also known as Base Scanner. 
This kind of strategy depends on great timing. A mere human takes valuable seconds to recognize the scenarios, decide on a strategy, and place the trade. In this time, the opportunity will either be gone, or the upside will be greatly diminished. Crypto Base Scanner attacks this problem and maximizes any profits to be had from a price bounce.
Pricing
---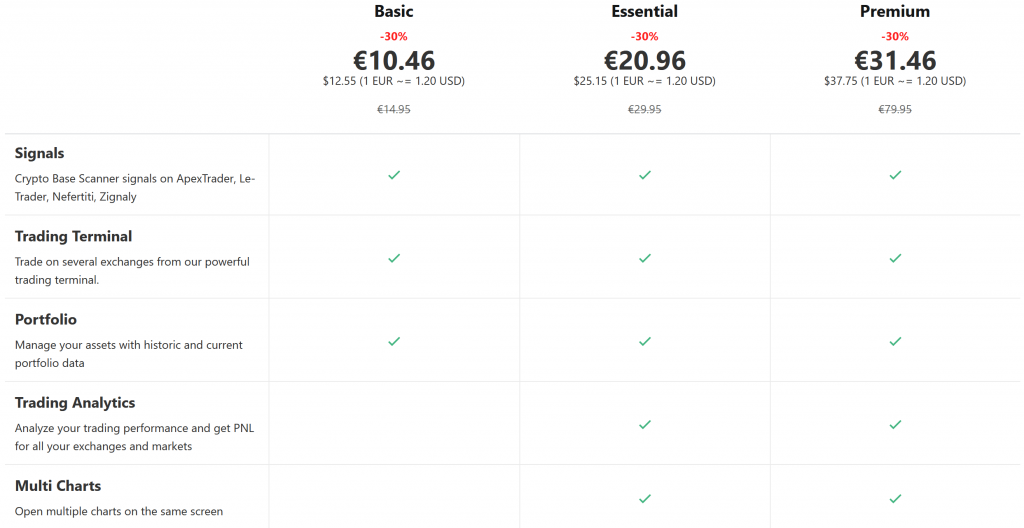 There's a free 2-week free trial, after which you have 3 pricing options – Basic, Essential, and Premium. They're priced in Euros on the website and there's a 30% discount offer for annual subscriptions. To avoid confusion I will give the current monthly US dollar prices for a year's worth of access, including the 30% discount.
The Basic Plan works out to be $12.70 per month and gives access to the core Altrady functions. You can't display trading pairs from multiple exchanges on the same screen, and the trading analytics, Quick Scanner, and Crypto Base Scanner are not available.
The Essential Plan costs $25.50 per month over a year and gives access to everything but the Base Scanner and Quick Scanner.
Premium costs $38 per month and gives you the lot.
Trading Bot Integration
---
Trading bots are a lot of fun to play with, the most frustrating part always being integrating with the crypto trading platform. APIs, (Application Programming Interfaces) is how your computer chats to the exchange.
Still, when it arrives you'll be collecting specific data at regular time intervals to listen out for signals you've identified. Once your strategy's conditions are satisfied, a perfectly calculated, bespoke order will be placed in milliseconds. All while the human crypto traders are still scrolling around their charts, squinting at the trend lines they drew.
Altrady own bots
---
Altrady is testing their own Signal Bot as we speak and it should be live end of Nov beginning of December.
IAltrady also plans to introduce the DCA and Grid bot. This will be a game-changer.
Bot Caution
---
This next bit is not about Altrady who runs a transparent, honest, trader-focussed platform, but we need to talk about trading bots. 
First is the obvious concern that a truly successful, billion-dollar-bot would never be on sale for a few tens of dollars. Next, consider the well-funded trading companies that employ dozens of math PhDs to work on this very problem 24/7. How will you and your new bot shape up against them?
Then factor in recent revelations of crypto trading platform selling customer trade data to their investors (front-runners), and some bots not even being open-source. What about the fundamental flaw of an arms race according to Game Theory? If everyone uses the same bot on the same trading pair, you de facto don't have an edge over the other traders. 
An alert about an entry point sent to thousands of bot users simultaneously can look suspiciously like a pump, and they do not end well for most people. Do your research and don't believe all the hype about bots. Remember what I said about not trusting historic market data to provide genuine results.
Altrady vs Coinigy
---
Although they have similar functions, I could only find a smartphone application and web app versions for Coinigy. This is not necessarily a deal-breaker, but I do prefer to use a desktop application whenever possible. 
Coinigy professes more exchanges, but again, looking at the partner crypto-exchanges of Altrady, I can find all my favorite cryptocurrencies. Altrady claims to have faster alerts, and this is a big issue. If your trading success relies on receiving updates before anyone else, then Altrady wins the race. 
Overall, I would choose Altrady if I was prepared to pay for the full version as it's considerably cheaper than Coinigy. For me, it's the 'Scaled Ladder' entry points, 'Take Profit Orders,' and 'Trailing Stop Orders.' that clinch it for Altrady.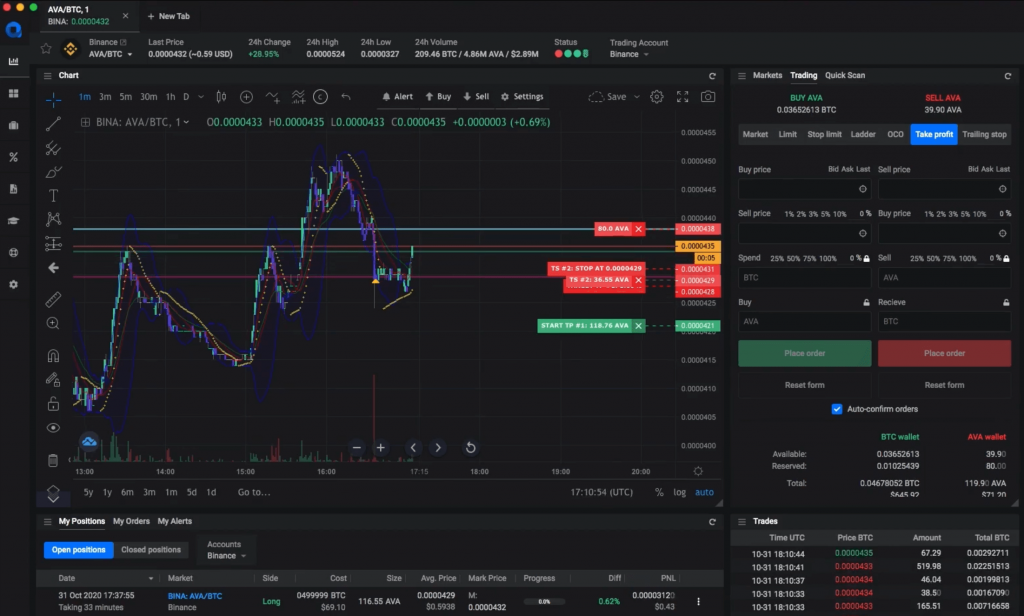 Also read full review: Is Coinigy safe and worth it?
Altrady alternatives
---
When I investigated the alternatives, I was shocked to find dozens offering much of what Altrady does. Coinigy, Shrimpy, Cryptohopper, Bitsgap, and Altpocket are all comparable. For the full Coinigy suite you will pay a much heftier $99 per month and Bitsgap is even more. Cryptohopper is somewhere in the middle.
Altpocket tends to focus on its community and Bitsgap focuses on its trading bots. They all have their special features, but Altrady is an all-rounder, and in its Premium form it's considerably cheaper than the best versions of the rest. 
Altrady Review: The Verdict?
---
Made for traders, by traders. That's the overwhelming impression. It's cost-effective and does so much for the trader working on multiple exchanges. Even if you're not interested in configuring trading bots or using their innovative order types for day traders, the aggregation of all your exchange-based crypto assets is a wonderful thing. 
PROS
Everything in one place, automated trading, innovative order types, fully customizable, trader-focused tools
The community is strong
The company's ethos appears to be about delivering a great product to its customers
This platform is clearly masterminded by people who know trading from a trader's point of view
CONS
The limitations of the cheaper plans are a bit disappointing
Like everything at the moment, people will ask when it's going DeFi

CaptainAltcoin's writers and guest post authors may or may not have a vested interest in any of the mentioned projects and businesses. None of the content on CaptainAltcoin is investment advice nor is it a replacement for advice from a certified financial planner. The views expressed in this article are those of the author and do not necessarily reflect the official policy or position of CaptainAltcoin.com