Gocharting Review – How To Use This Trading Charting Platform?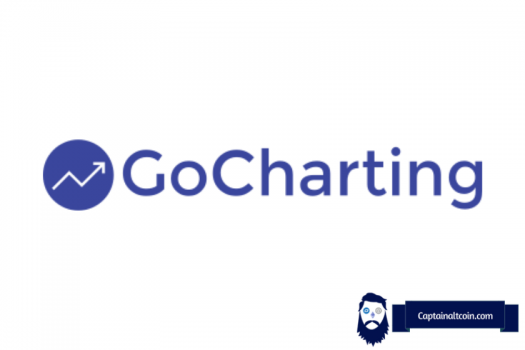 Gocharting Review – How To Use This Trading Charting Platform?
GoCharting is an online tool that provides real-time advanced charting services to crypto traders. Using the analytics and a wide variety of metrics on cryptocurrencies, GoCharting makes it possible for technical traders to make sound trading decisions. GoCharting features one of the most inclusive and most comprehensive coverages of cryptocurrencies out there. GoCharting covers more than one hundred cryptocurrency exchanges through its platform and provides analysis on more than twenty-two thousand crypto pairs.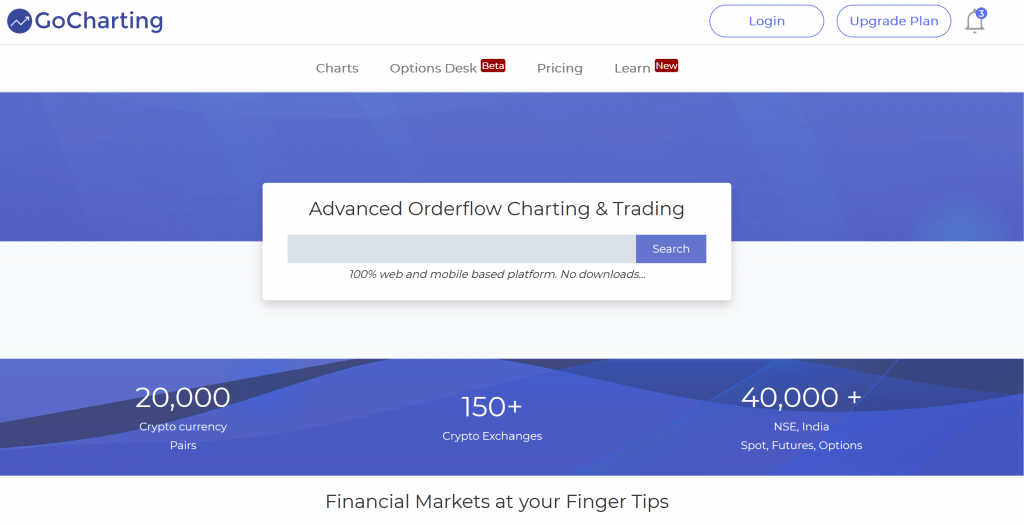 GoCharting's platform provides one of the most comprehensive free tools in analysis to meet one's trading analysis needs, it offers imbalance charts, composite and fixed volume profile, session, and best of all, it provides them free of charge and in real-time. Not only that, but the free features they offer also include over one hundred and fifty market indicators and drawing tools to balance out the usage of charts in GoCharting.
Another type of analysis that the platform provides is the automatic calculation of the market and volume profile charts, DOM charts, and price ladders. Since it utilizes an open-source language like Golang for its development and its own proprietary analysis charting tools, a user can plot one of many graphs from the data, including the spline, line, and area graphs.
Overview
---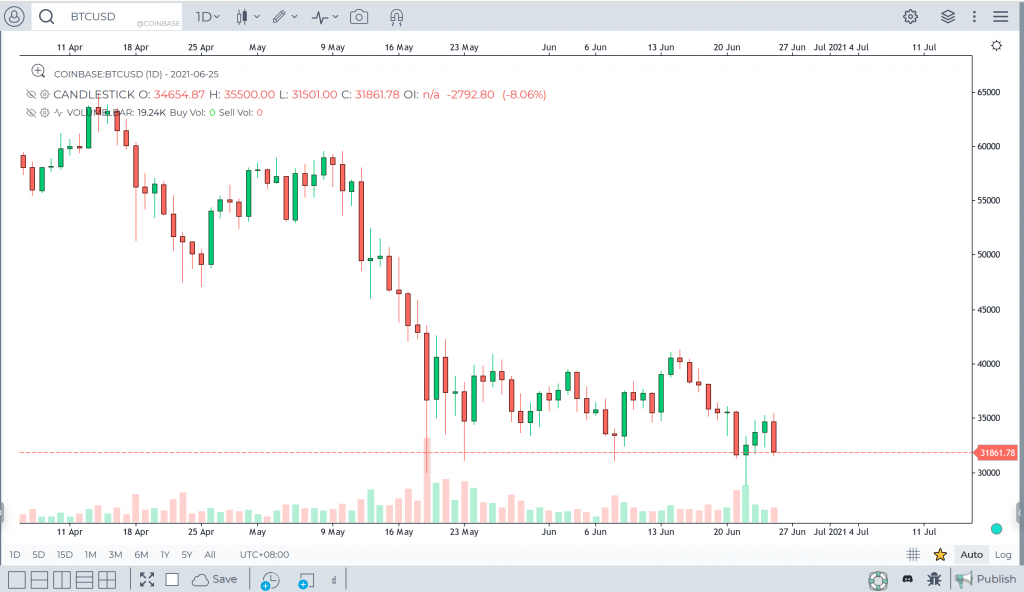 GoCharting has developed a User Interface and has provided User charting Experience features that set it apart from other similar platforms. The features include:
Full-screen mode
EOD charting on the browser, not on archaic desktop applications
Live news updates from leading cryptocurrency sources
No ads
Tick-level trade data.
Interactive drawing and professional charting tools
For pro-traders and programmers, a new scripting language G-SCRIPT to help create your technical indicators, strategies, and signals.
Build and save your watchlists and portfolios on the cloud
EOD and Intraday resolution charting
Advanced charts, e.g., Figure, Point, and Kagi
Customizable HTML5 charting
Ability to share your trade analysis on Social Media
Automatic Candlestick pattern recognition (Doji, Three Black Crows, etc.)
120 + technical indicators, No cap on how many indicators added to your chart
Real-time coverage of 100plus exchanges
Alerts on trade books and trade volumes
All NSE stocks/indices (Cash, for now, will add FNO if demand exist)
Multiple charts
DOM Price Ladders: Depth of Market Price Ladders allow you to view the orderbook price level
Number of Trading Pairs
---
Go charting supports over 22,000 trading pairs made up of over 100 cryptocurrencies.
Integrated Exchanges
---
GoCharting is integrated with all the major exchanges, including:
As of the last tally, it was over 100 exchanges that are integrated with GoCharting.
Features
---
Check their website to see everything their offer.
Charting Analytics
---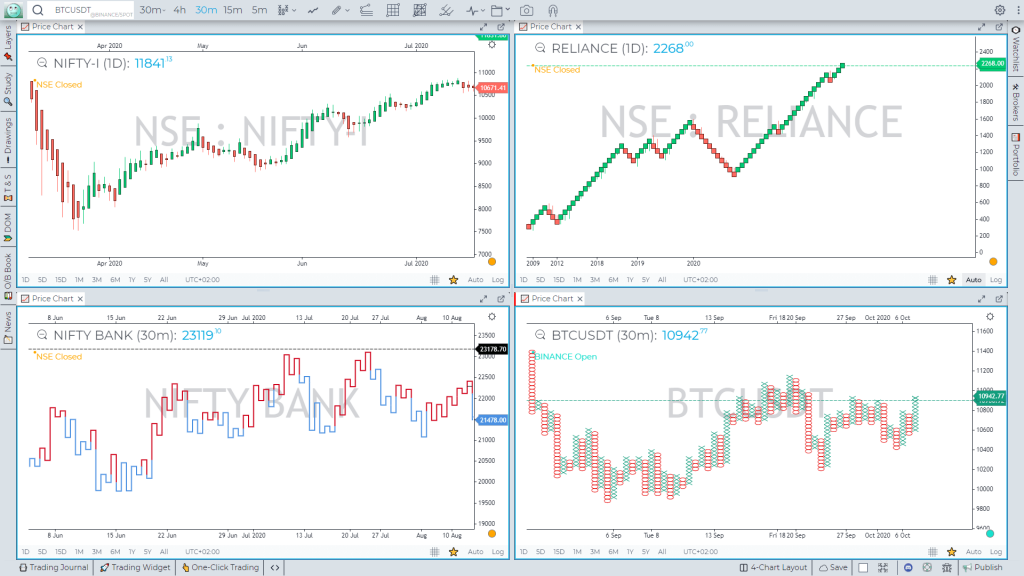 Charts – provides an extensive list of professional chart tools.

Kagi, Renko, Point and Figure, Line Break

Time-based graph of adjustable time intervals

Heiken-Ashi, Cluster Imbalance, and Range Bars

Drawings and Indicators
Scales and Axes – offers a wide range of scaling tools to analyze complex patterns

Linear, Log Scale, and Square Root Scale

Inverse Scale and Dual Axes

Lock aspect ratio to change the zoom mode

Cloud-Based Customization – provide a platform for customized charts; plus, a room to save charts and other templates

Full-Screen Mode on Browser

Screenshot and Social Share

Save Indicator and Drawing Templates

Context Menus and Time Zones.

Watchlist and Portfolio
Footprints AKA Cluster Charts – delivers market insights using time, price, and order flow on a single chart.

21+ Metrics to choose from
Orderflow Charting
---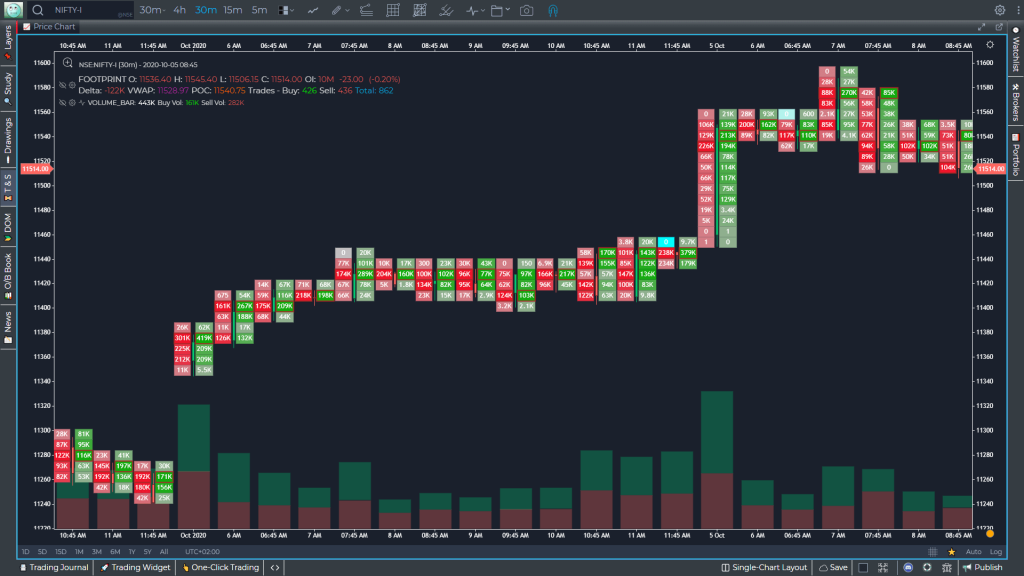 Imbalance Chart – GoCharting offers a range of professional volume tools to assess the distribution of the trading volume and the imbalance between buyers and sellers.

This Highlights the automated zones of support and resistance. The chart helps in evaluating the market behaviors. It also helps you learn the only Zero lag indicator in the world.

Session, Composite, and Fixed Volume Profile
Market Profile AKA TPO – To understand the price distribution during the trading session, the market portfolio/TPO is examined.

It shows the crucial support/resistance of a particular price level.

It also displays TPO point of control, its value area, and the single prints.

Historical Times & Sales/ DOM/ Orderbook – use volume analysis tools directly on the order flow chart.
Delta Bars and Cumulative Delta Bars – helps to assess divergence, if any.
Bar Statistics and Histogram – Presenting volume statistics for each bar.
Power Trades and Support/ Resistance Lines – display large market orders in the chart.
VWAP, Anchor VWAP, and VWAP Bands reveal a benchmark price for assets during any period of the trading day or session.
Chart Trading – Orders can be sent directly from the map with a single click. Order management is simple and intuitive, allowing you to adjust prices by dragging, cancel them, or execute based on the market price.

Hot Buttons for fast trading and managing

Mouse trading mode with flexible settings.

Algo decided Buy/Sell order depending on mouse position.
Order Execution
---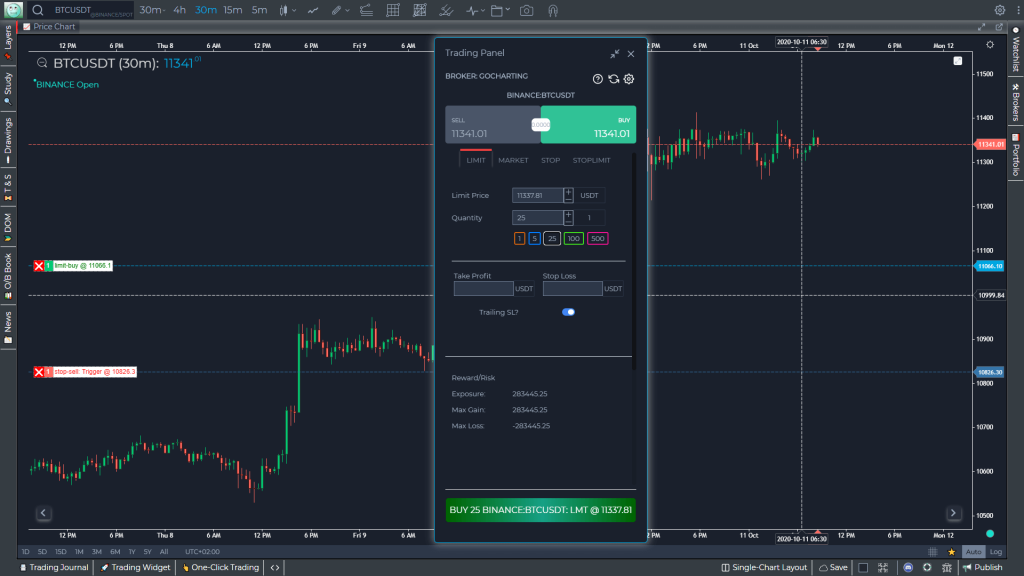 Multiple Order Types – Execute various simple and smart order forms, which can help to reduce Risk, provide privacy, and simplify the execution process.
Paper and Live Trading

The papers and live trading presents detailed trading information

The module has hot buttons to quickly close position and cancel orders

It also allows you grouping orders and positions for convenient management

Custom UI – provide customers with the opportunity to create

Every component is draggable

Every component is resizable

Layouts can be saved on a cloud server
Flexible Interface
---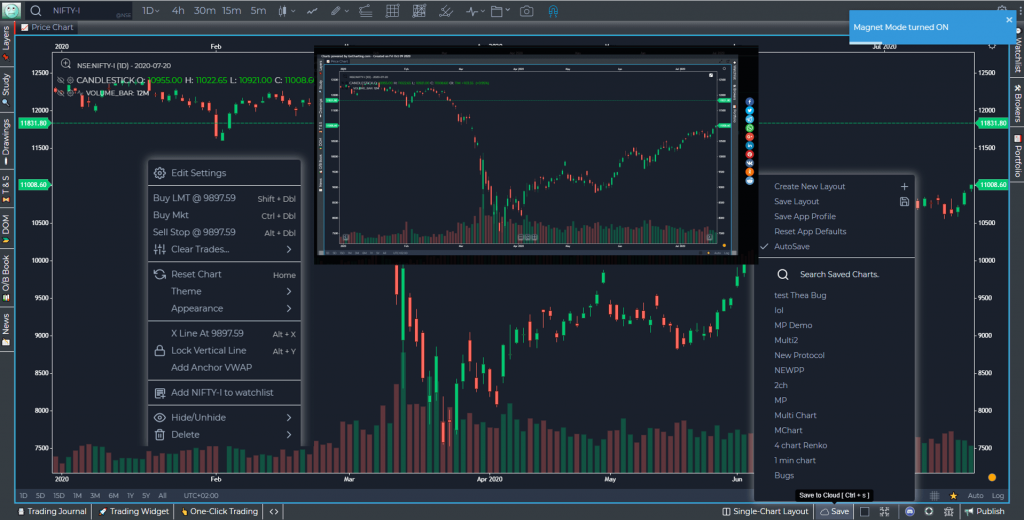 Support Multiple Monitor

Every component can be popped out on a separate window

Manage and interact between windows

100% Mobile Compatible – by using an innovative mobile browser interference, customers can work from mobile as well.
Panel Templates
Hot Keys, Online Demo, and Discord Support – Best-in-class Discord support, keyboard shortcuts, and an online platform demo tour
Coloring Themes
Technical indicators and drawing tools
Indicator on indicator
Channel and Moving Averages
Oscillators and Momentums
Volume and Order Flow
Trends Volatility
Candlestick Patterns
Trends & Arrows
Fibonacci and Gann
Harmonic Patterns
Text and Comments
Watchlist and portfolio
---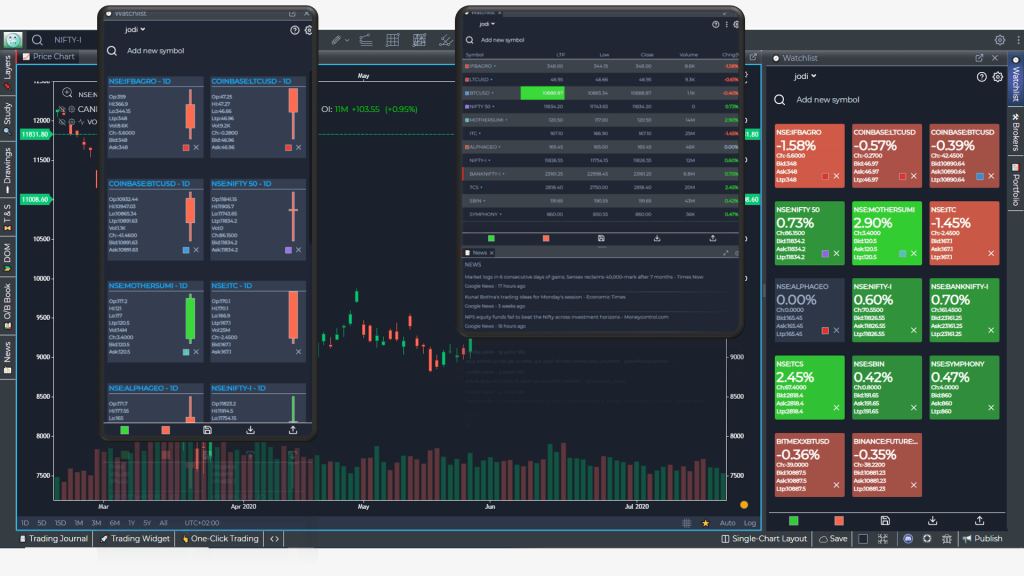 Watchlist panels show brief pricing information on selected instruments.
Watchlist can be added through:
Chart Context Menu
Chart Bottom Bar
Watchlist symbol lookup
Watchlist can be deleted by clicking the X symbol
To differentiate, colors can be changed.
Up to 5 watchlists can be created under the Free plan.
Furthermore, under Free Profile, a user can produce up to 50 layouts; whereas, they can scale the storage up to 300 with a Premium Plan.
Features of Watchlist and Portfolio
Pricing
---


The majority of the basic features are the same for all the portfolio; however, some of the major differences are:
Free

Number of saved chart layouts = 50

Number of saved indicator templates = 10

Number of saved watchlist = 5

Silver

Cost = $6/month; 16.6 percent discount on annual plans

Number of saved chart layouts = 500

Number of saved indicator templates = 30

Number of saved watchlist = 50

Gold

Cost = $20/month; 20 percent discount on annual plans

Number of saved chart layouts = 1000

Number of saved indicator templates = 100

Number of saved watchlist = 500
Read also:
Is Gocharting safe and legit?
---
By employing fundamental signals such as Sloan Ration, Graham Number, and Petroski number, GoCharting has its best test scoring model to evaluate property stocks.
Risk Score model for future forecasting
160+ fundamental indicators, available on the scale of Quarterly, Annually, and Trailing Twelve Months (TTM) timeline mode.
200+ macroeconomic indicators
The only chart that allows users to plot analyst estimates directly on the chart.
Live news feed.
Furthermore, it is an old website. And, the longer the website exists, it is considered to be more legit.
The website is deemed to be popular on Alexa with a high ranking. This means that people often visit these sites; plus, they also recommend it to others, supporting its relevance.
SSL certified- Professional companies use an SSL certificate to encrypt communication between your computer and their website.
On the other hand, the website is hosted in a high-risk country that is India. And, countries with a high risk are the ones that the International Banking Federation identifies as having a high level of fraud and corruption.
The website offers high financial risk services like trading oil, foreign exchanges, and off-shore investment.
As you can see from the impressive list of features, reports, charts, and execution tools listed above that GoCharting not only provides you with distinctive features but a ton of free features.
In addition, it provides for several Risk Scored models that are built for future analysis and forecasting. It provides you with over one hundred and sixty fundamental indicators from Revenue and Profit to EPS, P/E ratio. All fundamental indicators needed for forecasting and analysis are available on a Quarterly, Annual, and even Trailing Twelve Months timeline.
That is not all GoCharting covers over two hundred macroeconomic indicators, anything from Crude Oil, Gold, Rubber, GDP, and Employment. To add more, we are the only online charting platform that permits users to plot analyst estimates directly on the chart they have created. It would be best to explore how to Plot dividends, splits, bonuses, and rights on the chart.

CaptainAltcoin's writers and guest post authors may or may not have a vested interest in any of the mentioned projects and businesses. None of the content on CaptainAltcoin is investment advice nor is it a replacement for advice from a certified financial planner. The views expressed in this article are those of the author and do not necessarily reflect the official policy or position of CaptainAltcoin.com