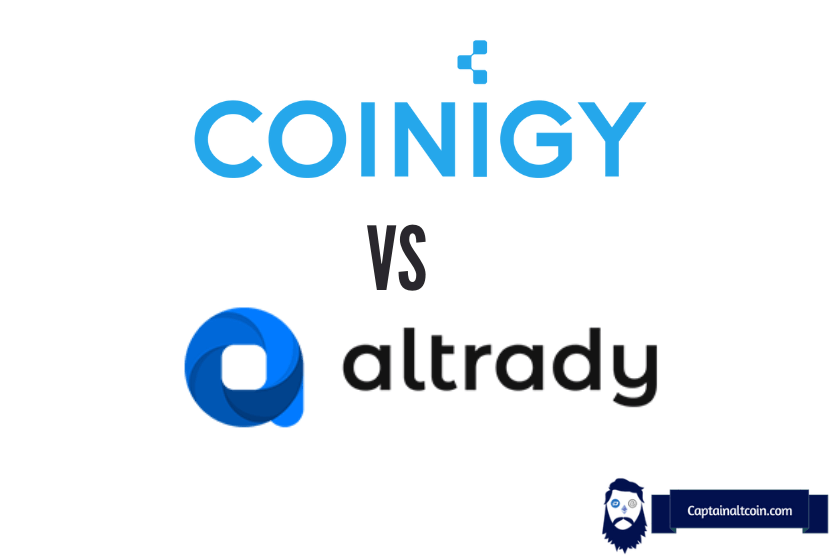 Portfolio managers are an essential tool for the retail trader. When you expand onto multiple exchanges it becomes difficult to keep track of all your assets. You need to open several platforms and do some time-consuming mental arithmetic. This isn't so bad for HODLERS, but it doesn't work for the day trader. Up-to-the-second information and rapid trade execution are essential for implementing any strategy successfully.
Coinigy and Altrady are two of many platforms that aim to solve that problem by aggregating all your positions on one platform. They each have comprehensive suites of trading functions tailored for the crypto aficionado, but which is better? We will compare and contrast, and see what conclusions we reach.
Introduction
---

Altrady was created by traders for traders. Founded in 2017 by Dutchman Benoist Claassen, the vision was to provide the very best trading tools to crypto fans. Years spent in the crypto community listening to his fellow traders inspired Benoist to create Altrady. This is important because it informs the way the whole platform evolves. Altrady puts the needs of the trader first.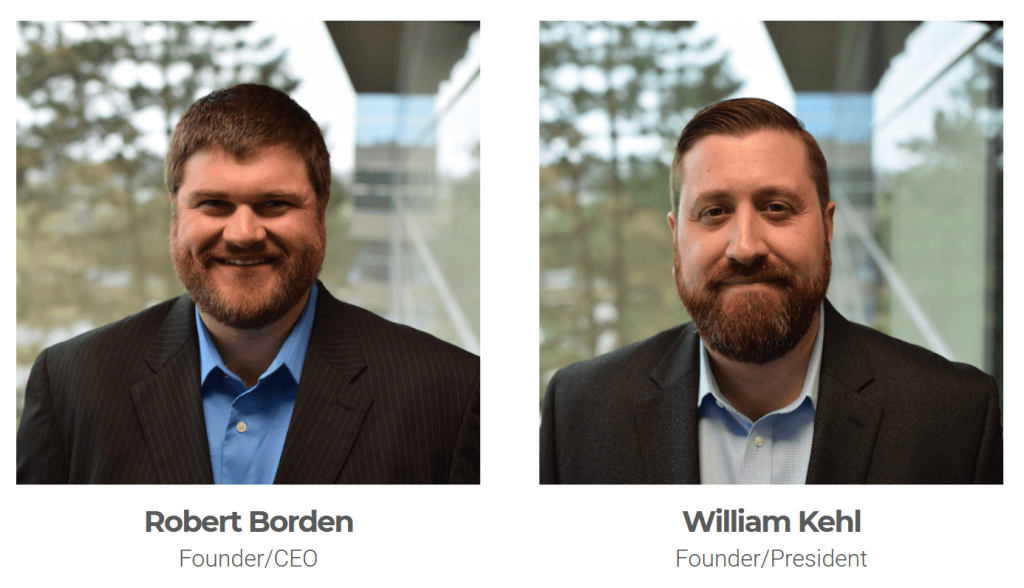 U.S.-based Coinigy was founded back in 2014 by Robert Borden and William Kehl, CEO and President, respectively. The idea is similar to Altardy, aggregating assets across various exchanges into one dashboard, and providing up-to-date trading functions. Based in Milwaukee, they have a standing offer on their website to go for some coffee or micro-brew. Very tempting and a good start for Coinigy.
Trading Analytics
---
There are different levels of trading analytics. Using Altrady we can review our portfolio's performance over time and search for weak points in our strategy. We can go further on Coinigy and test our latest trading strategies against real historic data.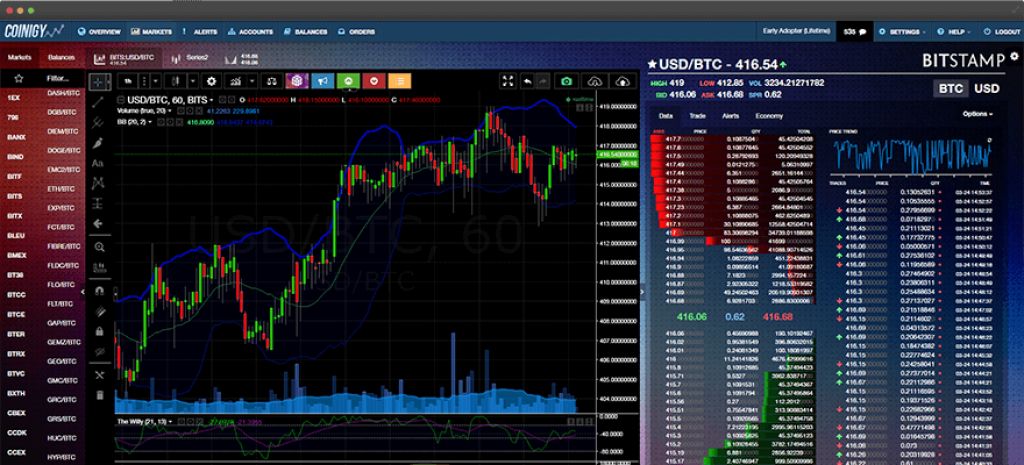 Coinigy has the facility to download specified market data for any trading pair from any affiliated exchange, for any period of time. These data are used to test automated trading software (Bots), but there's an issue with this process. The results are always skewed in favor of the strategy under test. Here's why.
Historic market data does not take into account the prevailing 'noise' of a chaotic, real-world, live trading environment. The real results of a strategy are greatly affected by the exact timing of your buys, sells, and the speed at which the market is moving. Getting in or out of a short-term trade a fraction late can very often be the difference between winning and losing.
Testing against historic data does not account for partially filled sell orders, nor the resulting panic sell order at the lower market rate. This happens particularly often with crypto trading, as prices can plummet in a flash. Using the historic data is predicting the past in a perfectly ordered simulated world. This is very different from predicting the future in our messy analog universe.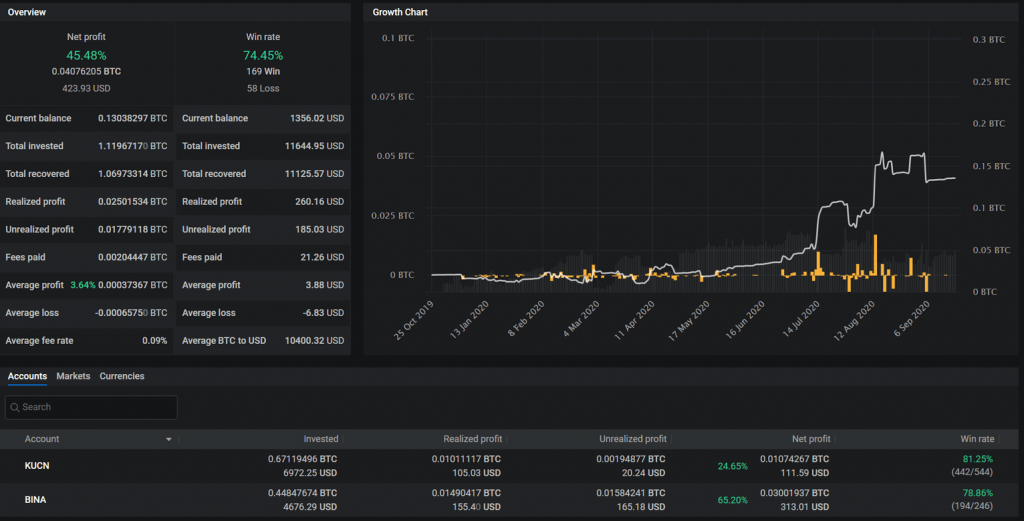 On Altrady, I could not find mention of how to exploit historic data for back-testing automated trading strategies. Coinigy wins this one.
Charts
---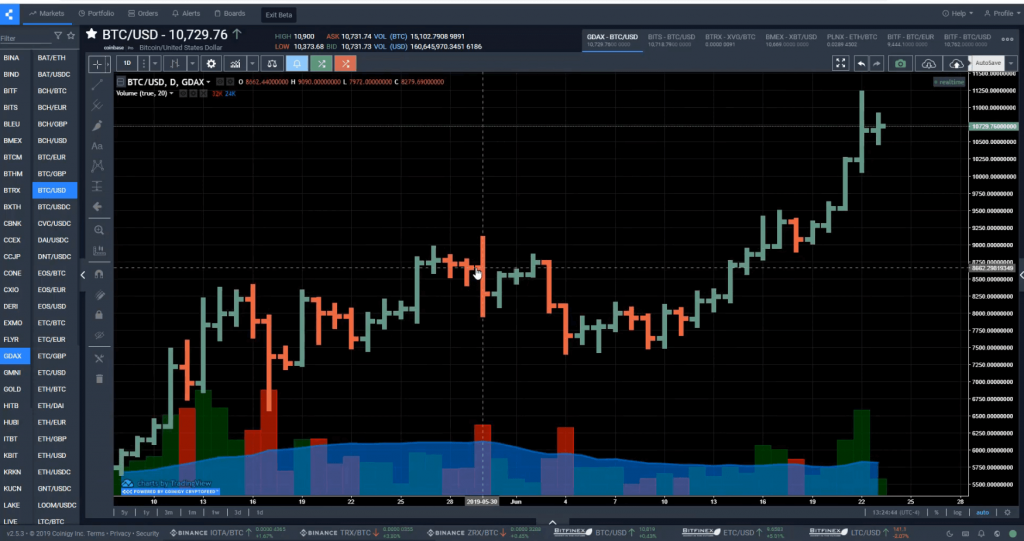 Altrady has fully customizable charts enabling you to configure your ideal trading workstation across multiple monitors. You can do all this on Coinigy, but it was sluggish in comparison. Trading charts have become standardized so what's important is the smoothness, ease of use, and how little it fatigues the user. My vote goes to Altrady, especially when I need to spend long hours in front of the computer monitor.
Scanners
---
These functions scan the markets looking for the price and volume changes that you have specified. They are automated so they can check thousands of trading pairs across multiple exchanges simultaneously. Once they identify a qualifying event, you can be notified via a desktop or mobile alert.
You can go further and compute entry points for trades using algorithms to process live market data. This can be simple price and volume alerts, but the output from the Scanners can be configured to trigger actual trades. This is where network speed and low latency are really important.
Altrady and Coinigy take data feeds from their 3rd party exchanges, process them, and forward alerts and notifications to you. There's a natural time lag involved so promptness is the key. On their website, Altrady claims to be much quicker than Coinigy, so we will give this one to Altrady.
Altrady – Crypto Base Scanner
---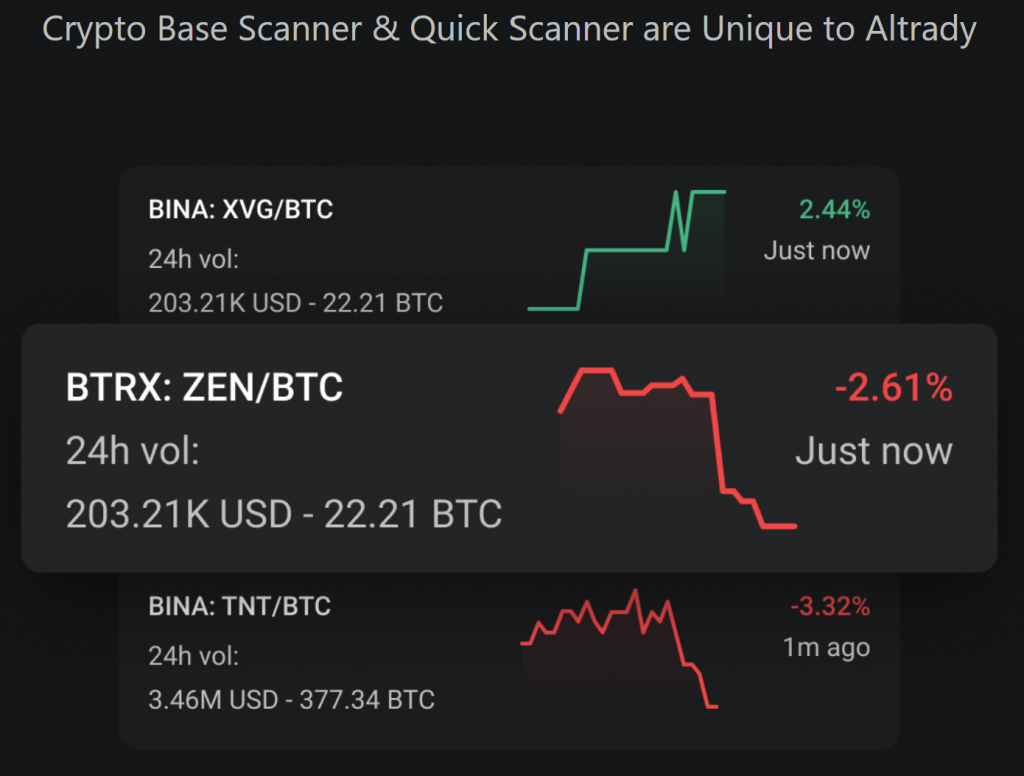 Based on the Quick Fingers Luke trading system, Crypto Base Scanner identifies buy and sell points signified by hitting new lows. The strategy is a well-used one and you can learn all about it here on Luke's YouTube channel. It works on the principle that "what goes down must come up," which is of course nonsense. But it's popular and many people swear by it, so who am I to criticize?
Either way, the algorithm monitors when a new base is reached, and if all other criteria are met, it will place a trade. You can tweak exactly how you want it to trade for you. For example, you could specify an entry point when you see a 10% drop in price, breaking through previous support, crossing the 22-week Moving average, coinciding with a 40% increase in daily volume, when there's an 'R' in the month, etc. You get the idea.
Altrady – Crypto Quick Scanner
---
This feature scans your filtered list of trading pairs across all your exchanges and alerts you when something interesting happens. Depending on how you filter your alerts, you'll receive notification of entry points or warning signs of runaway losing trade. These could easily be for coins you have never heard of as there are thousands of pairs to scan. It would previously take an office full of analysts to do the same work.
Coinigy – Arbitrage Overview
---
When your portfolio is spread across multiple exchanges, you will notice that the price of, say, Bitcoin, can vary by a few hundred dollars between exchanges. Arbitrage trading involves buying the cheaper BTC, moving it to the other exchange, and selling it at the higher price.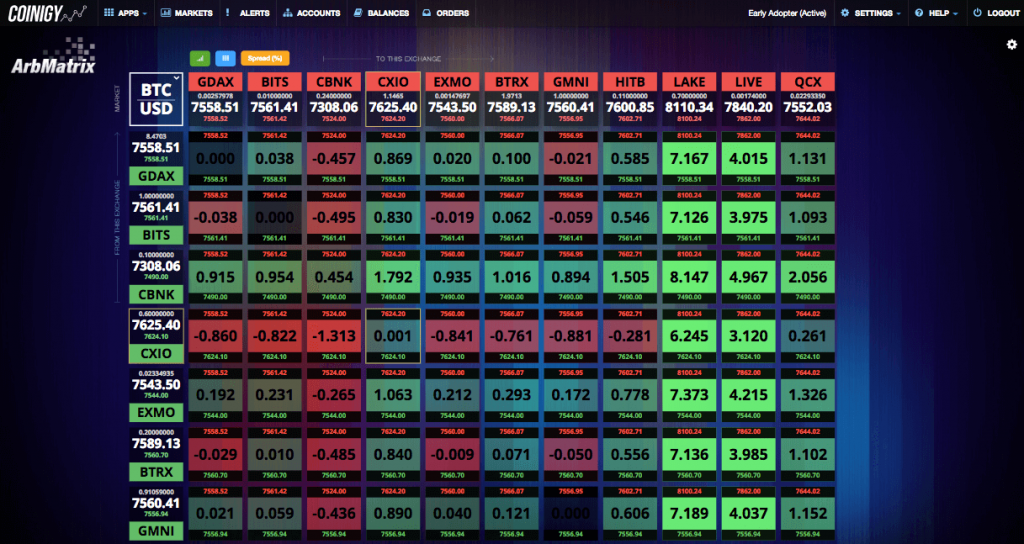 Coinigy's partner application, ArbMatrix, scans 2,500 markets across 43 exchanges. You choose an exchange where you hold assets, select your asset type (BTC, ETH, DOT, etc.), and look to see the best price on other exchanges. ArbMatrix will not place the trades for you, but you can see at a glance where price inconsistencies exist. These are the arbitrage opportunities.
There are several difficulties with the strategy, not least the expense and time spent transferring the crypto between exchanges. You also have trading fees or the 'spread,' making it much more expensive to buy than it is to sell. The opportunity will likely be fleeting as markets realign through price discovery, so there are a lot of things to get right all at once. With all your exchanges aggregated on the Coinigy platform, at least you stand half a chance.
Altrady – Arbitrage Overview
---
This feature is coming soon to Altrady, or so they say.
Portfolio Management
---
The main thrust of both these platforms is portfolio management. Even when it's calm, it's so convenient having all your assets displayed in one application. Entering 2FA codes to sign into multiple exchanges is at very best, time-consuming. It's when the trifle hits the fan that it really comes into its own.
Imagine, like today, there was a marketwide 30% crash over 30 minutes which caught everyone by surprise. Now imagine, against all sensible advice, you were 10x margin trading and were long everything. In this situation, being able to cut and run quickly from your trades is critical. If you have to log into all your platforms and cancel every trading pair individually, positions could be wiped out before you got to them. With a trading platform, you can be out of all your trades in a few seconds.
Being advertised as portfolio management tools, you'd expect the data collection, processing, and presentation to be first class. It is in both cases, so I think this one's a dead heat.
Layout
---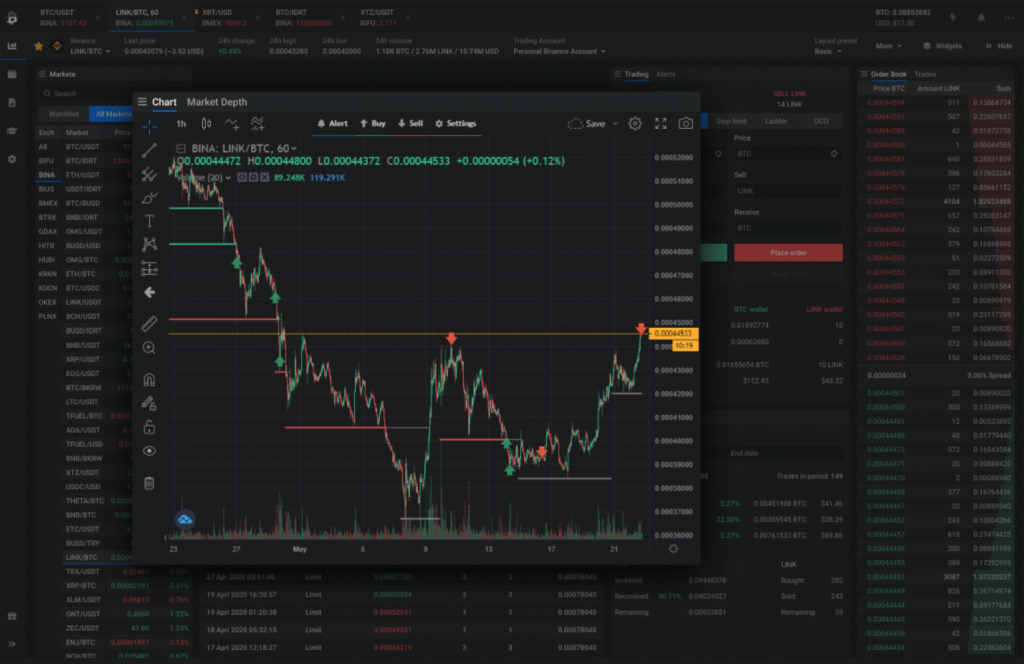 Altrady allows full customizability so you can arrange multiple charts across multiple screens to create your perfect trading workstation. You can design and save bespoke layouts for different trading strategies. You can even have a different layout for working at home across 3 monitors, or for trading on the go with your laptop. You need to buy the Essential package to get the full customizability, but as a day trader, it's well worth it.
The Coinigy trading page layout is excellent, too. I especially like the graphics for the order book where you can see market depth at a glance. You can't move things around as much with Coinigy, but it's still very well presented. It looks pleasing with its variegated blue shading and uncluttered design. If you are going to spend hours staring at something, it should be attractive.
Pricing
---
Altrady
---
After a 2 week free trial period, there are three levels of pricing, Basic, Essential, and Premium. There are large discounts for yearly subscriptions, paid in one lump sum.
With the discount, the Basic Plan works out to be $12.76 per month, and gains you access to the basic Altrady services. If you want the trading analytics and the Scanners, then you need to upgrade. The yearly price adds up to $153.
The Essential Plan comes in at $25.57 per month and buys you everything but the Base Scanner and Quick Scanner. You also get trading analytics and can display multiple charts on one page. That's $307 annually.
Premium costs $38 per month and gives you the lot, including the Base and Quick Scanners. You'll pay $456 per year.
Coinigy
---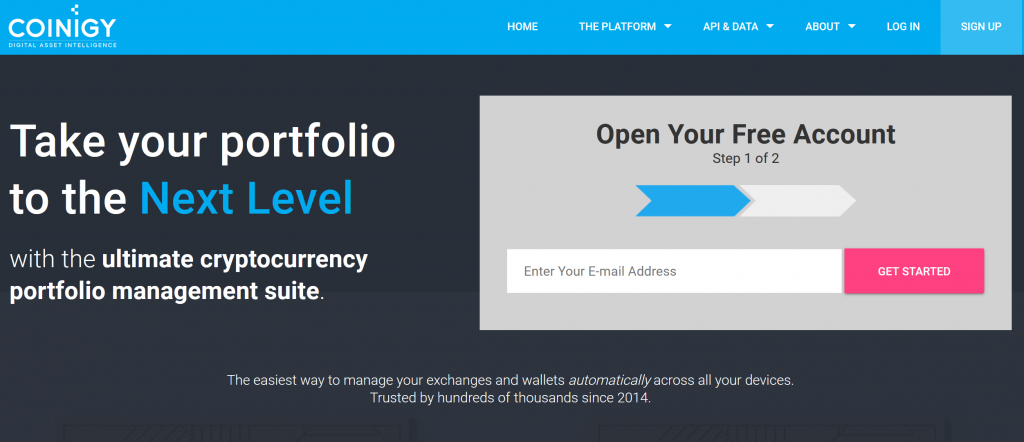 You can enjoy Coinigy free for 30 days with a Starter Account. You get to trade for no added fees and use the full Coinigy suite of chart tools for technical analysis.
For $18.66 per month, you are promoted to a Pro Trader account. Extra features include API access, customizable charts, and advanced order types.
For a rather hefty $99 per month, you get the full suite of functions including Coinigy CryptoFeed™, Enterprise API Access, and the ArbMatrix application. The API Developer Pro subscription unlocks the tools for serious technical traders, as you can probably tell from the name.
Security
---
Both companies are very concerned with security. Although you don't store any value directly on Coinigy or Altrady, the software does have direct access to your exchange accounts. 2FA (2-Factor Authentication) is required for logging on to make transactions.
As I mention regularly, a security breach almost never happens on the tech platform. Security is their business and they have well-paid experts working full-time on it. The client, however, generally has a domestic PC, possibly shared with their family members, and virtually no cybersecurity skills. This is where hacks happen, so as always, proper internet hygiene is paramount.
So yes, Altrady and Coinigy are both secure and trustworthy. You can read about Coinigy's security policies here. Spoiler alert – they're very dull.
Altrady Automatic Position Tracker to Monitor Current Trades
---
Altrady's Position with P&L feature is also super useful. When you buy some crypto, you know what you paid for it and what it's worth now. Calculating your profit and loss is easy. But what happens if you decide to buy a little more at a different price, and later sell some to take profits? What's your average buy price now? What's your break-even price? What's your net profit?
Every time you buy a new asset, a ledger is initiated documenting this critical information. It can be very revealing, especially in the long run when you have traded in and out of a favorite cryptocurrency for years. For example, I bought some BTC at $2100 in 2017 but I also acquired some at $64,000 in 2021. I've cashed in profits for a holiday in 2018 and given some Bitcoin away to friends and family for Christmas gifts. Apparently, my average buy price is $7,600. It's comforting to know!
Tools
---
There are all the usual technical analysis tools for drawing trend lines and calculating support and resistance bands. You can construct bespoke moving averages and view volume, Bollinger bands, Fibonacci levels, and SRI information. There is a massive array of indicators and the tools to draw them.
Even for someone who prefers to trade off the fundamentals, it's useful to know what the technical analysis guys are thinking. I found the Altrady charts pan, zoom, and refresh much more smoothly than Coinigy, and overall it's easier on the eyes. But that's just a matter of taste.
Trading Functions
---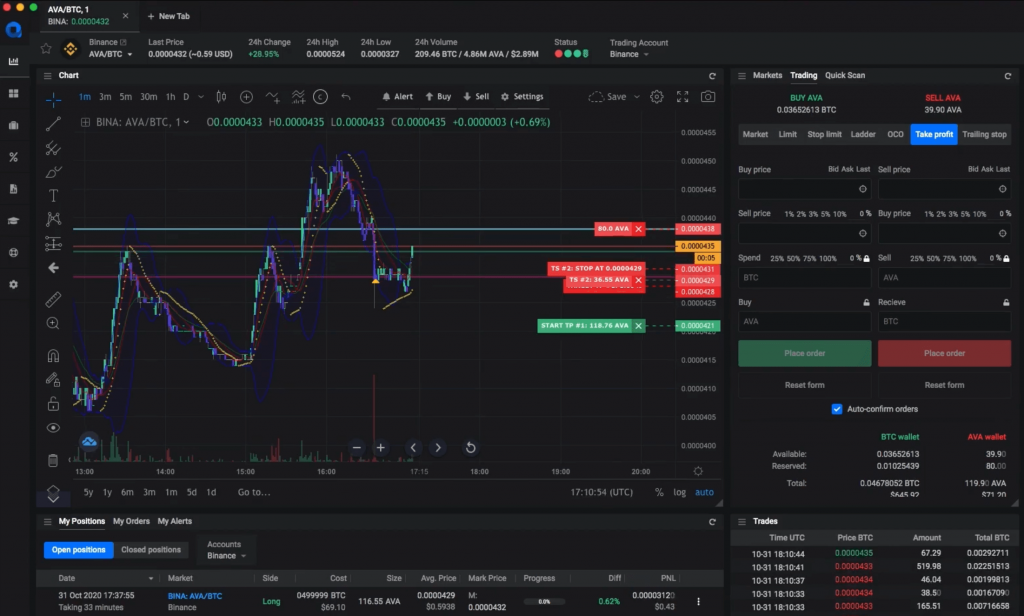 This is where Altrady's trading heritage really shows. They have pioneered order types such as 'take profit orders' and 'trailing stop orders.' You can configure your account to take the profits on part of your trade while updating your stop-loss to protect your current gains. This is a fiddly business when you try to execute it manually, but it's simple and automatic using Take Profit Orders.
Altrady's 'Scaled Ladders' feature allows you to script a series of entry points into a trade. You choose the size and frequency of your initial buys and reduce the risk of going all-in with one ill-timed buy. It's a similar idea to dollar-cost-averaging but designed for day traders who need to calculate and place trades in a hurry. It's a great way of hedging against the massive volatility of the crypto markets.


Not to be outdone, Coinigy also has some tricks up its sleeve. Or so I thought until reading the documentation which is 3 years old. They were planning to introduce similar order types to Altrady, but I have found nothing recent on the matter. It looks like Altrady wins this one.
Conclusion
---
The winner is Altrady. Even though there are fewer affiliated exchanges, all the important ones are present. The attention to detail and innovative ideas show that Altrady understands what traders want. Coinigy has most of the important features and is also professionally executed. As portfolio managers, it's difficult to choose between them. As trading tools, Altrady takes the win.
Let's see who's the first to launch compatibility with the DeFi universe, with a digital wallet like Binance Wallet or Metamask. In fact, it will be interesting to see how they both react to DeFi and Web3.0.
Check out our other guides and trading platform comparison that can be good alternatives:

CaptainAltcoin's writers and guest post authors may or may not have a vested interest in any of the mentioned projects and businesses. None of the content on CaptainAltcoin is investment advice nor is it a replacement for advice from a certified financial planner. The views expressed in this article are those of the author and do not necessarily reflect the official policy or position of CaptainAltcoin.com