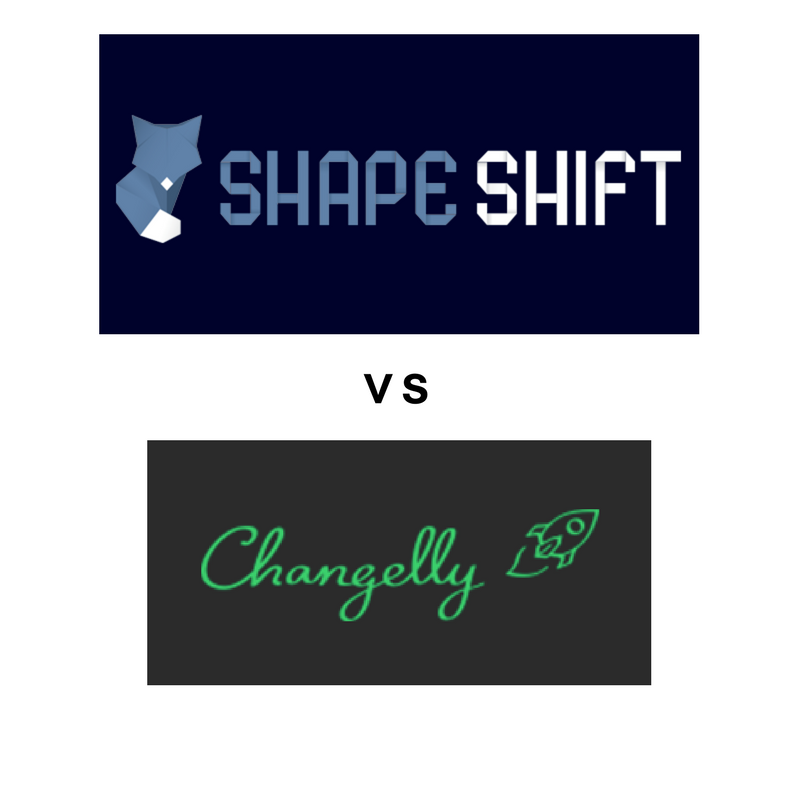 Changelly and Shapeshift are two of the most popular instant exchanges that currently offer a relatively simple service that combines user-friendliness, speed and low fees. These platforms both provide a valuable service and offer users the opportunity to buy and trade in various cryptos, or 'altcoins' like XRP, Monero, ETH/ETC, LTC, and many others. Although many of the services offered by Changelly and Shapeshift are quite similar, but that does not mean both platforms are alike.
In this post, we'll collate the features offered by both exchanges, including any pros and cons associated with them.
Changelly


Founded in 2013 by the team of MinerGate, a bitcoin mining pool that offers a service that guides users through the mining process, Changelly is a trustable site which you can use to exchange between various cryptos. Changelly has already attracted over 1 million customers to its exchange and boasts up to 3 million users per month. Headquartered in Prague, Czech Republic, Changelly acts as a conduit between various trading platforms such as Poloniex, HitBTC, and Bittrex.
Changelly has a very clear and intuitive user-interface, and all you have to do is enter the amount of coins and your wallet address. The exchange is usually processed within minutes, and from the get go it's clear how much money you'll spend and how much you'll receive. It claims to offer the widest range of cryptocurrencies for exchange, with over 80 different cryptos currently available for exchange, including Ethereum, Ripple, Litecoin, Monero, NXT and Bitcoin Gold! One more thing worth noting is that there are no geographical limits to the service, which means that this platform can be accessed anywhere in the world.
Coin wallets
If you are hardcore crypto-fanatic, you probably hold some of these coins as well. Here are the wallet solutions for them:
There is no deposit storage, and you will need a valid e-mail address to create an account. They keep adding support for all of the reliable cryptocurrencies, accounts are protected with 2FA, and their support system is also very good. Changelly also allows users to exchange fiat currency (US Dollar or Euro) to cryptocurrency by using a VISA or MasterCard credit or debit card, but there is an initial limit of $50 to $100 for using bank cards.
Changelly has no withdrawal fees or commissions but it states that it charges a flat fee of 0.5% per trade. When buying cryptocurrency on Changelly, the exchange rates and time of transaction are made very clear from the outset, and as you enter the amount of coins, the fees are shown to you and there are no further hidden fees. However, due to the fact that they are using a 3rd party service for fiat to Bitcoin purchases, exchanging from/to fiat may entail a higher fee.
There are several users on various online review platforms who have complained about delayed transactions, hidden fees, and high exchange rates. However, these problems seem sporadic and it is evident that Changelly charges a 0.5% commission for crypto-to-crypto trades. It appears that some users may have tried to exchange from/to fiat, but Changelly clearly states that the fees on those trades are much higher. There has also been a concern if Changelly asks some users to verify their identity but the email address that you used to open an account does not need to be verified by users. This also means that a fake email can be used if users do have anonymity or privacy concerns. Some users have also claimed that Changelly may ask users to provide social media accounts to verify their identity. However, it appears that no verification is required and it doesn't seem like this poses any real barrier to someone who still wishes to remain anonymous.
Shapeshift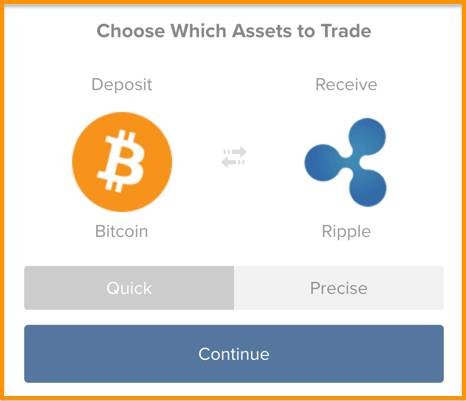 Founded in 2013 by Erik Voorhees and headquartered in Switzerland, Shapeshift's premise is offering a direct crypto-to-crypto exchange platform. It received a $525, 000 investments in March of 2015 and a further $1.6 million in September 2015 from prominent digital currency firms and investors such as Mardal Investments, Bitcoin Capital, and Digital Currency Group. This platform currently offers users the opportunity to swap almost 50 different cryptos, but it does not let you purchase crpytocurrnecy with fiat (i.e. US Dollars, Euros etc.) ShapeShift experienced a theft of assets, and multiple hacks, in early 2016, but the company quickly determined an employee committed the theft and reported the incident to law enforcement and filed a civil suit against the individual.
This company has made quite a name for itself over the past few years and as a crypto exchange, Shapeshift offers a very easy means of swapping cryptocurrencies. The user-interface is very easy to navigate, with users simply entering the relevant crypto address to swap which serves as both an order and a receipt. To exchange cryptocurrencies with ShapeShift you do not need to give them any personal data like your location, your name or your email address (although users may choose to set up an account). This is a critical improvement in exchange technology as it keeps the users safe from identity or financial theft. However, it is worth noting the company makes all other collected information public, but since this information doesn't include an email address, location, or name, there is very little info to share in the first place
ShapeShift is the fastest and safest digital asset exchange in the world and its transactions occur instantly, which means that cryptocurrency is never held on a centralized exchange, but is delivered straight to users via a deposit address set up by the exchange. Shapeshift is available anywhere in the world but it does have transaction limits, although it is possible to increase deposit amounts by using the "specific amount box", which was added in September 2015, because there are always users who want to work with much higher limits. Smaller value transactions are usually processed without confirmations on the blockchain. Comments from users online suggest that, on average, Shapeshift's order execution times are considerably faster than Changelly. However, the recent explosion in popularity of cryptocurrency in general has meant that exchanges struggle to deal with demand and that's the reason why exchange times are slower across the board.
ShapeShift claims that there is no fee at all except for miner's fee, which is listed here. This is a fixed fee, with some online commentators suggest that Shapeshift is monetizing the company off the difference between the actual mining fee and the fixed mining fee Shapeshift charges. If you go through user reviews of the exchange, you can see that the most common complaint is regarding long transaction times and high fees. However, user opinions should always be taken with a grain of salt because some user don't try to reach out for help and are left frustrated in a case that may have been solved relatively quickly through the customer support.
The Difference in Quick vs. Precise Exchanges
Quick transactions refer to an exchange type where the user does need to specify how much of a certain altcoin they want to receive and they can deposit whatever they would like, as long as it is between the maximum and minimum limits. The deposit maximum limit is usually lower with quick transactions and there is no timer to how quickly users have to deposit coins to the deposit address. This can be reused infinite times.
Precise transactions (also known as "specific amount orders") refer to a to an exchange type where the user tells the exchange how much they want to deposit BEFORE the exchange provides them with a deposit address. Users are prompted with a deposit address. Also, the exact amount specified by the user is expected by the exchange. Users can get a better rate with this type of order AND a higher deposit maximum limit. Users only have 10 minutes to deposit funds to the provided deposit address, and once the timer expires, the rate expires.
Conclusion
Which exchange is better? It's hard to say who the winner is because both exchanges seem to have a good product but also a lot of angry users, but this is common for most startups in the crypto world, and should be taken with a pinch of salt.
Changelly seems to have better fees, despite their stated service charge. They also allow buying of BTC and ETH with fiat currency. On the other hand, Shapeshift is a more established company and is, on the face of it, more anonymous. The fact that it does not require any sign-up or identification is the reason why this platform is more familiar and attractive to crypto investors.
However, both Changelly and ShapeShift offer a number of API tools for developers and both platforms offer broadly similar services, where speed is the key factor. Both platforms also allow investors access to a wide selection of altcoins that can be exchanged quickly. As it seems there's no clear winner this time and it's basically a matter of opinion.

CaptainAltcoin's writers and guest post authors may or may not have a vested interest in any of the mentioned projects and businesses. None of the content on CaptainAltcoin is investment advice nor is it a replacement for advice from a certified financial planner. The views expressed in this article are those of the author and do not necessarily reflect the official policy or position of CaptainAltcoin.com