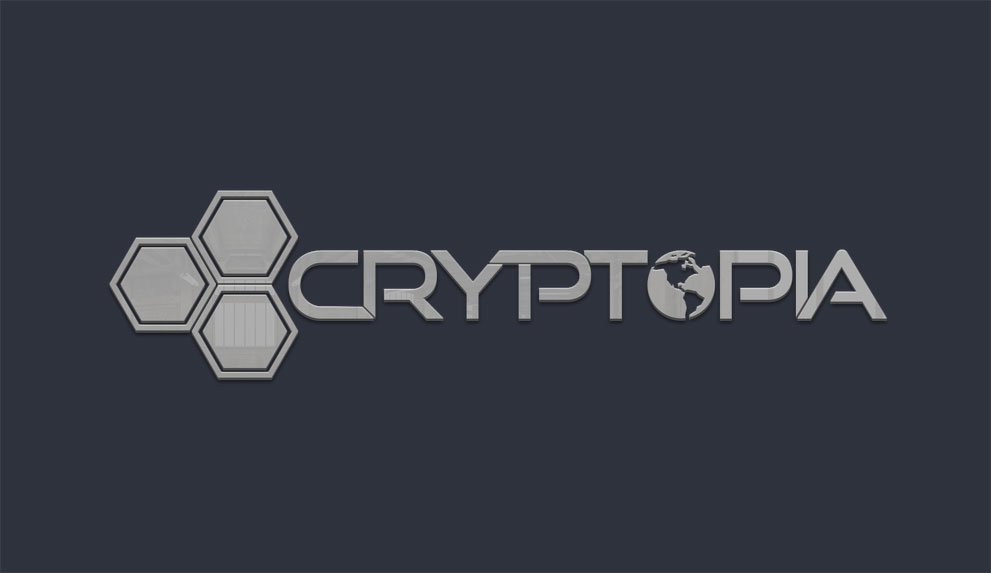 UPDATE:
In January 2019, Cryptopia got hacked apparently by the same hackers on two occasions in a matter of weeks. The exchange is fighting an uphill battle to stay afloat and the obvious answer to the question of its safety and legitimacy is: as of January 2019 Cryptopia can't be considered as a safe place to store and trade your coins.

The New Zealand-based Cryptopia endured a hack on January 14 that cost the company $16 million worth of digital assets including Ether and ERC-20 tokens. In the immediate aftermath of the breach, Cryptopia took its site offline posting a message indicating that the website was under maintenance. At the same time, Cryptopia contacted police authorities who worked to identify the perpetrators and to attempt recovery of the stolen assets. A few days later, the company acknowledged the data breach and admitted that they incurred "significant losses."

Eventually, Cryptopia came back online, providing trading limited trading opportunities while continuing to experience banking issues. This reduced functionality prevented many users from cashing out their tokens.
For a while it seemed as if it is going to recover from the hack. However, after making efforts to reduce costs and develop a profitable business model, Cryptopia decided that it was in the best interest of all stakeholders to liquidate the exchange. In a statement, Grant Thornton, Cryptopia's assigned liquidator, conveyed their intention "to find the solution that is in the best interests of customers and stakeholders."
Based in Christchurch, New Zealand, Cryptopia is a combined cryptocurrency exchange, trading platform and marketplace. It was founded by Adam Clark and Rob Dawson and is designed to facilitate the purchasing, selling and trading of almost anything, using cryptocurrency.
It is known among crypto traders as a go-to place for small coins and more often than not, you will find some real gems on Cryptopia that you can buy before they appear on other exchanges and rocket in price.
Cryptopia is a great place for those who are looking to purchase or sell crypto, or purchase or sell anything with crypto, or even trade a brand new altcoin of your own creation.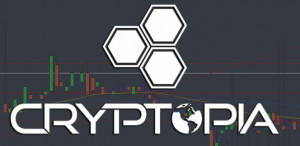 Trade Coins on Cryptopia
What is Cryptopia and How Does It Work?
Cryptopia offers a lot more than just a crypto-exchange. Launched in 2014, Cryptopia is an all-in-one style exchange and trading site focused around cryptos. Cryptopia focuses on better user experience rather than just being another one-stop-shop and allows you to purchase altcoins at whatever prices are being offered by other users, and sell them for the price you think you'll get.
Their website also features a fully functional online shop where you can potentially buy almost anything from gift cards to headphones to a car, with cryptocurrency.
One more thing worth noting is that Bitcoin and other currencies might be transferred between users free of charge, as it's being passed through Cryptopia rather than along the blockchain. You can also set up an auction, where you can start turning your cryptocurrency into real items and services. Cryptopia is an entirely P2P exchange, which means that you're purchasing straight from other users. You'll potentially find some very competitive prices, but there will probably also be some very bad offers.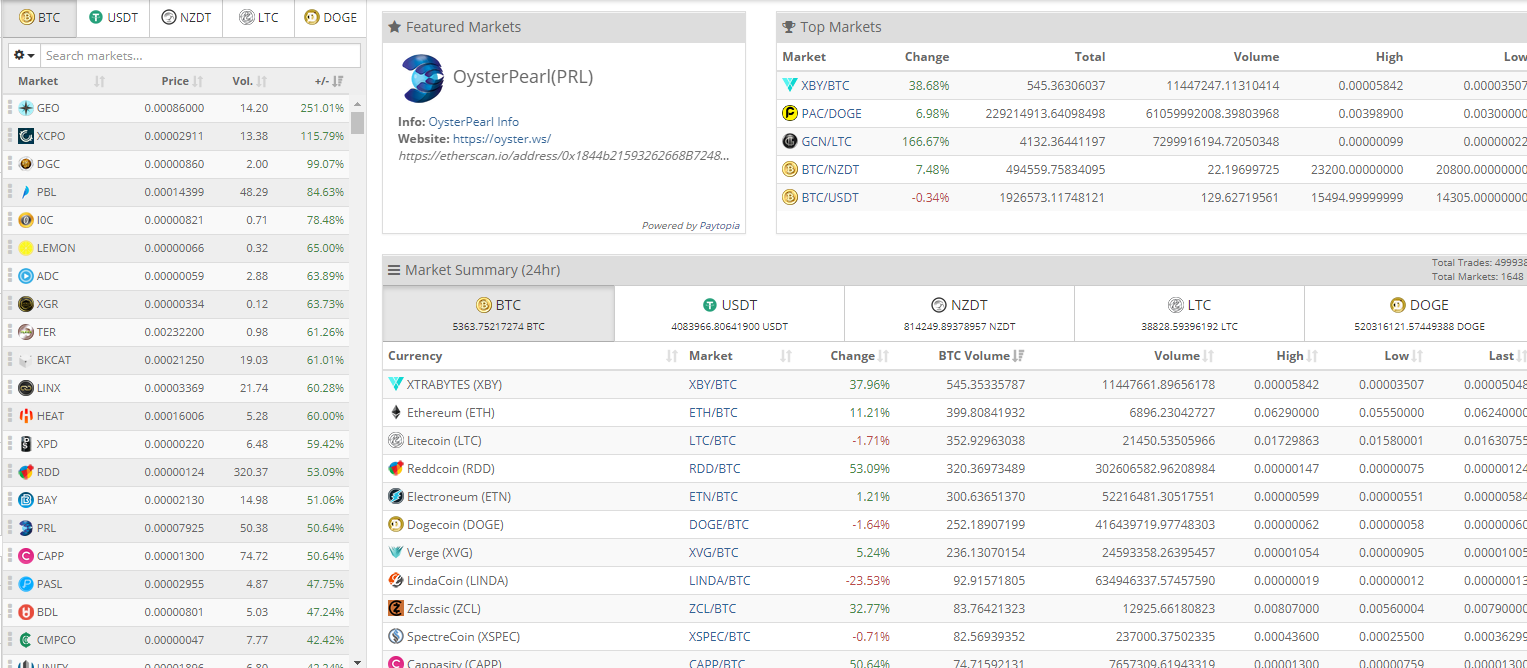 There are also many other features that you might find useful, including:
Arbitrage – What people love about Cryptopia is their Arbitrage feature where you can see the prices of coins listed on other exchanges. It is probably the best idea that they came up with because it can help you pick out the better value for money listings and make more informed decisions. With just a few clicks of a button, you can easily compare the "Ask" and "Bid" price from four different websites, so say goodbye to having multiple windows open!
Marketplace – The marketplace lets you sell anything, to anyone, anywhere in the world in exchange for any cryptocurrency you want to sell it for.
Paytopia – Paytopia is a quick and easy place to buy the features and services provided by Cryptopia, including various promotional tools to use with your listings, payable with Dotcoin and available on per-month subscriptions.
Coin info – Cryptopia has a Coin info page that gives you up to date information on the over 500 altcoins being traded at Cryptopia.
Trade Coins on Cryptopia
Verification
The first step to using Cryptopia is signing up and verifying your account. There are three stages of verification process.
Stage 1 – By verifying only an email address you would have a daily withdrawal limit of $5,000.
Stage 2 – Accounts with level 2 verification would have a daily withdrawal limit of $50,000.00, but for this stage you have to provide your full name, birthday, gender, country, city, state, zip code, and address, identification and a picture of yourself holding that ID.
Stage 3 – By providing all of the above, as well as a written statement about why you need limits above $50,000 per day, proof of address, and a photo of a paper with your Cryptopia username handwritten on it, you can raise your withdrawal and transfer limits to $500,000 per 24-hour period. It is designed for users with very specific needs and corporations.
It's important to note that 2FA must be enabled for all parts of a stage 3 verified account.
How to Get Started, Make transfers and Trade on Cryptopia
Video tutorial: Creating an account tutorial
Video tutorial: How to trade on Cryptopia
Video tutorial: Making deposits and withdrawals
Who Can Use Cryptopia?
Anyone with a verified account can use this platform, and it operates worldwide with no exceptions. However, the only fiat currency this site supports is New Zealand Dollars (NZD), and on top of that, New Zealanders who verify their identity can deposit funds via bank transfer.
If you're only going to be using cryptos, then Cryptopia can be used from anywhere in the world. On the other hand, if you want to deposit any fiat currency into the account, then you're going to have to be happy using NZD.
Trade Coins on Cryptopia
Cryptopia Fees
There are two kinds of fees you'll run into at Cryptopia.
Exchange – There are fees for transferring cryptos from one wallet to another and these fees depend on the currencies being transferred and other factors.
Withdrawal – Transfer fees apply when withdrawing cryptos and NZD from your account. When withdrawing cryptos you're essentially transferring them from the Cryptopia wallet to your own, which means that this is also a transaction fee.
It's also important to note that there are no fees for transferring altcoins between users on Cryptopia, as they're staying in the Cryptopia wallet, but simply allowing a different person access.
Currencies That Cryptopia Currently Supports
NZD is the only fiat currency that Cryptopia supports.
However, they do have 548 different altcoins in which you can trade your coins with. Naturally, this includes all the most prominent ones, like Bitcoin, Ethereum, Dash, Monero, Litecoin, Dogecoin, and many more.
---
Make sure to read our reviews of other exchanges like Coinbase, CEX.io or Coinmama.
---
Methods of Payment
The only fiat currency transfer method Cryptopia accepts is transfers from a New Zealand bank account, which needs to be done manually by requesting a transfer.
Other than that, you can make withdrawals and deposits from cryptocurrency wallets, or you can freely transfer cryptos between users.
How Long Do Transfers Take?
Withdrawing or depositing NZD might take a couple of days, depending on what time of day you submit the request, how quickly the transaction is approved, and how busy the site is at the time.
Your cryptocurrency transfer will probably be done in just a few minutes. This depends on how busy the network is and the type of altcoin being transferred.
As I already said above, your transfer limits will depend on your level of verification.
Trade Coins on Cryptopia
Website Interface
Their website homepage is awesome and everything is clean and slick. The account dashboard is something that you need to get used to and a beginner may not find this easy to grasp.
Security
Cryptopia used to be very secure and safe exchange and it will not distribute any personal information it collects, except for the purposes related to the reason it was collected.
Cryptopia uses the expected HTTPS security certificate and the site is full of captchas, so a DDOS attack seems very unlikely to happen any time soon to the expense of boring their users. Strong passwords are enforced and people ate Cryptopia generally take all efforts to ensure the integrity and security of all data on the platform.
To assist your own security, it also recommends 2FA for all accounts, with the possibility of configuring it individually for six different actions.
As mentioned above, exchange suffered a serious hack and it security is obviously not adequate to trust them with your money.
Customer Support
You can get in touch with Cryptopia on social media, but email support is their main customer support tool. There is also a live chat and you can also post your issues on their active forum on their website. Also, the official profiles on Facebook and Twitter are professionally handled.
Conclusion – Cryptopia Exchange Review
Cryptopia is a New Zealand based cryptocurrency exchange that offers a wide variety of services to its users, whether individuals or businesses. The platform offers a lot of altcoins and some other services, like an online store where you can purchase items. As it is really a world of its own, after trying Cryptopia you will either love it or hate it. This exchange probably isn't for the big players and those who are used to dealing with streamlined software. On the other hand, for anyone wanting to trade less popular altcoins or casual traders that put great value into social interaction, Cryptopia is a great exchange.
Trade Coins on Cryptopia
Hacked on multiple occasions, NOT SAFE to use!
Available payment methods
7.5
PROS
Competitive Fees
Features like marketplace and arbitrage
A wide range of services and products
Wide range of altcoins available
Ability to send and receive cryptos from other users into your account without any transfer fees
CONS
Weak security - hacked twice in January 2019
No advanced trading features
Low volume
Can only make fiat currency transfers using New Zealand dollars
Potential offers that are extremely bad value

CaptainAltcoin's writers and guest post authors may or may not have a vested interest in any of the mentioned projects and businesses. None of the content on CaptainAltcoin is investment advice nor is it a replacement for advice from a certified financial planner. The views expressed in this article are those of the author and do not necessarily reflect the official policy or position of CaptainAltcoin.com