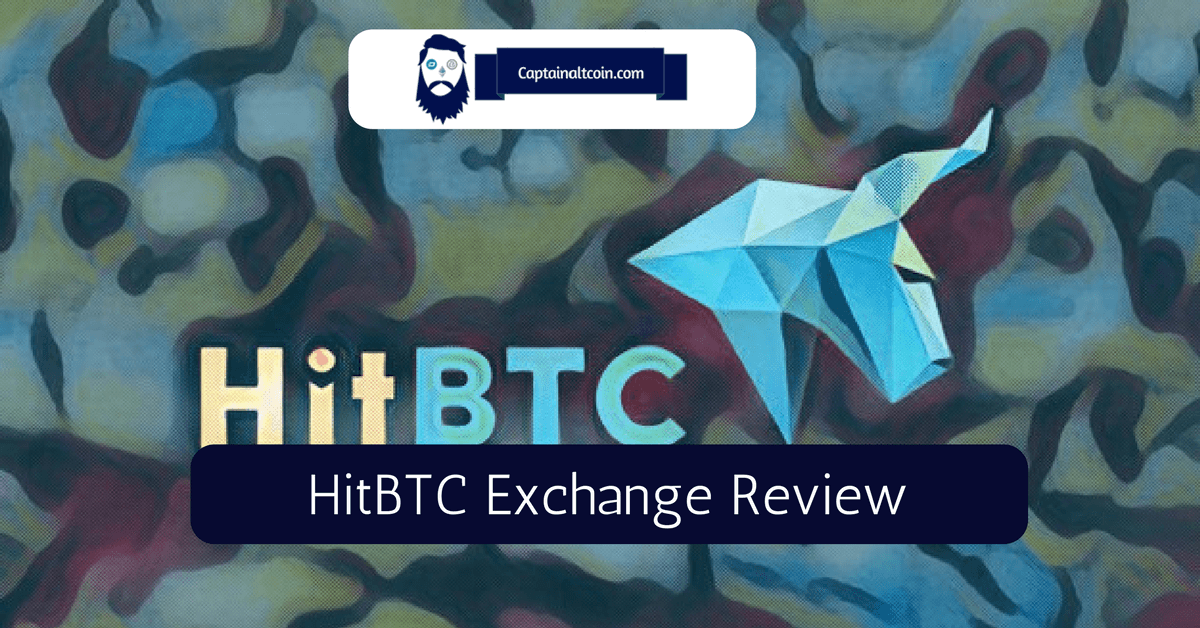 HitBTC is a leading European Bitcoin exchange and they claim to be the world's most advanced Bitcoin exchange. Let us talk about HitBTC.com to see what they bring to the table and how advanced they really are from their competitors.
So let's get it going with this HitBTC review.
Thanks to their API's, HitBTC is known for being able to be friendly enough to people who are into creating trade bots. When you search Google for "HitBTC", a Wikipedia information shows up. This is not bad for a Bitcoin website because in most cases you are unable to get any results from Wikipedia when you search for Bitcoin websites.
Anyhow, Wikipedia says that the company has been in business since 2013 and that is EU-Based. This is quite odd because their website says that they are operating by "HIT Solution Limited" which is located in Hong Kong.
| Key Information | |
| --- | --- |
| Site Type | Cryptocurrency Exchange |
| Beginner Friendly | yes |
| Mobile App | Android only |
| Company Location | Hong Kong |
| Company Launch | 2013 |
| Deposit Methods | Cryptocurrency |
| Withdrawal Methods | Cryptocurrency |
| Available Cryptocurrencies | Bitcoin, Ethereum, Litecoin, + >200 more coins |
| Community Trust | Below Average |
| Security | Average |
| Fees | Low |
| Customer Support | Poor |
| Site | Visit HitBTC |
HitBTC review – What Is HitBTC?
HitBTC is a Bitcoin exchange that offers 0.1% fees on every market trade while letting you trade a variety of cryptocurrencies (BTC, LTC, DOGE, QCN, NXT, FCN, BCN, and XMR) and prevailing fiat currencies (EUR, USD). This Bitcoin exchange provides cryptocurrency trading services to institutionals, merchants and individual traders worldwide. HitBTC claims its core matching engine "is among the most advanced technological products in its class."
This platform is best-known for being a robot-friendly exchange. Also, HitBTC offers a robust set of APIs. Thanks to this feature, this exchange is more attractive to trading bot developers.
Like most other exchanges, HitBTC promises to be safe and secure thanks to the use of cold storage, advanced encryption technology and 2-factor authentication.
One of the unique advantages of HitBTC is that it provides support for the FIX protocol. This is something that you don't see with a lot of cryptocurrency exchanges.
Another unique feature of HitBTC is that it allows demo trading, which is extremely rare in the world of cryptocurrency exchanges. Most exchanges, when asked about demo trading, simply tell you to make minimum trades of $1 and treat that as your demo.
On the other hand, HitBTC offers a full-fledged demo trading that can introduce users to the world of Bitcoin and cryptocurrencies.
Buy Coins on HitBTC
How Fast is the Verification Process with HitBTC.com?
With HitBTC, registration is a breeze. It literally just took couple of seconds and I received my confirmation link on the email provided. However, that doesn't stop there. If you want to fund your account using FIAT, then you need to verify your account and get it out of the "general admission". How to verify account?
You need to contact HitBTC at compliance@hitbtc.com in order to have your account verified. Make sure to use the email address that you registered with them to send the verification email. The following information should be included in your email:
Personal Information (ID's issued by government)
Address
Bank account information (For those people who want to use FIAT)
Proof of Residence (PoR) document
Proof of bank account ownership document / certificate
Visit this link to read more about the details on how to get verified.
There is a note at the end of the verification guide page that says:
"Screenshots and/or electronic documents are not accepted. This document should be paper-based and drafted on original bank letterhead."
It's very important to keep that in mind before you submit any requirements to them so that you wouldn't experience any issues when it comes to your account verifications.
Verification Types Offered by HitBTC
There are levels of accounts that you would be able to get with HitBTC – General, Verified, and Qualified. Each of these levels has their own advantage, but of course, the higher the level, the higher the trading volume.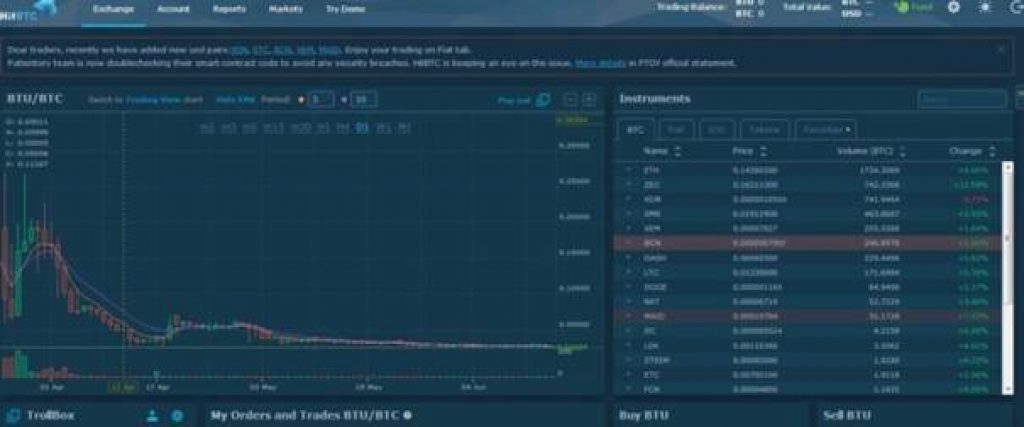 General accounts – For this tier you can, of course, deposit crypto currency for free. Your daily withdrawal limit is EUR 5,000 worth of cryptocurrency per day. It's important to note that FIAT transactions are not available for the general verification tier.
Verified accounts – For this second tier you get free deposits for cryptos. A "Verified" account can withdraw a maximum of EUR 25,000 worth of cryptocurrency per day. FIAT deposit/withdrawal would be $2,000 (USD, EUR) per week and $10,000 (USD, EUR) per month.
Qualified accounts – In the final tier you do not need to pay for any crypto deposits. You might want to apply for this verification tier if you think that $25,000 worth of cryptocurrency withdrawal is not enough for you. This account can withdraw more than $25,000 worth of crypto currency per day. Also, FIAT limit would be $10,000 (USD, EUR) per week and $50,000 (USD, EUR) per month; for deposits and withdrawals.
Buy Coins on HitBTC
Deposits and Withdrawal Waiting Time
Funding your account can take up to fourteen (14) business days, while the withdrawal of funds can take up to twenty (20) business days.
Demo Trading
What's really exciting about their website is that only HitBTC.com offers a demo mode, which is especially important for newbie traders because they can gain valuable trading experience and they don't have to dive right into HitBTC with real money. Demo Mode gives newbies an opportunity to learn exactly what HitBTC has to offer. In this mode, you can play with their websites and features and try to feel comfortable with trading without losing anything. You would be able to enter the "Demo Mode" with just a few simple clicks. In this mode all transactions are made for practice purposes. That's why HitBTC is particularly popular among not just beginner traders, but also among skilled users who want to test out their robots on the demo platform and judge for themselves of the quality of this new feature.


Trading Fees
HitBTC.com has surprising low trading fees. They only charge 0.1% on every market trade and LP orders have a 0.01% rebate.
HitBTC.com Security
HitBTC provides two step verification for all users through the commonly used Google Authenticator. This security feature is immediately presented to the user upon accessing Settings, and is used for all logins and withdrawals.
Another additional security feature is the ability to view recent activity at the bottom of the settings page, which lets you check if someone is attempting to access your account from some location maliciously.
Other HitBTC security features include cold storage and advanced encryption technology. Both these features are pretty standard across the exchange industry.
It is highly recommended to keep your account secured no matter how small your trades are.
Buy Coins on HitBTC
Dependable API
HitBTC is popular for its API, which is extremely stable and will satisfy the needs of algorithmic traders. It provides an easy back office integration, and it is compatible with HFT set-ups, and algorithmic trading systems.
API comes with several interfaces to make it easy to implement into custom software. Those interfaces include the Streaming API, socket.io, and RESTful API. RESTful API allows users to access market data, manage funds, and perform trading operations.
On the other hand, Streaming API allows you to access market data and trading operations and socket.io is a protocol that allows you to receive market data.
FIX Compatibility
HitBTC is accessible via the FIX protocol in order to satisfy the needs of institutional clients with existing systems. HitBTC supports FIX via two types of interfaces, including FIX Market data and FIX Trading.
Buy Coins on HitBTC
Website Interface
The website interface is filled with all the information a seasoned trader would need. However, their interface is something that beginners would not like because there is too much information for a new person who just came into Bitcoin trading. Great thing about HitBTC is that they feature Demo Mode, which is there to help you out in getting familiar with everything on the website.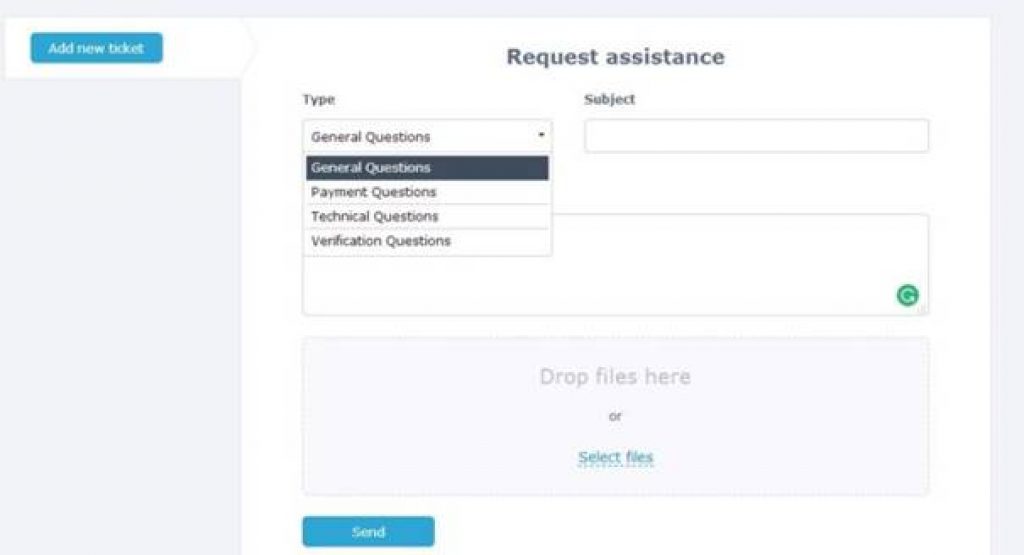 Also, they have a ticketing system if you want something answered. This system serves as their customer service support platform. You can choose from General Questions, Verification Questions, Technical Questions and Payment Questions through this channel. You can also visit this forum post if you want to read about people that are having problems with their HitBTC account.
Affiliate Program with HitBTC
You can also be an affiliate with HitBTC, which means that you can earn through your referrals! They actually give a lot back to their affiliates, so if you want to be a part of people that have nice passive income with them, don't miss it.
Conclusion
HitBTC is a popular cryptocurrency exchange with some unique features that set it apart from any other trade/exchange websites out there today that handle FIAT and crypto currency trading.
Some of the most popular features of the exchange include support for the FIX protocol and the ability to open a demo trading account, which allows you to feel the rush in trading without damaging your wallet. Is it worth trying it out? Well let the demo account do the talking for you. You might love how it all feels, but at the end of the day, it is still your decision to make.
Buy Coins on HitBTC
HitBTC Pros and Cons
Pros
Demo Mode Feature
Advanced Tools for Trading
High Trading Volume
Affiliate Program
Cons
Getting Verified Requires Many Information
Difficult for Novice Traders
It Does Not Accept Credit Cards

CaptainAltcoin's writers and guest post authors may or may not have a vested interest in any of the mentioned projects and businesses. None of the content on CaptainAltcoin is investment advice nor is it a replacement for advice from a certified financial planner. The views expressed in this article are those of the author and do not necessarily reflect the official policy or position of CaptainAltcoin.com