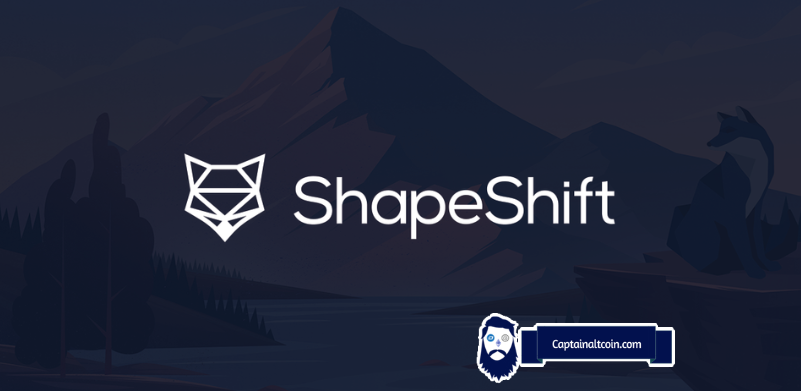 ShapeShift is an established cryptocurrency exchange platform that aims to make switching between digital assets quick and simple. The platform has been in operation since 2013 and it has received multiple rounds of funding from major investors, such as Bitfinex.
Swiss-based ShapeShift suits regular users of cryptos that need to transfer money between Bitcoin, Litecoin, Ethereum, Monero, and other altcoins. The service is easy to use. However, first-time buyers are not able to use ShapeShift with fiat currency meaning that it cannot be used to buy cryptocurrencies with credit card/debit cards or bank accounts. It is simply a way to move funds between different digital assets, for example, you may want to use Bitcoin to purchase some Litecoin, so you can visit ShapeShift and seamlessly exchange the two.
ShapeShift Exchange: Key Information
---
| | |
| --- | --- |
| Key Information | |
| Site Type | Cryptocurrency Exchange |
| Company Launch | 2103 |
| Company Location | Switzerland |
| Available Cryptocurrencies | Bitcoin, Ethereum, Litecoin and 50+ altcoins |
| Deposit Methods | Cryptocurrency |
| Withdrawal Methods | Cryptocurrency |
| Fees | Medium |
| Security | Medium |
| Community Trust | OK |
| Customer Support | OK |
| Mobile App | Yes |
| Beginner Friendly | Yes |
| Site | Visit ShapeShift |
ShapeShift offers a highly convenient service without needing to register an email, password, or login. In fact, it's one of the few platforms that let you trade cryptocurrency without an account, which is really useful if you want to quickly and anonymously exchange your crypto. There are still some issues facing the company with reports of unhappy customers who have either been unexpectedly charged high fees or lost their money.
ShapeShift Exchange Overview
---
ShapeShift is a private cryptocurrency exchange that wants to exist as an integral part of the blockchain ecosystem allowing people and applications to move seamlessly between various cryptos. If you are an investor looking to widen your portfolio of altcoins, then this is a quick, cost-effective way to purchase and sell virtually any altcoin.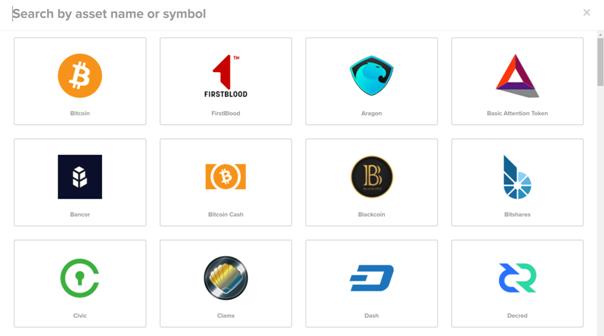 If you want to break up your Bitcoin into a different cryptocurrency like Litecoin, or if you're looking to take part in an upcoming ICO but you need Ether rather than Bitcoin, you can use ShapeShift-supported coins to change up your funds.
ShapeShift provides exchange services for users across the globe. ShapeShift is available globally and in the United States. However, due to regulation, trading on the platform has been blocked in a few states including New York and Washington.
ShapeShift only facilitates crypto-to-crypto exchanges, which means that you can only exchange one token for the other because fiat currency is not enabled. This means that they don't need banks or deposits in particular countries, which allows users to conduct their exchanges regardless of borders or location.
The service is one of the more anonymous options because, to exchange your BTCs into LTCs and vice-versa, or to any of the 40 other virtual coins they support, you won't need to create an account with the site, nor will you even have to provide your email address.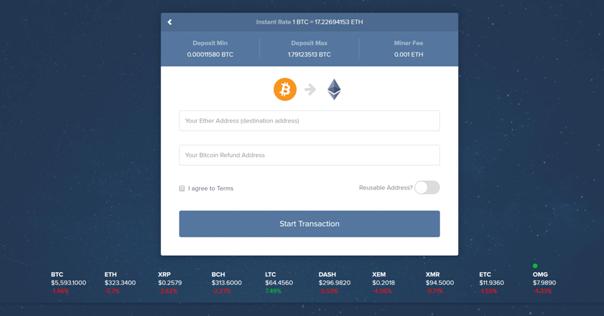 The company also recently acquired KeepKey, a leading hardware wallet that offers greater security against theft, which means that you can expect strong privacy and security standards as you work through the platform. ShapeShift also provides a number of special tools and features like the Shifty Button and ShapeShift Lens, which allow users to purchase items with any alternative cryptocurrency and to easily receive and exchange altcoin payments as a merchant. One more thing worth noting is that ShapeShift also offers its API to allow users to create custom software to access and use their exchange.
Supported Cryptocurrencies
---
Bitcoin (BTC), Ether (ETH), Ether Classic (ETC), DogeCoin (DOGE), DASH, Litecoin (LTC), Monero (XMR), Ripple (XRP), Zcash (ZEC), Aragon (ANT), Augur (REP), Blackcoin (BLK), BitShares (BTS), Bitcrystals (BCY), Clams (CLAM), Counterparty (XCP), Digibyte (DGB), DigixDao (DGD), Emercoin (EMC), Factoids (FCT), Golem (GNT), Iconomi (ICN), iExec (RLC), LBRY Credits (LBC), Lisk (LSK), Matchpool (GUP), Mastercoin (MSC), Monacoin (MONA), Maidsafe (MAID), Melon (MLN), Nubits (NBT), NXT, Namecoin (NMC), Novacoin (NVC), Potcoin (POT), Peercoin (PPC), Reddcoin (RDD), SingularDTV (SNGLS), Startcoin (START), STEEM, SwarmCity (SWT), Siacoin (SC), StorjcoinX (SJCX), TokenCard (TKN), TetherUSD (USDT), Voxels (VOX), Vericoin (VRC), Vertcoin (VTC), WINGS, and WeTrust (TRST).
ShapeShift Trading Fees
---
The company is completely upfront about its charging fees which vary depending on what currency you are purchasing, and the fees used for every cryptocurrency are displayed in plain view on the ShapeShift site. We strongly advise everyone to check out the rate they will be paying on chosen cryptocurrencies since they can differ depending on miner fees for each blockchain.
Here is a break of what some of the fees look like:
Check here to see the full breakdown of their trading fees.
It is important to take note of the exchange rate offered because ShapeShift will likely have a margin here. It's also important to note that there is no deposit and withdrawal fee.
If the service runs smoothly, you should feel like you are simply sending crypto from one wallet to another.
Is ShapeShift Legit & Safe?
---
ShapeShift is regarded as one of the most private crypto exchanges on the market and many people have used this platform. However, the lack of security might raise a few concerns. On the user's side, there are no passwords or verification, and no security to be bothered with.
There is definitely the security bonus of not holding accounts and hot wallets in exchange for hackers to raid. However, there seems to be plenty of confusion about where funds go once deposited with ShapeShift, especially during a failed transaction.
Once you deposit your funds, ShapeShift controls them through the exchange and you must trust their security protocol. As an "instant" cryptocurrency exchange this will mean no offline storage, just hot wallets.
ShapeShift was in fact hacked back in 2016 when funds totaling around $200K were whipped away over a two-week period. The website was taken offline and the security was rebuilt. I hope that this means they have learned from their mistakes and made security their top priority. However, it's still hard to ignore the facts.
The founder of ShapeShift is none other than Erik Voorhees, who has indeed been something of a Bitcoin/cryptocurrency celebrity since 2011. He tried to give an honest explanation of what happened. The attack was put down to an unnamed employee. He/She betrayed the company and set about emptying a Bitcoin wallet. The losses were fairly substantial although ShapeShift maintains that, due to the way the system was designed from the ground up, no customer funds were ever touched.
ShapeShift Public Opinion
---
Like any company holding your funds, trust is important, especially with a large amount, but there seem to be varying thoughts from the actual users of ShapeShift. Getting started with ShapeShift is remarkably easy because you don't need an account or log in. It can also feel like you have little interaction to build trust with ShapeShift before depositing money, which makes relying on another positive public opinion extremely important.
The Positive: As mentioned above, you can almost instantly turn your Bitcoin to Litecoin. Transaction fees can be quite low if you are exchanging the right way. It's important to note that there are many 5-star reviews stating how the service is simple and effective.
The Negative: The web is littered with condemnation of the ShapeShift exchange and a simple Google search will leave you a little horrified at some users' experiences. Many users claim to be stung by hidden exchange rates or have lost funds completely. Unfortunately, some users report having coins disappear after failed transactions with no refund and no response from ShapeShift support.
ShapeShift has so many great offerings, so it's quite unnerving to read so many bad experiences.
ShapeShift Customer Support
---
Customer support can be a mixed bag on ShapeShift. There are glowing reviews and niggles are sorted out very quickly when things go well, but when things are not going well it can seem very difficult to get an answer out of the company, which can be quite infuriating, especially when you're trying to find your money!
Due to the constant influx of new users on the site, response times are generally slow. The team is committed to responding to inquiries within 48-72 hours. However, wait times often extend beyond that.
The contact page leaves a lot to be desired, lacking a telephone number or address to pin ShapeShift down.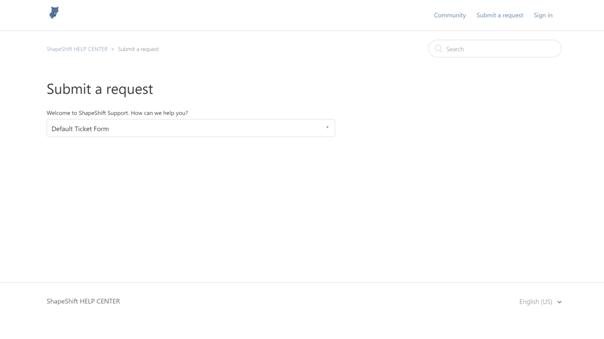 To contact customer support, select the "Support" tab and go to "Submit a Request", but if you navigate your way around the support area of the website then you'll still be left without answers to some simple questions too.
Conclusion
---
ShapeShift is a cryptocurrency exchange that looks to provide you with a seamless way to transfer between virtually any cryptocurrency without needing to register an email, password or login. And on the face of it, it can be fast and efficient when you find yourself in the wrong currency. However, there is still plenty of frustration for the user.
ShapeShift supports well over 50 altcoins, which makes it very attractive for those looking to really broaden their digital portfolio with ease. Everything is crypto-based keeping you completely in decentralized blockchains, so there is no need to integrate any localized banking. One more thing worth noting is that anonymity is kept when using the service which is fine when there are no hitches.
The platform is obviously struggling with the new challenges of the crypto-sphere. However, overall, its attitude and approach is positive.
PROS
Fast and easy transactions
Large selection of altcoins (50+ altcoins)
High privacy and security standards
CONS
Users cannot trade fiat for crypto
Lack of clarity around transaction speeds and deposit limits

CaptainAltcoin's writers and guest post authors may or may not have a vested interest in any of the mentioned projects and businesses. None of the content on CaptainAltcoin is investment advice nor is it a replacement for advice from a certified financial planner. The views expressed in this article are those of the author and do not necessarily reflect the official policy or position of CaptainAltcoin.com