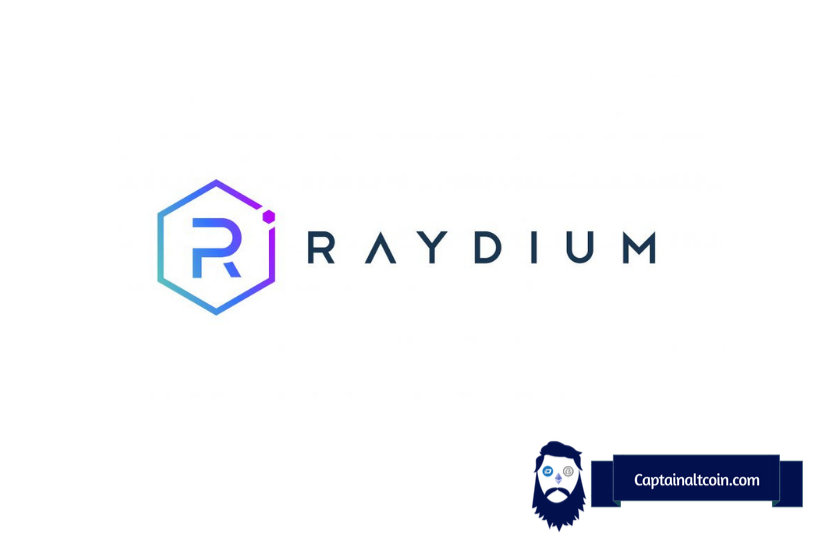 With the rise of Solana in the past few months to become one of the top seven cryptocurrencies by market cap, more attention has been focused on decentralized exchanges and applications on the scalable blockchain
At the time of writing, there are 350 platforms on the Solana ecosystem with an average daily volume of $80 Million. One of the foremost among these platforms is Raydium. In this article, we will take an in-depth look into what Raydium is and how you can benefit from It.
WHAT IS RAYDIUM
---
Raydium is an automated market maker (AMM) on the Solana blockchain that leverages the central order book and depth of Serum, a popular decentralized exchange also on Solana.  It's an essential feature of the Solana ecosystem that uses liquidity pools to facilitate ultra-fast token swaps and trades.
It was founded on 21 February 2021 by three innovative founders – AlphaRay, XRay, and GammaRay with a max supply of 555 million coins.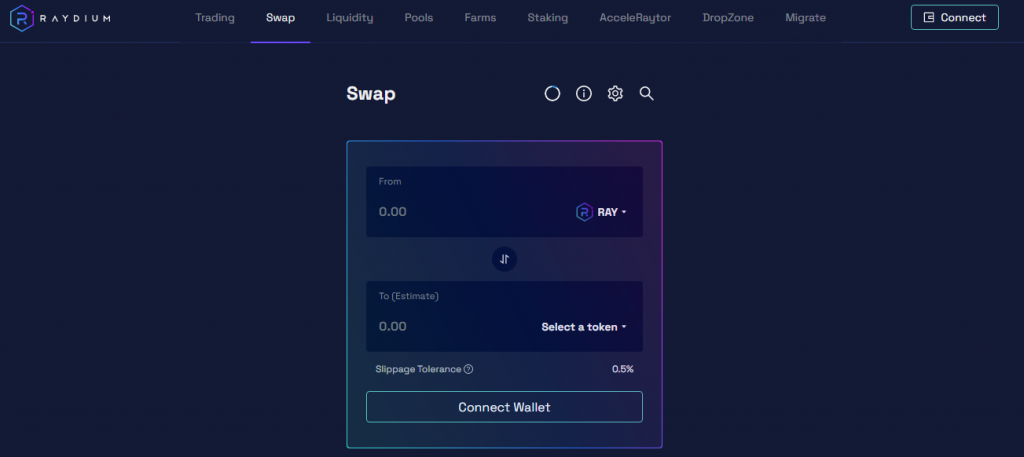 A significant difference between Raydium and other AMMs is that Raydium finds the best possible prices for token swaps by routing orders through either a liquidity provider or via the Serum order book. Moreover, it offers a decent user interface and user experience.
PROS EXPLAINED
---
Fast transactions and low fees: This is an obvious advantage because Raydium is integrated with the Solana blockchain, which is one of the cheapest and fastest in the crypto world at the moment
Scalability: Being launched on the Solana blockchain, Raydium also taps into the scalability that Solana offers. Thus, developers can launch their projects through Raydium and get integrated into the Solana and Serum protocols with little hassle.
Intuitive trading platform: DeFi protocols usually offer crude trading experiences that may be challenging to beginners. However, Raydium offers an intuitive trading interface that gives users the option to view trade charts, set central limit orders, and have full access to their funds. In essence, they are in complete control of their trades, and there is no need for a middleman
Access to Serum DEX order book: Raydium has access to liquidity on the entire Serum protocol, with a Total Value Locked(TVL) of $374.96 Million. This is more than we can say for many other AMMs with little chain liquidity, which can sometimes be frustrating.
CONS EXPLAINED
---
Integration with only one DEX: Ironically, one of the significant advantages of Raydium is its major disadvantage. Because the Raydium interface is only integrated with Serum DEX, it can't interact with other DEXes, and this may be disadvantageous if other DEXes offer lower rates than Serum DEX.
Anonymity: Another cause for concern regarding Raydium is that the team behind it hasn't been fully identified yet. They are known simply as AlphaRay, XRay, and GammaRay. This pseudonymity is more disturbing when you realize that the Raydium team hasn't gone through any significant audit since its inception. It may be nothing; after all, Bitcoin's creator is known by a pseudonym – Nakamoto, to date. However, it would be better if the team worked on that.
SUPPORTED CRYPTOS
---
Raydium supports tokens that are on the Solana blockchain. These tokens are known as a SPL native token. Like ERC-20 tokens on the Ethereum network, the SPL token program is the token standard of the Solana blockchain designed for DeFi applications. Examples of such tokens are Serum (SRM), KIN, Solanium(SLIM), among others
Some tokens on Raydium, like BTC, ETH, YFI, and SUSHI, are wrapped by Serum to be accessible on the Raydium interface. Other ERC-20 standard tokens can be bridged to the SPL network utilizing the services of Sollet, a popular SPL wallet.
RAYDIUM TRADING FEES
---
There are three types of fees you pay on Raydium:
Network fees: These fees are paid in SOL and are usually between 0.0001 to 0.001 SOL.
Swap fees: 0.25% fee is taken on every trade in the Raydium pools. 0.22% of that goes back to the liquidity pool and acts as rewards to liquidity providers, while 0.03% goes to RAY staking
Order book fees: Transactions completed on the Serum order book pay a starting fee of 0.22%. This decreases according to the amount of Serum tokens in the wallet.
DEPOSIT METHODS
---
Since Raydium is an automated market maker, it is not a wallet in itself but draws on assets stored in SPL-compatible wallets like Sollet, Phantom, Bonfida, etc. The most popular among these is the Sollet wallet. You can access this wallet on Sollet.io
On the Sollet interface, there is a direct button that acts as a passageway through which you can send funds from your FTX account(FTX is a prominent crypto exchange) using FTX pay. Otherwise, you can send funds from any exchange by making use of the wallet addresses and convert those funds to SPL standard with the Sollet bridge.
HOW SECURE IS RAYDIUM?
---
Consider the following facts:
Raydium is listed by Binance. It is the first Solana-based coin to be listed on Binance. Why is that such a big deal? Well, Binance is one of the largest crypto exchanges in the world. Therefore, it wants to preserve its reputation as a credible exchange, making it a point of duty to verify each project before listing. This does not necessarily mean it is 100% safe, but it's a good vote of confidence
It has big supporters: Raydium is backed by the Solana ecosystem, which ranks 7th by market cap in the cryptocurrency world. In addition, Raydium Has a Total Value Locked(TVL) of $1.6 Billion. This speaks volumes about the DEX's credibility in the crypto world
It has not been audited: Trust is a rare but essential quality in the DeFi world. One of the things that facilitate this trust is a qualitative audit performed by a credible organization. Unfortunately, Raydium has not been audited. It merely states on its site that: "Raydium is currently in the process of a security audit with Kudelski Security." That might be a red flag
The team is anonymous: The founders of the Raydium project are simply known as AlphaRay, XRay, and GammaRay. Who are they, really? No one knows. That might also be another red flag
RAYDIUM TOKEN
---
The Raydium token(RAY) is currently trading at $12.49 with a live market cap of $869,829,909. It has a maximum supply of 555,000,000 coins, of which 69,644,434 are now circulating.
The tokenomics allocation is as follows:
Mining Reserve: 188,700,000 RAY
Partnership and ecosystem: 166,500,000 RAY
Team(1-3 year lockup): 111,000,000 RAY
Liquidity: 44,400,000 RAY
Community and seed funding(1-year lockup): 33,300,000 RAY
Advisors(1-3 year lockup): 11,100,000 RAY
WHERE AND HOW TO BUY RAY
---
The best place to get RAY is on Raydium.io itself or other decentralized exchanges that support SPL standard tokens. Examples of these decentralized exchanges are Serum, Bonfida, Solape, etc.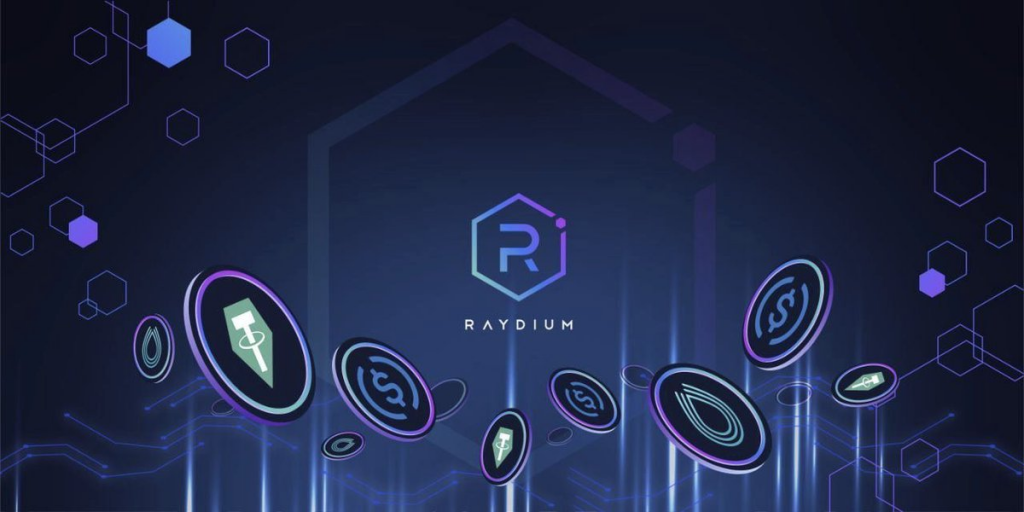 You can also get Ray on general exchanges like Binance, Gate.io, Lbank, Sushiswap, and Uniswap. Put in mind, though, that you'll have to go through Know Your Customer(KYC) registration before you can buy RAY on Centralized exchanges.
WHAT MAKES RAYDIUM UNIQUE?
---
One of the major distinguishing factors between Raydium and other AMMs is that Raydium is the first AMM that optimizes both the Solana network speed and a DEX limit order book. This accounts for its next-level liquidity, friction-less yield farming, and light-speed swaps. In addition to that, it also has the following unique features:
AcceleRaytor
---
This is a launchpad initiated by Raydium to spearhead the growth of the Solana ecosystem. It helps raise initial liquidity for the latest Solana projects and benefits both the project and the Raydium community. Each AcceleRaytor launch utilizes two different types of pools, the community pools, and the RAY pools
Community pool: This pool is open to the entire ecosystem regardless of whether or not you've associated with or used Raydium in the past
RAY pool: This pool is open to users who stake RAY tokens on the Raydium platform. There is a minimum number of RAY that needs to be staked in the RAY staking pool(usually 20 RAY) for participants to be qualified
Once a launch is announced, qualified participants can either be guaranteed allocation proportional to their contributed funds or have to hustle it out on a First-come-first-served basis. It all depends on the specific project requirements.
Drop zone
---
This latest feature of Raydium is an initiative to promote the growth of Non-fungible Tokens (NFTs) on the Solana Chain. It's a launchpad for the hottest Solana NFT projects to raise capital, distribute NFT collections, and build their communities
This innovative launchpad was announced on September 8, 2021, and features time-limited participation, on-chain lottery, transferrable 'Drop Box' NFTs, anti-phishing, and anti-bot techniques. CyberSamurai NFT is the first project to be launched on the Raydium drop zone.
WHAT ARE RAYDIUM FARMS?
---
Raydium farms allow liquidity providers to earn tokens as rewards for providing liquidity, in addition to trading fees. There are two types of farms on the Raydium website:
Raydium farms: Stakers earn RAY as rewards for staking liquidity provider tokens(one of which must be RAY). It has pretty juicy rates, with some going as high as 101% APR
Fusion farms: This is a new form of liquidity mining created in collaboration with several projects. Stakers in this farm earn other tokens within the Solana DeFi ecosystem as rewards
HOW DOES LIQUIDITY MINING WORK ON RAYDIUM?
---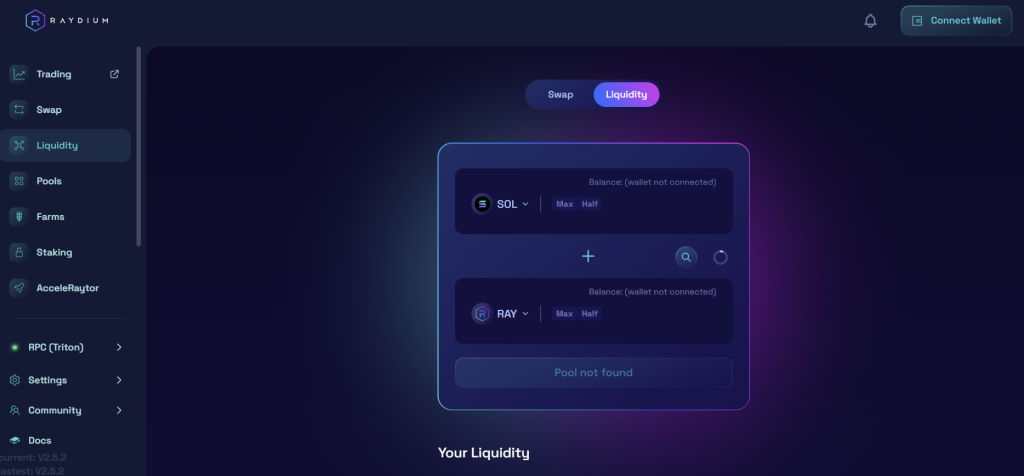 When you add to a liquidity pool on Raydium, you receive liquidity provider(LP) tokens. These tokens are like title deeds, representing a proportional share of the pooled assets and allowing you to reclaim your funds at any time. You benefit from adding liquidity to a liquidity pool by taking a percentage of the trading fees whenever someone makes a swap from the liquidity pool.
In Raydium, that fee is 0.25% of the trade made. Of that percentage, 0.22% is reserved to be shared by liquidity providers, while 0.03% is transferred to those staking RAY.
However, there is one critical term with which liquidity providers need to be familiar. It is the concept of impermanent loss. Put simply; impermanent loss occurs when the price of the assets you deposited in a liquidity pool change relative to each other. The bigger the change, the bigger the loss.
Read also:
IS RAYDIUM CRYPTO A GOOD INVESTMENT?
---
Fundamentally, the Raydium token has prospects. This is because it sits nicely as the first-mover when it comes to tokens in the Solana ecosystem. Its unique features and innovative mechanisms, as discussed, make it a worthy currency on the Solana chain.
It would be better if the team behind Raydium fosters more trust in themselves by addressing their anonymity and audit issues. That would do well for the long-term development of the coin. It's good to note, at this point, that the views expressed here are NOT to be considered as FINANCIAL ADVICE.
FREQUENTLY ASKED QUESTIONS
---

CaptainAltcoin's writers and guest post authors may or may not have a vested interest in any of the mentioned projects and businesses. None of the content on CaptainAltcoin is investment advice nor is it a replacement for advice from a certified financial planner. The views expressed in this article are those of the author and do not necessarily reflect the official policy or position of CaptainAltcoin.com