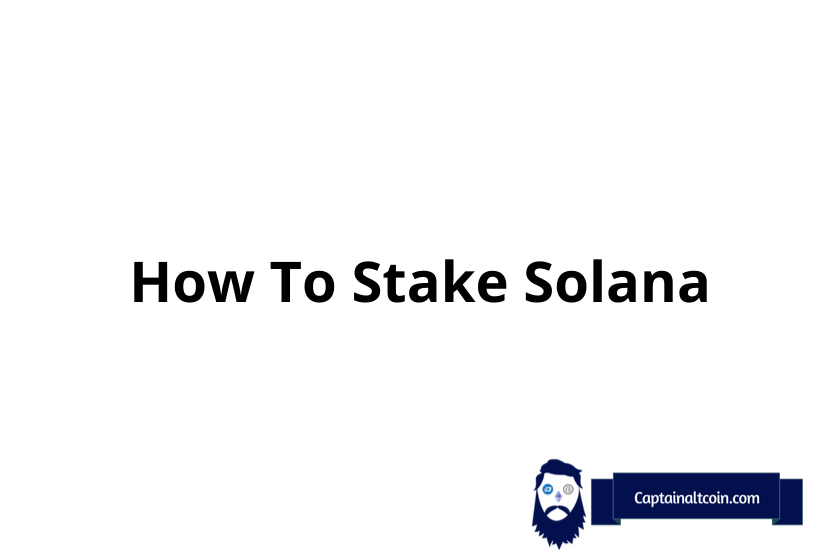 Staking Solana is one of the main reasons why people invest in one of the biggest ecosystems in the world. Solana made a big name for itself this summer by going up from 30$ levels to 140$ levels. This did not happen because people "liked" it, it came because there were many opportunities to make money with it. You have NFT gaming in it, casinos, DeFi, and projects that are all within the SOL ecosystem getting popular a lot. However today we are going to talk about one thing that made sense to a lot of people; staking. Btw. here is a list of the best staking coins (Solana is among them).
All in all a decent offer for an ecosystem that has vast applications. Rewards are given on each Epoch and each epoch here is 48 hours.
Wallets
---
Sollet
---
Sollet is the OG wallet for anything Solana-related, it was the first one and it is the one that works the best. Zero problems in months of working with it and it doesn't look like there are many problems that people face online either. Usually, when there is software in the world, there are also complaints about it online Not Sollet because it works exactly how it should without any hiccups.
Exodus
---
Exodus has a big dilemma that costs them a lot of users. They are a great company, definitely good looking as well, easy to use, a bit high fee but nothing extraordinary, so they have the whole package of a wallet you may want to use.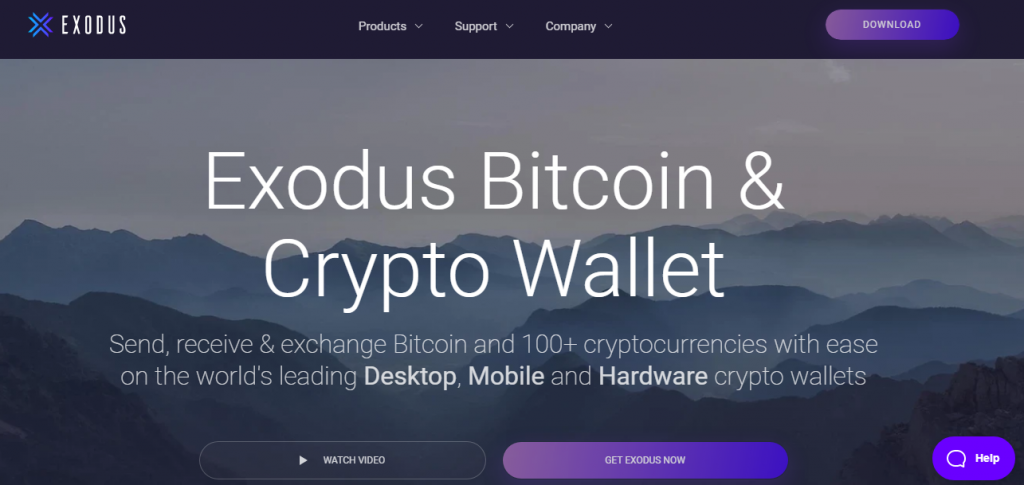 There have been a few security complaints from people who said they were hacked but nothing official related to Exodus itself ever found. The big problem they have is the fact that they are not open source, which is a big enough reason to not trust a wallet by many people. If they were open-source, I am sure they would have a lot more customers.
Phantom
---
Phantom is one of the best up-and-coming wallets in this space. They raised 9+ million dollars from investors and they are working on their mobile version as well. This means that they have the potential to be the best wallet in the world on anything Solana-related.
However at the same time, "potential" means that currently it faces some bugs, has lagged from time to time, and is overall not a finished product just yet. It is definitely one of the best wallets when they are not facing any issues, but at the same time, they are in beta levels right now and not fully ready yet.
Solflare
---
Solflare is a wallet that was made by a developer as help to the Solana community, the main idea wasn't to build a wallet that would become a business but to grow the ecosystem for Solana. However, they were one of the first-ever to focus on Solana and put it in the center instead of other big wallets that just use it as another add-on to their wallets.
This caused a big interest towards it and they were not ready for all the attention they got, which caused a bit of a problem for their product to be slow, laggy, and overall face roadblocks for users until load drops. They are definitely improving lately and doing much better but they are not at the big leagues just yet.
Good wallet, good developers, good intentions, has a good amount of community behind it. Hopefully, they can earn more and develop it to sustain big numbers, but considering how it is a free wallet, it may lack the funds to keep growing.
Moonlet
---
Moonlet is a bit of a newer wallet that added SOL staking just recently. So far there has been a bit of a complaint about the staking initial part being a bit difficult and taking some time to start. However after it starts and works, it provides one of the best validator options and rates coming back. They acquired a good amount of customers with their initial promotion that gave an even higher APR% and now still offering one of the most competitive returns to this day.
AtomicWallet
---
They are one of the most known wallets in the space, and they do provide a competitive APR as well. However the locking period follows a buggy result for each person, many complaints online about how even after unlocking and unstaking there are people who failed to withdraw their SOL.

This seemed to have ruined AtomicWallet for many SOL investors and will probably take some time to gather them back. Fortunately, it looks like working better now when tested, but it is lacking marketing to get a good community. They didn't even do an announcement when they added SOL and staking options, which should tell you all you need to know.
Staking With SolFlare & Ledger Wallet
---
Creating your Wallet
---
Creating your wallet on Solflare using Ledger Wallet may not be the easiest thing in the world, but following the steps here, you could make it a lot easier.
First, you need to connect your Ledger nano to your computer.  Then click the Manage tab and you need to select the Solana option and install it. This will provide your Ledger to have the Solana app installed. After this, you have to select the Solana app, click settings, and Allow Blind signing. 
In order to create a Solflare account, go to https://solflare.com and click access wallet. The middle option is Ledger and clicks that. Continue and it will ask you which path you want to use and there is only one called " 44'/501'/" and select it. Click continue and it will ask you to pick your Ledger then approve it.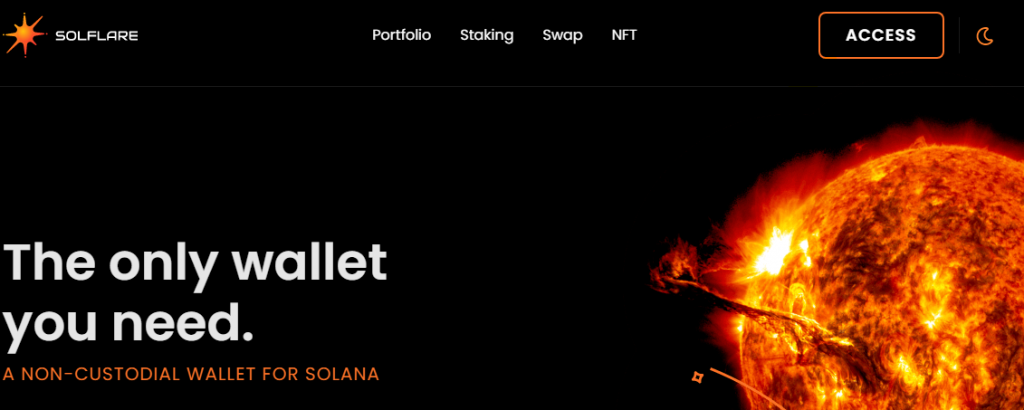 Transfer SOL
---
SOL could be bought in many exchanges including Binance. After purchasing some of it, all you have to do is send it to the Wallet you have in Solflare, you can find your address in the "receive" tab on the right side of it. This way you could control it on Solflare to do anything you want with it. 
Staking
---
When you access your Solflare wallet, you will see the Staking option at the top near Portfolio.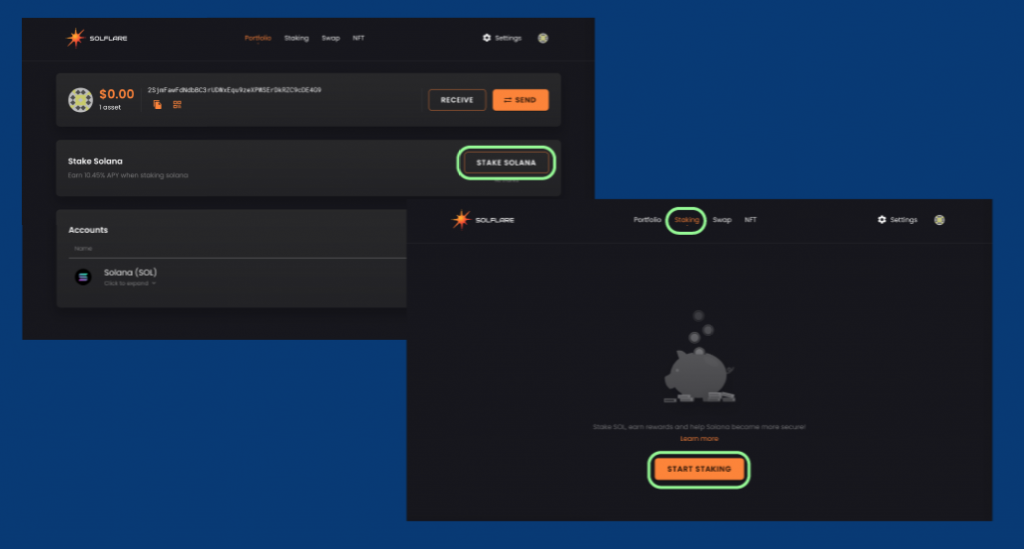 Go there and click "start staking", this will ask you to pick how much you want to stake and with which validator. Do not forget to leave a bit of SOL for fees. After you pick your validator and amount, you will be writing down your password to confirm and you will be starting to stake. At first, it will say Activating, but then it will turn to staking.
Delegate
---
When a Staker ends up picking a validator, they are delegating their staking power to them and allowing the Validator to have voting power, this gives importance to Validators to attract as many stakers as possible.

They use their hardware power to keep the system going, plus getting the voting power to make bigger decisions, hence why they are trying to encourage stakers to pick them. Win-Win-Win situation for stakers, validators, and the system.
Undelegate and Withdraw
---
When you want to undelegate your stake, all you have to do is click the staking account and at the right bottom corner, you have the undelegate button, simple as that.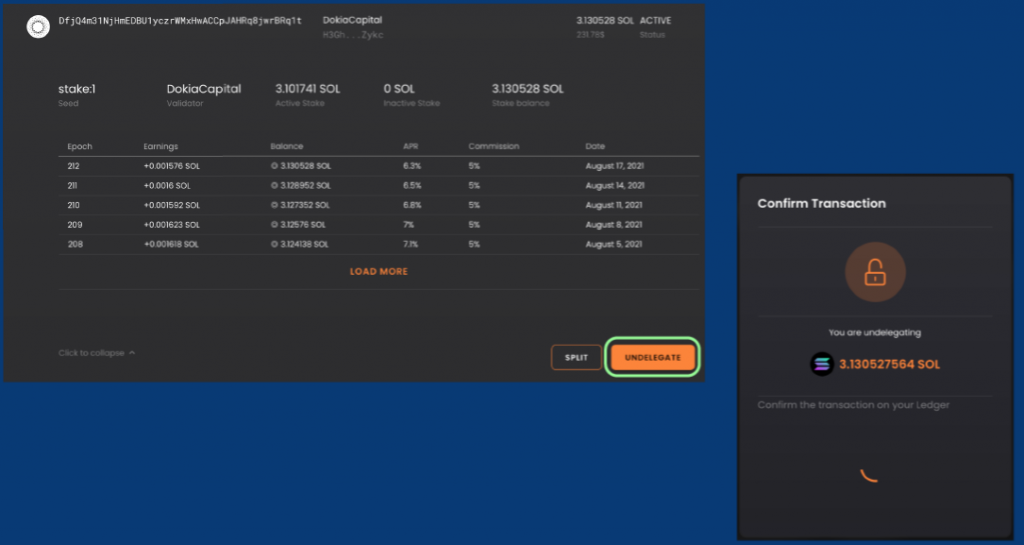 Just like the activating period taking some time, here we have deactivating which takes 2 to 3 days for an undelegation to end. After that 2-3 day waiting period your account will be seen as inactive and you will be able to do whatever you want with your SOL in there.
Rewards
---
I know this is the part you have been waiting for. The real juicy details on how much one person can make staking SOL. It changes each epoch of course, but at the same time it is close to %6.3 APR in most cases, validators are a bit luckier getting closer to %7 returns of course, and earning more from others staking as well.   Staking rewards could be found on websites like; https://www.stakingrewards.com/earn/solana/ they provide live changes and tell you how much you can earn with it.
Staking Solana on Exchanges
---
Alternatively, you could always go with exchanges to stake without keeping the SOL in your own wallet. Creates an easier situation and doesn't bore you with details of the initial setup. 
Binance
---
Binance, for example, offers a %9.90 APR for 60-day locking which is better than what we can earn from staking ourselves but it is a locked period that doesn't allow you to withdraw your money during the period plus doesn't directly help the system either, only Binance itself. There is also a limit on how much max you can put in as well, making it questionable at best. Read more on Binance Staking here.
FTX
---
Staking your SOL on FTX is also another very easy method to do as well. You just hover your mouse to four squares at the top left and a dropdown menu will come. Pick staking and then click on SOL. You will receive your rewards hourly in small bits, and it will take one week to unstake if you want to. Rewards are %6 annually right now.
Coinbase
---
Staking on Coinbase itself is not available right now but Coinbase has another project called Coinbase Custody and in there there is Bison Trails part where you can see the Delegation of Bison Trails, allowing you to pick a delegation option that is in the stock market, which is as unique as it gets and trustworthy.
Conclusion
---
In the end, Solana is the coin that moved from under 30$ to over 140$ in a month. Which shows you that Solana is not just some scrappy coin that was put together by some newbies. It is a project that is here to last and definitely shown enough potential and promise to be one of the main guns in the crypto world.
Of course, it has some complicated features and works to do in order to stake it, not as easy as some other projects, but that derives from the in-depth detail project put into Solana to make it such a unique and successful project. When you have something as valuable as Solana that increases in price higher than people could imagine, the added benefit of staking it also gives you great returns, much better than sitting in your wallet and collecting dust. 


 Which wallet you will pick and which delegation you will use, all these things depend on your preferences of course, just like always you should pick the one you are most comfortable with, and considering the cooldown period that each has, picking the wrong one could lead you to have a few days waiting period for a while.
This is why you should try to minimize testing and check out videos on youtube to see which ones are more up your alley and test only them to limit testing to a week. The longer you take, the less staking rewards you will receive as well, it is quite important.
Another thing you should not forget about is the hardware wallets and software connecting to each other. Something like Ledger combined with Solflare is one of the most used by the community, it allows you to protect your coins at the highest possible method, but also use the software one to have easy staking going on at the same time. It is definitely a fan favorite and what I would personally recommend checking out.
Read also:
FAQ
---

CaptainAltcoin's writers and guest post authors may or may not have a vested interest in any of the mentioned projects and businesses. None of the content on CaptainAltcoin is investment advice nor is it a replacement for advice from a certified financial planner. The views expressed in this article are those of the author and do not necessarily reflect the official policy or position of CaptainAltcoin.com