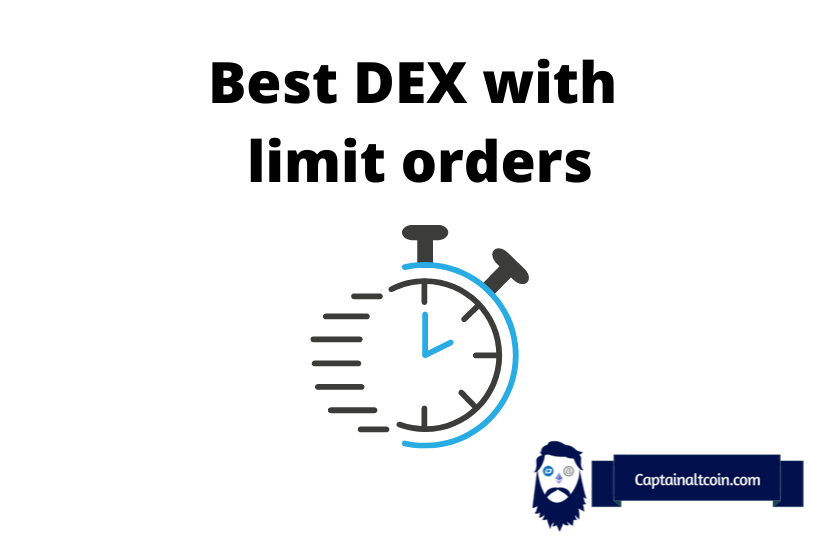 Introduction
---
A decentralized exchange (DEX) is an exchange for cryptocurrencies where no central authority governs buying and selling. In this way, cryptocurrency transactions can be transacted securely between peers online without an intermediary.
There is no centralized company maintaining the order books, custody funds, or making decisions. Through decentralized exchanges (DEXs), crypto buyers and sellers can trade crypto in a peer-to-peer (P2P) setting. In addition, private keys are controlled and owned by the user.
Decentralized exchanges of the first generation used market order, utilizing AMMs from liquidity pools. There was no order book. There were only liquidity pools that reacted directly to the rules of demand and supply. Thus, whenever you wanted to buy an asset on a decentralized exchange, you merely swapped the tokens at the current available price. You had no control over what price you would get.
Is that how it still is? This article will treat that and show you some of the latest DEXes to incorporate limit orders into their order systems
What is Limit Order?
---
A Limit order is an order for an asset at a higher or better price than the current or specific price. The price at which buy limit orders are executed cannot be below the limit price, and the price at which sell limit orders are filled cannot be above the limit price. The asset's market price must reach the limit price for a limit order to be filled. Even though they cannot guarantee execution, they help ensure that investors do not overpay for a stock.
Limit orders have the advantage that you can name your price, and when the stock is at that price, your order is likely to be filled. In some cases, orders are being executed at a better price. So you don't have to keep track of limit orders compulsively; you can set them to execute even months after being entered.
Best Decentralized exchanges with limit order functionality
---
These are the best Decentralised exchanges with limit order functionality to carry out your trades.
1Inch
---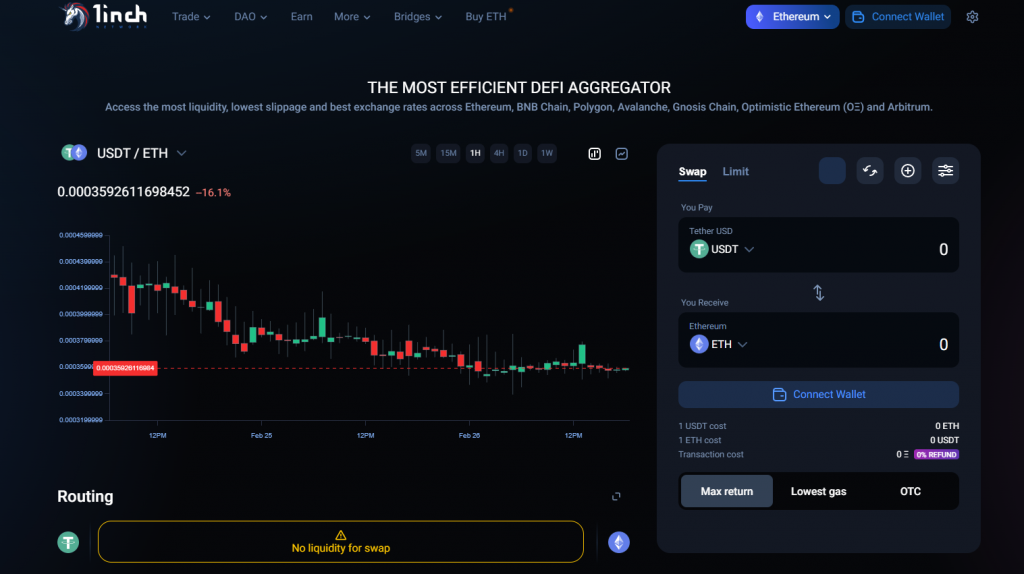 The 1inch platform is primarily a decentralized exchange aggregator. By scraping a few decentralized exchanges, it can find the best prices for its customers and help them trade between them to make sure they are getting the best deals. Thus, 1inch lets you use all possible exchanges instead of picking a single one and helps you find the best value for your trade.
Serum (On Solana)
---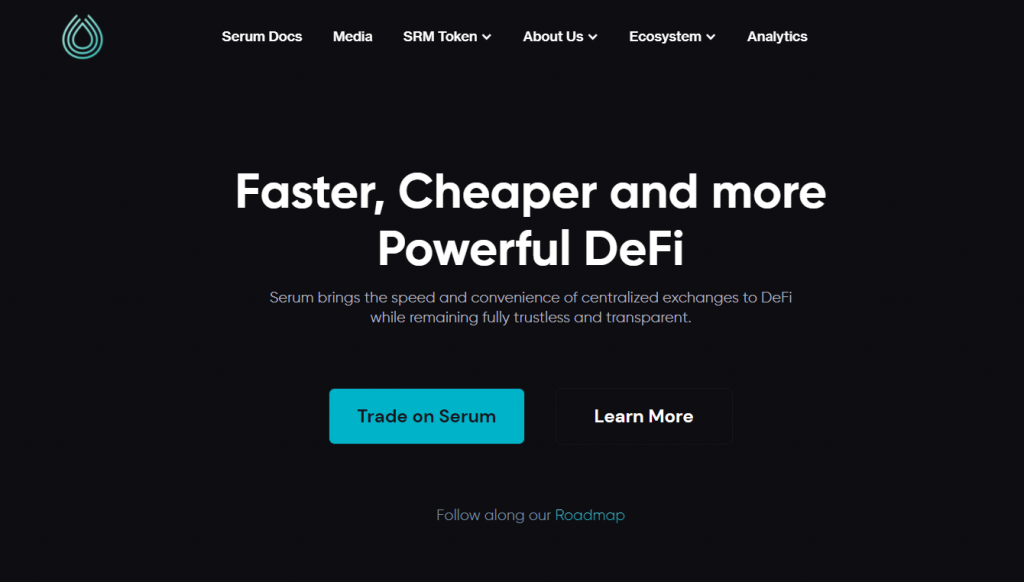 Serum is a Decentralised Exchange (DEX) based on the Solana blockchain. Combining crypto swaps with a protocol-driven order book enables the decentralization of cryptocurrency exchanges. The network supports trustless cross-chain trading, stablecoins, and wrapped coins, as well as on-chain limit order books. Serum is an innovative concept and project worthy of attention for its merits and promise.
AMM-based pools are not used by serum. In contrast with some decentralized exchanges, users of the platform can use an order book to find the best prices for their trades. They can also perform cross-chain swaps, using its native token(SRM) as the payment currency.
Raydium (On Solana)
---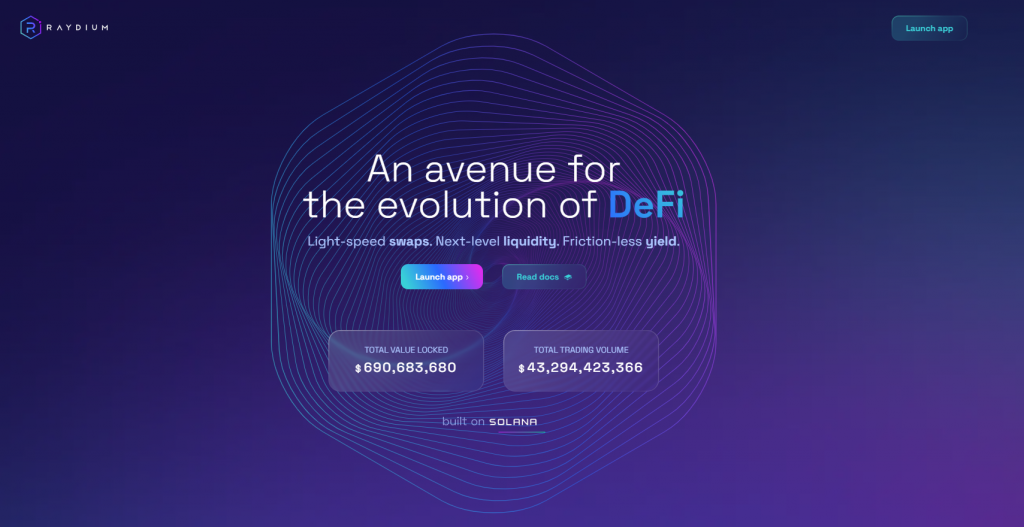 Raydium is an automated market maker (AMM) built on the Solana blockchain, which leverages Serum's central order book for lightning-speed trades, shared liquidity, and new earning opportunities for the entire Serum ecosystem.
Because it is built on the Solana blockchain, Raydium is incredibly fast compared to other DEXes built on Ethereum. Its gas fees are also cheaper. In addition, Raydium offers a trading interface so traders can see their TradingView charts, create limit orders, and have a greater level of control over their trades.
Aldrin (On Solana)
---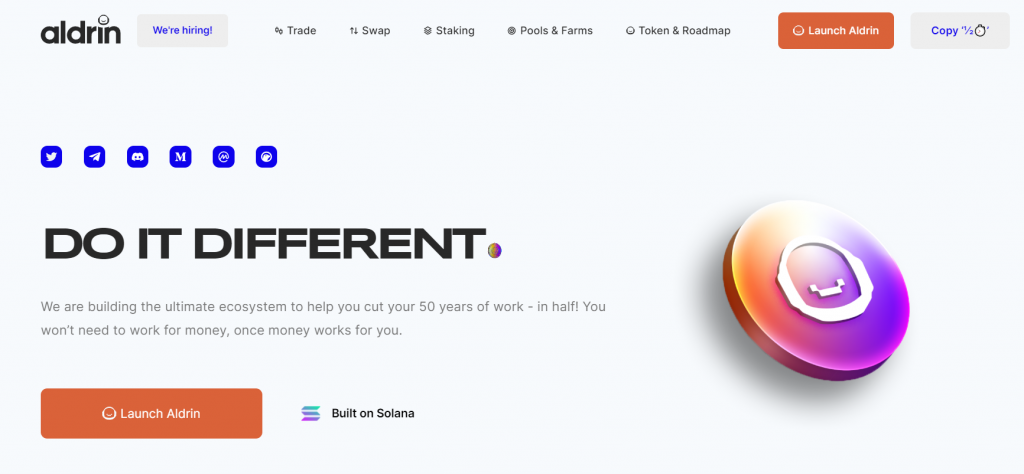 Aldrin is a decentralized exchange based on Solana's technology that allows automated market making and order book matching so that novice and advanced traders can trade digital assets with ease and success.
There are presently more than 160 token pairs traded on Aldrin. Additionally, traders have access to an informative dashboard that reviews important token data before carrying out their trades. Aldrin helps traders find an online token's website, trade analytics, and other relevant data.
Dexalot (On Avalanche)
---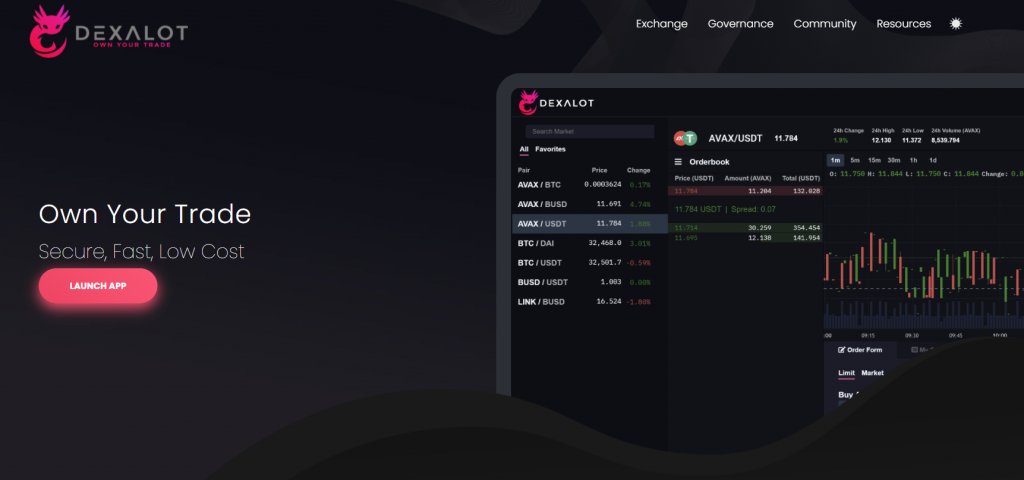 The Dexalot decentralized exchange is the first on Avalanche to feature a central limit order book. The Dexalot platform is different from traditional AMMs on Avalanche. While Avalanche offers swapping functionality using a constant formula, Dexalot natively supports a complete central limit order book, allowing users to write orders at the prices they are willing to take. With this, users won't worry about price slippage during execution and the risk of being front-run during a trade.
Orders and aborted orders set on the Dexalot UI are documented exactly on the blockchain and show on the central limit order book. It provides a level of transparency accessible to all users and observers. Using Dexalot, users don't need to trust a central institution or counterparty, and all are on an equal playing field regardless of size or sophistication.
Mirror (On Terra)
---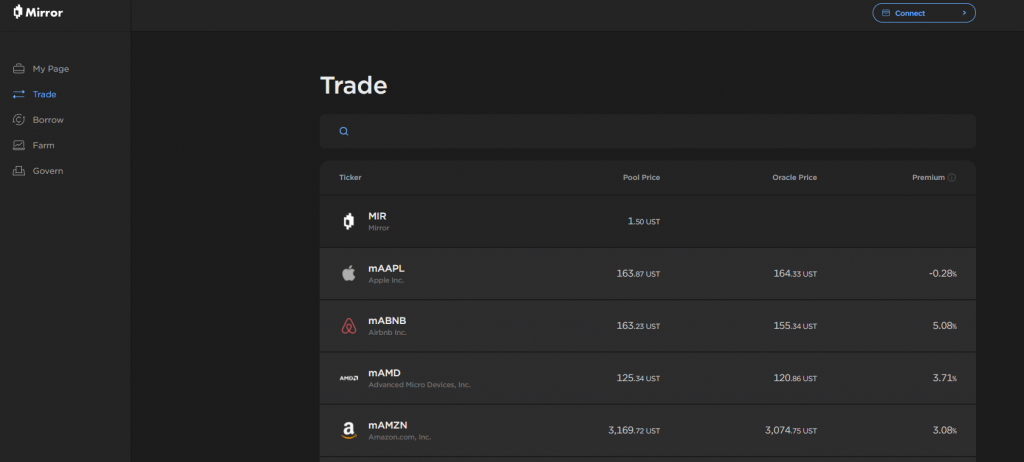 The Mirror Protocol is a decentralized finance protocol built on Terra's blockchain for supplying and exchanging synthetic assets, called Mirrored Assets (mAssets). Using it, users can create synthetic assets and crypto tokens based on stock prices. The mirror market allows users to participate in previously inaccessible markets, regardless of whether government restrictions or lack of capital previously prevented them from participating.
It is possible to purchase synthetic assets without owning the underlying resources. With this project, international access to financial markets is supported, and low transaction costs between mAssets and fast order execution compared to traditional and digital exchanges.
The synthetic mAssets offered by Mirror's financial technology remove traditional financial barriers to ownership, allowing any user to trade on the value of foreign assets in a fractional amount. Liquidity pools enable Mirror to bypass centralized order books and conduct transactions in a matter of seconds with no need to use centralized order books. It also has a toggle with which you can switch limit orders on and off on the swap page.
SPIRIT SWAP (ON FANTOM)
---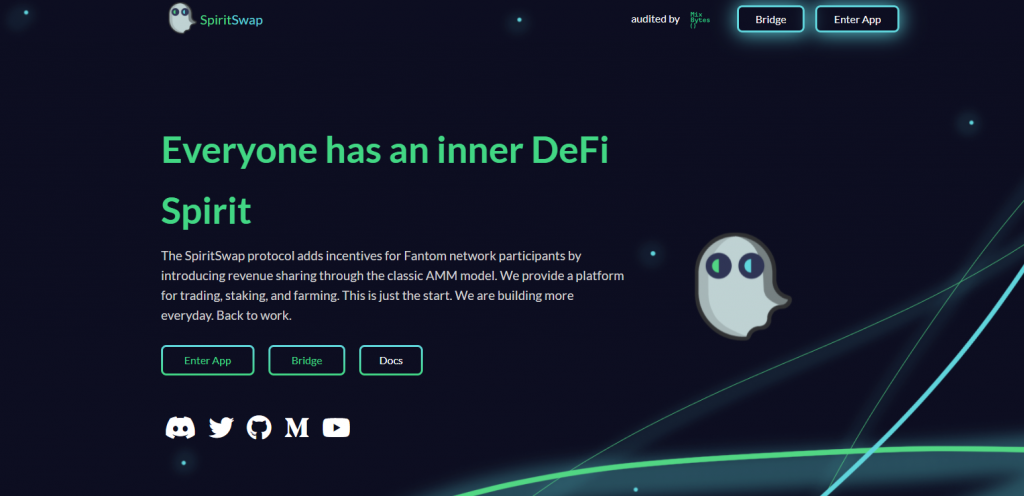 Trading with SpiritSwap is as easy as swapping between tokens within the application and getting guaranteed rates for the exchange. SpiritSwap is a decentralized exchange on the Fantom Opera Network. It requires a transaction fee that is divided between liquidity providers and used to purchase back SPIRIT tokens at market rate, which, in turn, are distributed to SPIRIT holders.
The users can also swap and trade tokens while earning a passive income by lending their capital to the exchange as liquidity. A small transaction fee of 0.3% is also charged to users when trading on the platform like other existing DEXes. The fees are used to improve the DEX platform.
Matcha.Xyz (available on ETH, Polygon, BSC, Fantom)
---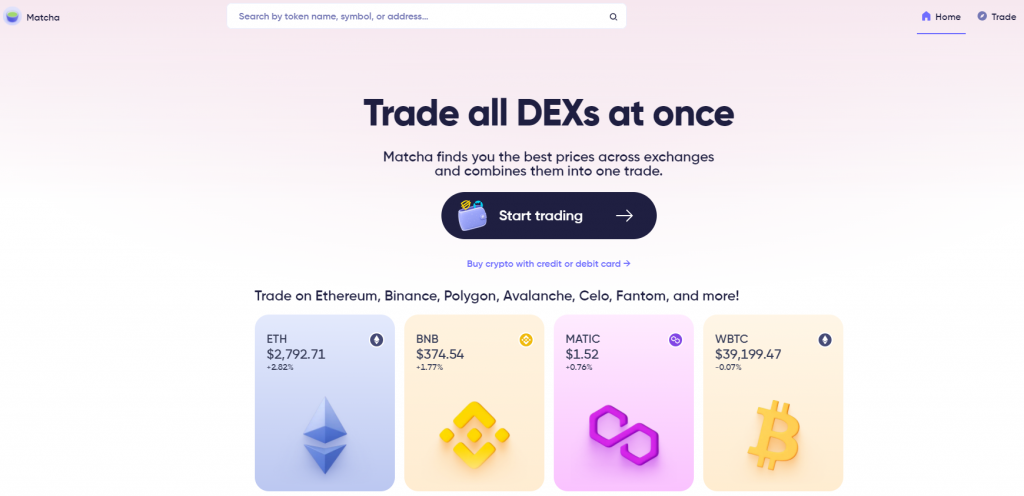 Matcha uses the Ethereum smart contract infrastructure to enable users to swap tokens peer-to-peer. In the whole trading process, you retain total control over your tokens.
Matcha helps users discover and access tokens in the crypto ecosystem in the most efficient way possible.
Using Matcha, you can trade directly with meaningful exchanges like Uniswap (V2 and V3), SushiSwap, Kyber, Curve, and many more. Matcha is also available on many other blockchains like Fantom, Polygon, and the Binance Smart Chain. With Matcha, all trade costs and fees are transparently displayed, and the actual difference between quoted and realized prices are never retained.
Read also:
Conclusion
---
Gone are the days when decentralized exchanges could only operate with automated market makers. In those dark ages, you had no control over what price you got in the end. You merely put in your capital and hope that you got the best price for your token.
That is no longer the case anymore. You can now place limit orders on DEXes and buy exactly what you want with what you have. And you can do all these without losing control over your funds, as in centralized exchanges.
Frequently Asked Questions
---
Can you set a limit order on Dex?
---
Yes. You couldn't do that before, but some DEXes now offer traders a variety of functions, including placing limit orders, which allows for greater flexibility and efficiency.
Are limit orders a good idea?
---
It is possible to reduce commission costs with limited orders, especially on illiquid tokens that fluctuate between the bid and ask prices. In addition, if you take a buy-and-hold approach to investment, you will also save money.
Can you do limit orders on 1Inch?
---
Yes. 1inch users can trade limit orders via the 1inch dApp. These signed orders can be retrieved by anyone via the REST API endpoint either from Ethereum, BSC, or Polygon to complete trades by filling orders on-chain.
What is a Matcha XYZ?
---
Matcha XYZ is decentralized finance (DeFi) platform that ensures its traders get the best prices on cryptocurrency exchanges. It offers a limit order which allows a trader to set prices at a specific price.
How do I use QuickSwap limit order?
---
It's straightforward. Select two assets you wish to swap, then pick a price to execute the swap. You can also check open, aborted, and completed orders.

CaptainAltcoin's writers and guest post authors may or may not have a vested interest in any of the mentioned projects and businesses. None of the content on CaptainAltcoin is investment advice nor is it a replacement for advice from a certified financial planner. The views expressed in this article are those of the author and do not necessarily reflect the official policy or position of CaptainAltcoin.com