PrimeXBT Covesting Review | Fees, Withdrawals, Minimum Deposit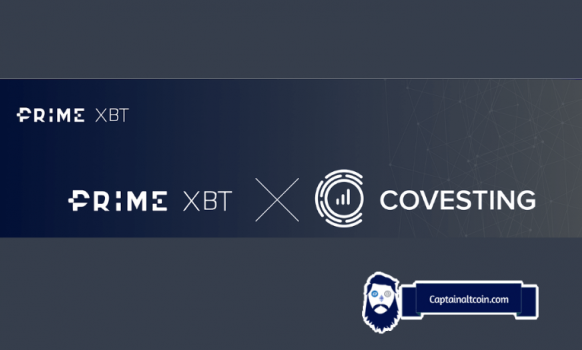 PrimeXBT Covesting Review | Fees, Withdrawals, Minimum Deposit
no skills needed to start using it
easy to use
high leverage
low fees
PrimeXBT came into the crypto markets with aggressive adverts and appealing features – it was a platform with a mission to take on the leader among crypto margin exchanges – BitMex. They tried luring new customers with incredibly high leverages (100x) and more recently, by entering a partnership with Covesting, a cryptocurrency social trading platform started back in 2017 that has its own token dubbed COV.
So far, judging by the trading volumes, they did a moderately good job as the platform is not even among the top 20 derivative exchanges according to Coingecko data.
This is a PrimeXBT Covesting review and if you want to read more about the PrimeXBT itself, click here.
| Feature 🌐 | Summary 📝 |
| --- | --- |
| COV Token – Covesting Coin💰 | Introduced by PrimeXBT Covesting, the COV token offers benefits like fee discounts and improved success rates. Strategy managers can reduce trading fees by up to 75%, and followers can remove the 1% entry fee. |
| Minimum Deposit 💳 | The minimum deposit required to access PrimeXBT and Covesting is 0.001 BTC. |
| Trading Instruments 📈 | PrimeXBT offers a diverse range of trading instruments, including CFDs on forex currencies, cryptocurrencies, commodities like gold and oil, and global stock indices like the Dow Jones and S&P 500. |
| Fees 💸 | PrimeXBT has a simple fee structure with trading fees ranging from 0.05% to 0.1389% and overnight financing fees between 0.00277% and 0.1389%. No fees for account deposits, and a flat withdrawal fee. |
| Safety and Security 🔒 | PrimeXBT claims high security with a multi-layered cybersecurity framework. It conducts stress tests, security audits, uses two-factor authentication, and encrypts passwords. Hosted on Amazon Web Services (AWS) for added security. |
Covesting Review: Key Features
---
PrimeXBT Covesting is guaranteed to peak the interest of both rookie traders and seasoned veterans as both can use it to earn a passive income: an experienced trader can set up a Strategy and earn from it whenever other traders employ it successfully.
On the other hand, traders who lack the time, skills, or even the will to analyze the market and set up trades, can choose to follow desired Strategies and generate a passive income that way.
Other important features include:
No experience is required to copy other traders' Strategies
No limit on the number of Strategies you follow
No mandatory KYC process
Easy and simple user interface
Top-grade security
Read also:
Covesting Fees
---
PrimeXBT charges trading and non-trading fees (overnight financing). Overnight fees will depend on the liquidity of the asset you trade.
The fees are as listed below:
| Symbol | Trading fee | Financing/day – Long | Financing/day – Short |
| --- | --- | --- | --- |
| BTC/USD | 0.05% | 0.1389% Daily Funding Rate | 0.0417% Daily Funding Rate |
| ETH/USD | 0.05% | 0.1806% Daily Funding Rate | 0.0556% Daily Funding Rate |
| ETH/BTC | 0.05% | 0.1806% Daily Funding Rate | 0.0556% Daily Funding Rate |
| LTC/USD | 0.05% | 0.2083% Daily Funding Rate | 0.0694% Daily Funding Rate |
| LTC/BTC | 0.05% | 0.2083% Daily Funding Rate | 0.0694% Daily Funding Rate |
| XRP/USD | 0.05% | 0.2778% Daily Funding Rate | 0.0833% Daily Funding Rate |
| XRP/BTC | 0.05% | 0.2778% Daily Funding Rate | 0.0833% Daily Funding Rate |
| EOS/USD | 0.05% | 0.2361% Daily Funding Rate | 0.0750% Daily Funding Rate |
| EOS/BTC | 0.05% | 0.2361% Daily Funding Rate | 0.0750% Daily Funding Rate |
Keep in mind that margin and leverage trading options are not equal for regular accounts and Strategy trading accounts—while the former have their own margin trading ranges, Covesting accounts can do a 2% maximum leverage, or 1:50.
Comparatively speaking, PrimeXBT fees are not high and some of the services are completely free: no deposit fees, and 0.0005 BTC for withdrawal fees that covers the Bitcoin transaction cost. As the platform offers integration with instant crypto exchange Changelly, you can buy Bitcoin instantly with your credit card (but this is not really the best way to convert fiat into crypto since Changelly is known to be charging high fees on these transactions).
How does Covesting work on PrimeXBT?
---
There is no single soul on this planet that does not want to make money; you sure know that is true. However, making money online, especially with cryptocurrency, is a different ball game altogether as there is an information overload and fraudsters and scammers are lurking on every corner.
Prime XBT Covesting tries to help out the newcomers by building a playground where trading rookies can meet and copy top-performing traders in order to take advantage of their skills.
This is one way to automate your investment strategy. It takes the guesswork out of choosing where to invest your money. However, it may work better for some investors than others. Knowing the risks and reward potential can help you decide whether PrimeXBT copy trading is a strategy you should adopt.
A much more known and reliable copy trading platform is eToro – check the review here.
How Much Can I Make with Covesting?
---
Cut the fluff, can I make money with Covesting – you might be thinking right now.
Yes, you can. But you might also lose it. It is a very risky endeavor. And with such situations, it is best to test it out slowly, with small amounts of money, and see how it goes.
Covesting provides all the data and ranks of top strategy managers so you can see how performed best in the previous period. However, that doesn't guarantee future success and your chosen manager can fail to earn money in the period you decide to follow him.
But in a hypothetical scenario where the manager gets it right and earns you both a good profit – you split it into three chunks: you get 70% of the proceeds, the manager gets 20% and the platform takes its cut with the remaining 10%.
So summing this up – you can make a lot of money with Covesting but it is borderline gambling, especially if you trade with high leverages and decide to follow managers with high-risk affinities.
How Much Can Strategy Managers and Followers Make?
---
Strategy managers have usually experienced traders who chart and analyze crypto markets as full-time jobs. By using Covesting, they add another income avenue with no downside for them. Successful trades will yield them a 20% cut out of their followers' profits.
If you are a follower and invest with a manager that makes a profitable trade, you can get 70% from it. But the best thing here is to tap into the expertise of the pro trader and learn the tricks.
The COV token
---
Everyone needs a little nudge in the right direction. PrimeXBT Covesting incentivizes your experience on this module by introducing the COV token which comes with benefits of fee discounts, improved success rates, etc. There is also a chance of a buyback and burn program that reduces COV token supply on the market.
The main COV token utility is to help strategy managers slash their trading fees by up to 75%. This is achieved through buying and staking, ranging from $250 to $750 of COV. Followers can remove the new 1% entry fee, and retain more of the success trading fees obtained through successful trades, and the episodic burning of the covering team's fees.
The pros of copy trading through Covesting on PrimeXBT
---
Now you understand covesting, but you wonder about the benefits of copy trading through it on PrimeXBT. The advantages of copy trading here include:
As a trader, you can diversify your strategies with cryptocurrencies and digital assets, commodities, stock indices, and the forex markets. Stock indices are probably the most popular.
PrimeXBT covering module opens doors to higher ROI while reducing the risks within the market. Put your capital in the hands of professional traders as they monopolize profitable opportunities on your behalf.
Tapping into an already existing pool of investments
There are good investment opportunities already lined up for you.
The cons of copy trading through Covesting on PrimeXBT
---
The downside of copy trading through covering on PrimeXBT is that;
Not profitable for small investments as the fees will swallow the deposit
PrimeXBT lists only five coins, meaning your cryptocurrency exposure is very limited
FAQs
---
Some of the frequently asked questions include;
Conclusion
---
If you are a crypto trading expert, you can try covesting on Prime XBT at any time. If you are new, trading strategy managers will help you with the investments, diversity of the same investments, and reaping copy trading benefits. Veteran traders are making a kill out of PrimeXBT's covesting, and you can do it too, especially if you learn from professionals.
Covesting is a social trading platform that incentivizes your crypto trading endeavors. It is the best asset you can have to trade and leverage your cryptocurrency instruments. Start your crypto trading journey now.
PROS
no skills needed to start using it
easy to use
high leverage
low fees
CONS
unregulated
risky
limited number of coins
COV token lacks adoption and reputation

CaptainAltcoin's writers and guest post authors may or may not have a vested interest in any of the mentioned projects and businesses. None of the content on CaptainAltcoin is investment advice nor is it a replacement for advice from a certified financial planner. The views expressed in this article are those of the author and do not necessarily reflect the official policy or position of CaptainAltcoin.com