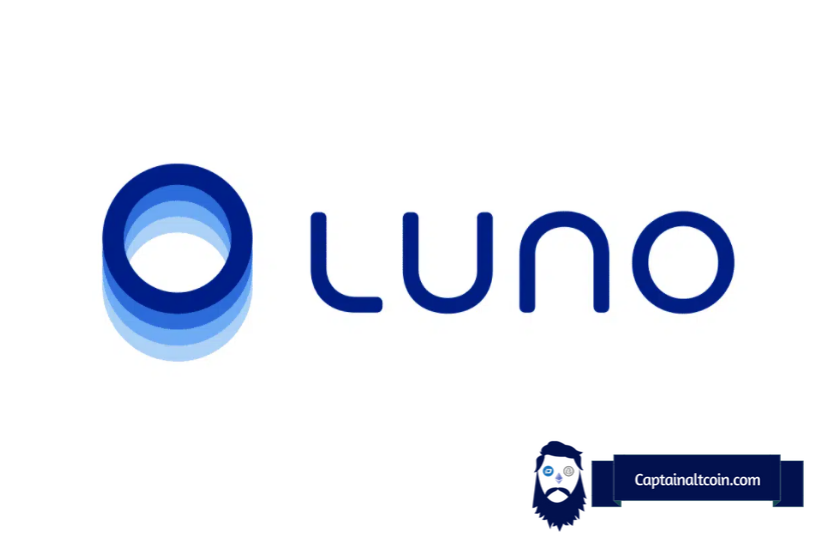 LUNO OVERVIEW
---
Luno exchange is one of the oldest crypto exchanges. It was created in 2013 by Marcus Swanepoel and was initially known as Bitx before being rebranded to Luno in 2017. Its head office is in London but it has other branches in Cape Town, South Africa, and Singapore.
Luno exchange is the largest crypto exchange in Africa, with a market capitalization of about 30.5 million dollars. It dealt in Bitcoin and Ethereum, and four other coins. In this article, we will discuss extensively what Luno exchange is, the services it offers, and how it can benefit you.
SERVICES AND FEATURES
---
BUY AND SELL CRYPTO
---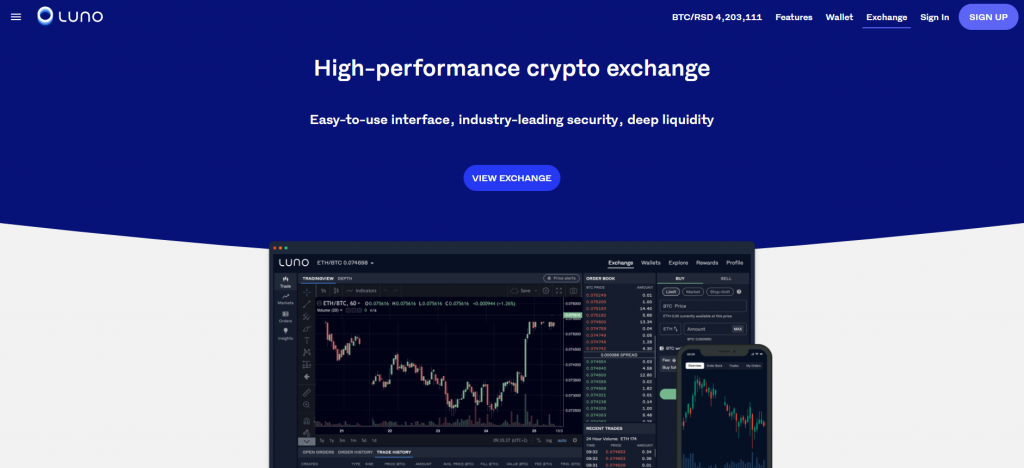 Purchase and sell Bitcoin/Ethereumwith fiat currencies like ZAR, NGN, e.t.c. There are fees for these transactions. The minimum transaction fee is 2%.
The transaction fees are for just the buying and selling section, not the whole exchange itself. There are limits to transactions, but it depends solely on your country of residence.
BUY CRYPTO ON SCHEDULE
---
Also known as repeat buy, this is a feature on Luno that allows you to set up an automatic recurring purchase at regular intervals. To illustrate, let's say you want to purchase NGN 5000 worth of Bitcoin every last Friday of the Month. All you need to do is click this feature and enter the necessary parameters.
With this feature, it will make it easier to invest your funds. Even if you forget it will continue to be purchased as it's automatic.
LUNO SUPPORTED COINS
---
There are six coins supported on Luno, and they are Bitcoin, Bitcoin Cash, Ethereum, Litecoin, Ripple, and USD coin; these are the only coins supported on Luno for now.
LUNO DEPOSIT AND WITHDRAWAL
---
DEPOSIT
---
👉 FEES
Like every exchange, Luno charges fees for deposits and withdrawals. Depositing Bitcoin through an email address or phone number incurs no costs, but using a hot wallet will incur a fee of 0.0002BTC per transaction.
You may also need to pay network fees for cryptocurrencies, as well as processing fees for the various fiat currencies.
👉 METHODS
There are many methods to deposit funds on Luno. You can deposit through bank wire transfer, credit cards, email address, phone number, or the receiving address of the cryptocurrency you want to deposit.
👉 LIMITS
Limits on transactions depend solely on the verification level. There are four verification level on Luno; we have level zero with only email address verification and neither deposit nor withdrawal. Level 1 has phone number verification and comes with a monthly limit of NGN 200,000,  ZAR 15,000, and EUR 1,000. 
The next is Level 2 which includes ID verification with a limit of NGN 500,000  ZAR 50,000 EUR 5,000. Lastly, Level 3, with proof of residence, has a deposit limit of NGN 10,000,000 of its equivalent in other currencies.
WITHDRAWAL
---
👉 FEES
Luno does not charge for withdrawals using the email address or phone number. However, you may need to pay processing fees to the payment processing firms that work with Luno.
👉 METHODS
To withdraw cryptocurrency, you can use an email address, phone number or the receiving address of the exchange or wallet. You can also withdraw fiat currency with a bank wire transfer or credit card. Below are some currencies on the platform and their withdrawal methods:
👉 LIMITS
The withdrawal limits on Luno are monthly, and it depends on your level of verification. There are four levels of verification on Luno; level zero with only email address verified can neither withdraw nor deposit.
The withdrawal limits usually depend on the currency as well as the level of verification you have attained. While level 1 verified members have an all-time limit of 1000 pounds or it's equivalent in other currencies, level 2 verified members have a monthly limit of 5,000 pounds per month. Level 3 verified users, on the other hand, have no limits regarding deposits and withdrawal fees.
LUNO TRADING FEES
---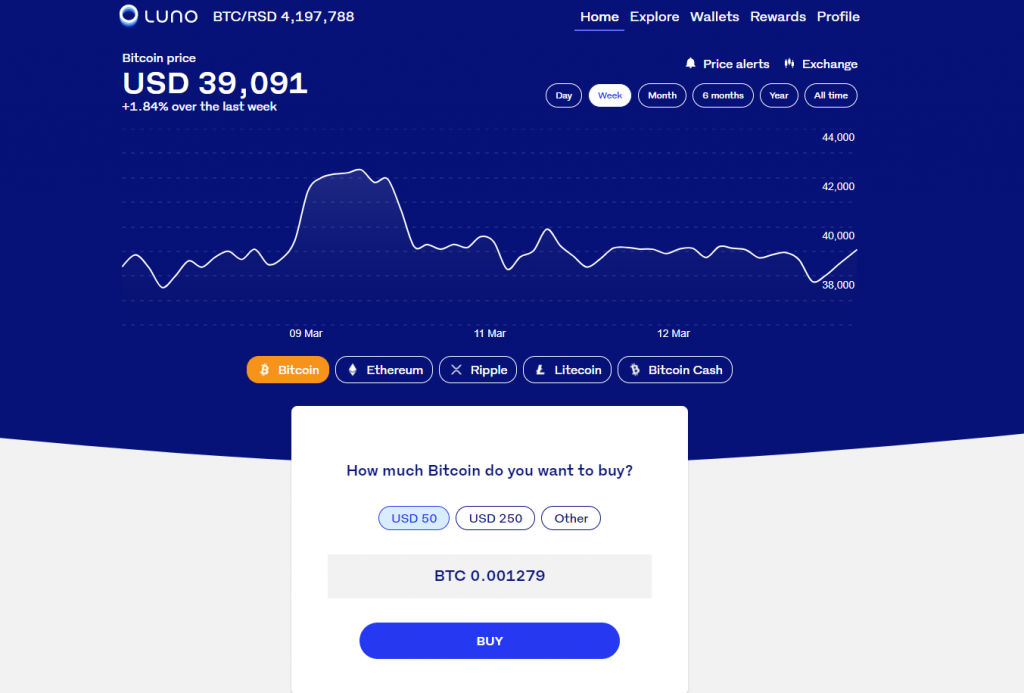 Through these fees, Luno makes revenue on transactions, and these fees depend on the trader's country of residence. Luno maintains a maker fee of 0% across all currency types. 
The taker fee on the other hand is set at 0.1% at first and then decreases based on the 30-day trading volume of the user. There are eight tiers based on this method, with the final tier assigned to those who trade up to 16 million pounds or its equivalent in other currencies. Those who trade these large amounts could get a taker fee as low as 0.03%.
DOES LUNO REQUIRE KYC?
---
To trade and transact on Luno, you will have to complete four verification levels on Luno during the KYC; Luno will ask you to provide your email address, phone number, ID card, and proof of residence.
With only your email address verified, you won't perform any transaction. Still, with your phone number confirmed, you will have access to the transaction, however, with only a tiny transaction limit. But with an ID card and proof of residence, your limit will increase and will eventually become limitless.
LUNO SUPPORTED COUNTRIES
---
Currently, Luno is available in over 40 countries.
 Some of them are South Africa, Nigeria, Indonesia, Austria, Cyprus, Malaysia, Zambia, Belgium, Croatia, France, Germany, United Kingdom, Estonia, Denmark, Greece, Hungary, Romania, Portugal, Guernsey, Finland, Bulgaria, Sweden,  Switzerland, Luxembourg, Monaco, Norway, Lithuania, Malta, San Marino, Netherlands, Spain, Ireland, Jersey, Latvia, e.t.c.
ARE US INVESTORS ALLOWED ON LUNO?
---
Luno is not available in the US currently, but it may become available in the future.
Read also:
HOW TO START WITH LUNO(REGISTRATION, ACTIVATION, VERIFICATION)
---
REGISTRATION
---
To register, visit the Luno exchange website www.Luno.com/signup. On the page, press the signup button. After that, Luno will ask you to input your email address or sign up through your Google or Facebook accounts. Enter your email address and create a solid and secure password with a combination of letters, words, characters, symbols. Next, select signup, and you are registered as easily as that.
ACTIVATION
---
To activate your account, Luno will send you an email to confirm you have access to the email address you used to register. Once you approve the email, your account is activated.
VERIFICATION
---
After activating your account, you will need to verify your account by verifying your identity with Luno. There are three KYC levels on Luno, all through which you need to provide three things linking to your identity as an individual. The first is your phone number, following identity cards like an international passport or country identity card, the last is proof of residence.
This KYC is essential because without completing them, your account won't function correctly though some are needed more urgently than others
DOES LUNO HAVE A NATIVE TOKEN?
---
Presently Luno has no native token but deals on Bitcoin, Ethereum, and some other coins.
IS LUNO LEGIT AND SAFE?
---
To know if something is legit, we must consider how they operate and their customers. Certainly, Luno has excelled in all these aspects as they are available In more than 40 countries and a population of about 2 million users. Luno is regulated in Malaysia and has the privilege of being the first crypto exchange to attain that feat.
For the security aspect, Luno uses a three-level KYC verification for new users to verify their identity. It also uses two-factor authentication for additional security. Lastly, it recommends that new users use solid passwords containing special characters, symbols, letters, and words. 
Apart from that, they urge their customers to use reliable password generators like Keychain, LastPass, e.t.c to generate and keep track of a strong password. Also, Luno has a multi-sig function that ensures that one person can not single-handedly withdraw all funds available in the exchange.
IS LUNO REGULATED?
---
Luno complies with all regulations for customer protection. Also, they have put in place a system and control that applies to the standards of regulated sectors, and this will, in turn, prevent money laundering or financing terrorists.
CONCLUSION
---
Throughout this article, we have discussed Luno exchange and the services they offer. We have seen that it's the largest exchange in Africa and one of the oldest Bitcoin exchanges in the crypto world.
We have considered some salient points about this exchange, as well as some merits and demerits. Do you think it will work for you? You could partake of the 'repeat buy' function and effectively DCA into your favorite crypto on the platform.
You could also buy crypto directly with bank transfer as well as using E-payment methods. Being that it has been on the scene for quite some time, Luno has shown itself to be stable enough to handle your cryptocurrency needs.
However, if you do not like what you have learned about Luno, there are better exchanges, of course. This website has articles about lots of them. Check through the exchanges section of this website and you may find your fit among them all.
FAQs
---
PROS
They comply with regulatory bodies for the protection of their customers' funds.
Low transaction fees
An advanced and secured platform
Luno supports the use of credit cards and fiat currencies for transactions.
CONS
No adequate customer care support( live chats or telephone calls)
Limited choice of cryptocurrencies
Not supported in some countries like the USA.
Limited fiat options

CaptainAltcoin's writers and guest post authors may or may not have a vested interest in any of the mentioned projects and businesses. None of the content on CaptainAltcoin is investment advice nor is it a replacement for advice from a certified financial planner. The views expressed in this article are those of the author and do not necessarily reflect the official policy or position of CaptainAltcoin.com