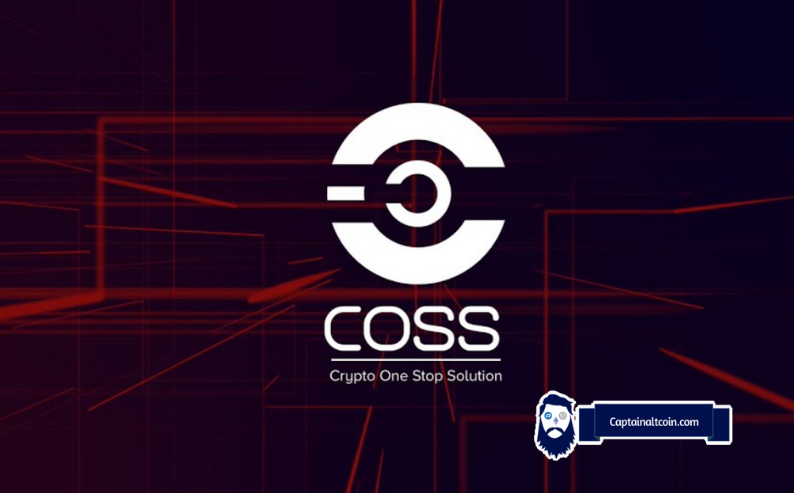 COSS.io, otherwise known as the "Crypto One-stop Solution," is a newer cryptocurrency exchange that is based in Singapore, but a lot of things connect the company to Romania. COSS is listed in Romania's Chamber of Commerce and Industry and also many of the employees of the project are Romanian. On top of that, COSS also has a branch in New York, and the exchange is a member of Singapore's most popular blockchain association, ACCESS (Singapore Cryptocurrency and Blockchain Industry Association), which promotes and protects the use and development of digital currencies and blockchain technologies. COSS officially launched in April 2017, following an ICO, and today, COSS's marketplace consists of 150 merchants and over 1000 users. The entire project is still in "beta", so there are still lots of growth ahead and kinks to smooth out.
COSS.io is designed as a one-stop shop for all your cryptocurrency needs and the platform goes far beyond the normal contours of your regular, vanilla crypto exchange. COSS's first product is a payment gateway/POS for online and offline merchants and they have also launched a fully operational crypto exchange. COSS is also a micro-crypto economy and an Ethereum-based ERC20 token that enables its holders to receive revenues in the form of transaction fees charged by the COSS system for cryptocurrency transactions.
As you can see, the team is trying to do a lot of things. Merchants – both online and offline – can now gear their entire online stores through the COSS platform. It allows them to manage all their finances from one place, accepting cryptocurrency payments at their store and keeping impeccable records while also having crypto-to-fiat functionalities.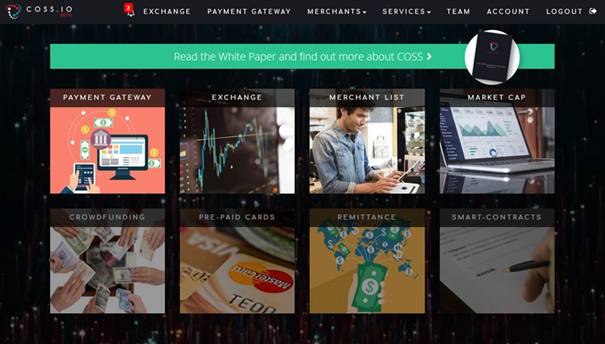 The COSS exchange has a legal paper trail that points toward its legitimacy, but COSS exchange activity is still not overseen by any dedicated agency, which means that not all jurisdictions currently have rules governing cryptocurrency exchanges.
One more thing worth noting is that there haven't been any major reports of a hack at COSS, which isn't surprising since it's new.
The COSS.io Team
---
As mentioned above, COSS has offices in Bucharest, Singapore, and New York and is led by Co-founder Dan Cearnau, Visionary, and Co-founder Rune Evensen, Team Coordinator Ioana Frincu, and Tech Officer Iulian Oprea. These people are professionals in their field who have been doing this for years and they are focused on platform security, which, along with plans and the platform's technical specifications, is outlined in the company's 2017 whitepaper.
As you can see, the COSS team is scattered all over the world. However, this does not prevent it from being a real, cohesive, and productive team. The COSS team is rather large and is backed by a team of blockchain specialists, analysts, and developers. The COSS advisors are John Bailon – Crypto Adoption Ecosystem Advisor, Anson Zeall – Blockchain Industry & Community, and Mike Costache – Strategy / Investments.
COSS has also formed partnerships with SingaporeFintech.org, ARK, CardBlue, Civic, and Access.
COSS.io Signup and Login
---
Signing up for the COSS.io exchange is straightforward and all you need to do is to enter your email, and password, and verify the email to gain access to the trading site. There is no lengthy verification process to get your basic account up and running, and no wait time for documents to be processed. All you need to do is to notch the terms and conditions checkbox and complete the captcha and you're ready to proceed.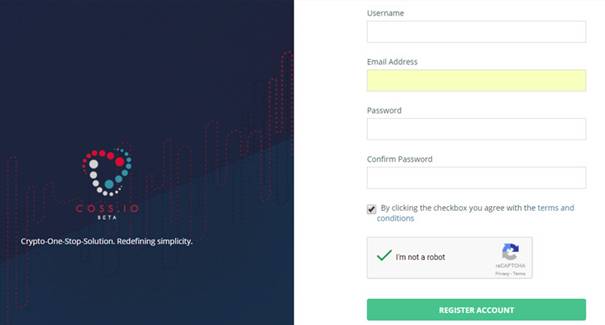 Once you submit your details, you'll be sent a verification email, which contains the link that you need to click. Once you do that, you'll be verified.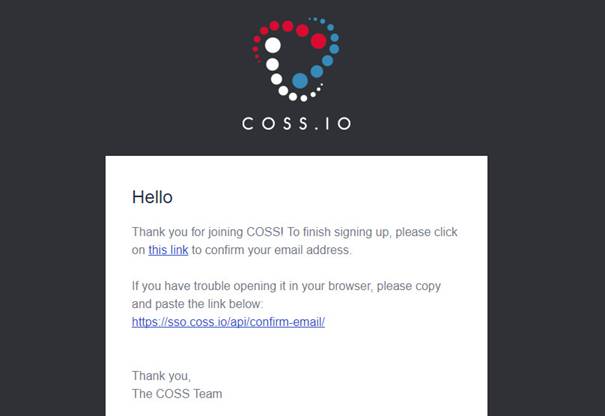 Once you're back on the exchange, you'll need to log in for the first time, and you'll receive a timely reminder to set up 2FA on your account immediately.
Trading on the COSS.io
---
The trading platform at COSS is web-based, sleek, and nice on the eyes. The COSS exchange itself is pretty straightforward and keeps your account balance, the chart, and the trading pair's order books all neatly packed into one place. Also, its trading charts are fine but it is definitely geared towards your average user. There will definitely be more advanced traders that will be turned off until COSS offers better charting tools (e.g. Zooming, better technical indicators).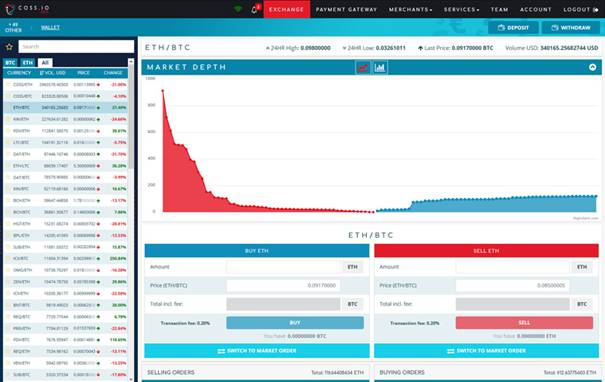 COSS currently offers Bitcoin (BTC) and Ether (ETH) trading volume pairs with over 30 popular cryptos, including Bitcoin, Ethereum, Litecoin, DASH, ARK, Lisk, NEM, COSS coin, and many more. The platform also supports multiple fiat currencies with its crypto exchange rates, including USD, EUR, Romanian Leu, Korean Won, Malaysian Ringgit, Singapore Dollar, and many others.
At this point in time, COSS doesn't support margin trading, so those who are looking for margin trading will have to look elsewhere. Moreover, there's nothing in the platform's roadmap that suggests that the company is planning to support this functionality.
It should be noted that COSS is still working on implementing fiat to crypto trading pairs, so to get started trading on COSS you will need to make a deposit of crypto.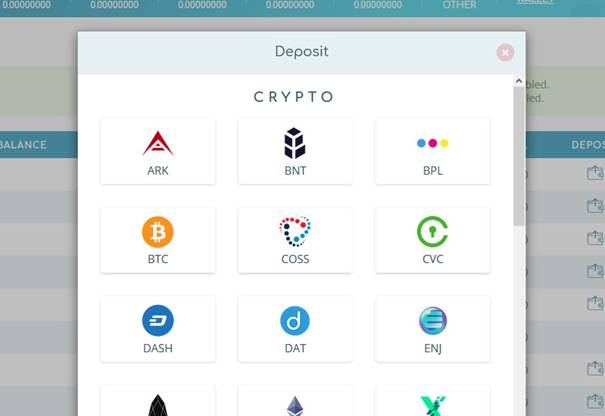 Another point to consider is that, while COSS is still young, liquidity at this exchange is very low, compared to other popular crypto exchange. As I already said, the crypto exchange is still in its beta form so there is no reason to think this dynamic will always remain. However, it is something you'll have to contend with in the short term while the platform grows.
Lastly, for basic account users, the daily trading limit started out at $2,000, and this limit is reset at 00:00 UTC. Since October 2017, you're able to trade up to $100,000 worth of funds a day, but you're only allowed to deposit/withdraw cryptos. If you want to be able to deposit fiat currency into your account in the future, you'll want to get Basic Plus, which requires KYC ("Know Your Customer") verification. Users will have to provide a personal ID with a selfie, proof of residency, and personal information (i.e., location/residency). There's also a Basic Ultra verification level. This level requires a video conference with the COSS team and permits unlimited trading volume per day, which means that is meant for the whales of the trading bunch.
COSS.io Customer Support
---
Customer support on COSS.io is pretty scarce for now and they will need to drastically improve it in the months ahead. The only semblance of customer support on the exchange itself was a message to "Report an issue" to support@coss.io, where you can contact the company's customer service team with any concerns.
To the project's credit, though, the COSS team appears to be most active on social media sites such as Twitter, Reddit, and the Bitcointalk forum where they have a massive thread.
COSS Wallet
---
Obviously, COSS's wallet integrates with its exchange and comes with the main security benefits that all traditional crypto exchanges offer, including confirmations, hot/cold storage, and advanced 2FA security.
COSS's wallet supports a number of popular cryptos, including Bitcoin, Ethereum, Bitcoin Cash, Litecoin, OMG, VeChain, Waves, DASH, Lisk, ICX, NEM, EOS, and ARK, as well as a number of lesser-known altcoins, including Substratum, Po.et, ChainLink, Enjin Coin, Lampix, and many others.
Also, the COSS wallets allow you to trade between currencies without the waiting times users endure on decentralized exchanges, and in the future, the platform hopes to add fiat functionalities so that you can withdraw to fiat instantly too.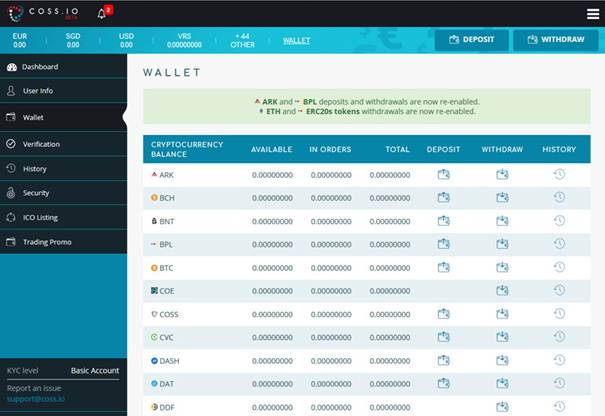 COSS's exchange wallet also syncs up with the platform's payment gateway for merchants and consumers, allowing businesses to accept cryptos in an easy, transparent, and accountable way.
The entire project is still in "beta", so more wallet perks are still to come. Going forward, the team hopes to implement different features, including streamlined KYC applications, a remittances portal, and token swap capabilities.
COSS.io Fees
---
COSS' exchange charges a base fee of 0.2% for all trades, which is competitive with the current state of the industry, as the average fees go as high as 0.25%. However, this fee has not been independently verified at press time because we couldn't find any mention of the trading fees on the COSS website.
Withdrawal fees, like most crypto exchanges, vary based on the currency in question, so the amount you'll have to pay will vary. It's important to note that there is a popup in your profile section that details the fees for each currency.
COSS.io Withdrawal Times
---
Withdrawals are quite simple and straightforward. A withdrawal request is followed by a verification mail to ensure greater security. Actually, you'll be sent two verification emails. The first email is a simple message explaining that a transaction has been requested and the second email is the confirmation email that you will need to open in order to okay the transaction.
Note that you'll be able to cancel your transaction at any time in the absence of clicking the link in the confirmation email.
Follow these steps if you want to check-in to see how far along your withdrawal is:
Go to the "Account" tab
Click the "History" button
Click on "Deposits & Withdrawals"
If your transaction is not verified yet, you will see the "Withdrawal (pending user confirmation" message. Otherwise, you should see "Withdrawal (processed)" and your funds should be available in no time.
As for withdrawal times, the project's FAQs list that withdrawals for most ERC20 tokens are usually processed within 10-30 minutes while BTC withdrawals can take slightly longer as the withdrawal time varies between 1-3 hours. As you can see, the withdrawal times are longer than most exchanges. However, the team argues that they do this to ensure the safety of their platform.
About The COSS ICO
---
COSS allows Initial Coin Offerings (ICOs) on its platforms, and this model can be a gamechanger as far as making ICOs accessible to everyday investors.
If approved, projects can have their ICOs facilitated on COSS. After that, they can also have their newly released crypto then listed on the actual COSS exchange, which can help projects quickly legitimize themselves and gain liquidity.
According to the COSS.io website, the listing process is straightforward and you are now required to do the following:
Fill in and submit a listing request on https://coss.io/cryptocurrency-listing
Send a clear legal opinion to info@coss.io
Pay a listing fee of 200,000 COSS tokens (adjusted to your token price accordingly) in case your request has been approved.
Another perk of having an ICO on COSS is that all the ICOs available on COSS will have trading PROMOs instantly after the tokens become tradable. The PROMO program is a lucrative incentives campaign that splits proceeds between the top 50 volume traders over a one-month period, and the proceeds are split as follows:
The top 10 traders split 30% of the pool
Next 10 split 25%
Next 10 split 20%
Next 10 split 15%
Next 10 split 10%
So far COSS has commitments for over $500,000 worth of tokens.
COSS.io Security
---
Speaking of security, its website claims that COSS "is designed as a state-of-the-art application with advanced security features". COSS sports the usual industry standards, including email confirmations, hot/cold storage, advanced two-factor authentication security, and other options that are all available to secure your funds. Besides that, you can also customize security options in their account settings.
COSS Coin
---
The exchange ran its ICO in early August 2017 and during the ICO, investors can buy the COSS token. The COSS token itself is an Ethereum-based ERC20 token that enables its holders to receive revenues in the form of transaction fees charged by the COSS system for cryptocurrency transactions. The token can be stored and transferred using most ERC20-compatible wallets like MyEtherWallet, for example.
Here is a full review of the COSS coin.
Funds Distribution Plan:
50% – IT Development, Roadmap Completion, User Experience
25% – Mergers and Acquisitions
10% – Operations
10% – Marketing Plan
5% – Shareholders, Advisory Board, Board of Directors
You can also use the COSS token to build your portfolio and it does give its stakeholders a cut of the exchange's profits. If you hold COSS in the platform's wallet or even an external wallet, you'll receive COSS revenues on a weekly basis. 50% of the exchange's trading fees will be distributed to COSS token holders. Keeping coins on an exchange is never recommended, so the fact that you can still receive these coins in a non-exchange wallet is a big plus.
As far as market specs go, there's a total supply of 200,000,000 COSS tokens. During the ICO 130 million tokens were released to investors, with a further 25 million available during a pre-ICO.
COSS.io Roadmap
---
COSS.io has its roadmap for the future listed out clearly. These features include:
Crowdfunding Phase – This will be a platform within COSS that will allow users to finance their own projects, and COSS will provide the means for fundraising across industries outside of the crypto sphere.
Pre-Paid Cards Phase – COSS will allow users to have a MasterCard-backed card that they can deposit their crypto funds onto directly from the exchange.
Smart Contracts Phase – This will be a functionality on the exchange that will allow businesses and associates to sign legal contracts and other terms of the agreement on COSS, securing legal proceedings using the blockchain's public ledger.
Remittance Phase – Using COSS, individuals will be able to process international money transfers with ease.
Third-Party Plugins Phase – This phase will focus on providing innovative plugin functionalities to COSS's users.
Conclusion – COSS Exchange Review
---
First off, we have to remember that COSS.io is still in a beta state, which means that it is open to suggestions and changes. However, the team has a clear vision ahead, which means that we might see it as a sustainable and successful crypto exchange (successful exchange review) like a few of its competitors. COSS.io brings up an interesting concept of making cryptocurrency an easy and widely accepted currency and payment denomination. At the time of writing, it's ranked a humble 107th on Coin Market Cap for exchanges by 24/hr volume, but if it can deliver on all of the features it's looking to implement, then COSS.io could be a big player moving forward.
With that said, COSS.io is definitely an interesting exchange and is another breath of fresh air for users looking for a more accessible trading experience. Though we can still not comment about where it would eventually reach, COSS.io does look promising and if it takes off as other crypto exchanges such as Kucoin and Binance did, it could be very successful indeed.
Read more about other exchanges
Useful Links
---
PROS
Nice and Straightforward User Interface
Multiple Altcoins Available
COSS Coin Dividends
No Hacks Reported
COSS Wallet
Competitive Commissions
ICO Platform
CONS
No Fiat Currency Deposits Accepted Yet
Low Liquidity on Most Pairs
Relatively New Platform
Customer Support Needs Improvement
Fees on Blockchain Withdrawals
Fees Are Not Displayed

CaptainAltcoin's writers and guest post authors may or may not have a vested interest in any of the mentioned projects and businesses. None of the content on CaptainAltcoin is investment advice nor is it a replacement for advice from a certified financial planner. The views expressed in this article are those of the author and do not necessarily reflect the official policy or position of CaptainAltcoin.com