Crypto.com NFT Marketplace Review – How Does Crypto.com NFT Buying Works?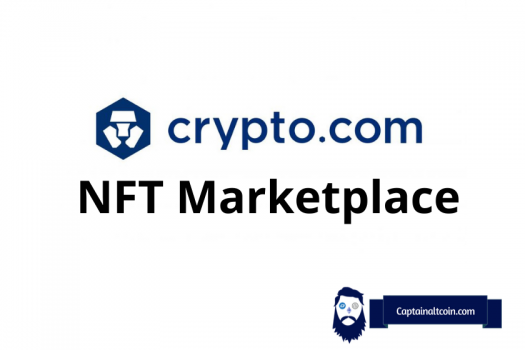 Crypto.com NFT Marketplace Review – How Does Crypto.com NFT Buying Works?
Simple and easy to use.
Debit/credit card flexibility. Allows payments via debit/ credit cards while buying NFTs.
Wide variety of cryptocurrencies to choose from while making payments.
Crypto.com is a popular platform for all things crypto. It has the requisite mobile app, DeFi wallet, exchange, and yield-generating services. In late 2021, it just wouldn't be complete without its very own NFT Marketplace. Everyone's doing it, but Crypto.com is the one to watch at the moment.
What is a Crypto NFT Marketplace?
---
Announcement: This is the last time that I'm ever going to write Non-Fungible Token in full. There are undiscovered tribes in the Amazon forest who know what NFTs are. Even my mom gets it by now!
Your NFT collectibles need to be minted or bought, displayed and sold. An NFT marketplace is where all the action happens. Reaching the right audience on the best blockchain, and avoiding prohibitive gas fees – it's a minefield out there. We take a look at one of the more popular, up-and-coming NFT marketplaces, Crypto.com, and see what it's all about. Crypto.com is one of the crypto exchanges that decided to get into the NFT world. Big crypto exchanges tend to do that recently.
There are NFTs owned by celebrities (Snoop Dogg, Boy George, Lionel Ritchie, etc.) on this NFT marketplace with Snoop Dogg probably being the most famous one. Crypto.com NFT marketplace operates from Hong Kong.
Note: This article should be considered a financial advice on digital assets as a wide range of other we found online.
How do I get started on Crypto.com NFT Marketplace?
---
First, you need to sign up for an account from the Crypto.com homepage. Select the NFT tab from where you can click on the 'Sign Up' button in the top right-hand corner.
You need to supply your full name, your email address, and a publicly visible username. Think of an uncrackable password and agree to the Terms and Conditions that nobody ever reads. Click the robot detector button, follow the instructions in the confirmation email, and you're done.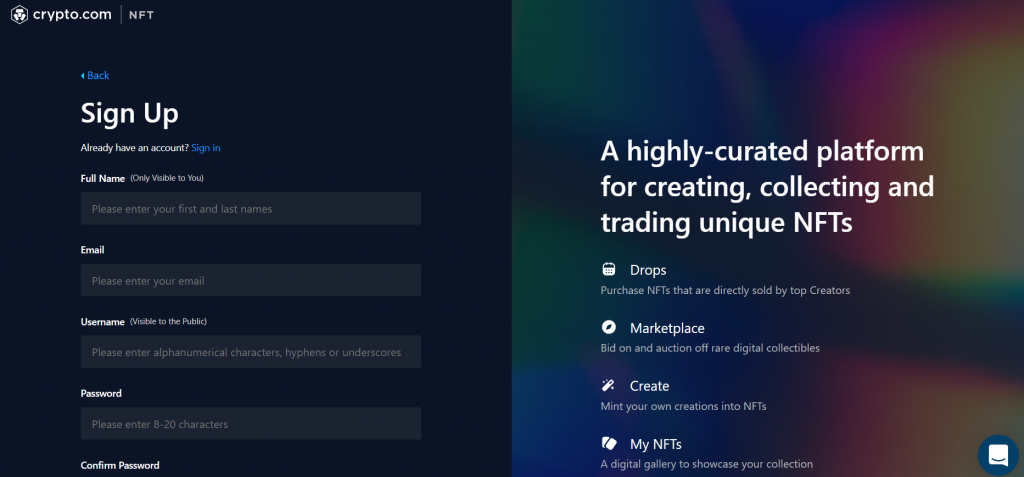 Now you can head to the Marketplace to see what's for sale. The categories are Art, Celebrities, Gaming, Sport, Music, and Crypto. You can choose to view the uncurated version with a toggle switch.
This opens up a whole new world of amateur digital artists. It's for more diverse and there are some cool-looking NFTs to be had for only a few dollars. Might the next viral NFT be lurking amongst these more affordable artists?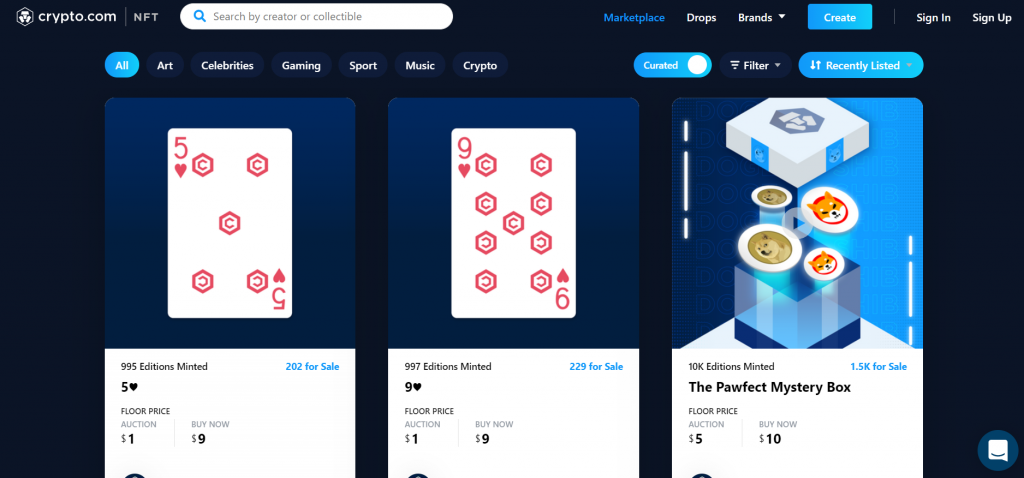 The Filter button only worked for the price range, but you can select how the gallery appears. Price – Hi/Low, Recently Listed, Most Likes/Views, etc. There's a search bar in the top left for finding specific creators or collectibles. If you've ever used an NFT marketplace before, you'll recognize the standard layout, otherwise, it's super intuitive.
Crypto.com NFT Drops
---
You'll notice an option called "Drops" next to the Marketplace button. This is where the latest hyped-up NFTs first appear for sale and this marketplace offers a wide variety of drops. You can buy them directly from the creators, snagging a bargain if you choose your collectibles wisely. In theory, anyone could list their NFT for sale on the marketplace, but as with a music release, running a countdown and hyping the heck out of the project seems to drum up more business. 
Previous Drops
---
Recent popular NFT Collection drops included 76ers Legacy 01: The Debut, UFC 268, and Sons Of The Desert by digital artist Abalastegui. These have all ended so your only chance of picking these NFTs up is on the secondary market.
You can sign up to the Crypto.com email service informing you of upcoming drops, plus a newsletter, special offers, and the occasional survey. You don't need to open an account to join the email list and you can unsubscribe at any time – it's a great way to get a feel for how the marketplace works.
Upcoming Drops
---
There's plenty more to come with a full schedule of drops from digital artists and sports promotions. The next few days see releases by Macedonian Artist, Aron Visuals, a 76ers Legacy 02: Stars Among Stars collection, Surreal artworks from young Indian artist, Ankit Paul, and works by İrfan Kaya and Kaiwan Shaban.
Read also:
Crypto.com NFT Platform Fees
---
There are fees for minting and selling your NFTs on Crypto.com. The original creator fees were a whopping 15%, but these have now been reduced to 1.99%. Fees for secondary selling on Crypto.com NFT Marketplace are five percent. Again, this seems like a lot when compared to the Binance NFT market where you are charged two percent for flipping NFTs on the secondary market.
This isn't an issue for someone holding NFTs long-term, but if you're intending to flip NFTs, the fees soon build up. Imagine a five percent commission on all digital assets trade you make. It would put most traders off using such a site, but this is the world of NFTs and everyone has lost their mind, temporarily. 
When the current free-for-all market of DeFi matures and genuine price discovery kicks in, I predict typical NFT transaction fees will become comparable to exchange fees. You can read the Terms and Conditions here.
Crypto.com NFT Platform Payment Methods
---
You can import cryptocurrency into your Crypto.com wallet and use that to pay for NFTs. You can also link a compatible DeFi Crypto wallet to your Crypto.com account to pay directly. A further option is to use your debit or credit card to buy crypto on the platform or pay for your NFTs, but it's not cheap – You'll pay about 3% on your transactions. 
I noted that all NFT prices are quoted in US$, but I could not see which tokens can you use for transactions? Presumably, it depends on the blockchain you are using, so ETH for Ethereum Network NFTs and BNB for Binance SmartChain NFTs. Again, the literature was sparse on this important question.
How to buy NFT on Crypto.com Marketplace?
---
You have 3 options – An NFT Drop, an auction, or a floor price purchase. You will either pay a fixed price for your NFT, or you can place a bid in an NFT auction. There's usually a buy now price for the auctions, but these prices tend to be a best-case scenario for the seller. Displayed with the NFT information is the type of sale – buy now, bid now, or both.
Floor Price NFT Purchases
---
Search the NFT Marketplace and select the NFT that you would like to buy. Some NFT only have a floor price and are intended for sale instantly, at this quoted price only. Simply click on the listing to reveal the relevant information. This includes the quantity minted, the number for sale, the floor price, and the number of likes.
It's worth comparing the floor price to current auction bids for other NFTs in the series. Make sure you choose auctions that are about to finish, otherwise the bids will be much lower than the final auction sale price. This way you know you are not overpaying for an NFT. You should always do this by searching the artist and the collectible title as some chancers list NFTs for far more than the market value in the hope that someone will click 'Buy' on impulse.
Auction NFT Purchases
---
You'll notice that some NFT listings have both a 'floor' price and a 'current bid' price. Here you have the option to buy the NFT at the floor price and end the auction. Alternatively, you can place a bid and hope that nobody outbids you until the auction ends. The remaining time for the auction is displayed, and you can see the time ticking down to zero, at which point the highest bid wins.
One factor to consider is that bidding for an NFT locks up your crypto until the end of the auction, or until a higher bid is made. Most bids are made right at the end of the sale period, which makes for a very frustrating situation if you are outbid during the last few seconds of a 7-day auction.
Selling NFTs at auction can be risky as a low-ball bid might win. However, if your NFT is trending, an auction can be the most profitable way to sell your NFTs.
How to transfer NFTs from Crypto.com to your own wallet?
---
Once you have bought your NFT you can view it in your crypto wallet. Click send, enter the new crypto wallet address and click confirm. Always double-check that you use the correct wallet address and select the appropriate blockchain. If you get this wrong, your NFT will be gone forever. Be aware that transactions on the Ethereum blockchain are still very expensive. ETH2.0 can't arrive soon enough! 
Read also:
FAQs
---
Crypto.com NFT Marketplace
PROS
Simple and easy to use.
Debit/credit card flexibility. Allows payments via debit/ credit cards while buying NFTs.
Wide variety of cryptocurrencies to choose from while making payments.
CONS
Must connect Crypto.com app to use the marketplace
Not many details on creating NFTs in the marketplace compared to other marketplaces.

CaptainAltcoin's writers and guest post authors may or may not have a vested interest in any of the mentioned projects and businesses. None of the content on CaptainAltcoin is investment advice nor is it a replacement for advice from a certified financial planner. The views expressed in this article are those of the author and do not necessarily reflect the official policy or position of CaptainAltcoin.com