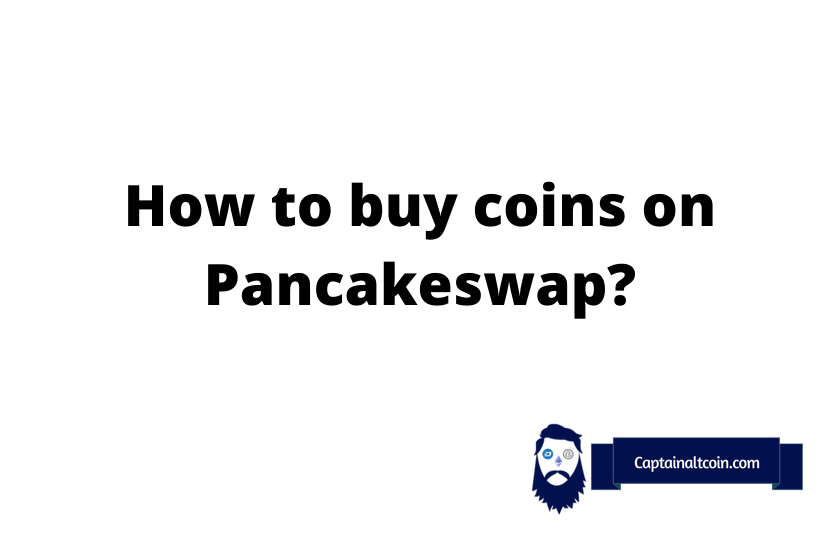 What is PancakeSwap?
---
Pancakeswap is the biggest decentralized exchange in the BSC network. It has over 1 billion dollars per day volume which makes it one of the biggest exchanges in the world. After the initial success of ETH with barely any competition anywhere, Pancakeswap brought BSC to light.
With the insane competition between Uniswap and Pancakeswap, they bettered each other and became bigger. Pancake as of right now is the biggest DEX in the world and only a handful of CEX exchanges are bigger.
Being the main entrance to the BEP20 network and anything in it, Pancake became the main hub for anything in the BSC network. With over 3000+ swap possibilities and more, Pancake is also one place where you can trade (or swap in this case) the most pairs. The constantly increasing and expensive gas fee of the ETH network made many people prefer BSC and Pancake along with it.
What can you do on PancakeSwap?
---
Pancakeswap has multiple different features that people love to use. The main ones are swapping (known as trading) their BSC tokens between each other, staking which means the tokens you have will grow exponentially while you hold and the biggest one is liquidity providing.
This liquidity providing (anyone who does it is called liquidity farmer) helps the system to be decentralized. People put their money in two pairs, and whenever there is a trade on that pair, the fee goes to these farmers. These three combine the bulk of the userbase on pancakeswap.
There are some other features as well such as the Pancakeswap Lottery where you can buy a ticket and hope for the best. They also have an NFT market which is a big deal and what Opensea for ETH is Pancake for BSC. IFO where projects could offer an initial farming offering and get the funds needed to start new projects. Much other smaller stuff as well like competitions, voting, and so forth.
All in all, Pancake covers every single part of the BSC network and has everything under its monopoly. If you want to do something on BSC, there is nothing you can't do at Pancake but can do in another place. This allowed them to grow even bigger than Uniswap even though ETH ranks higher than BNB.
How to buy coins on Pancakeswap
---
Anyone can buy tokens from Pancakeswap on the condition that it is a token in the BSC network. Let us take a look at how we can purchase these tokens.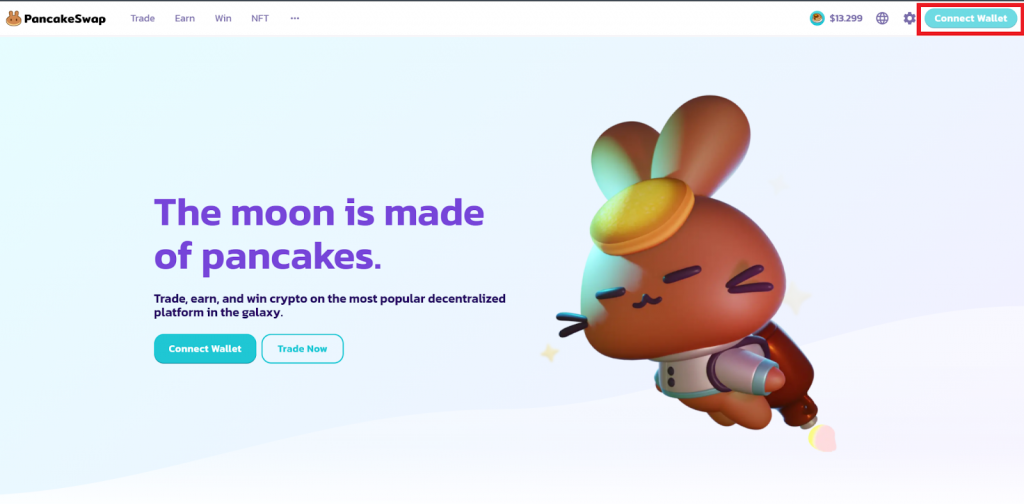 First, we go to https://pancakeswap.finance and here we click on the "connect wallet" button.

There will be a few options, you could click on any wallet that you use and pancake supports, and connect with it.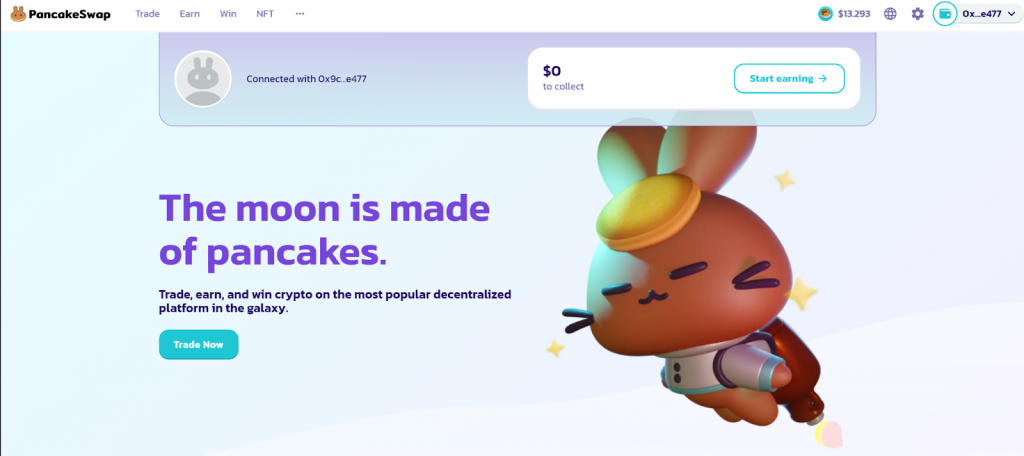 Now that you are connected, you will see the main homepage of pancakeswap with your wallet connected. Click on the "Trade" button at the top left to get the menu.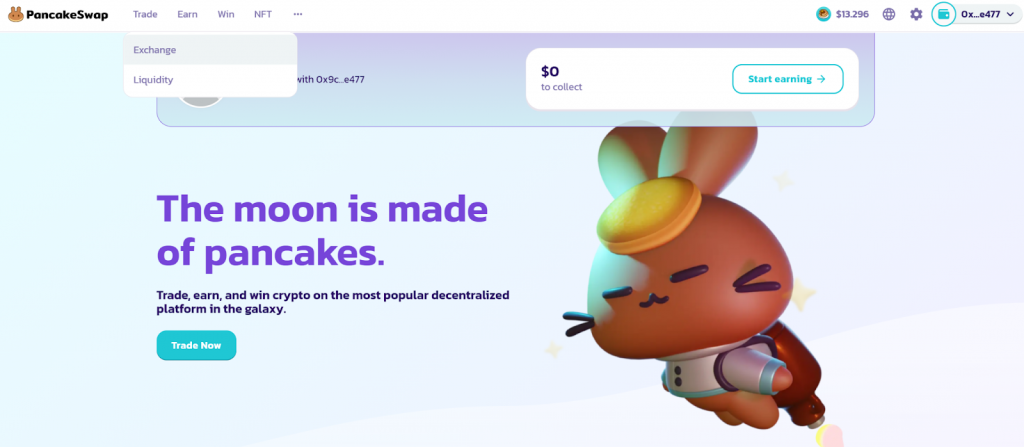 Here we select the exchange button to go to the swap page.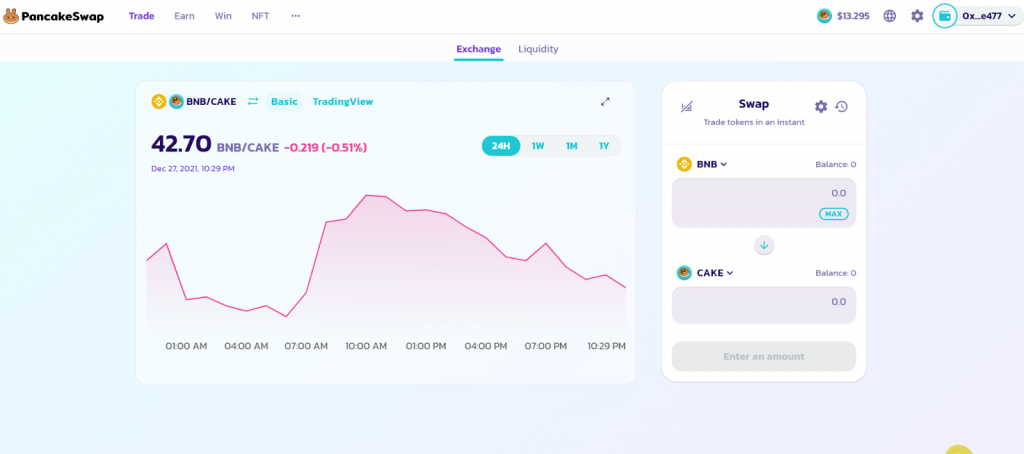 On the swap page, you will see the chart on the left for the pair you picked, and on the right, you will see the swap box where you can enter amounts and see how much you can get from the other pair. Click on any of the tokens to change them if you want to.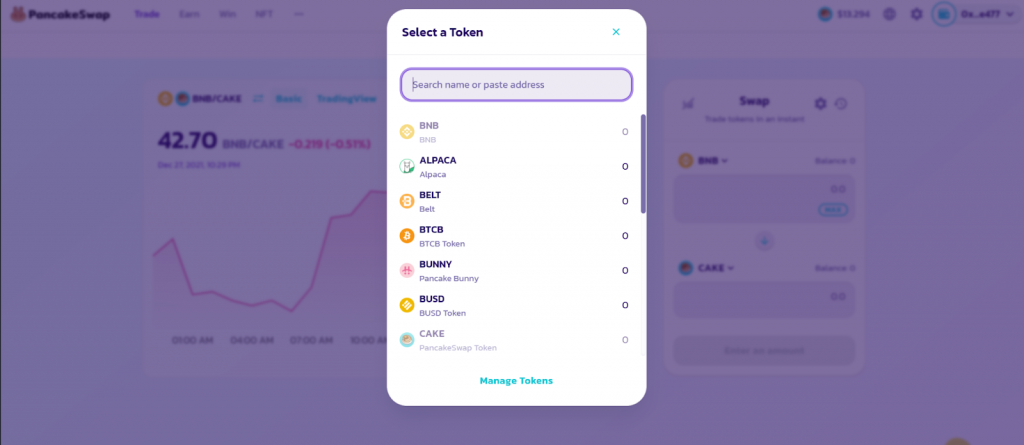 When you click on the tokens, a list will open up. On this list, you could pick any tokens you want, or you can search them as well.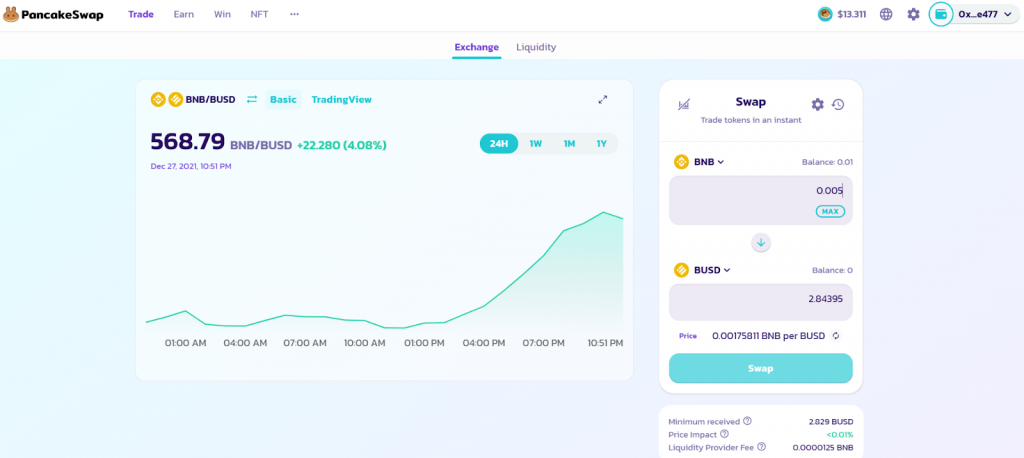 After you have selected the tokens you want to swap, you enter the amount you want to use for swapping. On this page, you can see an example of a swap amount entered and the system shows how much it can get for swapping. Click on the swap button to initiate the swap.

After you click the swap button, you will get a confirmation pop-up. Check all the information and if you are happy with it, confirm it.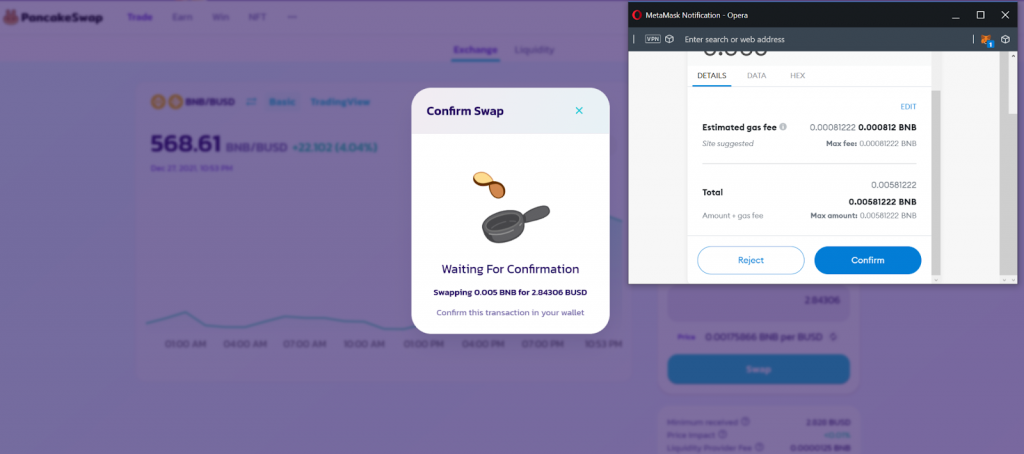 Each swap takes a gas fee, since it is a BSC network the fee is quite low and also very fast. To pay this gas fee, you will be asked to confirm it in your wallet. Confirm to finish the swap.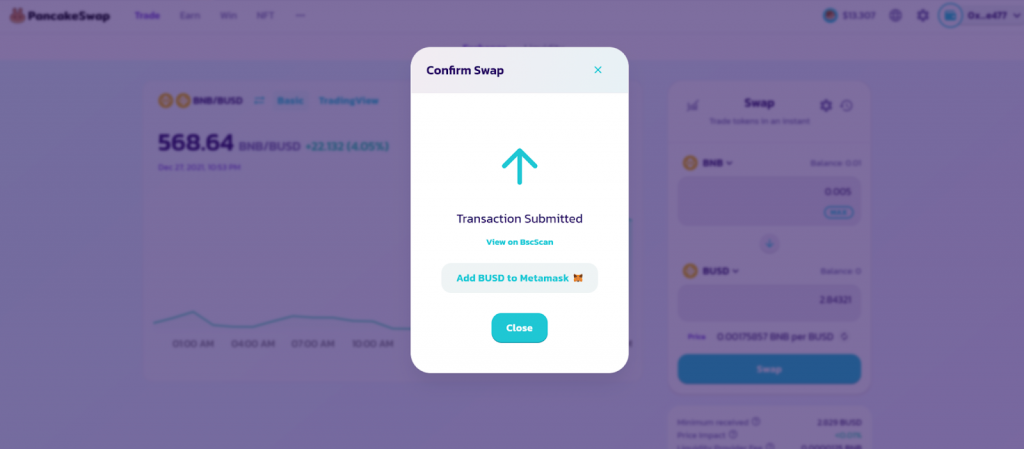 After you confirm the gas fee as well, you will see the transaction completed, in a few seconds your wallet will confirm it as well and your tokens will be on your wallet.
What wallets can you use?
---
There are multiple wallets that you could connect to Pancakeswap. Metamask, wallet connect, trust wallet, Math wallet, Safepal, Binance wallet, ledger are just some of them. Pancake is inclusive when it comes to non-custodial wallets, even if you can't see it on the list, you could always connect it via using the features of that wallet. This way nobody is turned away from using Pancakeswap because of their choice of wallet.
Is PancakeSwap safe?
---
This has been a debacle for a while. The Pancakeswap team is anonymous, which makes it a bit riskier compared to most other investments. In a project where centralization is obvious and the team develops more features to make it worthwhile, trust is certainly an important aspect. This is why some investors do not like a situation where an anonymous team is on a centralized project and see this as a big red flag.
However, there has been a lot of audits on the pancakeswap code, after every single change and so far nothing dangerous found on their code, meaning it doesn't look dangerous to invest. Just like with everything in crypto, users should be careful on their investment no matter where or what they invest into, but there doesn't seem to be any extra risks involved.
FAQs
---
How do you add money to PancakeSwap?
---
You do not add money to pancakeswap, you add it to your wallet and use pancakeswap via your wallets. If you want to invest in liquidity farming or staking then you can go to related pages on pancakeswap to start these investments.
Can you swap BTC on PancakeSwap?
---
BTC is not on the BSC network, so you can't exactly buy it directly. However there is "wBTC" which is wrapped BTC and you can buy it which is not BTC itself, but how BTC is represented in the BSC network. Price is pegged to real BTC and always exactly the same.
Read also:

CaptainAltcoin's writers and guest post authors may or may not have a vested interest in any of the mentioned projects and businesses. None of the content on CaptainAltcoin is investment advice nor is it a replacement for advice from a certified financial planner. The views expressed in this article are those of the author and do not necessarily reflect the official policy or position of CaptainAltcoin.com