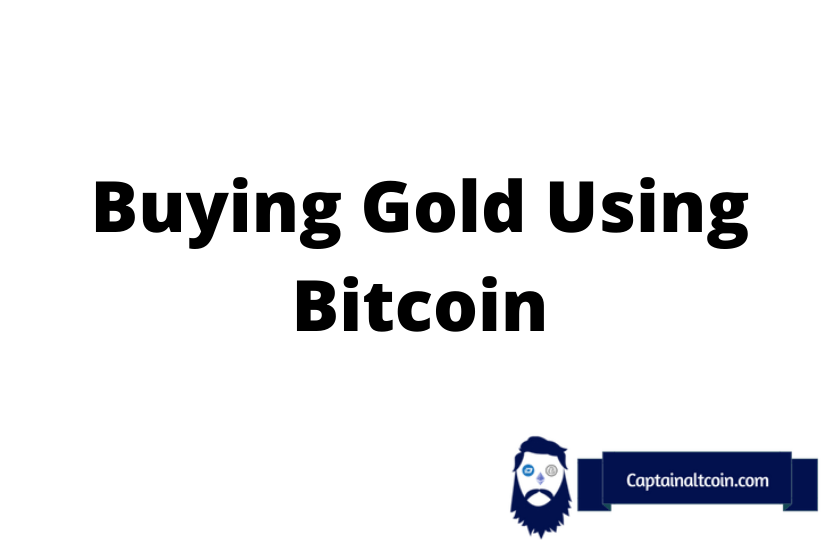 Gold has been used as a form of currency by very many different civilizations for a very long time. Buying gold is an excellent way of storing assets. Gold is a currency, and its value has risen tremendously in recent years. Gold is a limited resource, and it is estimated that there are currently only about 171,000 metric tons of gold in circulation.
Many wealthy people and governments invest in gold as alternative ways of storing their assets. This is safer than the volatile dollar and is also a great way of diversifying one's portfolio.
Since the establishment of Bitcoin in the year 2008, its acceptance as a payment method has increased. It is, therefore, no wonder it is being accepted as a payment method for gold. Luckily, buying Gold coins, bullion, and bars has made very simple. There are very many platforms currently offering gold for cryptocurrencies. Bitcoin is now one of the most popular payments people are using for gold in the market.
You can be able to purchase gold in whichever form you need
✅ Gold Bars
✅ Gold Bullion
✅ Gold Coins
✅ Gold jewelry
First, it is entirely legal for one to exchange bitcoin for gold and silver in whichever form. Both are prevalent and safe alternative assets. One of the factors that make both gold and bitcoin desirable alternative assets is that they are both finite. They can both be used as alternative payment options in place of the traditional fiat currencies. In the case of inflation, both gold and bitcoin also perform relatively well as they are not tied to regular government policies or centralized bodies.
This article talks about all you need to know about the process of buying gold using bitcoin.
How to Buy Gold with Bitcoin
---
After choosing the platform that best works for you, follow these simple steps to purchase gold;
Create an account and verify your identity
Choose the amount of gold or silver you'd like to purchase.
Proceed to checkout
Fill your shipping address
Pay from your bitcoin wallet
Gold or silver should be delivered within a few days.


Forms of Gold
---
⚡️⚡️ Gold Bars
Gold bars are a very classic way of storing gold. Gold bars also have various advantages. First, they are very cost-efficient compared to coins. It is costly to make coins, and they also require a lot of labor. Gold bars are also easier to store as they occupy less space. You would hold more weight in gold compared to coins in the same space. Thus more oversized bars have smaller premiums. Buying gold bars will give you the best price per ounce of gold.
Some popular gold brands are:
The Scottsdale mint
Johnson Matthey
Credit Suisse
The Perth Mint
Royal Canadian Mint
Engelhard
Pamp Suisse
Combibar
Each bar has a stamp indicating its weight, purity, and serial number. Gold bars exist in all weight sizes ranging from half a gram up to 1 kg. The most popular gold bar weight is one ounce.
One can buy gold bars on the following platforms: GoldSilver, SD Bullion, Golden Eagle Coin, and BitGild.
⚡️⚡️ Coins
Coins are also a very convenient form of storing gold. One of the most popular Gold bullion coins traded for bitcoin is the Gold American Eagle. The United States Mint makes these gold coins. The coins exist in various concepts and were introduced in 1986.
One can buy gold coins on the following platforms.
GoldSilver
Golden eagle Coin
Money metals exchange
SD Bullion
BitGild
⚡️⚡️ Jewelry
Alternatively, one can buy gold jewelry. This is also a perfect and convenient way of storing wealth. Jewelry has the added advantage of being portable and wearable and can thus be used as a fashion statement. The best quality jewelry to purchase is 24K gold jewelry and 22K gold jewelry. Both are 91.6% and 99.9% pure, respectively. You have the freedom to buy any form of jewelry you like including watches, necklaces, bracelets, earrings, rings, chains, cufflinks, and even bangles. Some quality high-end jewelry brands include; Cartier jewelry, Chopard jewelry, Rolex, Omega, Chanel, Tag Heuer, Hublot, and Bvlgari jewelry.
Some of the platforms one can use to buy jewelry are:
BitDials.com – This site is the world's first bitcoin-only luxury boutique.
Reeds.com
GoldSilver.com
Read also:
Advantages of Buying gold using Bitcoin
---
Regardless of the platform you choose to buy your gold, there are certain advantages you will enjoy:
Gold is less volatile than bitcoin.
The convenience of shopping online as all transactions will occur there, and the gold will be delivered.
Low transaction fees: When using Bitcoin instead of traditional fiat currencies, the transaction fees will be meager. Currently, very many platforms are even not charging any transaction fees, and others are offering discounts.
Easy and fast process. The purchasing process is straightforward and also fast. The gold is sent to you as soon as payment is verified.
Very convenient and safe way to store assets.
Gold is a limited and thus valuable resource.
Gold has a physical value, unlike bitcoin's value, which is only conceptual.
If you want to exchange bitcoin for gold using real-time prices, it is possible to do so on Vaulturo. There are, therefore, traders who make a living by tracking the real-time prices of both Bitcoin and Gold.
Pro Tips When Buying Gold Using Bitcoin
---
GoldSilver is the best site for purchasing gold bars, coins, bullion, and jewelry. Vaulturo is the best platform that provides real-time Bitcoin to Gold trades.
If a resident of the United Kingdom, use wither GoldSilver, Vaulturo, BitGild or Goldmoney and have your gold shipped right to your home. SilverGoldBull in the United Kingdom also accepts Bitcoin and offers a 4% discount on Bitcoin purchases.
Goldsilver offers free shipping when you spend over $500, and you also get a 3% discount if you use Bitcoin.
If you are a resident of the EU, BitGild may be the best option as they deliver within two working days.
Residents of the United Arab Emirates can use GoldSilver for efficient delivery. They can also use a Goldmoney holding account to buy and store the gold in a personalized vault.
Citizens of India are enjoying the lowest international shipping fees when using GoldSilver.
Conclusion
---
As time passes, more and more companies and individuals are starting to accept bitcoin and other cryptocurrencies. Gold has been in use for very many generations as a form of currency. It has also been gaining popularity in recent years as a very effective method of storing wealth. Buying gold using Bitcoin also become quite popular. This can be attributed to the similar interests of diversifying portfolios that most investors are usually after. We have seen the various platforms that offer gold for bitcoin, and it all comes down to your preference.

CaptainAltcoin's writers and guest post authors may or may not have a vested interest in any of the mentioned projects and businesses. None of the content on CaptainAltcoin is investment advice nor is it a replacement for advice from a certified financial planner. The views expressed in this article are those of the author and do not necessarily reflect the official policy or position of CaptainAltcoin.com