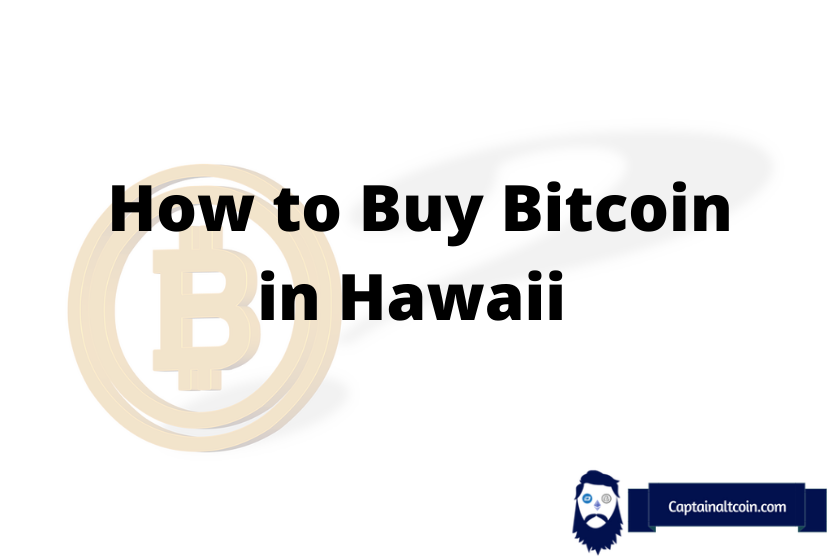 Buy Bitcoins In Hawaii
---
Buying Bitcoin in Hawaii is possible, legal, but slightly less diverse in terms of available exchanges. This is due to strict regulations in place that make it difficult and impractical for exchanges to obtain licenses. However, starting last year Hawaii launched a new program that allowed participating members to operate their crypto exchange services without the need of a money transmitter license[1].
The companies participating in this program are Apex Crypto, bitFlyer USA, Blockfi Trading, CEX.io, Cloud Nalu, Coinme, ErisX, Flexa Network, Gemini Trust Company, Novi Financial, River Financial, and Robinhood Crypto.
With that being established, let's take a look at some commonly asked questions and discussed topics about Bitcoin in Hawaii.
How To Buy Cryptocurrency in Hawaii?

It accepts both fiat and cryptocurrencies
The security of the platform is commendable
It offers tax support
Is Coinbase Available In Hawaii?
---
At the present, no, Coinbase is not available in the state of Hawaii, stating that the regulatory policies set in place by the Hawaii Division of Financial Institutions render Coinbase operations impractical, costly, and inefficient[2].
CEX.io
---


CEX.io is one of the exchanges that was accepted into Hawaii's latest cryptocurrency program[1], allowing residents of Hawaii to buy and sell Bitcoin and a variety of other crypto using payment methods such as Visa, Mastercard, Bank Transfer and Cryptocurrency[4].
Crypto.com
---
Next best place to buy crypto in Hawaii is Crypto.com. Crypto.com is gunning for Coinbase and Binance for the top spot among cryptocurrency exchanges.
This app/platform is very aggresive with their marketing efforts, but they also expand their offerings to match the marketing claims. You can buy crypto on Crypto.com with multiple payment methods, most popular is credit and debit cards.
Once you are "in" – you can make use of numerous features like staking CRO (their native token), earning through savings accounts, access DeFi through Crypto.com DeFi wallet, mint NFTs on their marketplace etc.
Below are other options at your disposal:
Uphold
---


Currently not available in Hawaii.
Uphold is an online exchange where users can trade crypto, stocks, metals and currencies; although available in the US, it does not currently support Hawaii and the US Minor Outlying Islands[3]. While some users may suggest using a VPN to bypass this issue, it is generally recommended to not misrepresent personal information to online exchanges, especially to one that has KYC requirements.
Please note, as clearly outlined in this article published by Uphold, you cannot move your funds without a verfied account, which requires, among a government ID and a live selfie, your current residential address.
LocalBitcoins
---


LocalBitcoins is a P2P (peer-to-peer) Bitcoin trading site, that connects buyers and sellers by allowing them to post ads on ther webpage. Users can use search functions to find specific amounts available at specific prices and through specific payment methods.
Due to its P2P nature, it allows for a lot of flexibilty, and can work in almost any country in the world, including the US state of Hawaii.
How To Buy XRP In Hawaii?
---
Here are the simplest ways Hawaiian users can buy XRP:
Through Exchanges:
Crypto.com: Is an exchange site that supports Hawaii[5], and allows XRP and many other coins on its exchange which you can view here. Users can buy XRP through the Crypto.com App, available for both IOS and Android.
Through P2P:
Localbitcoins.com: For a more P2P option, here, users can sell their Bitcoins for XRP or for a variety of other cryptocurrencies.
How Do I sell Bitcoin In Hawaii?
---
You can sell Bitcoin on an exchange such as the Crypto.com App, CEX.io, or Gemini, or on some of the other exchanges that are part Hawaii's cryptocurrency program.
For a more flexible option, you can sell Bitcoin on LocalBitcoins in a P2P fashion where you can set the price and payment method of your choice.
Is Bitcoin Illegal in Hawaii?
---
No, Bitcoin and cryptocurrencies are not illegal in Hawaii. You can buy, sell and trade cryptocurrencies as you please, provided you pay your taxes.
Due to strict regulations required to hold a money transmitter license in the state of Hawaii, a lot of cryptocurrency exchanges found that abiding by these regulations were not worth it, as it added to costs, making trading in Hawaii difficult.
Seeing many popular exchanges not operate in the state of Hawaii may lead many to believe that the state has banned cryptocurrency, but that is not the case.
Despite these regulations, things don't necessarily look so bad for Hawaii. As mentioned earlier, Hawaii is exploring the world of digital currency with their latest cryptocurrency program with DCIL; the data collected from this program will be utilized to develop local legislation for digital currency[1].
Can You Buy Bitcoin From Robinhood In Hawaii?
---


Yes, Hawaiians can buy Bitcoin and other cryptocurrencies on Robinhood as it is one of the 12 participants of DCIL[1].
However, it should be noted that unlike other exchanges, you CAN NOT withdraw your Bitcoins or other coins from your Robinhood account. You can sell them for fiat that you can later withdraw, but the coins themselves cannot be withdrawn. Similarly, you cannot deposit Bitcoin or any other crypto into your Robinhood account either[6].
This is a mistake to avoid. Don't use Robinhood to buy crypto, in Hawaii or anywhere else in the world. It is a shady company that earns money by selling your trading data to big players on Wall Street and has a direct conflicting interest with the users it serves. Also, you can never buy a real crypto on Robinhood, only an IOU, a representation of crypto on the Robinhood platform.
What Coinbase Alternatives Are There For Hawaii?
---


Coinbase is one of the biggest online cryptocurrency exchange platforms, but it is currently not available in Hawaii for regulatory reasons.
What makes Coinbase one of the most popular exchanges in the world is its simplicity, the variety of coins, and the ability to deposit and withdraw your cryptocurrency.
With those strengths being established, here are some Coinbase alternatives and how they compare with the crypto exchange giant:
Crypto.com: The Crypto.com App offers over 100 crypto available for buying and selling[9], and while it differs in design from Coinbase, it maintains a simple user-interface that is easy to navigate. Users can also apply to a Crypto.com Visa card that they can use to shop and earn up to 8% back on spending in CRO.
Gemini: Gemini is another exchange with which Hawaiian users can buy and sell crypto, like every platform listed so far, users can deposit and withdraw their crypto to and from their Gemini accounts. Besides trading with over 40 coins[10], users can also pay with crypto at over 30,000 retail stores across the United States without any fees using Gemini Pay.
While other exchanges do exist that support Hawaii, they lack in one or more areas where Coinbase shines, and for that reason, cannot be considered a good enough alternative.
References:
[1] cca.hawaii.gov
[4] Cex.io
[5] Help.crypto.com
[6] Robinhood.com
[7] Cex.io/buysell
[8] Help.coinbase.com/cryptocurrencies
[9] Crypto.com/app
[10] Gemini.com/prices

CaptainAltcoin's writers and guest post authors may or may not have a vested interest in any of the mentioned projects and businesses. None of the content on CaptainAltcoin is investment advice nor is it a replacement for advice from a certified financial planner. The views expressed in this article are those of the author and do not necessarily reflect the official policy or position of CaptainAltcoin.com