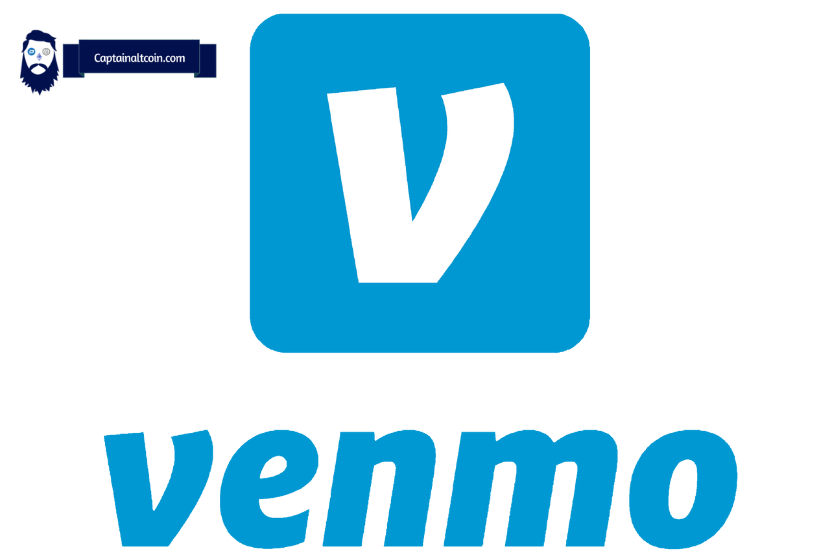 How to Buy Crypto With Venmo?
---
If you want to buy Bitcoin but don't have another payment method at your disposal to do it securely or don't care about your privacy, Venmo is the best option. Using it is a breeze. You may start using Venmo immediately after downloading the app and linking your bank account.
To buy Bitcoin with Venmo, follow the steps in the text below:
Buying Bitcoin with Venmo – a step-by-step guide
---
You can buy Bitcoin directly on the Venmo platform or use Venmo as a payment method on some crypto exchange (recommended way of doing it).
To begin, you must find a crypto exchange that allows buying Bitcoin with Venmo. Some of the more popular exchanges that do support Venmo are Gemini, Coinbase Pro, Bitfinex, Bitstamp, Crypto.com, etc. Also, P2P exchanges have Venmo as a payment option – the most known are LocalBitcoins, Paxful, etc.
After selecting a suitable crypto exchange, the next step is to join up and follow the required steps to add a Venmo account as a payment option on your exchange account. Finally, purchase your Bitcoin using Venmo as a payment method.
AVOID THIS:

Bitcoins may be bought directly through Venmo without going to a crypto exchange. BUT BEAR IN MIND: these are not real coins that you can send out of the Venmo platform. These are essentially IOUs issued by Venmo to represent the actual coins. Hence we recommend you buy real coins on crypto-focused platforms.
To do that, follow these simple steps:
Press the "☰" icon.
Choose "Explore" beside the "Crypto" option or choose "Manage" beside the "Crypto Balance" option.
Pick Bitcoin as a crypto option. In addition to the current price, Venmo will also include an option to buy.
Finally, press on the "Review" after you put the amount in USD that you want to spend on Bitcoin.
What Crypto Coins Can You Buy on Venmo?
---
While some platforms offer over 100 cryptos, the Venmo app allows you to choose from four different kinds of crypto, and those are Bitcoin, Ethereum, Litecoin, and Bitcoin Cash.
Venmo Fees For Buying Crypto
---
When you make a purchase or sale using Venmo, you will be charged a fee. The cost will change with the total quantity being bought or sold. To better understand, here is the table of fees:
| | |
| --- | --- |
| Crypto purchase or sale amount | Fees |
| $1.00 – $4.99 | $0.49 |
| $5.00 – $24.99 | $0.99 |
| $25.00 – $74.99 | $1.99 |
| $75.00 – $200.00 | $2.49 |
| $200.01 – $1000.00 | 1.80% |
| >$1000 | 1.50% |
Bank fees, such as those for overdrafts or insufficient funds, may apply if you use a connected bank account or debit card to purchase crypto.
Venmo does not charge fees for storing cryptos, but like other exchanges, you may owe capital gains tax if and when you sell your coins.
Venmo Vs. Other Crypto Platforms?
---
Venmo has a small set of coins available to buy on their platform: Bitcoin, Ethereum, Litecoin, and Bitcoin Cash. Some features found on crypto exchanges will be unavailable to you if you decide to use Venmo as your go-to crypto platform.
You can purchase and store cryptos on Venmo, but you can't withdraw them from the service. In addition to buying and selling, trading, and earning interest on crypto, customers of other exchanges may also assume complete custody of their digital assets which is not possible on the coins bought on Venmo.
Below is a list of exchanges that are better alternatives for crypto buying to Venmo (you will simply use Venmo as a payment method while these exchanges will purchase real coins for you which you can withdraw to your own non-custodial wallet like Trust Wallet, MetaMask or even better hardware wallet like Ledger):
Kraken
---
The oldest Bitcoin and crypto exchange, Kraken, was established in 2011 and is based in the United States. It has over 9 million clients over the globe, and it is available in over 190 countries. Also, it supports over 185 cryptos.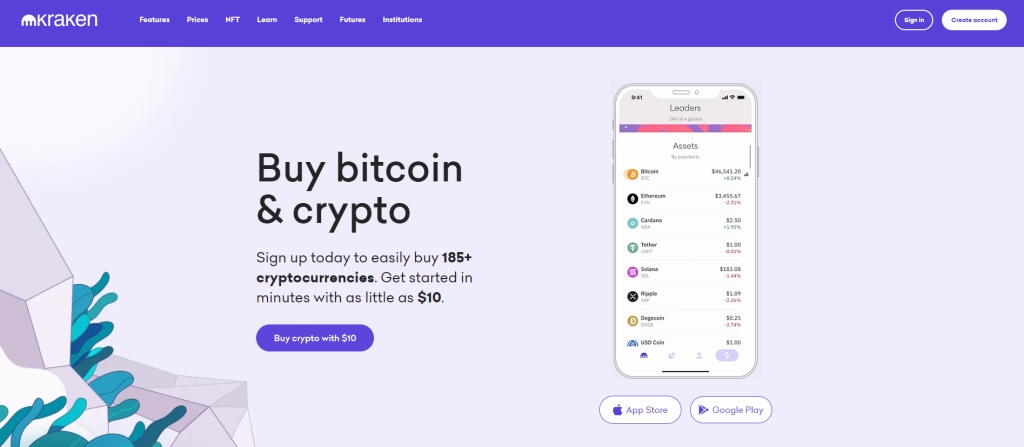 Both crypto futures and spot trading are supported. Margin trading is an option for people with a high level of risk tolerance.
Uphold
---
Uphold was created in 2014 by American entrepreneur Halsey Minor and is a trading platform for buying and selling different assets, including crypto.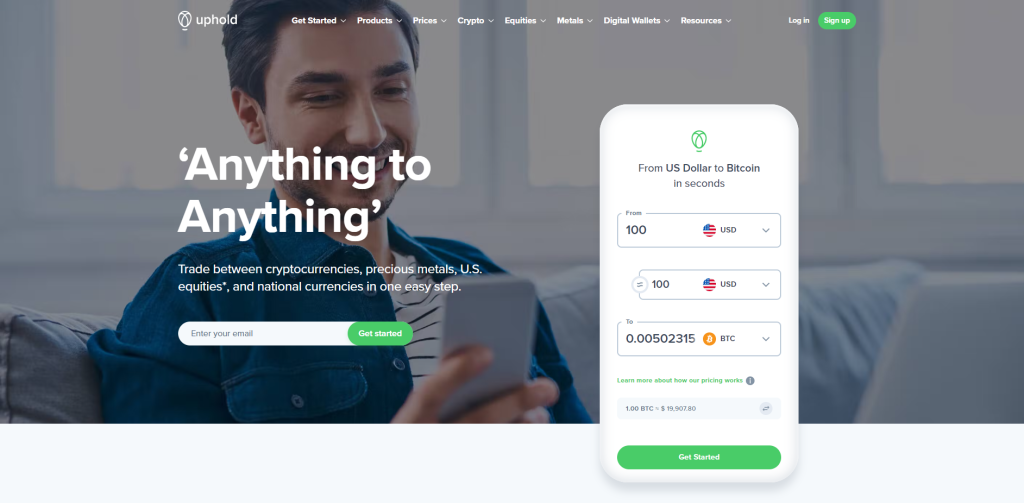 On Uphold's platform, you can trade more than 200 cryptos and utility tokens, 37 fiat currencies, 50 U.S. stocks, foreign exchange, four precious metals, and other assets. The services of Uphold are frequently used by more than 1.5 million people in more than 150 different countries.
Kucoin
---
KuCoin was established in 2017 and is headquartered in Seychelles. It was founded by a group of industry professionals that wished to simplify the process of trading cryptos for users worldwide in a safe setting.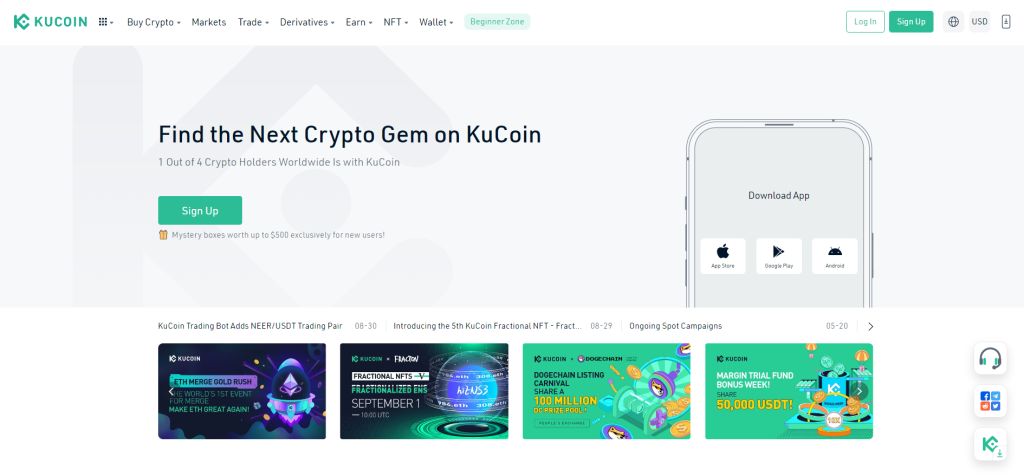 It serves users in more than 200 countries and has a user base of over 10 million. On the platform at the moment, you can trade more than 600 different digital currencies.
FTX
---
Sam Bankman-Fried and Gary Wang, two crypto aficionados, founded the trading platform FTX in May 2019. Their corporate headquarters are in Nassau, Bahamas.

Due to its focus on futures and leveraged trading, it quickly met a need in the crypto trading ecosystem. It is currently supported by more than 300 distinct cryptos and is accessible in more than 200 nations.
What exchanges accept Venmo as a payment method?
---
In the text below, we wrote about 3 crypto exchanges with many payment options, and Venmo is one of them.
eToro
---
Regarding social trading and multi-asset investing, eToro is a world leader. Big banks, hedge funds, family offices, and high-net-worth individuals are among its clientele. The company started operations in 2007, and its current marketable assets include stocks, commodities, indices, exchange-traded funds (ETFs), foreign exchange, and digital currencies.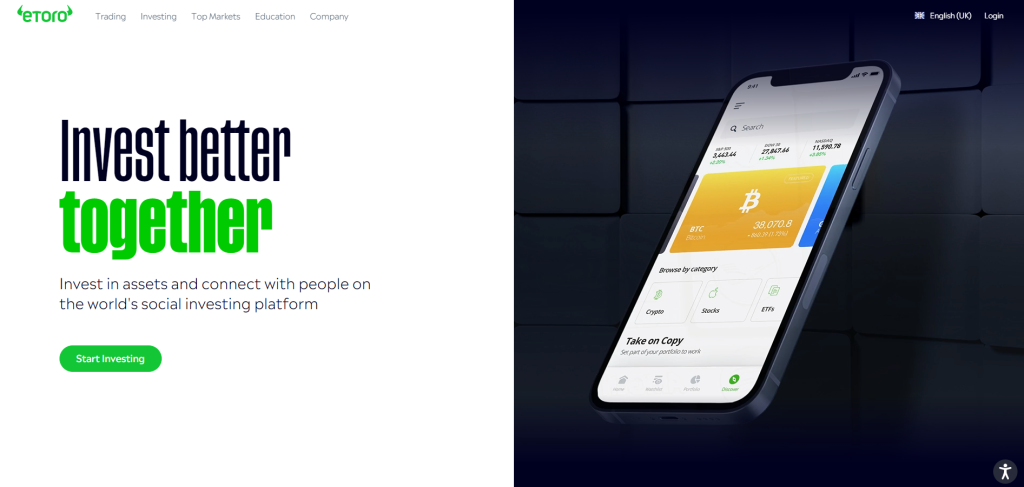 It offers access to more than 60 different cryptos and has more than 20 million registered users across 140 countries.
It supports deposit methods, such as SEPA, PayPal, Online Banking, Debit Card, Wire Transfer, Venmo, etc.
Paxful
---
A team of developers created Paxful, a centralized peer-to-peer exchange network, to make Bitcoin more widely available. The website serves as a playground where crypto buyers and sellers may connect and trade crypto without the involvement of a third party. Customers can buy only Bitcoin, Tether, or Ethereum in more than 190 countries worldwide.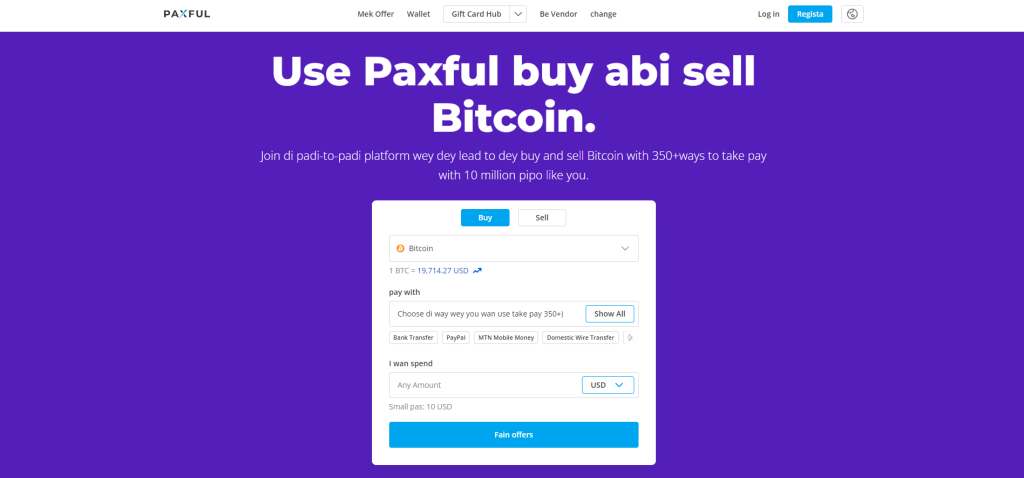 The platform offers over 350 different payment methods, including all kinds of fiat currencies and the 3 above-mentioned cryptos. Some of the most popular payment methods on Paxful include bank transfers, payment apps (like PayPal), gift cards, other cryptos, cash, Venmo, and others.
Localbitcoins
---
One of the biggest and safest peer-to-peer crypto trading platforms is LocalBitcoins, which stands out among the many others. In Finland, Nikolaus Kangas began it in 2012.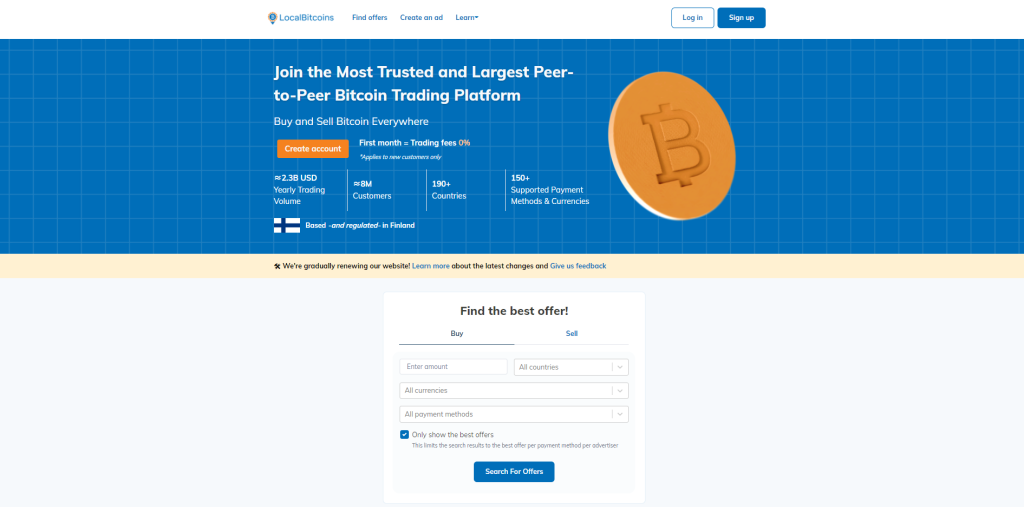 It facilitates face-to-face and online transactions by linking those wishing to buy Bitcoin with locals who are prepared to sell it. On its platforms, it offers services to more than 200 nations and territories.
Users can buy and sell with a variety of different payment methods. Bank/Wire transfers, PayPal, Cash, Western Union, WebMoney, Skrill, Venmo, Payoneer, debit cards, and more are just some of the options.
Pros and Cons of buying crypto with Venmo
---
Here are some pros and cons of using Venmo in our opinion:
Pros
---
Venmo is fast. Its deposits are immediately processed.
Venmo features an in-app Bitcoin buy (but there are limitations + it is not an actual crypto that you're buying).
It is easy to connect Venmo with other exchanges and load fiat currency onto them.
Cons
---
While Venmo deposits are accepted by a select few of the best exchanges, the vast majority of Bitcoin brokers and crypto exchanges do not offer it as a way of payment
Unlike other payment services, Venmo does not offer any security against fraudulent transactions.
Since Venmo was not intended to handle big sums of money, it needs additional tweaking before it can be used for larger purposes.
Here's Why You Shouldn't Buy Crypto On the Venmo Platform
---
The fact that it's easy to use does not make it a recommended method of acquiring crypto. Despite the benefits, there are a few drawbacks that make using a crypto exchange preferable. These drawbacks are discussed below:
You can't move your crypto
---
You cannot transfer crypto purchased on Venmo off the service. You have two options, keep it or sell it. You are essentially betting on the price of crypto when you buy it on Venmo – you don't own the actual coins.
Some folks can simply leave their crypto where they purchased it. However, there should be an option of sending out your crypto. But there isn't one since you didn't buy actual coins, you essentially just made a bet through Venmo on the crypto price (if it goes up, you can sell it for more fiat.
You can't lend your crypto
---
The ability to earn crypto using Venmo has been disabled. There are numerous other crypto platforms (almost all the major exchanges + a lot of lending and loans specialized providers like Nexo, Blockfi etc) that provide lending services. You can earn income on your crypto holdings if you lend them out. Having that choice available would be convenient.
Selection is very limited
---
Just four coins can be used with Venmo, and these are Bitcoin, Ethereum, Bitcoin Cash, and Litecoin. Cardano and Polkadot are only two of many popular coins that are missing. It's possible that Venmo will add support for more coins later on, but right now they only deal with these 4.
Less Secure
---
Because Venmo doesn't let you withdraw your crypto to your own digital wallet, thieves can easily empty your account of all of your crypto if it is hacked. Since there is no insurance for crypto accounts, any lost or stolen funds will not be replaced.
FAQs
---
Is buying Cryptocurrency with Venmo fast❓
Buying Bitcoin with Venmo is almost instant, money will typically appear in your exchange account in 30 minutes or less.
Can I buy Bitcoin with Venmo anonymously❓
No, you can not buy Bitcoin with Venmo anonymously because Venmo requires ID verification.
What are the limits❓
There are several limits with Venmo. A weekly cap of $4,999.99 on a rolling basis, a weekly sending cap with a maximum of $2,999.99 on a rolling basis, and 30 transactions per day with a maximum purchase of goods or services amount of $2,000.
Is Venmo the easiest way to buy Bitcoin❓
Yes, Venmo is very easy to use, and you buy Bitcoin IOU on their platform. But this is not real bitcoin, so you should not use Venmo for crypto purchases.
Can I buy Bitcoin with Venmo instantly❓
Yes, you can buy Bitcoin with Venmo instantly with specific brokers. Additionally, you may purchase Bitcoin IOU straight from the Venmo app.
Can I hold cryptocurrency in my Venmo account❓
Yes, you can hold crypto in your Venmo account, but we don't recommend doing that because coins you buy directly on Venmo are just price bets and not real coins that you can send to your own wallet or to someone else. They are locked to the Venmo ecosystem.
How to send bitcoin from Venmo to blockchain❓
At the moment, you can't send your Bitcoin from your Venmo account to anywhere else. You first need to sell bitcoins for cash and send that cash to a crypto exchange where you can buy real bitcoin that can then be sent out to your own wallet or somewhere else.

CaptainAltcoin's writers and guest post authors may or may not have a vested interest in any of the mentioned projects and businesses. None of the content on CaptainAltcoin is investment advice nor is it a replacement for advice from a certified financial planner. The views expressed in this article are those of the author and do not necessarily reflect the official policy or position of CaptainAltcoin.com