Bitrue Review – Fees, Supported Coins, Supported Countries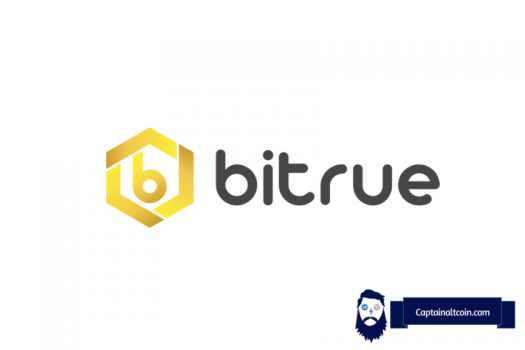 Bitrue Review – Fees, Supported Coins, Supported Countries
Cheap fees
A lot of coins that can be staked & earned on Bitrue platform
A lot of supported assets
Simple, fast, and secure: that's Bitrue.com. Bitrue is an advanced exchange platform on the web that provides the cryptocurrency community with safe and simple ways to buy, sell, transfer and store their coins.
In 2018, Bitrue was created by a team of intelligent crypto experts led by a high-profile individual in the cryptocurrency space, Cruis Wang. Bitrue headquarters are in Singapore and Taiwan, with its local offices in the United States and England.

Blockchain enthusiasts behind the platform continue to instigate Bitrue's vision of providing secure financial service support built on a cryptocurrency exchange platform. The exchange has experienced growth and gained popularity in one year.
In March 2020, the exchange finally ranked 64th in CoinMarketCap listing, and crypto traders exchanges recorded $218 million in twenty-four-hour daily trading. In April 2021, there was almost a 500% increase. The sale ranked 70th on CoinMarketCap and exchange which was slightly above $1.2billion.
Bitrue also have mobile app.
Bitrue Supported Coins
---
Bitrue coin (BTR) is the native cryptocurrency exchange designed to brace all Bitrue businesses such as wealth management programs, voting for listings, trading fee deductions, and cash deposits for project and loan programs. Bitrue uses XRP as its base currency. BTR supports several crypto coins such as:
·          Bitcoin. It is an online currency that happens directly between independent network participants without a broker. Bitcoin is the first cryptocurrency to appear in the market, which created a technological basis that later stimulated other competing projects.
With a twenty-four-hour trading volume of $48,881,963,265, the bitcoin price today is $57,568.69.
·         Litecoin. A cryptocurrency made based on the bitcoin protocol to provide fast and low-cost payments by supporting the new parties of blockchain technology. It has a block time of just 2.5 minutes transaction fees, making it fit for small transactions and point-of-sale payments.
With a twenty-four-hour trading volume of $4,788,849,951, Litecoin price is $292.90.
·         Binance Coin (BNB). It is one of the largest cryptocurrency exchanges globally. It aims to bring cryptocurrency exchanges to the frontline of financial activity worldwide. Binance coin has attracted significant interest in several countries due to its unique ecosystem of blockchain-based networks.
With a twenty-four-hour trading volume of $5,029,321,871, the Binance coin price is $673.11.
·         Ethereum. It is a localized artificial intelligence blockchain system that promotes its cryptocurrency, Ether. Ethereum has developed the idea of a blockchain smart contract platform. The smart contract platform automatically carries out the actions required to effect an agreement between several parties online without brokers.
With a twenty-four-hour trading volume of $44,029,105,336, Ethereum price is $3,278.95.
·         USD Coin. The USD Coin is a stablecoin pinned to the U.S dollar based on 1:1. Now that the stablecoin market is immensely crowded, the USD coin is designed to stand head and shoulders over its competitors.
One way to make the USD Coin stand out is to give its users the guarantee of withdrawing one USDC and receiving $1 in return without any problem. The theory has helped pave the way for international expansion.
With a twenty-four-hour trading volume of $2,499,223,401, the USD Coin price is $0.999865.
·         CasinoCoin (CSC).  It is a digital currency established uniquely for the regulated gaming industry. It gives users enhanced transaction speeds, financial transparency, security, and traceability. The goal of CasinoCoin is to give gaming operators an untapped spring of players who have been KYC proved, intending to have this translate into average revenue with refined visibility and security.
The CasinoCoin trading volume is not available, but its price coin is $0.003532.
Bitrue Fees
---
Bitrue Deposit and Withdrawal Fees
---
 The exchange doesn't impose any deposit fees but charges a withdrawal fee of 0.0005 BTC each time you withdraw BTC. The fee is somewhat below the global industry standard (0.000812 BTC), which is a consumer-friendly feature of this trading platform
Trading Fees
---
Takers and makers do not have different fee charges but use a fee model called the "flat fee model." The flat fee model is 0.098% which is below the industry standard of 0.25%. In Bitrue, users can buy and sell digital crypto assets in three effortless steps which are;
·         Legend trading where the user pays 0.08%
·         A credit card takes between 10-30 mins for the coins to reach your wallet.
· A trust token option that guarantees trades using escrow services. Trust token is available in five continents and one hundred and sixty markets.
Bitrue Fiat Deposit
---
If you are a fresh cryptocurrency investor and want to exchange on Bitrue, you need an entry-level exchange for the platform to accept fiat currency deposits.
Accepted Payment Methods
---
There are two methods to deposit your money on Bitrue: credit card and cryptocurrency. If you are a newer crypto investor, you can use credit card deposits to deposit USD or EUR. You can also use wire transfers that have been recently added as another means of deposit. Wire transfer supports eight currencies such as USD, SGD, and EUR.
Bitrue Margin Trading
---
Leverage is a dynamic tool that allows you to unlock a position much more significant in value than the amount you deposited. Leverage functions by using a deposit called margin to give you increased exposure to major cryptocurrencies.
Without tying lots of capital, an investor can build a diverse trading portfolio and access a vast array of trading instruments. The benefits of Bitrue margin trading are;
·         Magnified profits. When you put down a fraction of your trade value, you can receive profit from a conventional trade with any other exchange.
· You can earn from market fall. You can easily earn from a market that is rising or falling.
· Gearing opportunities. You can free up capital that can be committed to other investments.
Read also:
Bitrue Native Token
---

BTR is a unique utility token for Bitrue. BTR tokens can be procured on the platform and used for financial settlements on the exchange. On every purchase of BTR, investors can make more bonuses up to around 20%.
Additionally, BTR token holders can get up to a 30% discount on trading fees. Instead of the usual anteriorly listed fees, the holders can pay 0.14% for XRP pairs with BTC, USDT, and ETH: 0.0686 for extra USDT, ETH pairs, and BTC, and 0.196% for more XRP pairs.
Meanwhile, BTR is also accessible on PancakeSwap and Binance Smart Chain. PancakeSwap gives rewards to BTR token holders when they stake their tokens in the exchange's liquidity profile. Another benefit of holding BTR is being a Power Piggy VIP cap that permits you to invest in Power Piggy whenever you want to. Power Piggy is the hottest feature on Bitrue.

Native Token Smart Contract
---
The native token, known as BTR, is now on Binance Smart Chain. Given the expensive fees on the ETH network, the release will remarkably alleviate interaction with BTR tokens.
CeFi-DeFi Hybrid Model
---
DeFi and CeFi aim to achieve the same goal: making crypto trading famous and expanding the trading volume. DeFi makes the space obtrusion accessible without having to deal with an intermediary body. On the other hand, CeFi guarantees the security of funds and equitable trade on those funds. Still, investors holding conventional currency are allowed to engage in crypto trading.
CeFi, also known as centralized finance, is governed by exchanges. Due to the participation of crypto exchanges, investors move their risks to the exchanges for the exchanges to keep their funds safe.  Whereas DeFi, also known as decentralized finance, depends on the intelligent contract protocol
Most financial gurus consider DeFi as a revolutionary technology set to succeed CeFi. Both DeFi and CeFi have their benefits and drawbacks- their strengths can reign.  Being the first exchange to issue cryptocurrency investors with a loan feature, Bitrue makes a hybrid between DeFi and CeFi.

Proof of Reserves
---
How do you prove if your funds are there or not? Providing liabilities can be tricky, but an excellent exchange platform should provide adequate and real-time information. Cryptocurrencies should prove to the depositors that the cryptocurrency held on deposit matches with the investor's balances. Some users have claimed unresolved trading problems and subsequent freezing of their assets.
Depositors should be highly privileged to their creditors for a self-regulatory measure. Bitrue is a great option for crypto trading and crypto loans, but their lack of proof of reserves leaves an investor with a question mark.
Available for U.S investors?
---
Bitrue has offices in the U.S, so that means that U.S. investors can trade at this exchange. There is no proof that Bitrue has listed the USA as a "Prohibited Country."
Bitrue Loans
---

 Bitrue Loans is a cybernetic currency lending service equipped by the Bitrue exchange. You can deposit your coins to borrow USDT, XRP, BTC, or even ETH. In 2019, the founders launched Bitrue loans: the digital loans have been open to all and have seen swift adoption, with the loaned numbers reaching millions of dollars.
Bitrue is a good option when it comes to crypto loans and it is a worthy competitor to the giants of the industry like BlockFi, YouHodler, Binance Earn etc.
Overview.
---
Bitrue qualifies as the ultimate trading platform ready to bring financial opportunities to everyone regardless of their location. Bitrue has acquired traction following its venture on XRP tokens and unbeatable low fees. Its collaboration with XRP allows users to trade almost all crypto coins accessible on the exchange against XRP.
In terms of security, Bitrue goes to lengthy efforts to keep your digital assets safe and secure. Bitrue's competent team proactively upgrades the platform's automatic back-end security features.
If you are not fond of Bitrue, Make sure to check out our guides on other cryptocurrency exchanges:
PROS
Cheap fees
A lot of coins that can be staked & earned on Bitrue platform
A lot of supported assets
CONS
Relatively new and with lower reputation in comparison to its competitors

CaptainAltcoin's writers and guest post authors may or may not have a vested interest in any of the mentioned projects and businesses. None of the content on CaptainAltcoin is investment advice nor is it a replacement for advice from a certified financial planner. The views expressed in this article are those of the author and do not necessarily reflect the official policy or position of CaptainAltcoin.com