Monolith Card Review – Fees, Limits, Supported Coins and Countries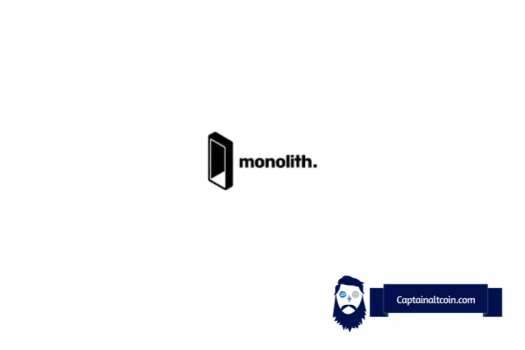 Monolith Card Review – Fees, Limits, Supported Coins and Countries
It makes it easy for you to use your cryptocurrencies in everyday situations.
It has a transparent fee structure; there are no hidden fees
A mobile app is available for iOS and Android that syncs with the card.
Since debit cards made their entrance in the mid-1900s, they have proved to be both secure and convenient, facilitating computerized payments across the world. However, there is an emerging brand of debit cards that is even more exciting – the use of crypto debit cards. It's more exciting because it combines the versatility of debit cards with the innovative technology of cryptocurrencies.
We will examine one of these debit cards in this article: the Monolith card. Maybe it's what you've been looking for, or maybe not. You'll find out in the course of our discussion. Let's start.
WHAT IS MONOLITH?
---
Monolith originally started as an Ethereum wallet, allowing users to store, send, and receive Ethereum and ERC-20 tokens. It later introduced a Visa debit card to allow users to be able to spend their stored coins easily. The card came to be known simply as a Monolith card.
As a wallet, Monolith is available on the Android and iOS platforms. It employs a double verification method at account creation, using both your 12-word secret phrase and a 6-digit PIN to create a unique wallet for your needs.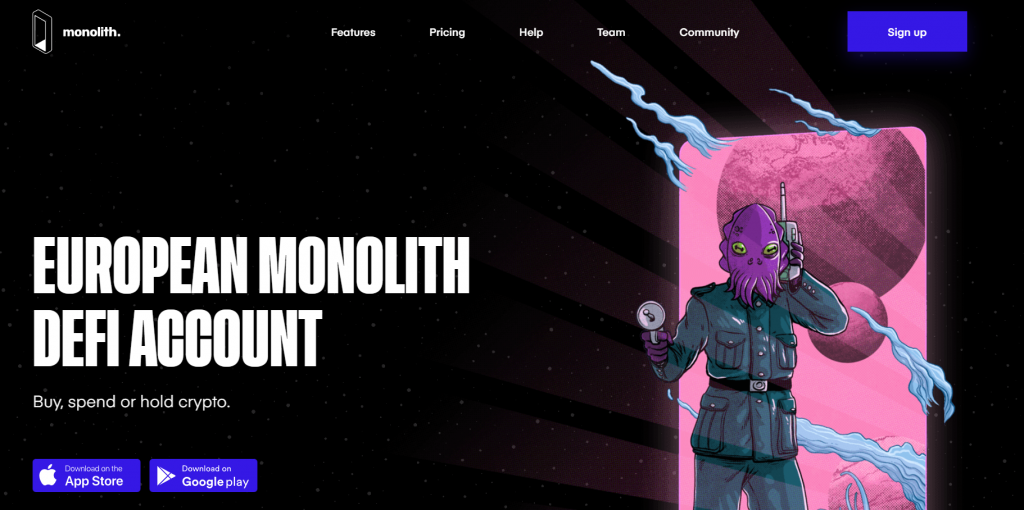 The 6-digit PIN is not only used to create the account but also used to confirm your identity any time you open the app. Other security measures of the wallet include whitelisting some addresses and setting a daily transaction limit.
MONOLITH CARD OVERVIEW
---
Here are a few things to keep in mind about the Monolith Visa card:
It is a Visa card
It allows users to convert ERC-20 tokens to fiat without paying high gas fees
The card can be applied within minutes.
It is more beneficial for holders of TKN, the native currency. Holders of other coins will have to pay a 2% fee for conversion
You can withdraw money from ATMs for free twice a month. Beyond that, you would have to pay an additional fee of 0.75 pounds for each withdrawal.
MONOLITH VISA CARD FEES AND LIMITS
---
The Monolith Visa cards are denominated in either GBP or EUR. The fees and limits are covered below:
FEES
---
For GBP:
Monthly, Shipping, and Purchase fee: 0
Purchase fee in other currencies: 1.75%
ATM withdrawal fee in GBP: free for the first two in a month, then 0.75 pounds per withdrawal
ATM withdrawal fee in other currencies: EUR(1.2 GBP), others(1.75 GBP)
Top-up fee: 1% or 0% for DAI or TKN top-ups
The same fee ratio applies to EUR-denominated cards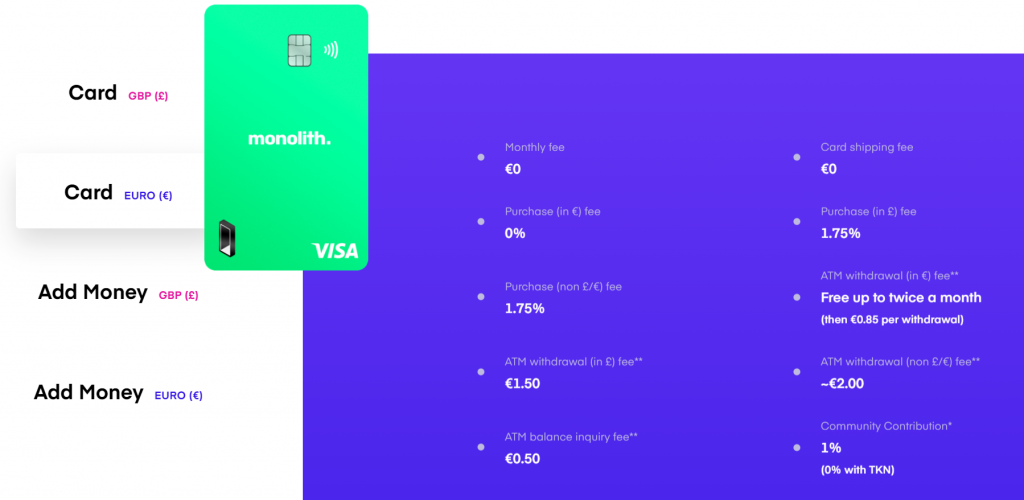 LIMITS
---
The cards have a balance limit of 7,500 GBP. This also doubles the daily spend limit. There is also a daily cash withdrawal limit of 350 pounds and a daily purchase limit of 7,150 pounds.
BENEFITS AND CASHBACK REWARDS
---
There are no direct rewards and cashback you get from using the card. However, if you hold TKN, you benefit from a community fee tasked to those who top up with other coins. This fee is 1% of the transaction and is shared by all TKN holders.
SUPPORTED CRYPTOCURRENCIES
---
The main currency supported on the platform is Ethereum and ERC-20 tokens. In addition, Monolith also supports USDT, MKR, DGX, DGD, DAI, and TKN, the native token of the Monolith wallet. 
SUPPORTED FIAT CURRENCIES
---
The two main fiat currencies supported on Monolith are the British Pound (GBP) and Euros (EUR). Those are the currencies in which the cards are denominated. They can, however, be used to purchase items in other currencies. You would just have to pay a conversion fee.
SUPPORTED COUNTRIES
---
Monolith is available in the United Kingdom and most of Europe, including Germany, France, Finland, Spain, Greece, Isle of Man, Portugal, and Luxembourg, among others.
MONOLITH CARD TIERS AND TYPES
---
As stated earlier, there are two types of cards available on the Monolith platform. They are the EUR-denominated and GBP-denominated cards. Unlike some popular crypto debit cards, Monolith does not operate a tiered system. You simply top up and start using the card. There are some benefits to holding TKN, though. The more you hold, the more TKN you can get from the community chest.
HOW TO GET THE CARD
---
The first step in getting the card is to create a wallet on the Monolith platform. To do that, you need to save a 12-word recovery seed phrase (as is common in the DeFi world) and then create a 6-digit password. Your wallet is then created successfully.
After creating your wallet, you will need to provide more information about yourself, like your name and address. You would also need an ID document and a selfie for verification purposes. This process is usually very fast and can be done in minutes.
However, you would need to wait for about two weeks before getting your card delivered to your address. You wouldn't need to pay any purchase, monthly, or shipping fee before getting the card. It's free!
MOBILE APP EXPERIENCE
---
Android and iOS versions of the Monolith app are available. It connects the card with the wallet, allowing transactions to be performed seamlessly. Even so, the app does not have to be open in order to use the card. It will automatically sync when open.
CARD ACTIVATION
---
To activate your Monolith Visa card, open the app and click on 'Card'. Then click the 'Activate' button to get started! You can also use the app to deactivate your card by clicking on 'Card' and then 'Freeze'. This step is especially advisable if you lost your card or it got compromised in any way.
DEPOSITS AND WITHDRAWALS: FIAT, CRYPTO, AND PRECIOUS METAL ASSETS
---
To deposit fiat, click 'Add Money' under the wallet sign of your app and enter your card details. You can purchase EUR or GBP directly using this method, and you can use either a debit or credit card. The platform also allows you to deposit crypto assets directly using this method.
Apart from fiat and crypto assets, you can also deposit precious metal assets on Monolith. This was made possible by Monolith's partnership with DGX in August 2019. Thus DGX and DGD(digital gold tokens) can now be used to top up your Monolith balance.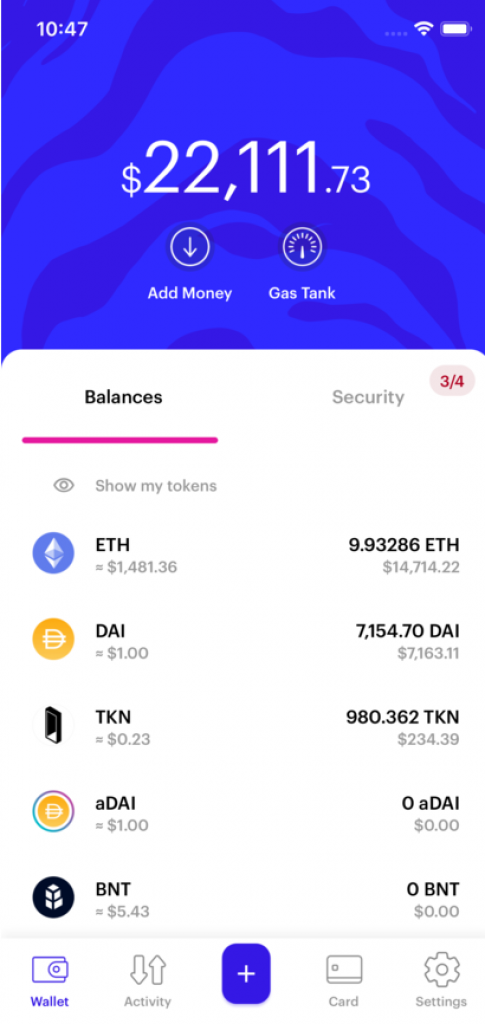 HOW TO USE THE CARD
---
Once your card is activated, you can start making purchases with it. The cards can be used at any ATM or POS where Visa cards are accepted (basically worldwide). You can't change the currency your card is denominated in, but you can still use the card to make purchases in other currencies after paying the conversion fees.
Like many other debit cards, Monolith cards also have a provision for refunds if you are unsatisfied with your purchase. Your refunds will come in the currency you transacted with.
IS THE MONOLITH VISA DEBIT CARD LEGIT?
---
To an extent, yes, it is. For one thing, it has the same security encryption present in other Visa cards. In addition, it associates this world-class encryption security with the personal accountability known with DeFi wallets. Thus, your private keys are not stored anywhere else but with you and are the only means of creating and recreating your wallet. Therefore, your safety is majorly in your hands.
Read also:
MONOLITH CARD ALTERNATIVES
---
Let us consider four alternatives:
COINBASE CARD
---
Coinbase card is one of the most popular ones around, as you can guess from the name. It is associated with Coinbase, one of the largest crypto exchanges, and offers its services to a broader range of countries, including the United States of America. In terms of fees, though, Monolith is better and cheaper.
CRYPTO.COM CARD
---
Crypto.com is the Visa card associated with Crypto.com, another leading crypto exchange. It is a prepaid card, divided into five tiers, that offers cash-back rewards of up to 8% for those who stake CRO, its native token.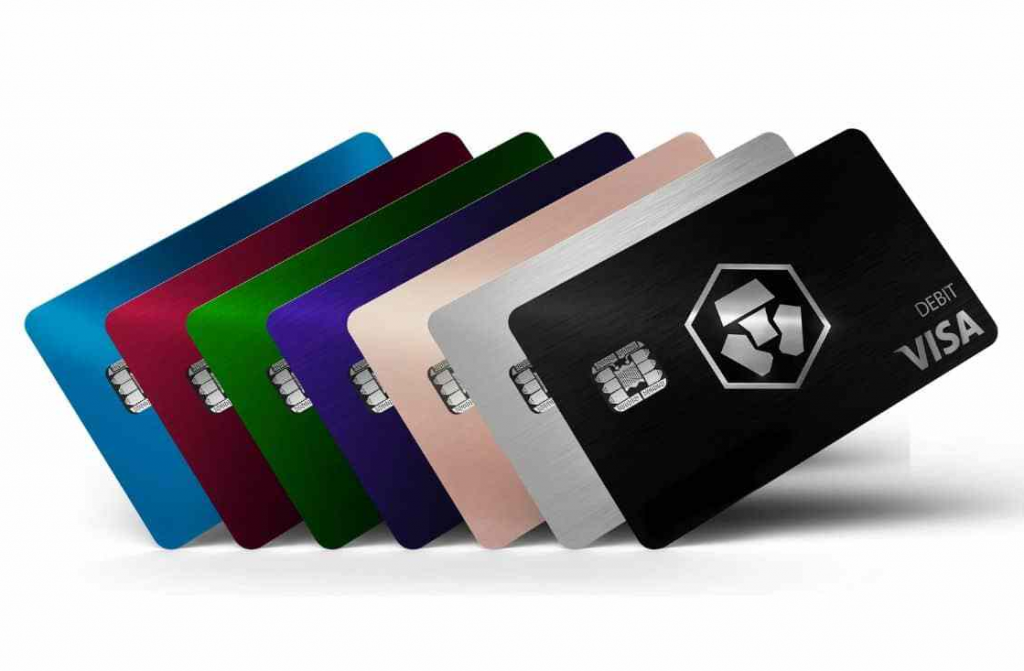 Apart from that, it also offers perks like fee-free ATM withdrawals, up to $1000 per month, and subscription cutbacks on Netflix, Amazon Prime, and other services.
CRYPTERIUM
---
Like Monolith, Crypterium is a mobile crypto wallet that includes a Visa card. However, it bests Monolith in that the card can be used even before it is physically delivered. This is because the card's details are sent to you, and you can immediately use them in online settings. One drawback, though, is that the wallet is custodial. This means that, unlike Monolith, you don't own the private keys of your wallet.
BINANCE CARD
---
You would expect a debit card created by the world's biggest crypto exchange to be a class apart, and it really is. One of its main perks is that it rewards users with up to 8% cashback in BNB. Even if you do not stake any amount of BNB, you'll still get 1% cashback when you use the card.
FREQUENTLY ASKED QUESTIONS
---
CONCLUSION – IS THE MONOLITH VISA CARD WORTH IT?
---
The Monolith card is definitely appealing, being one of the top crypto debit cards in the world presently. Its transparent fee structure, as well as its non-custodial nature, makes it a choice card for those who want to use crypto in everyday situations. However, like most other debit crypto cards, it is biased towards holders of its native token, TKN. Therefore, if you do not hold TKN, you may not be particularly inclined to use this card.
PROS
It makes it easy for you to use your cryptocurrencies in everyday situations.
It has a transparent fee structure; there are no hidden fees
A mobile app is available for iOS and Android that syncs with the card.
CONS
It only works with a limited number of coins(ERC-20 tokens)
It is only available in a few countries.
It can be expensive if you top up with currencies other than TKN(its native token) and DAI.

CaptainAltcoin's writers and guest post authors may or may not have a vested interest in any of the mentioned projects and businesses. None of the content on CaptainAltcoin is investment advice nor is it a replacement for advice from a certified financial planner. The views expressed in this article are those of the author and do not necessarily reflect the official policy or position of CaptainAltcoin.com