Spectrocoin Card Review – Fees, Supported Coins & Countries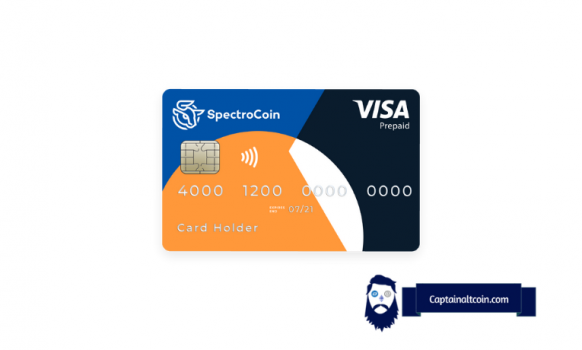 Spectrocoin Card Review – Fees, Supported Coins & Countries
Free card issuance
Acceptable fees
Powerful app with lots of other features
What is SpectroCoin?
---
The cryptocurrency project "SpectroCoin" was first created back in February 2013. It was founded by three entrepreneurs with the goal of creating a cryptocurrency platform aimed at catering to and providing a wide range of financial services based on digital assets. Over the next few years, SpectroCoin would go on to expand their service range by adding an exchange for trading, wallet, crypto card, loan service and many other crypto related offerings.
While you are here and looking into the SpectroCoin card, you might be interested to learn more about other top bitcoin debit cards you can get in 2021.
Company background
Moving past its early beginnings, SpectroCoin has since amassed over 1,000,000 customers worldwide, along with attaining licensing in Estonia, further improving its reputation and standing in the crypto space. Since 2019, SpectroCoin has been regularly and steadily churning out a range of new financial products available, integrating more and more financial products based on cryptocurrencies. These services include products such as loans and contactless cards.
SpectroCoin's team has increased from the three business-minded founders to whole team of over 100 employees, showing the project's monumental growth.
Spectrocoin – all features
SpectroCoin offers a large range of different products to both retail and business clients. Here is a short overview of their main features and services, which they have cultivated over their almost 8 years of service. Now that they have a team of over 100 and all this behind them, we can see great things ahead of SpectroCoin, and the crypto-finance space.
Wallet
SpectroCoin have produced a cryptocurrency wallet that allows you to store a range of different cryptocurrencies, though that is not all. Through this innovative new storage system, you can withdraw your coins straight to your SpectroCoin card in order to pay for items in fiat currency but using your Bitcoin or other crypto of choice. This helps to fully connect you with the fiat world as you can spend your cryptocurrency as if it was your native fiat currency. Furthermore, you will receive your own unique IBAN through this service, this allows you to access and withdraw your funds in your own name as if it was a bank account, further normalising cryptocurrencies use with traditional financial systems.
The only notable downside with the SpectroCoin wallet is that although they do support a reasonable amount of cryptocurrencies, they do not allow a large number of popular altcoins so you will need to store those more elusive coins elsewhere.
Mobile app
The SpectroCoin mobile app is where you can manage your portfolio and any SpectroCoin products you are using. The app makes use of a sleek and simple UI so that you can easily navigate through the app and find what you need to. Through the app you can manage your portfolio, inspecting each individual wallet which is not limited to only cryptocurrencies, but fiat currencies and even precious metals, with the wallet allowing you to state a balance in gold too.
Through the app you are able to exchange your currencies for other supported currencies, including gold and the featured fiat currencies. The app is also where you manage your card and the verification required to receive it. It takes you step by step through the process to order your SpectroCoin card by detailing the necessary verification, making it an easy process for new and possibly inexperienced users of crypto cards and services.
Lastly, through the app you are able to access other features such as editing your account and settings to fit your needs. You are also able to contact support, gettihn help through either their extensive FAQ page or through a live chat function that they have available. It should be noted though that there have been some complaints about the speed of responses to support with SpectroCoin, so it might not be best to wait too long before investigating the FAQ.
Exchange
Compared to most large mainstream exchanges, SpectroCoin is quite small, supporting the exchange of 30 different cryptocurrencies. Though this does not mean it isn't an exchange worth considering. The exchange has a few useful and rather unique features, such as the ability to load money onto the exchange through more user-friendly methods, e-wallets such as Skrill and OKPay are accepted. They also support quite a wide range of fiat currencies, from the Swiss franc, to the Polish Zloty.
Loans
SpectroCoin is one of the first services available to take out loans against your cryptocurrency.
Most banks and other financial institutions will let you take out a loan and leverage it against your assets, for example your house. No banks would be willing to do this with cryptocurrencies due to their volatile nature and how they actively harm the banks when used. This is where loan services like SpectroCoin come in, offering loans that accept cryptocurrency as collateral, giving people access to finance without them having to sacrifice their cryptocurrency investment.
The loans are available at a maximum LTV (Loan To Value) Ratio of 75%, which is slightly more than their competitor CoinLoan for example. One of the benefits with SpectroCoin's loans is their low minimum, letting you loan an amount as low as €25 in currency. They are also very flexible on the repayment of the loan. As long as you repay the money before the maturity date, you will incur no extra fees or predatory payment schedules. Their loans are also able to cover withdrawals of up to 1 million euros.
Here is a full SpectroCoin Loans review. And when we are at it, here is also a full list of the best platforms where you can earn interest or get a loan with your crypto holdings.
Payment processor
Another service offered by SpectroCoin is payment processing. SpectroCoin helps to enable businesses in accepting Bitcoin as a method of payment, this can be greatly beneficial to businesses, especially online as it widens their possible customer base to include those who prefer to pay in Bitcoin. This type of service is requested more and more and with Bitcoin only becoming more and more popular, SpectroCoin's services are, and will be in high demand.
Debit Card – Currencies Available
---
Although the SpectroCoin wallet can be loaded with a range of different coins and fiat currencies, you cannot load these on to the debit card. Technically, you cannot load cryptocurrencies on to the card, so you need to convert the funds you want to load on to the card into euros first, and then transfer those euros on to the card from your wallet. This a bit disappointing, coming from a supposed pioneer of crypto financial services.
Card Fees
---
There are a few fees that come with the SpectroCoin that should be taken into consideration when you decide if this is the card for you. The first of these is the issuance fee/card price, which is free but if you need the card fast, and can't wait the few business days, and would prefer the next day delivery/expedited shipping option, this will come in at €35.
| Card | Price |
| --- | --- |
| Card Price | Free |
| Standard Shipping | Free |
| Expedited Shipping | €35 |
| Monthly Service Charge Fee | €1.15 |
| Card Load via SpectroCoin Wallet | Free |
| ATM | UK | Europe | International |
| --- | --- | --- | --- |
| ATM Withdrawal | €1 + 1% | €1 + 0.5% | €1 + 1.5% |
| ATM Balance Enquiry | €0.35 | €0.35 | €0.35 |
| ATM PIN Change | €0.98 | €0.98 | €0.98 |
| Decline Transaction at ATM | €0.63 | €0.63 | €0.63 |
| Point of Sale/Online | UK | Europe | International |
| --- | --- | --- | --- |
| Point of Sale/Online Transactions | €0.5 + 1% | Free | €0.5 + 1.25% |
| Declined Transaction at Point of Sale | €0.12 | €0.12 | €0.12 |
| Administration Fees | €23 | €23 | €23 |
| Chargeback/Dispute | €23 | €23 | €23 |
| Redemption | €3.45 | €3.45 | €3.45 |
| Account Cancellation | Free | Free | Free |
When using the SpectroCard you are charged a range of small fees depending on the result of your interaction with the ATM.
Firstly, there is the withdraw charge, when you withdraw successfully from an ATM you will be charged €1 + 0.5%-1.5% depending on your location, thankfully this fee isn't too high compared to other cryptocurrency cards.
Secondly there is a charge for checking your balance at an ATM, this comes in at €0.35 per check. This is clearly quite a small fee though can still seem unnecessary for simply checking your balance at an ATM
Next there is the PIN change fee. For changing your PIN at an ATM, you will be charged €0.98 each time you do so.
Lastly, we have the fee for declining a transaction, again a fee for this can come across as somewhat greedy but it is thankfully not too large, coming in at €0.63 per transaction declined.
Monthly Fees – Using the SpectroCoin card will incur you a €1.15 Monthly service charge fee.
Card Spending and Loading Limits
---
The SpectroCoin loading limit/maximum balance is quite low at only €8,000. Furthermore, the maximum ATM withdrawal is also somewhat low at €300. There does not appear to be a spending limit, apart from an online purchase limit of €7,700.
Read also:
Account Loading
---
Loading funds onto your account with SpectroCoin is a simple process. Your first option when loading on funds is to deposit coins straight from another wallet, this is the best method if you are looking to move onto Spectro as your new preferred wallet. To do this, simply copy your public keys on your SpectroCoin account and then send your coins from your current wallets to these addresses. Please note that SpectroCoin does not support a huge range of cryptos hence you might need to keep some of your more obscure coins off of the SpectroCoin wallet.
The other method of loading funds is more straight-forward. If you are looking to start using cryptocurrency and have deemed SpectroCoin as your preferred storage method, you can simply buy the coins and tokens with fiat currency through the platform itself. To do this, find the Deposit option on the SpectroCoin app, then choose your respective country and finally your payment method. This can only be done once you've completed some of the account verification measures which some people may not be comfortable with, though these measures are standard with crypto services.
Countries supported
---
SpectroCoin supports a vast number of countries, with only a select few ones around the world without support. It is not uncommon to see cryptocurrency services restricting use in places in the US and other first world countries due to legislation issues, though thankfully that is not the case here. If you are still unsure whether or not your location is restricted, you can find out here: https://spectrocoin.com/en/countries.html
Account verification
---
There are a few things needed to be verified between you and SpectroCoin in order to make you eligible for their card. The first of these is a simple phone number, this is done by entering codes into the application that were sent to your email and phone number, confirming you have access to both of them.
Next there is the address verification, this is done by entering your current address then confirming this through sending a photo of a valid document containing your address to SpectroCoin for them to verify.
Lastly, we have identity verification, in order to fulfil identity verification, you need to send a selfie of you holding up a valid form of identification next to your face in clear light, in order to show it is you in the photo. Although this may seem like quite strenuous checks just to use the card, it is necessary to keep your funds and identity as safe as possible.
Customer support
---
SpectroCoin boasts a wide range of customer support options, such as an email address, phone number, social media, and lastly, a place to submit support tickets. SpectroCoin also claims to respond within one working day of your request, though there have been numerous reports of this claim falling through, and the team being unresponsive to contact from users.
Security
---
SpectroCoin makes use of a large amount of protection methods and layers to ensure the security of both your funds and data. As is standard for crypto-services, 2 factor authentication is available and heavily encouraged by both us and SpectroCoin. They also store between 80-90% of their funds in offline wallets, making them largely inaccessible, this is very helpful in keeping them out of harm's way.
SpectroCoin also requires a large amount of verification for you to withdraw your coins, although this may come across as a lot of hassle just to take your coins out of SpectroCoin, it is in the best interest of both SpectroCoin and yourself in order to follow these rules, as they keep your coins incredibly safe.
Is SpectroCoin Safe?
---
SpectroCoin has had some complaints and suspicions from the crypto space for a while, though most of these boil down to either bad customer service or questionable basis for accusations. SpectroCoin has achieved a TrustPilot score of 4.3 stars, with over 1200 reviews. Overall SpectroCoin appears to be a trust worthy service, though just like any other entity in the crypto space, conduct your due diligence, you never know what red flags you will miss if you don't do your research.

PROS
Free card issuance
Acceptable fees
Powerful app with lots of other features
CONS
Weak communication with customers which leads to poor reputation in some crypto circles

CaptainAltcoin's writers and guest post authors may or may not have a vested interest in any of the mentioned projects and businesses. None of the content on CaptainAltcoin is investment advice nor is it a replacement for advice from a certified financial planner. The views expressed in this article are those of the author and do not necessarily reflect the official policy or position of CaptainAltcoin.com