Mining is a great way to understand cryptocurrency much deeper and earn money by mining cryptocurrencies. One of the most common ways of mining is hardware mining and it's been used for 10 years. But there's been a new way of mining cryptocurrencies in recent years which does not involve hardware for mining.
It's called Cloud Mining and it's a process of mining through a remote data center that's shared with processing power. You pay the company for the hardware which you rent and your company allow you to mine through their own hardware through different locations. And on this article, we will introduce to you IQ Mining a Cloud mining platform to mine multiple cryptocurrencies.
This IQ Mining review have to point out that you may not recoup your initial investment.
Based on the reviews, it appears that the service has a high potential for fraudulent activity, particularly in regards to issues with account verification and difficulty with withdrawing funds.
Some users have reported that the company has blocked their accounts and applied delay tactics to prevent them from withdrawing their money.
While some users have been successful in recovering their lost funds through other means, it is recommended that potential users exercise caution and thoroughly research the service before investing.
What is IQ Mining?
---
IQ Mining is a cloud mining platform which has been founded in late 2016 and provides cloud mining services. The company offers mining cryptocurrency through cloud servers with a smart platform developed by blockchain and cryptocurrency experts.
With more than 60,000 members registered and over 7,500 active cloud miners, they offer multiple contracts of mining. IQ Mining offers five pricing plans of contracts starting from the 1-year contract, 2-year contract, 5-year contract, and lifetime contract. The prices for contracts start from $99 and it depends on the amount of GH/s (gigahashes per second) you plan to buy.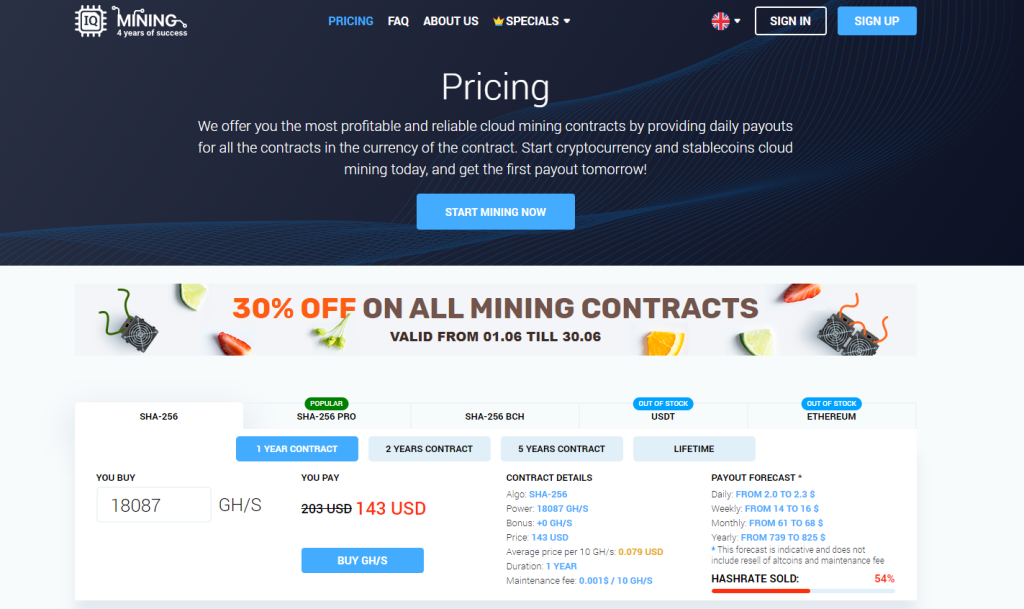 IQ mining platform automatically allocates funds using smart contracts. The mining farms owned by IQ Mining can be found in China, Russia, Algeria, Canada, and other countries.
Note: IQ Mining does not have a mobile app.
How to start?
---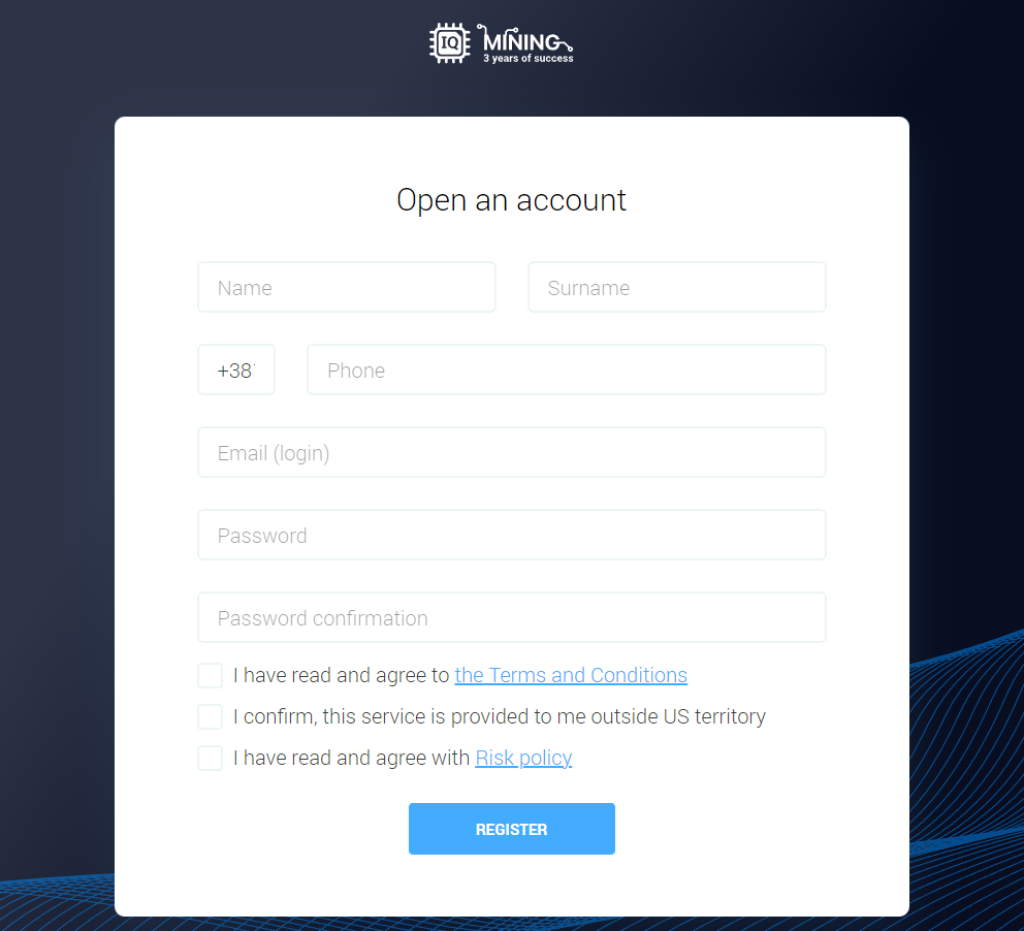 To start cloud mining go to https://iqmining.com and then Sign Up for an account. The minimum investment amount of the contract is $30. After choosing your cloud mining contract plan and finishing the daily payments you will receive more details in your Email address. After the registration of your account is completed you will be redirected to the member area page where you can manage your mining. You can view all of the earnings, statistics such as GH/s total spent, daily payout, monthly payout, annual payout, and more details.
Be careful about your initial investment so that you can get valuable prizes.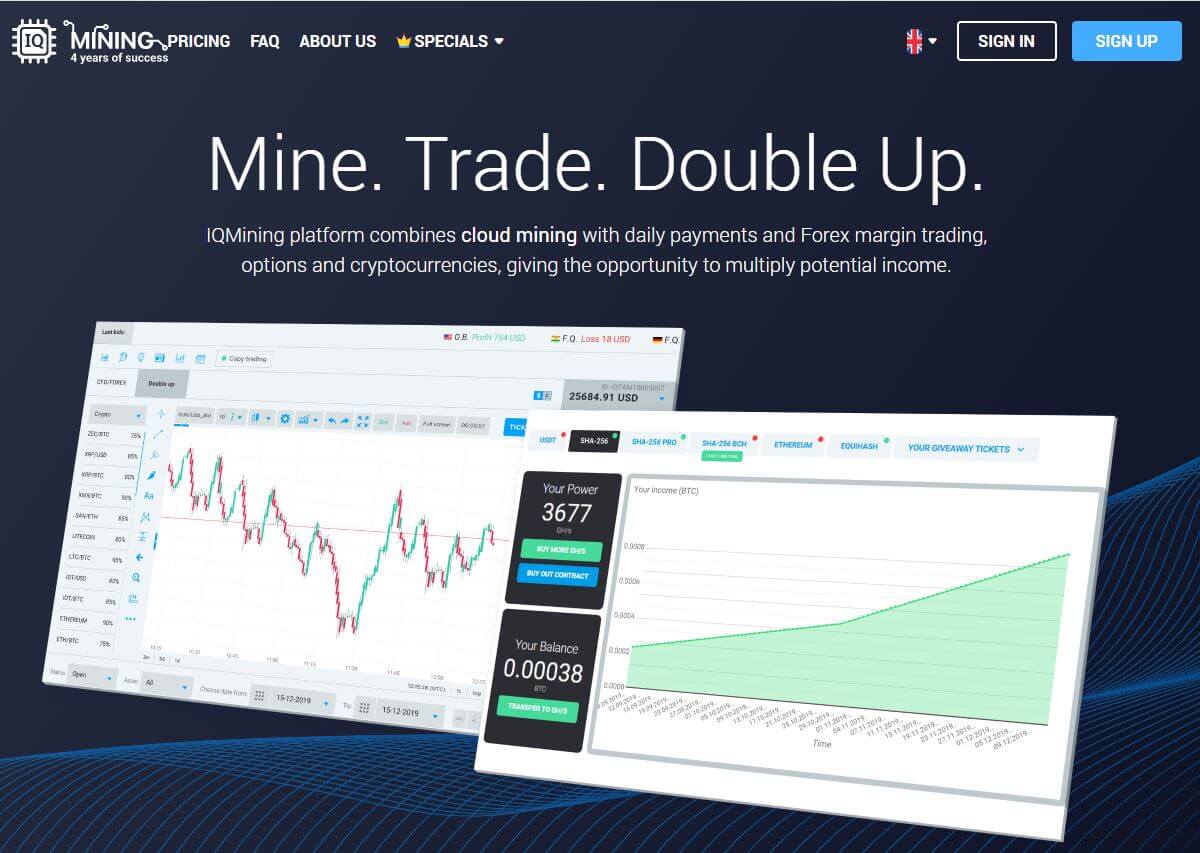 IQ Mining supports multiple payment methods, including credit cards and Yandex money.
Which cryptocurrencies are available?
---
IQ Mining offers to mine for major cryptocurrencies such as Bitcoin, Bitcoin Cash, Ethereum, Litecoin, Dash, Dogecoin, Aeon, Grin, Beam, zCash. For more details about the process of mining with IQ Mining of these cryptocurrencies, visit the link below:
https://iqmining.com/en/blog/cryptocurrency-comparison
Profit Calculator
---
Mining profit with IQ Mining depends on various factors such as the type of the contract, the amount of power (GH/s) consumed, etc.
By choosing the SHA-256 Pro contract for a year it would consume 478837 GH/s with a cost of 5,000$.
And below it's the daily, monthly, and annual income with the SHA-256 Pro contract.
Daily Income: $61.29
Monthly Income: $1,839
Annual Income: $22,371
However, this income has maintenance fees such as the commission for managing all the mining hardware, which includes electricity cost and administrative expenditures.
Forex Trading
---
IQ Mining it's mainly a company for cloud mining but they offer forex trading platforms. With a minimum deposit of $30, you can start trading forex currency pairs such as Euro, Dollar, Yen, Australian Dollar, Pound, and other currencies. The company also offers a Crypto trading platform with most of the major cryptocurrencies available to trade as Bitcoin, Ripple, Ethereum, Iota, Dash, Litecoin, and more.

Copytrading is available to trade for those who don't have knowledge of Forex. Copytrading is automatic trading for you made by someone and the company says it has successful traders that you can choose and trade by their trades.

Read also:
Is Cloud Mining worth it?
---
Cloud mining is seen as a huge step of innovating for mining and cryptocurrency in general without having to set up multiple hardware in your house, office, etc. Even you don't need to buy your own hardware to start mining, Cloud mining is challenging too.
Choosing the right platform for cloud mining is something you need to remember as there are scam platforms of cloud mining, which can lead to losing your money by believing you're investing the money on renting servers and earning money through mining but on the other side they're scamming you. And thus is recommended to study your platform of cloud mining as much as you can to save yourself from losing money.
BEWARE BEFORE REGISTERING:
Reports of IQ Mining doing some kind of scam activities are piling up and we advise you exercise caution before dealing with them.
With the cryptocurrency on a bearish market trend, the mining of hardware and cloud mining has become less profitable. Cloud mining has its own cost too such as maintenance fees that you have to cover as power consumption, administrative expenditures, etc.
But Cloud mining when it comes in comparison with hardware mining it has its own pros. You don't need to wait weeks or months for your hardware to be delivered or replace any of the damaged hardware with a new one. Having a high-end computer is required with multiple graphic cards that various from $500 to $1,000 and with CPU starting from $500 and above.
With Cloud mining, you don't have to worry about your graphic cards and other parts of the computer in order to mine cryptocurrency. And IQ Mining offers the best cloud mining platform with
the most affordable data centers to rent and start mining multiple cryptocurrencies directly from your computer.
PROS
Flexible range of cloud mining contracts
The ability to mine up to 150 altcoins
Wide range of banking options
CONS
You are not guaranteed a profit
Not as transparent as some rivals

CaptainAltcoin's writers and guest post authors may or may not have a vested interest in any of the mentioned projects and businesses. None of the content on CaptainAltcoin is investment advice nor is it a replacement for advice from a certified financial planner. The views expressed in this article are those of the author and do not necessarily reflect the official policy or position of CaptainAltcoin.com


IQ Mining Review: Is IQ Mining Scam or Legit?