Ellipal Titan Review: Is This the Most Secure Hardware Wallet on the Market?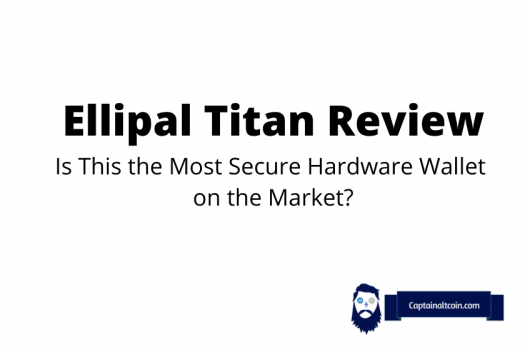 Ellipal Titan Review: Is This the Most Secure Hardware Wallet on the Market?
User friendly device
100% isolation
Well-designed wallet
Has a strong metal body
Display touch screen
In 2014, one of the biggest exchange platforms of the time, Mt. Gox, collapsed and hundreds of thousands of users who were holding crypto on Mt. Gox lost all of their funds (650.000 Bitcoins were lost)! If you are dealing with digital coins then storing your crypto tokens safely is a very important topic that you should know about. There are a number of different options for storing your cryptocurrency safely but the best solution for storing your coins is hardware / cold storage wallets. A hardware wallet is a device, usually around the size of a smartphone, that stores your private keys offline, which means that people cannot hack your wallet unless they have physical access to your device.
With an explosion in the number and variety of different digital assets available, the number of hardware wallets has surged, and many companies have come out with new products or added new features to their offline wallets. In the last five years, cryptocurrency hardware wallets have become a popular tool used by even inexperienced crypto investors. There are a number of options in a crowded field of hardware wallets and one of them is the Ellipal Titan cryptocurrency hardware wallet, the world's first fully metal-made, air-sealed hardware wallet and one of the most secure hardware wallets.
What is Ellipal?
---

Ellipal is a blockchain security company developing next-generation cold wallet devices. The company is based in Hong Kong and offers an array of crypto storage solutions. The company was incorporated in 2017 and was funded by an IndieGoGo campaign where they raised $55,168 of their $10,000 goal.
The founder of the company is David Tian, who is also a founder of Smarter Wireless, a Mobile Performance Advertising Affiliate Network, which works with various direct advertisers and local publishers all around the world. They have been making massive efforts to expose themselves and be more in the public eye and the team has an active Telegram group and valid Twitter account with community support.
They also have a company website that provides additional detailed information about the wallet, firmware update downloads, and details about the mobile phone application. There is also an affiliate program for their users and some media relations information.
Since 2018, Ellipal has grown its product catalog to include a cryptocurrency wallet app for IOS & Google Play. Ellipal ships to over 70 different countries, including the United States, United Kingdom, and Canada.
Ellipal Titan Wallet Overview
---

Ellipal's primary product, as I mentioned above, is its hardware wallet, a device that combines an unusual smartphone-style design with air-gapped security and a robust build. The Ellipal hardware wallet is called the 'Titan', a device made of a single piece of metal to create a sealed environment, which means that it cannot be opened without destroying the circuits inside. 
The Ellipal Titan is one of the few crypto hardware wallets currently available that allow you to create multiple accounts on the same device, which allows you to easily separate your finances into separate accounts. This feature will allow for improved budget and portfolio management. Ellipal claims that users can store as many as 10 accounts on a single device. However, this can vary based on the size of each account.

What's In The Box?
---
The Ellipal Titan comes in a flip box that contains the ELLIPAL Titan device itself, along with a congratulatory card, two stickers, and a note to write down your 12-word mnemonic recovery phrase. There is also a magnetic adapter that connects to the bottom of the device and includes the charging port and SD card slot port for updating firmware and signing offline transactions. There is also a small manual that guides you through the most important steps in English.
The Box includes:
ELLIPAL Titan Cold Wallet
Rechargeable battery
Charging cable
Mnemonics card
User Manual
Stickers
Warranty card
Ellipal Titan Design
---
Everyone can clearly see the effort put into this wallet and the focus on physical security. The Ellipal Titan is robustly made of metal and sealed, so it is impossible to break open the wallet without leaving any lasting damage.
It's important to note that the wallet is protected from physical attacks and hacks because the anti-manipulation feature deletes all keys as soon as a break-in is detected. Its sealed design also makes the device one of the few dusts and water-resistant hardware wallets currently available on the market. Since the wallet features an air-gapped and cableless design, charging it calls for plugging in a small connector that takes a USB Type-C cable.
Ellipal has an inbuilt 4-inch touch screen, which is fairly tough in regards to scratches and being dropped from a reasonable height. The screen is highly responsive, which makes the hardware device as easy to use as a smartphone. The device features an aluminum alloy frame that measures a sizable 118 x 66 x 9.7mm. The case weighs 138g and includes a 1400mAh battery with a standby battery life of 259 hours according to the manufacturer. This allows you to tote your wallet about for more than a week without needing to recharge. There is also a slightly protruding 5-megapixel camera and a power button located on the right side of the device.
Ellipal Titan Price
---
The Hardware Wallet ELLIPAL Titan can currently be ordered at a price of 169,00 $ directly from the manufacturer (click here to check the current price). As a payment option, all common ones are available via PayPal, as well as for cryptocurrencies like Bitcoin (BTC) & Ethereum (ETH), and major Credit/Debit Cards. The wallet ships to over 70 countries and comes pretty quickly (less than 1 week on average). It's important to note that shipping to the whole world is free of charge.
For a limited time, there is also an option to get their mnemonic metal recovery seed (a $49 value) for only $29 when you bundle it with the Ellipal Titan.

Ellipal Accepted Payment Methods
How to Set Up the Ellipal Titan?

The wallet is very easy to set up and will take you a couple of minutes to round up. It pairs with a mobile phone app that is available for iOS and Android, which helps you initialize and set up the device and generate all QR codes needed to transfer your funds from the hot wallet app, onto the cold storage device. The wallet has a camera, which makes transferring funds off of the device and back onto a mobile wallet very secure and convenient as well. The entire process takes around 7–10 minutes from start to finish, including writing down your mnemonic phrase.
Click HERE for a full step-by-step setup guide for the Ellipal Titan.
Ellipal Titan Supported Cryptocurrencies
---
The Ellipal Titan is the most comprehensive crypto hardware wallet in the world. This is the only wallet currently on the market that supports over 33 different blockchains, and with multiple tokens on the EOS, TRX, BNB, and ETH blockchain, there is plenty of room for expansion. The wallet supports more than 7,000 tokens—including most of the top 10 cryptos by market capitalization, as well as some offbeat choices. Here's a full list of the supported cryptos:
Ethereum (ETH) & All ERC20 Tokens
Tron (TRX) & All TRC10 & TRC20 Tokens
Maker (MKR)
Bitcoin Gold (BTG)
District 0x (ZRX)
Zilliqa (ZIL)
Digibyte (DGB)
Icon (ICX)
Gemini Dollar (GUSD)
Aeternity (AE)
Bitcoin Core (BTX)
PalletOne (PTN)
Bitcoin Diamond (BCD)
Decred (DCR)
Zcoin (XZC)
Groestlcoin (GRS)
OmiseGO (OMG)
Basic Attention Token (BAT)
CyberMiles (CMT)
Electra (ECA)
SmartCash (SMART)
Bitcoin SV (BSV)
Florijnpay (FLRN)
High-Performance Blockchain (HPB)
Waltonchain (WTC)
Verge (XVG)
Elastos (ELA)
Cardano (ADA), Decred (DCR), Cyber Miles (CMT), and Smart Cash (SMART) are some of the unique coins that are supported on this hardware wallet natively that can't be found on any other hardware wallet currently on the market. You can find a full list of supported cryptocurrencies on the ELLIPAL Coin List page. However, to begin managing newly added assets you will need to update the device's firmware using a microSD card.
According to its website, Ellipal is also looking at adding support for more currencies over the coming months/years. Here are some of the coins that are coming soon: Monero (XMR), Tezos (XTZ), SiaCoin (SC), and Nano (NANO). It's also worth noting that the team has consistent firmware upgrades, which are administered from a magnetic puck that is completely disconnected and attaches to the bottom and also has an SD card slot for signing transactions offline.
How to Update the Firmware
---
The update process is very simple and it will take a couple of minutes to complete. To update the firmware, follow the steps below:
Download the current version as a ZIP archive from the ELLIPAL homepage.
Copy the archive to a micro-SD card and then insert it into the ELLIPAL security adapter. Note that only cards with a maximum of 32GB are supported.
Turn off the device, connect the adapter to the device and also connect it to the computer to charge the battery. If you turn on the wallet again, you can start the update process in the settings.
It's very important not to interrupt the update process by disconnecting the adapter because it is not very tight because of the magnets.
Ellipal Mobile App
---
The app is available for Android and iOS on their respective app stores. The app has a dual purpose; it can be either a hot wallet or a cold wallet, which means that it can be used to store cryptos with or without the Ellipal Titan Hardware Wallet. The Ellipal Mobile App allows you to store, send and receive multiple cryptos. There is also an option to exchange cryptos natively from the app in a secure fashion.
The app is simple to use and easy on the eyes. The live market cap feed is really detailed and intuitive and provides a very interesting chart, with pricing for all exchanges that the coin is supported on. The assets page allows you to hide the balances for each coin, which can be very important, especially for those who want to use this device in the outside world.
The discover page offers additional news when doing your research. This is a very important feature because finding news outside of social media like Twitter and Reddit is very important to be fully rounded. The app also features the latest news and gives you updated quotes from the digital asset market with prices from popular crypto exchanges like Binance and Huobi.

Ellipal Titan Customer Support
---
The Ellipal Titan wallet offers its users a small knowledge base on the official homepage that answers the FAQ. Those who have further questions can reach the support team via the homepage.

Ellipal Titan Security
---
Ellipal Titan is built with security in mind and is considered to be one of the safest cold storage solutions out there. Ellipal naturally places great value on security and has developed a security system that protects the user from hacking attempts while providing mobile support.
One of the main USPs offered by the Ellipal Titan hardware wallet is Air-gap technology, which ensures that the wallet is physically isolated from the public network, making it insurmountably more secure than other popular hardware wallets. It's important to note that Ellipal can also detect if your data is compromised and delete it from the device. In this way, the wallet is further protected from physical device breaches.
The Ellipal Titan is a completely air-gapped device and lacks any sort of wireless connectivity. The device cannot also be connected to connections such as USB, Wi-Fi, or Bluetooth. The Ellipal Titan relies only on QR codes to transfer data, and all transactions are only securely signed with QR codes. It's also important to note that all QR codes are verifiable and secure.
The Titan is also rated IP65 for dust and water resistance, which means that the device is fully protected against dust and "Protected against low-pressure jets of water from all directions, limited ingress permitted". With this in mind, the Ellipal Titan could be seen as one of the most damage-proof crypto hardware wallets currently available on the market. All in all, Ellipal should be able to produce peace of mind in the had of its users.
How to Use Ellipal Titan
---
The Ellipal wallet offers two different ways to receive transactions.
To receive a transaction directly to the Ellipal wallet follow the steps below:
Log in and select your currency and you will see a "Receive button" with each currency that you have loaded on the account.
Tap the button and you will receive a QR code and address. These can be signed or manually typed in by the sender.

The other method is to receive transactions directly from the Ellipal App on your mobile device. It operates the same way as the first method. The only difference is that there is an option to tap the coin's QR icon from the account, and select the receive button to display the QR code and address. There is also an option to copy your account address so that you can paste your receiving address safely without creating typos.
Conclusion
---
The Ellipal wallet is one of the most well-designed and most secure cryptocurrency wallets currently on the market. At its current price, the Ellipal Titan sits firmly in the mid-range price bracket. However, for that money, you will get a robust device that should thwart practically any remote attack while allowing you to store dozens of different cryptos in a single wallet.
The Titan isn't the only air-gapped wallet on the market, but it's definitely one of the most user-friendly. Fairly priced and well made, the Titan is a solid contender in today's hardware wallet market.
Read also:
PROS
User friendly device
100% isolation
Well-designed wallet
Has a strong metal body
Display touch screen
CONS
Not affordable for an emerging wallet
Large to carry around

CaptainAltcoin's writers and guest post authors may or may not have a vested interest in any of the mentioned projects and businesses. None of the content on CaptainAltcoin is investment advice nor is it a replacement for advice from a certified financial planner. The views expressed in this article are those of the author and do not necessarily reflect the official policy or position of CaptainAltcoin.com