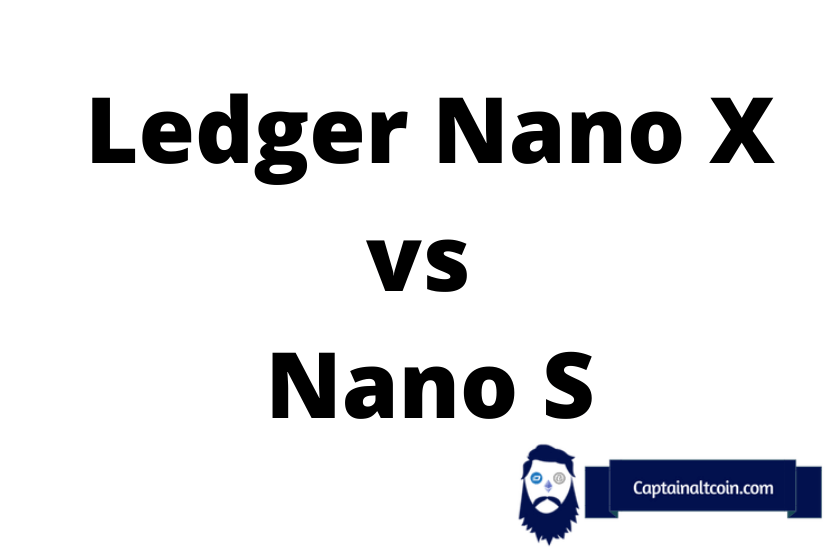 There has been an upsurge in demand for hardware wallets in 2022 as people find their cryptocurrency assets exploding in value. That few hundred bucks sitting on an exchange last year could now be worth many thousands of dollars. With life-changing amounts of crypto to protect, cold storage (offline) hardware wallets are easily the most secure approach.
Ledger is quickly becoming the default hardware wallet brand as they are more focused on Ethereum based ERC20 tokens. DeFiis emerging as the most exciting technology in 2022, and it mostly sits on the Ethereum network. So, with over 2 million devices already sold, Ledger is definitely winning the race.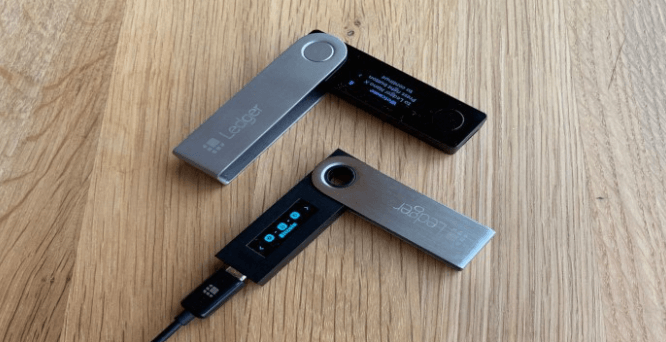 We take a look at both devices on offer from Ledger, the Nano S and Nano X, and compare what you get for your money.
Read also: How good is the latest Ledger Nano S Plus? Check out our review and also direct comparison of Nano S Plus vs Nano S / Nano S Plus vs Nano X.
Similarities & Differences Between the Ledger Nano S and Nano X
---
On the face of it, the Nano X looks like a straightforward upgrade from the Nano S, but there's more to it than that. Apart from the price, some functions and features will suit some people better than others. There are differences in how the devices connect, and their compatibility with the rest of the crypto environment.
Performance and Functionality
---
I have broken the comparison down into 8 of the most important attributes. I add up the points at the end and try to draw some conclusions. Here's what I found.
Setup and Getting Started
---
Ledger has got this bit right. Both devices are easy to initiate with useful prompts from the wallet and Ledger Live application. The instructions below are for the Nano S, but apart from pressing a power button on the Nano X, there's little difference. For the Nano X, you will need to pair your device with your smartphone via Bluetooth to complete the process.
So here goes –
Not so fast!
---
Before your crypto goes anywhere near a hardware wallet, you need to observe some important rules to guarantee it isn't already compromised.
Never buy your Ledger from anyone other than Ledger, or their authorized dealers.
Always ensure the box hasn't been opened and resealed. Check to see if it has been tampered with.
Never accept a Nano as a part of a promotion or free offer.
Never use a Nano that already has a PIN or seed phrase.
Setup
---
Download and install the Ledger Live app on your computer or smartphone.
Connect the Nano using the USB cable and select "Get started" on the app.
Click on "Initialize as a new device" and select your Ledger Nano model.
Once you see the welcome message on your Nano, you can start to navigate using the left and right buttons.
Follow the prompts, pressing both buttons at the same time to select "Set up as a new device."
Enter and confirm your PIN using the left and right buttons – pressing them simultaneously confirms a digit. Your PIN must be 4 to 8 digits long.
Click on "Continue" in the Ledger Live app, and the all-important recovery phrase will be displayed one word at a time on the Nano's screen. Scroll right to see the next word, and scroll left to return to the previous word.
Write down your 24-word seed phrase on the paper templates supplied. This is your only way to access a lost or damaged Nano, so make sure you do this correctly. The Nano will display this seed phrase only once.
To confirm your seed phrase, press the buttons simultaneously. The wallet will then request specific words. Navigate to each word and confirm it matches your paper backup phrase.
Once confirmed, the wallet will display "Processing" then "Your device is now ready."
Click "Continue" on the app and complete the security checks. Once the app has confirmed your Ledger Nano is genuine, click "Continue" once more.
You also need to enter and confirm a password to access the Ledger Live application. Once you press "Continue," you're good to go.
Now you can proceed to download some apps to your Ledger, depending on the cryptocurrencies you want to manage.
Apps
---
You need to install a separate app for each Coin you store on your Nano. The Nano S is advertised to hold up to 20, and the Nano X up to 100, depending on the size of the apps. I have never yet come close to filling up my Nano S, but I also read data that quoted the maximum as 6 apps for the Nano S.
DAaps (DeFi Applications) like the Metamask and DeFisaver wallets will interact with your Nano X, plus there's a list of around 50 other compatible wallets on the Ledger website. Any tokens Ledger Live doesn't yet support should be no problem.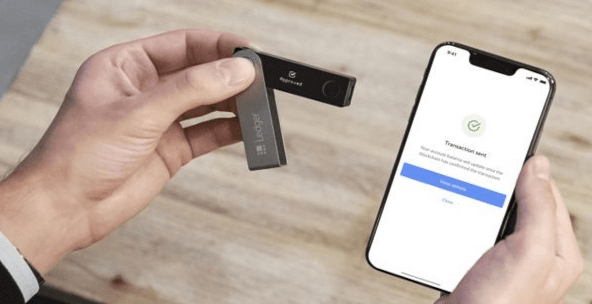 Bluetooth
---
Only the Nano X has Bluetooth and it's activated automatically. I'm not sure Bluetooth is an improvement, but perhaps I'm being over-cautious. If you ever saw how many Bluetooth devices your phone 'shakes hands' with when it's in public, you might be concerned too.
I would never casually walk around town with my main crypto hardware wallet. It stays locked away in a safe place guarded by ferocious dogs, and I only use it to store Bitcoin and ETH. With the rise of DeFi applications and the need to be constantly online, Bluetooth is the easiest way to connect to your phone app, especially when you are out and about. There's no Bluetooth support for the desktop Ledger Live application.
The jury is still out on the Bluetooth upgrade, but I suppose I should move with the times.
Security
---
Both devices' primary function is security and so far they have never been hacked. There was a data breach from Ledger, but no wallets were compromised as a result. When you use the Nanos strictly as a cold storage device, there is no chance of the actual device being hacked as long as only you have physical access.
The way to steal crypto from your Nano is through a compromised computer or cell phone, or by gaining access to your seed phrase. Always remember, the vast majority of digital security breaches are the result of human error, rather than a design flaw.
The reason for the Ledger Nanos' unblemished security record is the "certified secure element" chip inside each device. Neither the Ledger Live application nor the device on which it's running ever sees your private keys, so they can never be acquired by 3rd parties. This part of their code is of course not open source, so technically cannot be guaranteed "backdoor-free."
The way I look at it's that 2 million customers with unhacked Nanos can't all be wrong.
Design and Display
---
Both Nanos resemble a standard USB pen drive, with the Nano X being a little larger and heavier. The Nano X requires an onboard battery to power the Bluetooth, whereas the Nano S is powered from the USB cable. You get 8 hours of standby from the Nano X's battery.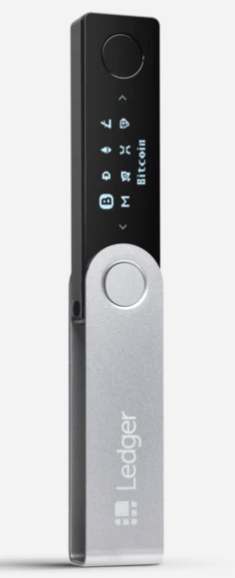 They both look sleek and feel great with a brushed aluminum cover. The only thing that gives them away as not being a simple USB drive, is having the Ledger logo etched onto the side. Again, I think they're just too small and likely to get lost to carry around in a handbag or pocket. There's a keychain which I would keep securely tied around my neck at all times.
Which is the better design? This is partly subjective, but the second line of text on the Nano X screen makes such a difference. Having a larger display on which you can view the receiver's address when sending crypto, is a massive deal for me.
Nano X vs Nano S: Supported Coins
---
Both Ledgers currently support 28 Coins and around 1800 tokens. Any ERC20 token that you've heard of should be on the list, and most of them can be sent, received, and swapped. There's support for Bitcoin-centric assets and a selection of stable coins.
Before you buy, check out the Ledger website coin list to make sure your preferred coins and tokens are supported either by Ledger Live or one of their recommended wallets.
Compatibility
---
Ledger Nanos and the Ledger Live app are compatible with all recent operating systems, from Windows8 (64bit), macOS 10.10 onwards, Linux 64bit, and all recent Android releases. They do not support the iPhone.
Nano S vs Nano X: Pricing
---
The basic Nano S goes for $70 and the Nano X is $120.
There are accessories and bundles with a decent price break for the family packs.
The full range is:
Ledger Nano S + PDF Beginner's guide + $25$ crypto voucher
3 USB leads: USBC to USBCC, micro USB to USBA, micro USB to USBC
So, Which is it? The S or the X?
---
My preferred option would be the Backup Pack, with the Nano X for everyday use, and the Nano S kept securely at home as my cold storage wallet.
If I could choose only one device, then it depends on whether I needed to carry it around for everyday use. If so, then I'd go for the Nano X, if not then it'd be the Nano S.
FAQs
---
Should I get a Nano S or a Nano X?
---
If money is no object then I would choose the Nano X. The only reason one might choose a Nano S is the micro-USB connection and the lack of Bluetooth. There's a 'Backup Pack' for sale with both the Nano S and the Nano X.
Is Ledger's New Nano X Wallet Worth It?
---
Yes, if you need the extra functionality and the extra space for apps. If you intend to carry your wallet around and connect regularly to the app, then the Nano X's Bluetooth capability is definitely worth it. If your wallet is locked away offline in a vault, with only Bitcoin and ETH on it, then there's little advantage to the Nano X.
Is Ledger Nano X better than the S?
---
Not necessarily. It's based on the same concept and the security fundamentals are identical. As we move through 2021, we'll see more DeFi platforms being rolled out, so eventually, we might need more than 20 apps (or 6 apps?). The Nano X is more future-proof.
If you intend to carry your hardware wallet around, the Nano X is a better tool for the job.
Is the Ledger Nano X more powerful than the Ledger Nano S?
---
More importantly, they are equally secure but yes, definitely. The Nano X has more memory, Bluetooth, and a bigger screen.

CaptainAltcoin's writers and guest post authors may or may not have a vested interest in any of the mentioned projects and businesses. None of the content on CaptainAltcoin is investment advice nor is it a replacement for advice from a certified financial planner. The views expressed in this article are those of the author and do not necessarily reflect the official policy or position of CaptainAltcoin.com