SecuX V20 & W20 Review – Is This Hardware Crypto Wallet Safe & Legit?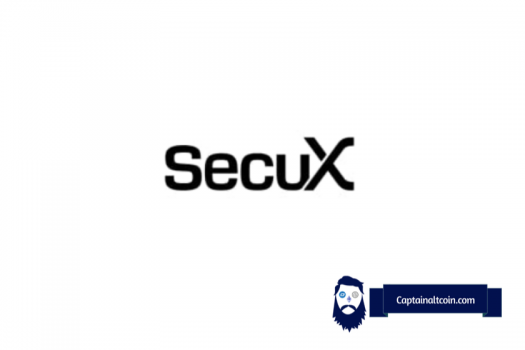 SecuX V20 & W20 Review – Is This Hardware Crypto Wallet Safe & Legit?
It comes with a large screen(2.8 inches). This makes it easier to view and approve transactions
Its 600 mAH battery ensures that it can be used for extended periods(up to seven hours non-stop)
It is EAL5+ certified. This simply means it is very secure
The hidden wallet feature is unique and adds another layer of protection to it
It has cross-platform operability. Thus, it can store cryptocurrencies and make transactions across multiple chains
Cryptocurrency support is extensive, and there are always more being added
As the digital currency landscape continues to expand, the need for secure and reliable hardware wallets is more pressing than ever. Enter SecuX, a brand that has been making waves in the crypto community with its innovative and secure solutions. This article will provide an in-depth SecuX wallet review, focusing on its key features, usability, and overall performance.
We'll be taking a close look at two of their standout products: the SecuX V20 and the SecuX W20. Our SecuX W20 review will delve into its affordability and user-friendly design, while the SecuX wallet review will explore the premium features that set it apart in the market.
With the surge in popularity of digital assets, the SecuX wallet has emerged as a go-to choice for many crypto enthusiasts. But does it live up to the hype? Let's find out.
Quick summary: Secux Wallet Review
| 📚 Topic | 📝 Summary |
| --- | --- |
| 🔑 Key Features | Both wallets are hardware wallets equipped with an Infineon SLE solid Flash CC EAL5+ Secure Element chip, which is used to securely store your unique PIN and Private Key. It enables zero transaction leakage and your transactions are verified without the private key ever leaving the device. The SecuX V20 and W20 support over 1,000 cryptocurrencies and thousands of Ethereum-based tokens. The SecuX V20 and W20 have a full-color touchscreen display for easy navigation and use. The SecuX V20 has a premium metal exterior, while the W20 has a plastic exterior. The SecuX V20 has a long battery life, allowing you to use it for an extended period without worrying about frequent recharging. |
| 💰 Pricing | The SecuX V20 is priced at $149.00, while the SecuX W20 is priced at $119.00. |
| 👍 Pros | The SecuX V20 and W20 have excellent built-in security features. Both wallets are relatively affordable compared to other top hardware wallets. The SecuX V20 has a large, easy-to-read full-color touchscreen. The SecuX V20 is sleek, sturdy, and convenient. |
| 👎 Cons | The SecuX V20 is more expensive than the W20. The SecuX V20 may be more useful to active traders on the go, while the W20 may be more suitable for those on a budget. The SecuX V20 is not as durable as some other hardware wallets. |
Secux V20 Review – Background
---
SecuX Technology Inc., a Taiwanese company that specializes in blockchain security, developed the SecuX v20 wallet. This company deals in making innovative products for crypto transactions.
The SecuX v20 wallet is the peak of their creations but not their only product. They also made the SecuX w20 and Secux w10.
KEY FEATURES OF SECUX V20
---
The wallet comes with a 2.8-inch touchscreen which is one of the biggest dimensions of hardware wallets
It is sturdy-looking with a diamond-shaped design and a rubber padding
It has AES-256 technology for secure BlueTooth connections
It has just one USB port
It is EAL5+ secure(we'll talk more about that later.)
It supports over 1000 cryptocurrencies, including the major ones(like BTC, ETH, XRP, etc.) and ERC-20 tokens.
It comes with a 600mAH battery with up to 7 hours battery life
It has QR code support
It is 1.5 by 9.8 by 9.8 cm in dimensions
The device has an inbuilt browser and applications compatible with Android and iOS.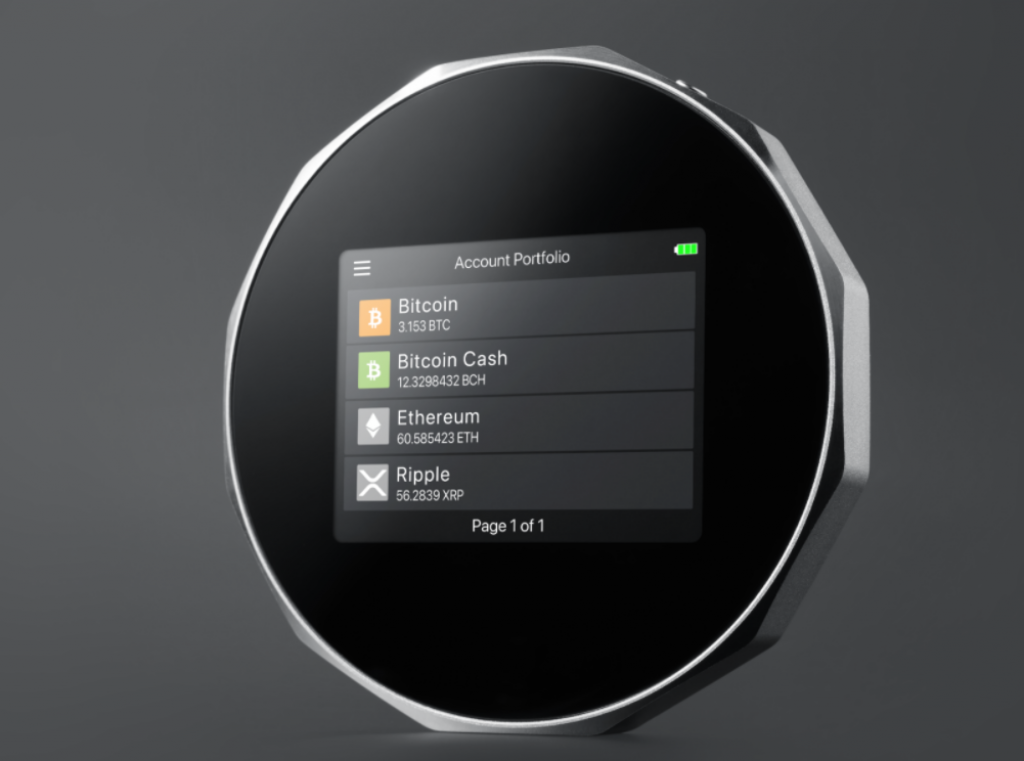 WHO SHOULD USE THE SECUX V20 WALLET
---
The Secux v20 wallet can be used by anyone with an interest in cryptocurrencies. If you're an hodler(Yes, it's not a typo), you'll benefit from the long-term storage security that the wallet offers.
What if you're a trader? You'll likely be more interested in a wallet that makes it easy to complete transactions in seconds. Not to worry, the SecuX wallet does just that. With its in-built browser and the SecuX app on Android and iOS, you'll easily make transactions on the go.
PRICE
---
Nothing good comes cheap, right? That could be one of the reasons the SecuX wallet is more expensive than many other hardware wallets, even Ledger Nano X. It sells for $139 at the time of writing. What is the value for money? Read on to find out.
SECURITY
---
This is the main selling point of the SecuX wallet(or any other hardware wallet for that matter). We will now examine three different security features of the SecuX v20 wallet that make it a worthy rival in the hardware wallet industry:
CC EAL5+ secure element: I agree; that looks like some technical mumbo jumbo. However, would it help if I told you that Mastercard and Visa use this secure element for their credit and debit cards? It makes more sense now, right?
EAL simply means Evaluation Assurance Level. There are seven EAL levels, with EAL7 being the most quality-assured of them all. However, in terms of crypto security, EAL5+ provides the highest defense against penetration threats. This chip was made by a German company.
I hope you now understand why it is an excellent thing that the SecuX v20 wallet has an EAL5+ rating. That shows you how secure it is
PIN CODE: This is the number required to access and operate your SecuX wallet. PIN codes are a regular part of any security setup. However, the SecuX v20 adds another layer of protection by ensuring that the wallet is wiped after entering the incorrect pin for the fifth time

PASSPHRASE: This is also referred to as the 25th word and is another unique feature of the SecuX v20 wallet. To better explain what the passphrase does, let me explain another SecuX concept: The hidden wallet:
The hidden wallet, as implied, is an extra wallet where you can keep the bulk of your digital assets. Thus, in the event of an attack, you may lose a few digital assets in your main wallet, but you'll still have the bulk of your net worth safely stored in the hidden wallet.
It requires a unique passphrase (in addition to the 24 words recovery phrase) for installing and recovering the hidden wallet. For everyday use, it requires a PIN code(different from the one you use for the primary account) for access and operation.


This additional security measure makes SecuX v20 stand out among its peers.
CREATING A NEW WALLET
---
Follow these steps:
Keep the power button pressed for two seconds to turn the device on. Press 'Get Started' to begin.
You'll be asked to enter your PIN code(4 to 8 digits). Do that and press 'Next.'
Confirm your PIN code
Create a name for your device that will pop up during BlueTooth or USB cable connection(you can use up to fifteen alphabetical characters). After you've done that, press 'next.'


Select 'Yes' when asked if you want to set up a new wallet. Then press 'continue.'
The device generates your 24 recovery words in four batches. Write them down and click 'Next'.
Confirm your recovery phrase.
Congratulations, your hardware wallet is ready to go!
CONNECTING TO YOUR COMPUTER
---
There are two ways to connect your wallet with your computer – via USB or BlueTooth
Via USB: Before connecting to your computer with a USB, ensure that your BlueTooth is off. Also, confirm that your computer is running one of the following operating systems:
Mac OS 10.13.6
Windows 10+
Linux
Chrome OS
In addition, confirm that your browser is Chrome V.71+.
Have you done all that? Alright, let's list the next steps you'll follow:
Connect your SecuX v20 to your computer using the USB port
Click here to access the SecuXess web application
Click on USB
Locate and click on your device's name
You are connected!
That wasn't so hard, was it? Let me show you how to connect via BlueTooth
Via BlueTooth: BlueTooth connection to your computer has the same system requirements as for USB. Once you've confirmed that your computer qualifies, follow these steps:
Unlock the wallet with your PIN
Click on the BlueTooth icon from the settings
Make sure that Bluetooth is enabled on your computer
Using a web browser, go to SecuXess (Google Chrome currently is the only supported browser)
On the SecuXess website, click on Bluetooth
Click on the device name and connect.
You are connected!
SUPPORTED CRYPTOCURRENCIES
---
SecuX v20 wallet supports the major cryptocurrencies like Bitcoin, Ethereum, Tron, Ripple, etc. It also supports ERC20 tokens, Binance Smart Chain(BSC) tokens, TRC-10 and TRC-20 tokens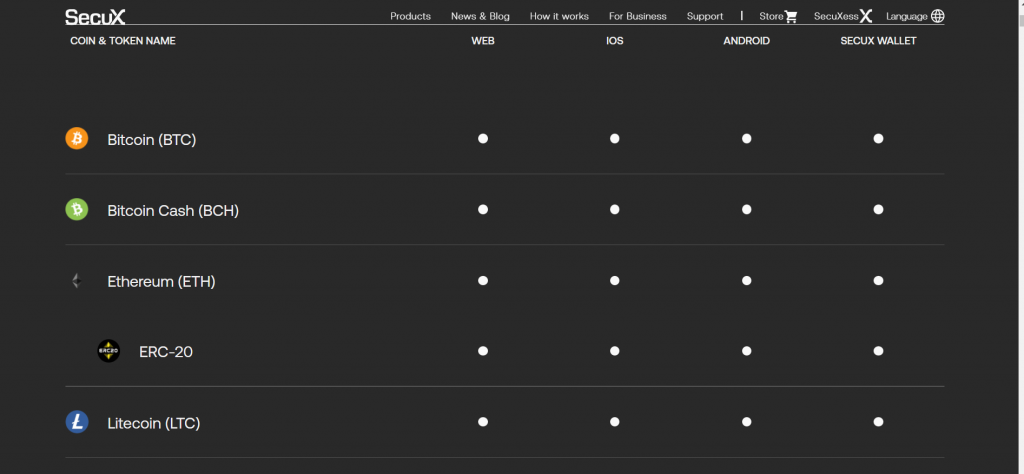 OS AND HARDWARE SUPPORT WITH SECUX V20
---
SecuX v20 wallet supports Windows 10+, Linux, Chrome OS, and Mac OS 10.13.6 on computers. Android and iOS systems are supported on phones.
VERDICT
---
The SecuX v20 wallet is one of the best hardware wallets in the markets currently. As a storage device for crypto assets, it comes with an EAL5+ certification, one of the highest security ratings in the field. There is also a hidden wallet feature that adds an extra level of security.
Even though it achieves high-security ratings, the user experience is not cumbersome. Transactions are usually fast and more visible with the large touch screen. It is also smooth to the touch and pleasing to the eyes.
It's not all gold, though, as the BlueTooth connectivity feature means that there is an attack vector for hackers to build on. That hasn't happened before, but it is still something to be concerned about.
All in all, if you are looking for a portable wallet with great functionality and impressive security features, you can't go wrong with SecuX v20.
To Get 15% off use coupon code: " coingape " for V20 and W20 To Get 10% off use coupon code: " coingapew10 ".
SECUX V20 VERSUS LEDGER NANO X
---
They are both leading names in the hardware wallet industry and have certain similarities like BlueTooth connectivity, in-built browsers, USB ports, etc. However, they present with the following differences:
The Ledger Nano X device battery is about 100 mAH, while the SecuX v20 mobile device battery is about 600 mAH.
In terms of price, the SecuX is about twenty dollars more expensive than Nano X.
The SecuX v20 wallet has only one button at the side, while Ledger Nano X has two.
The hidden wallet and passphrase features(which the SecuX wallet is known for) are not present in the Ledger Nano X.
The Nano X supports more coins.
So, which should you go for? It depends on how much you can spare for a crypto wallet and which one has the features you look for in a wallet. Both of them are good, though, so don't be too stuck on choosing either.
SECUX V20 VS SECUX W20
---
In terms of usability and functionality, these are identical wallets. The only difference is in their physical properties: Secux W20 weighs only 62g and comes in 1.3 x 8.9 x 5.9 cm dimensions. Secux V20 is 120g heavy and a bit larger at 1.5 x 9.8 x 9.8 cm.
All the features of the W20 are same with the V20; digial assets support, dual connectivity to a computer, or wireless for a phone.
Also, Secux V20 is $20 more expensive at $139 vs $119 price tag for Secux W20.
Conclusion
---
In conclusion, the SecuX V20 Hardware Wallet is a great choice for those looking for a secure way to store and manage their cryptocurrencies. The wallet comes with a USB cable, a SecuX microfiber cloth bag, and recovery sheets to ensure the safety of your assets. To set up your SecuX V20, simply follow the 6-step guide provided in the Quick Start Guide.
One of the essential components of the SecuX V20 Hardware Wallet is the recovery sheets that come with it. These sheets enable users to write down their 24 recovery words in order, providing an extra layer of security to their digital assets. Additionally, the wallet features onboard Bluetooth 5 connection, which makes it convenient to connect to your mobile app.
Overall, the SecuX V20 Hardware Wallet is a reliable option for storing and managing major cryptocurrencies securely. Its recovery sheets and Bluetooth connectivity make it an excellent choice for anyone who wants to keep their assets safe and easily accessible.
Read also:
FREQUENTLY ASKED QUESTIONS
---

CaptainAltcoin's writers and guest post authors may or may not have a vested interest in any of the mentioned projects and businesses. None of the content on CaptainAltcoin is investment advice nor is it a replacement for advice from a certified financial planner. The views expressed in this article are those of the author and do not necessarily reflect the official policy or position of CaptainAltcoin.com