Storing your cryptocurrencies safely is essential for all investors. And using cloud and untrustworthy wallets is a losing game that leaves you vulnerable to hackers.
Today we'll be looking at a hardware wallet known for its security, Coolwallet Pro.
So let's jump right in!
Key Features:
---
Track, view, and exchange crypto from your cold storage wallet
Small in size, like a credit card that, 's durable, flexible, and portable. You can carry it the same way as your physical wallet
Supports multi-currency wallet for popular crypto-assets and ERC-20 tokens
Encrypted Bluetooth connection for both Android and iOS devices
Buy crypto directly through the wallet or trade on Binance DEX
Stake crypto through the wallet to earn rewards
CoolWallet was founded by Michael Ou
It's water resistant
What Is The CoolWallet Pro?
---
The CoolWallet Pro is a cold wallet released in May of 2021. With the hardware wallet users send, store and receive a wide array of digital currencies. The wallet is built by the Taiwanese tech company CoolBitX, which also produces the well-known CoolWallet S.
The CoolWallet Pro is meant to be its next-generation successor to the CoolWallet S. The former is more focused on providing a simple way to store and trade crypto while the latter focuses on advanced software designed to increase security and allow users to earn crypto with staking.
Quick Overview
---
The CoolWallet Pro is a cryptocurrency cold or hardware wallet that allows for the storage of a wide array of cryptocurrencies that can be staked. The wallet size is of a credit card making it flexible and ideal for everyday use.
It also has next-generation software that offers users an extremely high level of security for the stored crypto and not only that the CoolWallet Pro also lets users stake their coins.
| | |
| --- | --- |
| Wallet Name | CoolWallet Pro |
| Type of Wallet | Hardware wallet |
| Price | USD $149 |
| Supported Coins | BTC, ETH, LTC, XRP, XLM, BNB, USDT, TRX, ATOM, DOT, CHR, Tezos, Cardano, ETH 2.0 and ERC20 tokens. |
| Coin Staking | Yes (Polkadot, Tron, and Cosmos only) |
| Battery Life | 2-3 weeks |
| Bluetooth Connectivity | Yes |
| Mobile App | Yes (Android and iOS) |
Read also: Coolwallet PRO vs Ledger Nano – What Hardware Wallet Is Better?
Features & Benefits
---
Portable & Travel-Friendly
---
The CoolWallet Pro hardware wallet is like we mentioned earlier no bigger than the standard credit card. The wallet is 0.8mm thick and weighs 6 grams, making it easy to fit in any wallet. Another layer of durability is added by its tamper-proof and waterproof characteristics.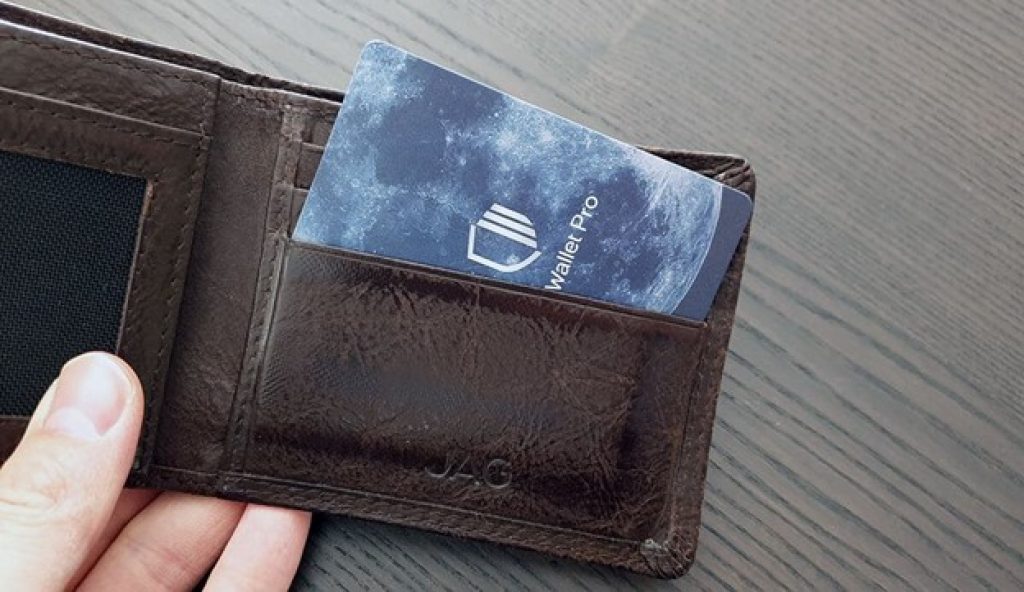 Staking
---
Not only is the CoolWallet Pro a multi-currency wallet that allows users to earn staking rewards on Cosmos, Tron, and Polkadot. The small selection of stackable digital assets is without a doubt the biggest con I found with the platform.
Fortunately, CoolWallet has stated plans to add support for coins such as Tezos, Cardano, and ETH2.0 tokens in the future. Investors want to have a wide array of options when choosing how to earn passive income, 3 just won't be enough. So adding new supported coins is a massive step in the right direction, to mainstream adoption.
Link To Mobile Devices
---
Another feature that adds to the wallet's portability is the ability to link to hardware wallets. In fact, the CoolWallet Pro can connect users with Android or iOS devices all via Bluetooth.
Linking the wallet to mobile devices also allows for 2FA for increased security that supports biometric login. Additionally, users can even view their crypto and swap, all through the mobile device which directly links to the cold storage device.
Enhanced Security
---
Crypto is no stranger to hacks and security breaches particularly exchanges and cloud wallets. Fortunately, the hardware wallet and CoolWalletPro do not suffer from this problem. In fact, the wallet uses a CC EAL 6+ Military-grade security chip which makes your funds practically unstealable.
The chip goes through a rigorous process of security engineering techniques also used in the banking system. All this is to create a wallet for storing high-value assets. This way CoolWallet Pro combines both security and flexibility, making it ideal for a lot of uses.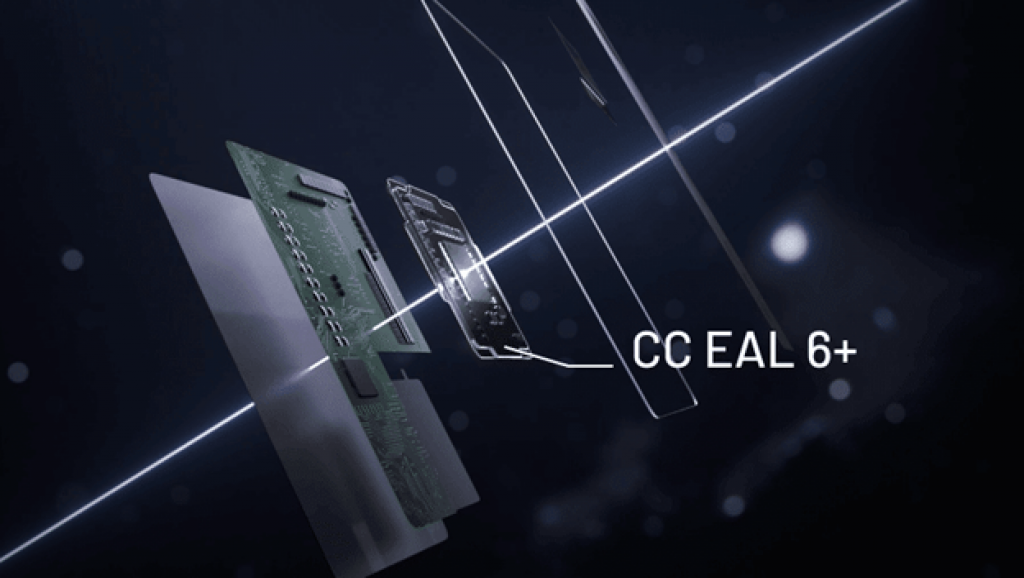 Price & Value
---
The CoolWallet Pro comes in at $149 and can be purchased on the CoolBitX website, resellers stores Australia or on Amazon.com. That's quite an expensive price in hardware wallet space compared to products like Ledger Nano and the Trezor series. And if you are looking to spend even less, the older CoolWallet S model costs only $99.
Battery Life
---
CoolWallet Pro is powered on a 3V lithium-ion rechargeable battery, if fully charged it can last a whopping 2-3 weeks. The battery life on CoolWallet Pro is all-around okay. The battery duration is significantly less than other flagship leaders in the space such as Ledger Nano X which has a battery life that lasts 2-3 months.
What Coins Can Be Stored On The CoolWallet Pro?
---
The CoolWallet Pro stores 16 major crypto assets including support for ERC-20 and TRC20 tokens, such as USDT / USDJ / JUST / WBTT / WIN. Which is 3 more than the older CoolWallet S model.
CoolBitX has stated that it intends to expand its support and has for ETH 2.0, Tezos, and Cardano in the near future this also means that users are going to be able to stake these coins. For the complete list of support, cryptocurrencies visit this link.
CoolWallet Pro App
---
CoolWallet Pro connects to a device without needing an internet connection via an encrypted Bluetooth connection that has a 10-meter radius. The CoolBitX app is used to interact with the wallet. And it works as it should, averaging as of 4.5/5 on the Google Playstore. The app allows for the monitoring of wallet balances, sending and receiving crypto as well as exchanging coins.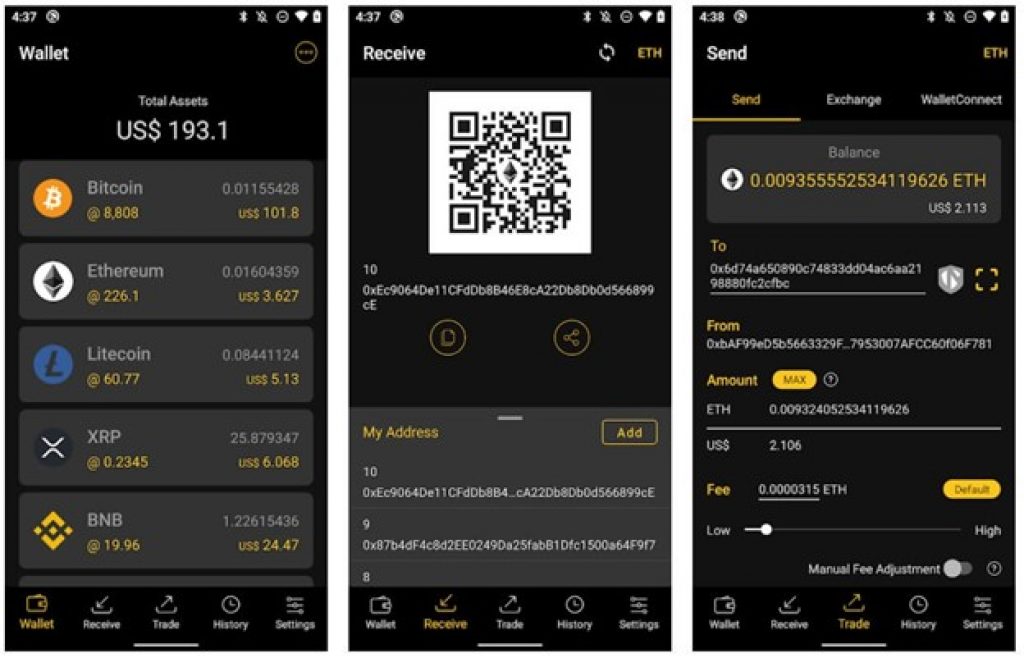 Monitor Wallet
---
On the 'wallet' tab users get a general overview of all the crypto assets they hold. Both in cold storage devices and the amount of the equivalent in FIAT. This ability to monitor funds is excellent, as it's essentially like a bank account without the downside of centralization.
Send & Receive Crypto
---
On the CoolWallet Pro app, users can easily use the 'receive' tab to generate a QR code or public address. Users can then create multiple addresses and share them with others. And with the 'send' interface you can select a coin, enter the crypto address, choose the amount. Users will then be asked to verify the transaction on the CoolBitX app.
Trade Crypto
---
On the 'trade' tab crypto can be exchanged through cryptocurrency trading platforms, decentralized exchanges (DEX), or instant swap exchanges but all via the CoolBitX app. By buying crypto directly on an exchange and sending it to the CoolWallet Pro with no intermediaries the risk of hackings or security breaches is vastly diminished.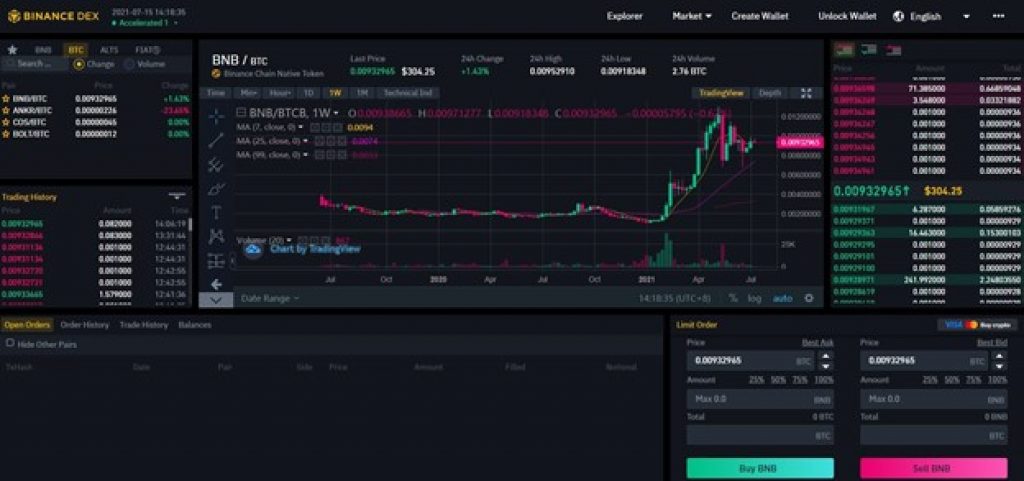 What Comes With The CoolWallet Package?
---
When buying a CoolWallet Pro you'll receive a well-packaged box that includes wrapped in plastic and sealed with a tamper-evident sticker. This is standard in the industry as an intact security label is a proof that the package has not tampered. Nothing out of the ordinary but it's always good to see.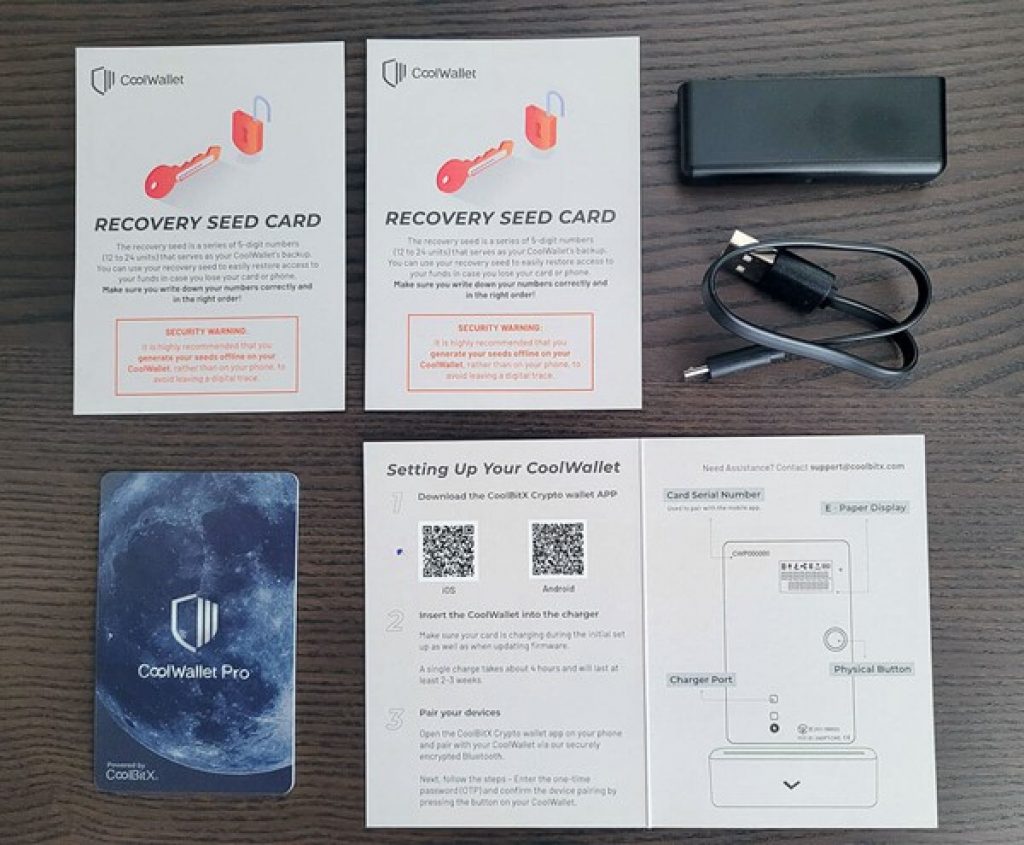 Here is a list of items included:
CoolWallet Pro
USB charging dock and cable
User manual
Recovery seed cards (2)
I also advise against buying the CoolWallet Pro through a non-official retailer as it could have malware installed, resulting in your funds being stolen.
How To Set Up The CoolWallet Pro
---
Setting up the CoolWallet Pro is surprisingly easy and only takes a couple of minutes. The box also includes a manual with step-by-step instructions on how to configure a wallet and pair it with a mobile device.
Step 1: Download the CoolBitX Crypto Wallet App
---
The first thing to do is download the CoolBitX app found on AppStore or Google Play. The app like we mentioned earlier allows users to interact with their wallet via a mobile phone.
Step 2: Insert the CoolWallet Into The Charger
---
To charge the CoolWallet Pro connect the charger and stick in a USB slot of a computer or laptop. The Wallet has to also be charging at any firmware updates. It takes 4 hours to fully charge, and the battery can last in idle mode for 2 months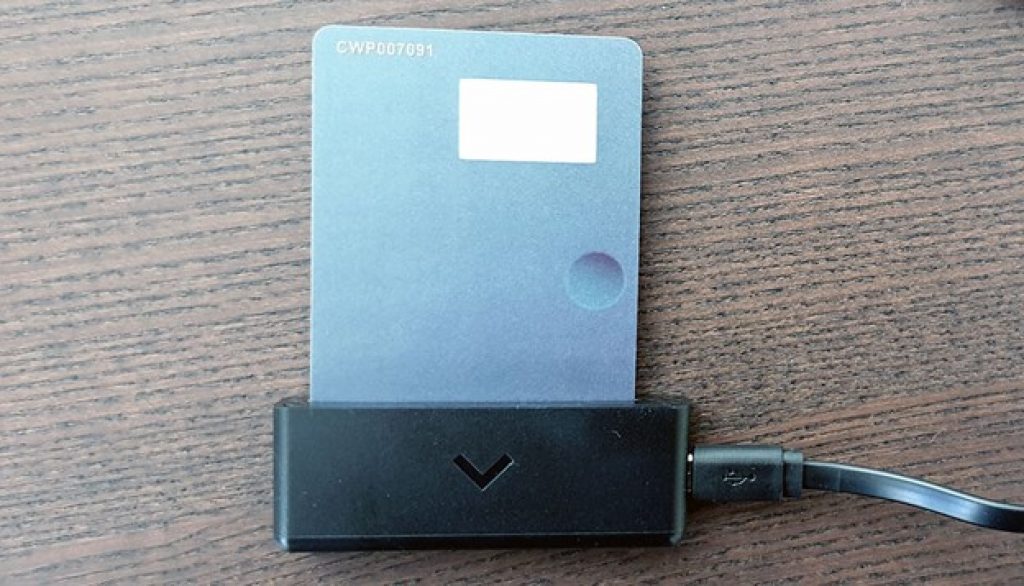 Step 3: Pair To A Mobile Device
---
After you've installed the CoolBitX app, open it and pair it to a mobile device via the encrypted Bluetooth. Once done a one-time password (OTP) is sent to your phone which you'll use to confirm the pairing to the CoolWallet Pro. The last step is to click 'Connect' and complete the pairing.
Step 4: Create A Wallet
---
Now that you've completed all the previous steps, you can create a wallet and a new seed phrase with a 12, 18, or 24 number set is created. Of course, as you can imagine the higher number of characters you have the greater level of security. Remember to write down seed phrases on the seed cards so your device is backed up. If your CoolWallet Pro or device is lost or stolen, you can use the seed phrase to restore the funds.
Once the code is verified, the wallet is active and you can use the app to send, store and receive cryptocurrency
CoolWallet Pro vs CoolWallet S
---
For a good review, we need to know how CoolWallet Pro goes up against its predecessor. Is the higher price justified?
The wallets are practically identical in terms of size, flexibility, and weight. Both connect to Android and iOS devices via the encrypted Bluetooth function.
The first real difference is that CoolWallet Pro offers more security within the chipset and support for 3 more major cryptocurrencies. Another improvement is the adding of staking features and DeFi, Dapps, and NTF integration. Overall the CoolWallet Pro does offer newer and better features compared to the older model.
| | | |
| --- | --- | --- |
| Criteria | CoolWallet Pro | CoolWallet S |
| Price | USD $149 | USD $99 |
| Portability | Credit card size (0.8mm thick), 6g | Credit card size (0.8mm thick), 8g |
| Operating System | Mobile (Android and iOS) | Mobile (Android and iOS) |
| Encrypted Bluetooth | Yes | Yes |
| Security | EAL 6+ certified Secure Element | EAL 5+ certified Secure Element |
| Power | Lithium rechargeable battery (3 V, 15 mAh) | Lithium rechargeable battery (3 V, 15 mAh) |
| Supported Cryptocurrencies | BTC, ETH, LTC, XRP, XLM, BNB, Tether, ERC20 tokens, TRX, ATOM and DOT, CHR, ETH 2.0, Tezos and Cardano | BTC, XRP, ETH, LTC, BCH, BNB, Horizen, ICX, stablecoins and all ERC20 tokens. |
| Staking | Yes | No |
| Integrations | DeFi, Dapp and NFT (e.g. Compound, Opensea) | No |
Customer Service & Support
---
Users that are having technical difficulties can access the guide explaining the basics of the CoolWallet Pro accounts and all the features of the CoolBitX website. The FAQ page also offers all answers and general information needed to solve the issues that may arise from using the wallet. Additionally, if you are still having issues with the product write an email to support@coolbitx.com.


Unfortunately CoolWallet does not offer 24/7 customer support or even live which is a problem if in urgent need. Absolutely not what you want to see, when it comes to money support should be always available.
But it is to be noted that the quality and speed of their query responses are by all accounts impressive. But the fact that it's not supported isn't live is to be noted.
Frequently Asked Questions
---
The Verdict
---
The CoolWallet Pro is a worthwhile product. For starters what impresses me is how easily you can link it to an Android or iOS mobile device. Then use the CoolBitX app to view your funds, send and receive crypto and interact with the wallet through the mobile. CoolWallet was founded by Michael Ou.
Additionally, the CoolWallet Pro offers much-needed features such as encrypted Bluetooth integration, staking, access to DApps, and direct trading via the Binance DEX.
There are also some cons as you can expect. For instance, more staking coins should be supported and staking benefits as well as crypto lending to earn interest could be added. Fortunately, Ethereum 2.0 is bound to be supported on the wallet soon and that's without a doubt a step in the right direction.
These features are essential in a crypto wallet and their absence does not pass unnoticed. Investors are increasingly starting to look at wallets as a sort of savings account, which means they want to earn passive income through lending or staking. So improving this point would without a doubt take the CoolWallet Pro to the next level.
The CoolWallet Pro battery can last 2 to 3 weeks. That's all-around decent but nothing special. Other competitors such as the Ledger Nano X last several months idle from a full charge.
Overall, even considering some faults the CoolWallet Pro is a good product. Hopefully, issues such as the lack of passive income options and coin support will be soon resolved. Although without a doubt coming at only $149, significantly less than other competitors, CoolWallet Pro is a decent choice as a budget wallet.
But personally, I'd wait for more supported coins and functions before I'd buy.
Make sure to check out our guides on other cryptocurrency wallets:
PROS
Track, monitor, send and receive crypto with ease
Flexible and portable cold storage wallet
Easy connection and integration to mobile device
Encrypted Bluetooth connectivity
CONS
Little choice for staking coins
There's no option for crypto lending passive income
More expensive than its main competitors

CaptainAltcoin's writers and guest post authors may or may not have a vested interest in any of the mentioned projects and businesses. None of the content on CaptainAltcoin is investment advice nor is it a replacement for advice from a certified financial planner. The views expressed in this article are those of the author and do not necessarily reflect the official policy or position of CaptainAltcoin.com


CoolWallet Pro Review – Supported Coins, Security, Price