Bit2Me Review – Fees, Supported Countries & Coins, Deposits & Withdrawals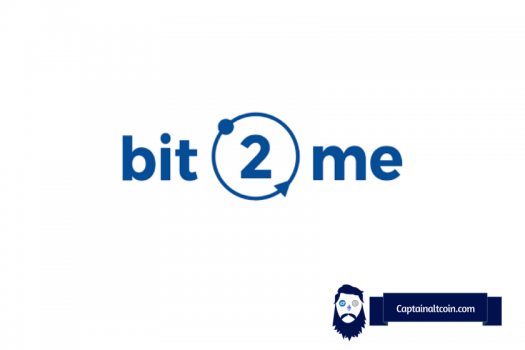 Bit2Me Review – Fees, Supported Countries & Coins, Deposits & Withdrawals
✅ The website interface is appealing and easy to use.
✅ It is one of the most trusted crypto platforms in Europe, so it provides users with deep liquidity for their trades.
✅ Supports buying crypto with cash, a rare feat in the crypto world.
✅ It has applications on the iOS and Android systems that allow users to trade on the go
✅ Facilitates easy conversion from crypto to fiat(Euros) and vice-versa
✅ Provides well-needed crypto education programs to guide users as they make trade decisions.
Ever since the advent of cryptocurrencies, they have been described as the currency of the future. Crypto enthusiasts imagine a world where digital currencies will be fully integrated, allowing everyone to control their finances fully.
That dream has not yet been realized. However, some corporations are already seeking to incorporate the use of crypto into the finance world seamlessly. One of such corporations is the Bit2me exchange. This article will treat the various features of this exchange and why it is an appealing section of the finance world.
BIT2ME OVERVIEW
---
Here is a brief rundown:
It was founded in 2014 by Andrea Manuel and Leif Ferreria.
It is well registered in Spain, with its headquarters in Alicante, Spain.
It is big on crypto education, training users to make logical decisions to improve their portfolios.
It allows bank transfers.
It has a mobile application that supports both the iOS and Android operating systems.
It is backed by insurance worth 100 million Euros and stores its assets offline in a cold storage wallet.
It has thousands of ATMs across Europe.
The Customer Care service is commendable.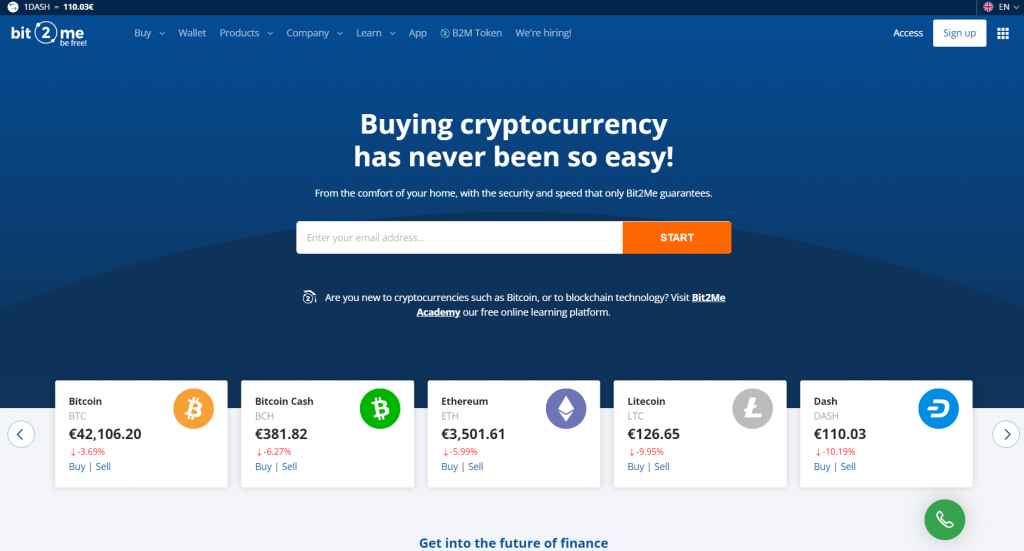 SERVICES AND FEATURES
---
BUY AND SELL CRYPTO
---
You probably would have expected it. After all, what good is a crypto exchange if you can't buy and sell crypto?! On Bit2me, you can buy and sell crypto with your Visa and Mastercard debit cards. You can also use bank transfer via SEPA to buy and sell Crypto. 
This feature allows you to buy and sell BTC, BCH, ETH, LTC, DASH, and sixty-four other cryptocurrencies.
SWAP
---
With this feature, the exchange allows instantaneous crypto-crypto transactions. To make things even easier, the swap feature is integrated with the exchange's wallet such that you only need to click once, and you get your desired crypto.
In addition, this feature comes with API integration, making it easier to imbibe it into individual applications.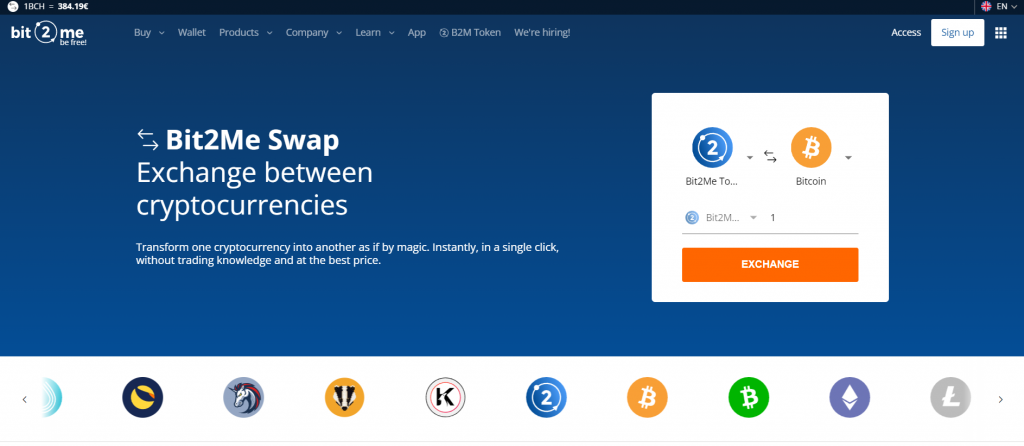 TRADE
---
The trading feature allows you to trade cryptocurrencies against fiat currencies. As of writing, the only pair on this feature is BTC/EUR. There is also a 0.1% taker fee and a 0% maker fee. More on the fees will come later in this article.
CARD
---
Bit2me offers a MasterCard debit card for its customers, which can be used in all the more than 40 million ATM stores that accept MasterCard payments. This card is not just your regular crypto debit card; it comes with exciting peculiarities.
For one thing, it comes with zero maintenance costs, which is more than we can say for its counterparts. Also, there are no limits on the use of the card, except if you decide to put limits on yours.
In addition, the card can be created very fast upon request, and it comes as either plastic or virtual. Lastly, you can order as many cards as you want and can disable them from a wallet and reconnect them to another wallet at will.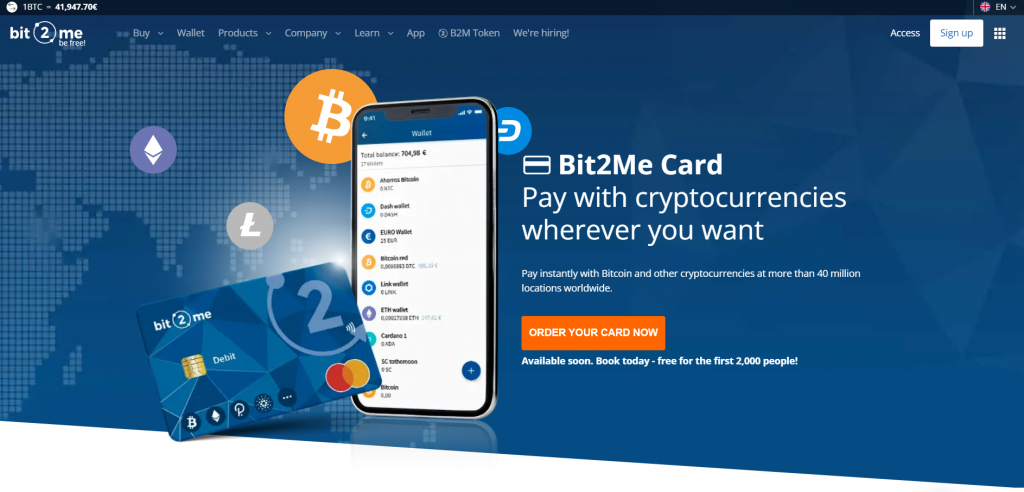 COMMERCE AND PAY
---
Through the Commerce feature, Bit2me allows users to accept payments in crypto from clients worldwide. They can decide to keep the payments in crypto or convert them to Euros instantly.
There are no limits to transactions on this feature. Also, payments are fast, and customers and merchants can transact freely while still holding on to their privacy.
With the Pay feature, you can send crypto or Euros to any person in the world. You'd only need their phone number or email to transact successfully. No fees are attached to this feature, and you can send over seventy coins as micropayments( €0.25 and upwards.
TIKEBIT
---
Tikebit is a third-party service that allows you to buy crypto with cash at stores close to you. How does it work? You buy a Tikebit voucher worth between €20 to €1000 at a local store close to you and exchange it for Euros or Crypto in your Bit2me account. There are thousands of Tikebit-selling stores all around Europe.
OTC
---
This refers to over-the-counter trades. It is an arrangement that makes it easier for institutions and other big buyers to get accurate quotes for large crypto orders and settle them fastly.
PREMIUM
---
This service is for users of the platform who have purchased or are about to purchase crypto worth 20,000 Euros or more. They get a specialized program that allows them to buy more than one million Euros worth of crypto at once.
The Premium program also opens users to more than fifty DeFi coins, as well as specialized training and access to first-hand news and developments in the crypto world.
BIT2ME SUPPORTED COINS
---
When this article was written, the exchange supported 69 coins, with the main ones being Bitcoin, Ethereum, Litecoin, Bitcoin Cash, and Dash token.
BIT2ME WALLET
---
The Bit2me wallet is a financial powerhouse that allows you to manage crypto and fiat transactions in the same place. It can be created within 30 seconds and offers support for 71 different coins on the Bit2me interface.
Many things can be done with this wallet, one of which is that it can be used to incorporate and apply test tokens on the Bitcoin testnet network.
BIT2ME DEPOSITS AND WITHDRAWALS
---
FIAT
---
Fiat deposits and withdrawals are free, whether you're using bank transfer (through SEPA), Debit or Credit card, or Tikebit (Cash). For bank transfers, the minimum you can deposit is one Euro, while there is no maximum limit. So, the fees depend on the payment method.
Debit or Credit card transactions come with a minimum limit of one Euro and a maximum of 5000 Euros daily, while Tikebit is between 20 Euros and 1000 Euros daily limit. There is no maximum limit for SEPA withdrawals, but there is a minimum limit of 50 Euros.
CRYPTO
---
Buying and selling cryptocurrencies on the Bit2me platform attracts a standard fee of 0.95% of the transaction amount. For debit and credit cards, the fee is added to a 1.99% fee (for EU ZONE cards) or a 4.99% fee (for other cards). The transaction limits are similar to that of deposits.
Withdrawing and depositing cryptocurrencies pass through the same process you are familiar with. Miners fees are paid for sending the coins while receiving the coins attracts no fee
BIT2ME TRADING FEES
---
Like many other crypto exchanges, Bit2me offers a fee structure based on the volume of trade a user completes within thirty days. The table below outlines the fee structure:
| | | |
| --- | --- | --- |
| 30-Day trade volume | MAKER FEE | TAKER FEE |
| €0 – €50,000 | 0.16% | 0.26% |
| €50,001 – €100,000 | 0.14% | 0.24% |
| €100,001 – €250,000 | 0.12% | 0.22% |
| €250,001 – €500,000 | 0.1% | 0.2% |
| €500,001 – €1,000,000 | 0.08% | 0.18% |
| €1,000,001 – €2,500,000 | 0.06% | 0.16% |
| €2,500,000 – €5,000,000 | 0.04% | 0.14% |
| €5,000,000 – €10,000,000 | 0.02% | 0.12% |
| €10,000,000 upwards | 0% | 0.1% |
DOES BIT2ME REQUIRE KYC?
---
In compliance with the Anti Money Laundering Policy, Bit2me requires that all users of its platform are adequately verified. The verification is an ongoing process, and the exchange can ask for more verification from already verified users if there is a reason to suspect malicious behavior.
Apart from identity verification, the exchange also requires verification for each card used on the exchange to purchase cryptocurrencies.
BIT2ME SUPPORTED COUNTRIES.
---
At the moment, Bit2me exchange is accepted in 32 countries spread across the entire planet. The countries are Switzerland, the United Kingdom, Sweden, Spain, Slovakia, Norway, Poland, Portugal, Slovenia, Romania, Luxembourg, The Netherlands, Montenegro, Malta, Monaco, Moldova, Latvia, Lithuania, Finland, Italy, Greece, Iceland, France, Ireland, Hungary, Germany, Austria, Estonia, Belarus, Denmark, Croatia, Belgium, Czech Republic, Bulgaria, Albania, and Andorra.
The service is not yet available to residents of the United States of America.
HOW TO START WITH BIT2ME
---
REGISTRATION
---
This is the first step toward transacting with the Bit2me exchange. It's a straightforward process that starts with pressing the 'Access' key at the top of the Bit2me website homepage. Click on 'Create account' and then enter your email address and password. After that, you will be asked to verify your email to activate your account. Once that is done, you are now a registered user of Bit2me!
VERIFICATION
---
After creating your account, log in with your details and input your username and phone number. You will then see a 'Complete my account' button which leads you to the verification process.
Three things will be verified on your account. First, you start with the Email Verification, which you should have completed in the initial stage. That leads you to the second verification stage, your Phone Number Verification. Once that is done, it is time for your Identity Verification.
The Identity verification process is the most detailed, as expected. You start by providing more details about the kind of person you are and your purpose for creating the account. After that, you choose the type of ID you have and the dispatching country. You then upload a picture of the front and back views of the ID document and include a selfie taken with you holding your ID document. That is all! The team will review it and get back to you as soon as possible.
DOES BIT2ME HAVE A NATIVE TOKEN?
---
Bit2me's native token is known as B2 M Token and started trading on November 1, 2021. It had quite a strong start as it successfully raised about 20 million Euros in the three stages of its ICO (Initial Coin Offering), making it the largest ICO launched to date in Spain. 
The B2 M token is currently trading with a market cap of around $64 Million and is available for trading on the Bit2me exchange, Bittrex, and Uniswap.
What are the benefits of holding the B2M token? Holders of the token can influence the development of new products by the company. They are also entitled to get refunds on transactions done with the Bit2me card as well as trading fee discounts. Also, future developments in the Bit2me ecosystem will put the top holders in a priority spot.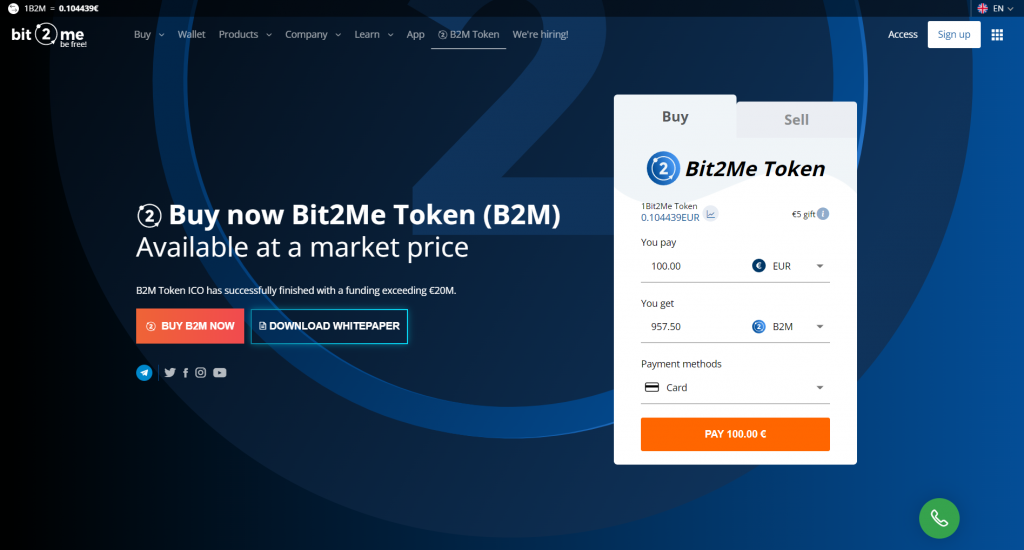 BIT2ME SECURITY PROTOCOLS
---
MACHINE LEARNING ALGORITHMS
---
These algorithms are used to study the behavior of users of the platform so as to quickly detect any discrepancies that may signal malicious attacks from hackers. Once a threat is detected, the account would be frozen and the user contacted.
These Algorithms also protect against Denial of Service attacks(DDOS attacks) which are some of the most common attacks in the crypto world. Also, Bit2me has stopped using TOR and similar networks as these types have proved to be more susceptible to attacks.
REAL-TIME ALERTS
---
Any time an account is accessed or a withdrawal is made or about to be made on Bit2me's users' accounts, the owners of the account are informed via email or any other preferred means. They are given detailed information about the action in question. Thus, if the account owner did not initiate the operation, they can quickly raise the alarm before their account is cleared completely.
INSURANCE COVER
---
Bit2me keeps customers' funds in FDIC(Federal Deposit Insurance Commission) insured banks. Each customer has insurance coverage up to 250,000 Euros in case of unexpected events. In addition, the Bit2me exchange as a whole is backed by insurance worth 100 million Euros which is available for customers in the event of an extreme market or organizational downturn.
IS BIT2ME REGULATED?
---
Bit2me does not move customers' funds. A bank regulated by the Bank of Spain keeps the money in an electronic money institution. Also, the company is duly registered in Spain, and it doesn't shy away from letting people know. It puts the registration information on its website for all to see.
IS BIT2ME LEGIT AND SAFE?
---
In the world of crypto exchanges, Bit2me is among the most secure ones. Here's why:
Almost all of its crypto assets are stored in cold storage wallets. In the cryptocurrency world, cold wallets are the most secure type of wallet because they are air-gapped from the internet.
It is backed by an insurance jacket worth 100 million Euros which comes to play if the company goes bankrupt or suffers another unforeseen occurrence.
It is duly registered under the Spanish Government and regulated by the Bank of Spain.
These and many more reasons already treated in this article show that your funds are safe with the Bit2me exchange. Still, anything can happen in the world of crypto, so one still needs to be cautious when thinking of the percentage of your net worth you're planning to invest on the platform. There are no heavy negative reviews about this exchange.
CONCLUSION
---
Finding an exchange that suits your needs is an intricate process. There are many things to keep in mind, such as the availability of the exchange in your area, the safety of users' funds, how easy to use the interface is, and how supportive their customer care is when you face issues. 
Is Bit2me exchange the one for you? I hope this article has helped, in no little way, to answer that question for you.
Read also:
FREQUENTLY ASKED QUESTIONS
---
Deposits & Withdrawal Methods
8.5
PROS
✅ The website interface is appealing and easy to use.
✅ It is one of the most trusted crypto platforms in Europe, so it provides users with deep liquidity for their trades.
✅ Supports buying crypto with cash, a rare feat in the crypto world.
✅ It has applications on the iOS and Android systems that allow users to trade on the go
✅ Facilitates easy conversion from crypto to fiat(Euros) and vice-versa
✅ Provides well-needed crypto education programs to guide users as they make trade decisions.
CONS
❌ It is not available worldwide.
❌ The fees are on the high side.

CaptainAltcoin's writers and guest post authors may or may not have a vested interest in any of the mentioned projects and businesses. None of the content on CaptainAltcoin is investment advice nor is it a replacement for advice from a certified financial planner. The views expressed in this article are those of the author and do not necessarily reflect the official policy or position of CaptainAltcoin.com