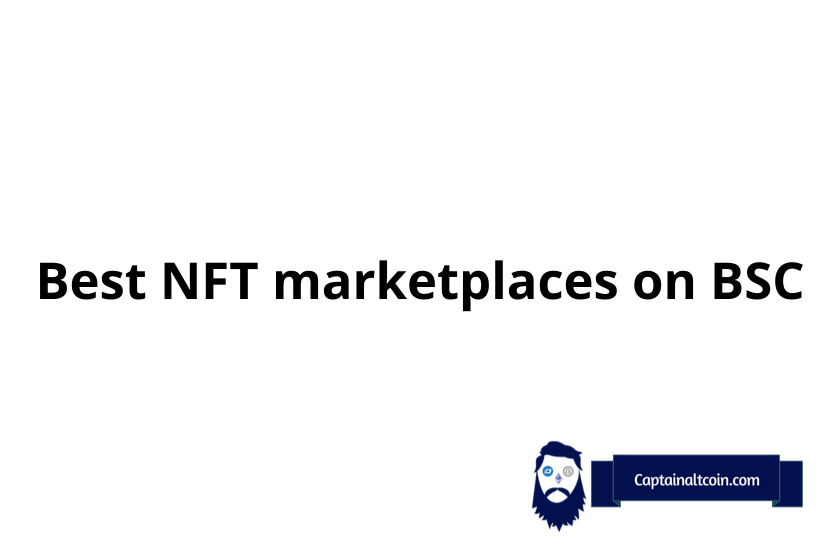 Introduction (short explanation of what is NFT and Binance Smart chain)
---
If you have been into crypto for any length of time, you must have heard of NFTs. NFT is the latest buzzword in the world of crypto. It stands for Non-Fungible Token. NFTs can store a secure record of ownership of an object whether real or virtual, on a blockchain. Unlike cryptocurrencies, they are non-interchangeable. A bitcoin is similar to any other bitcoin but the same is not true in the case of NFTs, they are unique. This is why they are non-fungible.
Several different blockchains are available today on which NFTs can be minted. Minting is the process of the creation of new NFTs. One such blockchain in use today is Binance Smart Chain or BSC in short. BSC is built for running smart contract-based applications and is known for its low transaction fee, low latency and reliability.
Top NFT marketplaces on BSC
---
Owing to its advantages, the Binance Smart Chain has become popular among NFT enthusiasts. In this article, we'll be looking at some of the top marketplaces for NFTs on BSC.
AirNFTs
---
AirNFTs is a marketplace on BSC where you can buy and sell as well as create NFTs. AirNFTs has a mission of bringing NFTs to the mainstream. They have a well-designed website and an easy way to create NFTs — features that mainstream consumers will definitely appreciate. Small creators can use the NFT launchpad to gain exposure. AirNFTs has a wide variety of NFTs like art, game, photography, music, videos and more.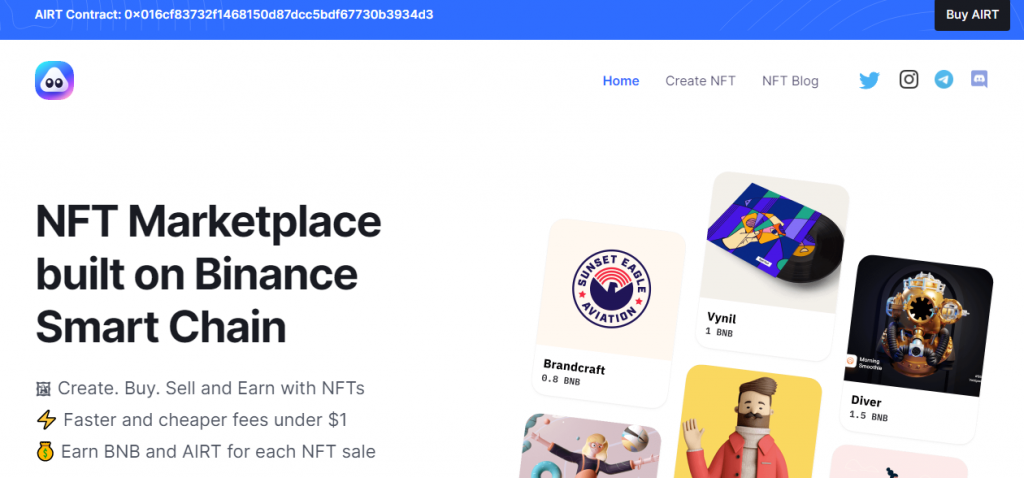 There is a 2.5% commission on the sale and every time a sale happens, both the buyer and the seller get AIRT tokens. AIRT is designed to be the reward token for active users.
TreasureLand
---
Treasureland is a multi-chain NFT aggregation protocol that supports the Binance Smart Chain and allows the purchase, auction and minting of NFTs. They are calling themselves "The eBay of the blockchain world". Treasureland aims to connect creators, users and consumers in a decentralized way.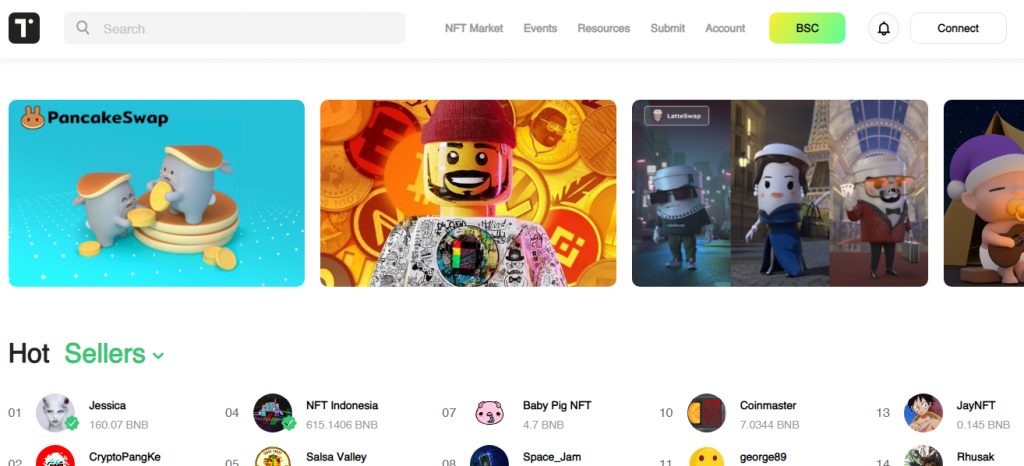 Treasureland lets users mint NFTs on the Binance Smart Chain and the minting does not require any gas fee. NFTs can be jpg, png, gif, mp3 or mp4 with a maximum file size of 100 MB. There is a 2% transaction fee and creators can set royalty that gets paid every time their NFT is sold on Treasureland.
ArkaneMarket
---
Rebranded as Venly, they position themselves as a holistic user-friendly solution to help blockchain projects scale faster and more securely. The Venly Market is the first-ever peer-to-peer NFT marketplace on Polygon and will soon support Binance Smart Chain. With a user base of 200,000, Venly is mostly geared towards gamers but general collectors will find something too. Images, gifs, audio and video are supported as file types for NFTs.


In an effort to bring NFTs to the mainstream, Venly marketplace lets users pay via Paypal, credit card and stable coins — not many marketplaces have this feature. They take 2% in transaction fees and creators can earn up to 10% in royalty fees.
Venly has an array of tools like Unity plugin, NFT minter, NFT to email and more to help the developers. It's also possible to make custom tools using their API.
Conclusion
---
NFT is the newest implementation of blockchain technology that has managed to get everyone interested; from big-name artists to small creators, from someone having millions to spend to someone who is just a casual collector, from those who think crypto is the next big thing to those who think it's just a hype bubble. NFTs are new and some areas need to be polished, but with platforms bringing new features that make creating and buying NFTs easier and new blockchains that are making the transaction experience smoother, they are definitely here to stay.
Read also:
FAQs
---
Here are answers to some of the frequently asked questions.
How do these marketplaces work?
---
NFT marketplaces are like any other online stores but for NFTs. They help buyers and creators/sellers connect. Almost every marketplace has a page where NFTs are displayed for potential buyers to look through and choose their favourite. Some marketplaces also have the feature of minting, allowing creators to easily mint new NFTs and put them up for sale. A few marketplaces offer some advanced tools for the creator.
Why choose Binance Smart Chain for NFTs?
---
Ethereum blockchain is the one that is widely used for NFTs, However, the transaction fees on it can be very high. Creators who have NFTs with a low price tag can end up losing money because of the high fees.
This is where other blockchains come in, Binance Smart Chain being one of them. Binance Smart Chain is known for its efficiency, fast transaction speed and most importantly, much lower transaction fees; resulting in affordable NFTs. Moreover, BSC's high compatibility with Ethereum Virtual Machine allows Ethereum developers to easily have their projects ported over to BSC.
What should I know before minting my first NFT?
---
A few things to know before you mint your own NFT:
There are several blockchains to choose from, each having both advantages and disadvantages.
Minting NFTs can cost money.
Creativity is rewarded and there must be some value in the NFT for it to sell. Just because it's an NFT doesn't guarantee it will sell.
NFT doesn't contain the media, it is stored somewhere else on a server.
NFT grants ownership and not necessarily copyright.
Don't mint someone else's work as your NFT, many platforms take it seriously.
How to Store an NFT?
---
You've spent money on it; you better keep it safe, ideally, in a wallet you own the private keys to.
The most common places to store NFTs are:
Software wallets like Metamask and trust wallet. Metamask is a browser extension based wallet while trust wallet is a mobile app. Both support BSC NFTs and allow for convenient trading.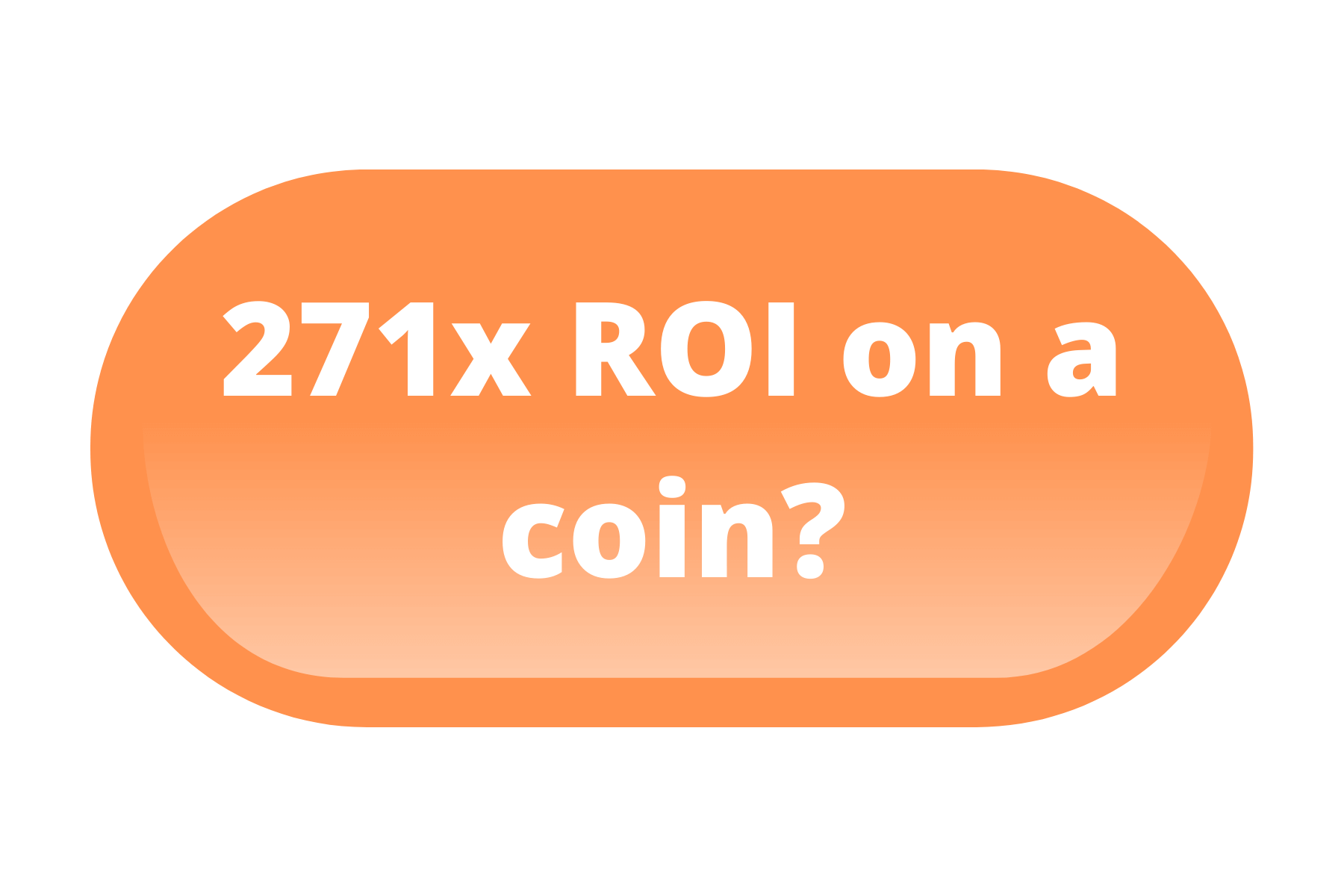 CaptainAltcoin's writers and guest post authors may or may not have a vested interest in any of the mentioned projects and businesses. None of the content on CaptainAltcoin is investment advice nor is it a replacement for advice from a certified financial planner. The views expressed in this article are those of the author and do not necessarily reflect the official policy or position of CaptainAltcoin.com