SmartBridge technology is a major selling point of cryptocurrency named ARK.
There is a small bit of code in the ARK structure which helps it to be connect different blockchains to the core of ARK. The premise is rather simple, we take the apps produced on one blockchain and we give them more functionality, we allow them to be utilized outside the bounds of that blockchain.
Why is this important?
This allows not only blockchains, but also centralized servers to communicate and send and receive a wide variety of data. With SmartBridge tech, ARK can offer blockchain as a Service (BaaS), outside of the blockchain ecosystem. Blockchains communicate using a special data section called Vendor Fields and special Encoded Listener nodes that comb through this data for tasks that it can perform.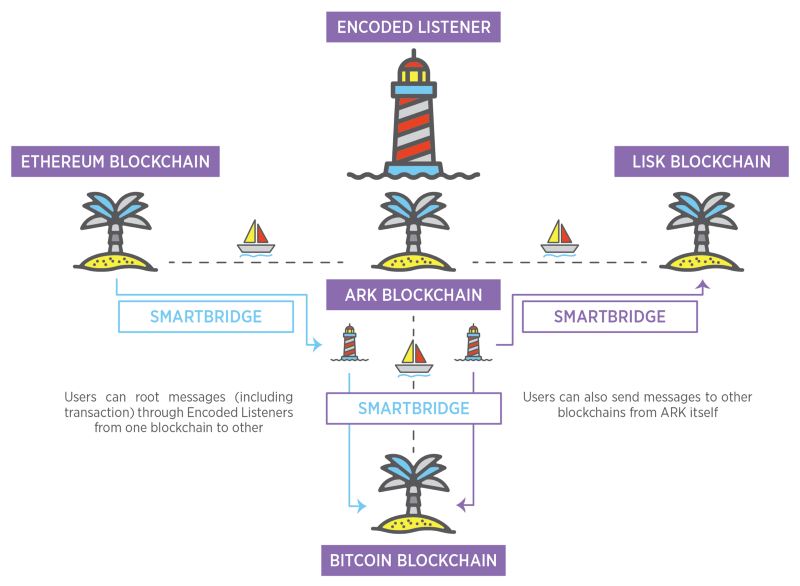 But isn't this similar to atomic swaps?
Yes, it is. But is even more powerful. Why?
Atomic swaps have a downside – they only support communication between blockchains and cryptocurrencies who have the same protocol. SmartBridge, on the other side, enables execution of smart contracts, communication of different blockchains with each other and also with centralized servers. SmartBridge doesn't care what protocol the coins are on.
[thrive_leads id='581′]
What is needed for SmartBridge to work?
Each blockchain needs a small snippet of code added to it. It is a non-harmful, quick fix and easy to insert.
Does this improve cryptocurrencies?
Yes, it does. The use cases really are endless.
Example: If you wanted to trigger an ETH smart contract but hold ARK, you could just send the instructions through ark SmartBridge, right in the wallet to trigger the event. The code embedded in the ETH chain is always listening for an ark SmartBridge transaction and will collect this info and trigger the function to issue a contract.
Essentially, the idea they have for SmartBridges is fairly simplistic: Have each blockchain or service that wants to connect to it implement an "Encoded Listener", a daemon that listens for triggers from their SmartBridge and can read its messages. The SmartBridge will be a transaction w/ a filled in data field (the SmartBrdige data field) w/ specialized instructions like "move 2 ETH into account A, and 5 into account B, and take 4 from C and put it into D".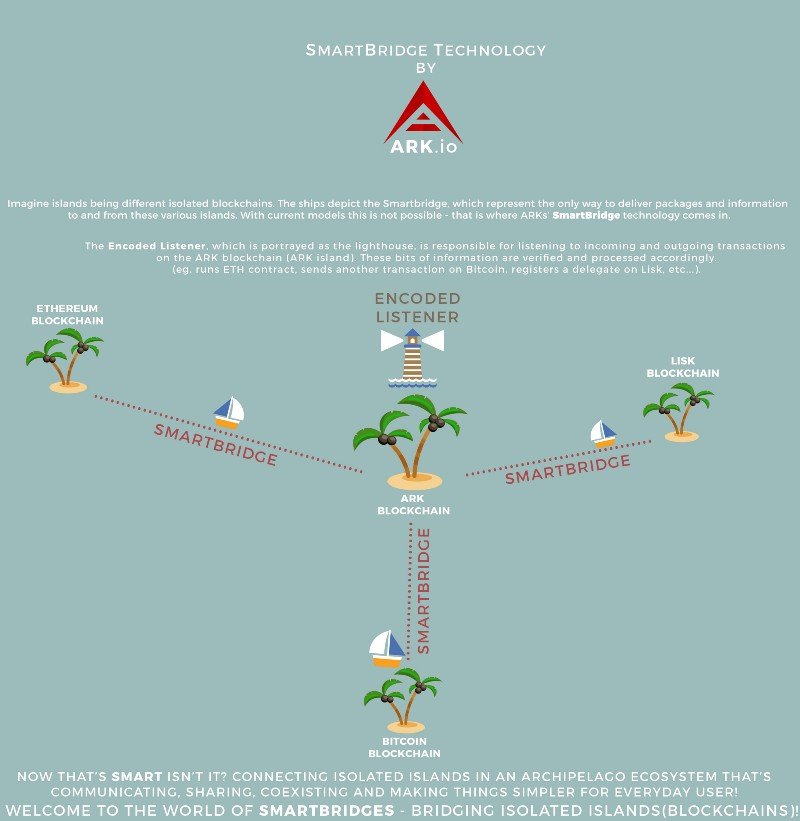 Any downsides?
Yes, right now the biggest downside that it all needs to go through ARK blockchain. But, other coins and teams will probably come up with their own solutions soon and there will be a lot of different protocols and Ark will provide one of these protocols.
Just look at the internet. It would be really no use if you and me had a direct connection. We will want to connect all users together. That is the goal for blockchains as well.
The vision is an ecosystem of blockchains all interacting with each other. And that makes SmartBridge so exciting and a huge positive for the crypto world in general.

CaptainAltcoin's writers and guest post authors may or may not have a vested interest in any of the mentioned projects and businesses. None of the content on CaptainAltcoin is investment advice nor is it a replacement for advice from a certified financial planner. The views expressed in this article are those of the author and do not necessarily reflect the official policy or position of CaptainAltcoin.com