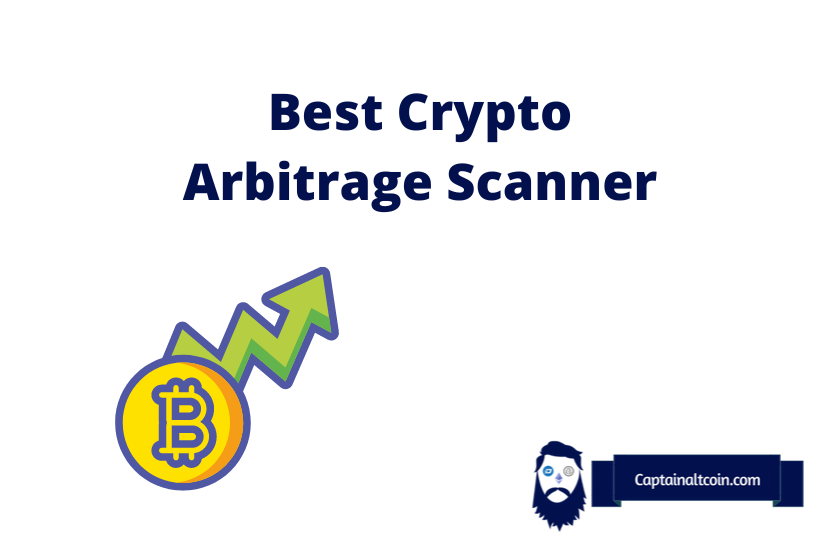 In the complex world of cryptocurrency trading, understanding the tools at your disposal can make all the difference.
This guide introduces you to the concept of crypto arbitrage scanners, powerful tools that can help you identify profitable trading opportunities across various platforms. Whether you're an experienced trader or just starting out, we'll explain how these scanners work, their benefits, and how they can enhance your trading strategy.
We'll also address the legitimacy of crypto arbitrage, providing you with a balanced perspective. Join us as we navigate the intriguing landscape of crypto arbitrage in 2023.
Quick summary – Arbitrage crypto scanner
| | Topic | Summary |
| --- | --- | --- |
| 🔍 | What is a crypto arbitrage scanner? | Crypto arbitrage involves buying cryptocurrencies at a lower price on one exchange and selling them at a higher price on another. A crypto arbitrage scanner is a tool that helps identify these price differences across exchanges. |
| 📊 | Best crypto arbitrage scanners | The article mentions several arbitrage scanners including ArbitrageScanner, Alphador, Bitsgap, Algory.io, TradingView, Coingapp, CryptoAlerts, KoinKnight, and Coygo. These tools help traders identify potential arbitrage opportunities. |
| 📈 | How to find crypto arbitrage opportunities? | Crypto arbitrage opportunities can be found by taking advantage of market inefficiencies. Arbitrage scanners can help identify these opportunities. |
| 🤔 | Is Crypto Arbitrage Legit? | Yes, crypto arbitrage is a legitimate strategy. However, it comes with risks such as low liquidity for some smaller coins. |
| 🏦 | Which cryptocurrency exchanges are best for arbitrage? | The best exchanges for arbitrage are those with high liquidity, low fees, and fast execution times. Examples include Binance, KuCoin, and Gate. |
| 💰 | How to calculate the costs and profits of Crypto Arbitrage? | Profits from crypto arbitrage can be calculated by subtracting the fees charged by exchanges from the gains made by arbitraging. |
| ❓ | FAQs | The article answers several FAQs about crypto arbitrage, including legality, best websites/apps, need for multiple exchange accounts, triangular arbitrage strategy, and the possibility of arbitrage with $100. |
What is a crypto arbitrage scanner?
---
Crypto arbitrage is buying cryptocurrencies in one exchange for a lower price and selling them in another for a higher price to make a profit. This method is very common among traders and investors. Some people use this method to trade both bitcoin and altcoins such as Ethereum, Ripple, Litecoin, etc.
One way is to simply buy coins on one exchange and sell them on another. But, if you don't know how to spot price differences of the same coin on different exchanges, how will you know what coins to use?
If you are just starting out, you might think that you need to learn some complicated algorithms to figure out what coins to pick. Well, you don't actually need to worry about that. You can use automated arbitrage scanner tools, the best of which we discuss in the article below.
Best crypto arbitrage scanners to find arbitrage opportunities
---
ArbitrageScanner
---
ArbitrageScanner is a leading service in the cryptocurrency market, offering a comprehensive scanner and screener for arbitrage opportunities across both centralized and decentralized exchanges.
This unique service stands out by monitoring arbitrage spreads across over 40 blockchains and more than 25 decentralized exchanges, outperforming its competitors. ArbitrageScanner also enables users to track spreads on over 50 centralized exchanges simultaneously and even offers the flexibility to add additional platforms via customer support.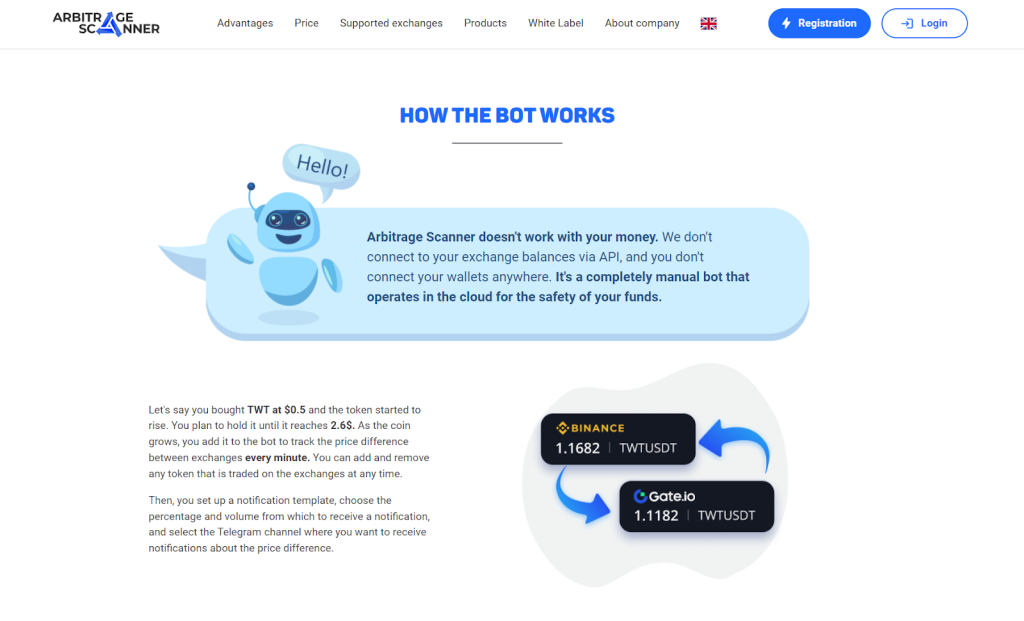 A standout feature of ArbitrageScanner is its innovative Screener tool. This tool empowers users to profit from price differences between exchanges without the need for pre-existing token holdings. Essentially, users can purchase a coin on one exchange, transfer it to another where the price is higher, and then sell it for a profit. This strategy can be executed up to 200 times per day on various coins, potentially increasing your capital by 1.5 times daily. The ArbitrageScanner team also offers free training, making it an excellent starting point for beginners with limited capital.
Key features of ArbitrageScanner.io include:
Exclusive support for 30 blockchains and over 40 decentralized exchanges, including local exchanges in countries like Turkey, Brazil, and Korea.
A fully customizable bot that can be connected to any blockchain for tracking, with transaction updates delivered to your Telegram every 4 seconds.
A secure service that operates without API requests, ensuring the safety of your capital.
ArbitrageScanner Message, a feature that delivers news faster than official sources by analyzing your subscribed Telegram and Twitter channels. This feature is included with the Pro plan.
Free training and access to a private community where bot users can share their knowledge and experiences.
Personalized mentorship with the Expert plan, offering one-on-one assistance for any queries, including bot customization.
The option to purchase a White Label Scanner for $9999, a quality product at a competitive price given its leading position in the market.
We recommend ArbitrageScanner for both novice and seasoned traders due to its user-friendly interface, affordability, and potential for capital growth. The supportive team is always ready to assist with any queries, helping you choose a plan and understand the bot's functions.
Enjoy an exclusive offer: Purchase their PRO plan for just $199 and receive 50% subscription time! Instead of the standard 30 days, you'll have access to the bot for a full 45 days.
Alphador.ai – new, super powerful crypto arbitrage finder
---
Alphador is an innovative platform providing crypto traders advanced analytical and trading tools. One of its most powerful features is the arbitrage scanner, which continuously searches for profitable opportunities across exchanges.
The arbitrage scanner offers two modes – CEX-CEX and CEX-DEX. It scans for price differences between centralized exchanges as well as between centralized and decentralized exchanges.
The scanner is updated frequently throughout the day and typically identifies 3-4 potential arbitrage opportunities daily. This allows traders to capitalize on price discrepancies across different exchanges.
Alphador also provides robust wallet tracking, DEX trading bots, price alerts, event tracking, and an engaged community. Currently in beta, it focuses on enabling smart crypto trading through its extensive analytics and trading tools. The arbitrage scanner specifically makes it easier for traders to find and exploit temporary inefficiencies.
Bitsgap
---
BitsGap is a cryptocurrency bot that lets you trade cryptocurrencies automatically. Bitsgap has a built-in arbitrage scanner that helps you analyze 10,000+ crypto pairs and detects coins with potential arbitrage gains. It enables you to examine over 10,000 cryptocurrency pairs and find coins with potential arbitrage benefits.
BitsGap is one of the best automated trading tools for traders looking to make money by arbitraging different markets.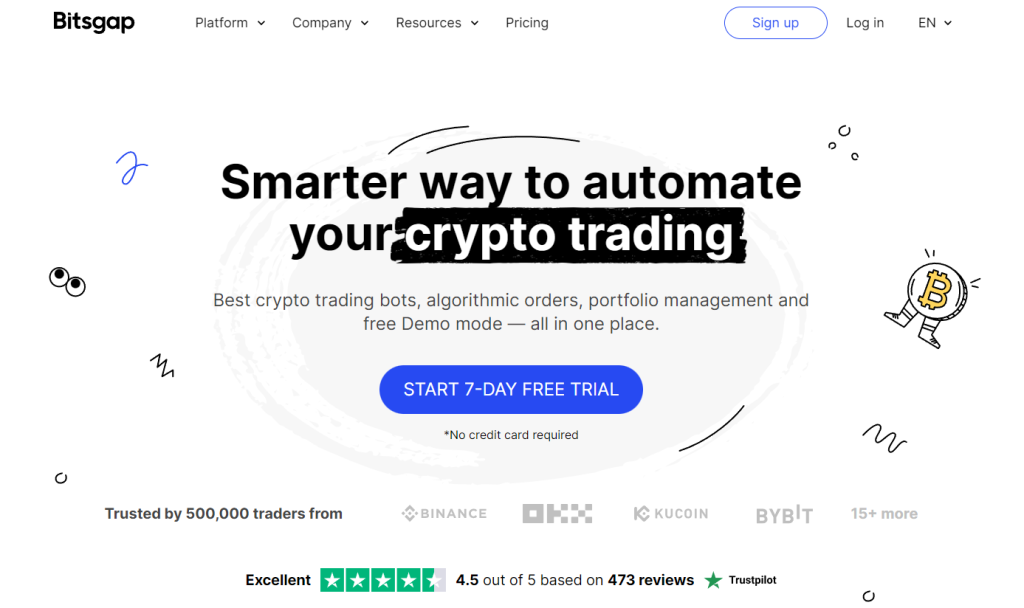 The bot has been around since 2017 but only recently gained popularity. It was previously known as "CryptoTrader Bot" or "BTCBot." The bot is now called BitsGap because it is good at spotting gaps in the market and taking advantage of them to make profit. Bitsgap is available on both desktop and mobile platforms.
The bot uses indicators like Bollinger Bands, moving averages, MACDs, RSI, ADX, CCI, and others. All of these are used to determine when is the ideal time to enter or exit a trade.
Algory.io
---
Startup Algory provides tools for active cryptocurrency traders. Top-tier cryptocurrency traders use an advanced Cryptoscanner and an aggregator of cryptocurrency news, two of their main products.
The best arbitrage chances can be found with the Algory cryptocurrency scanner.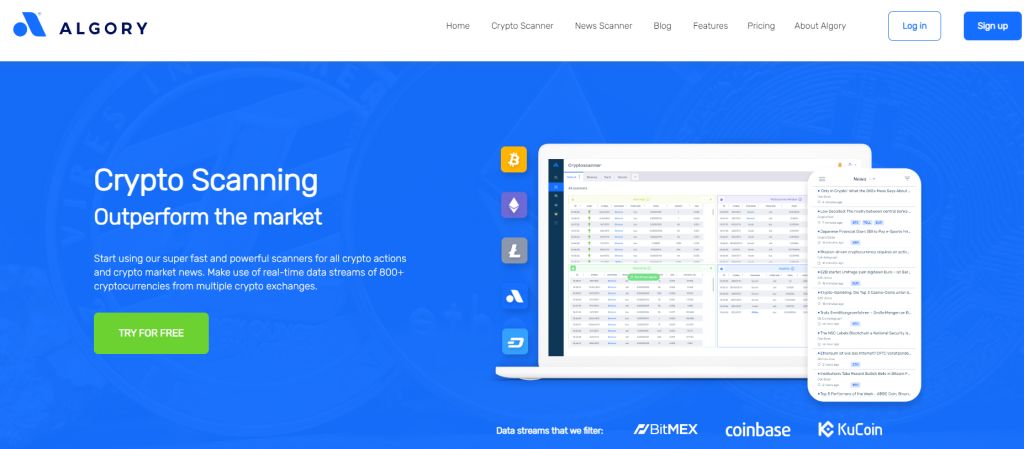 Using a crypto arbitrage scanner like the Algory Crypto Scanner will help you overcome the flagging inefficiencies. Therefore, even if you might not have access to 50% spread opportunities anymore, a crypto arbitrage scanner might help you take advantage of brief but significant arbitrage opportunities.
TradingView
---
TradingView is one of the planet's best and most popular cryptocurrency scanning apps.
Powerful enough for advanced traders and simple enough for beginners, Tradingview boasts stellar charting tools that you can use to share ideas and analyze trends. Its real-time data lets you do your research from anywhere — no complex installations or setups are required. From looking up the latest pricing to analyzing complex price patterns and much more, TradingView has got you covered.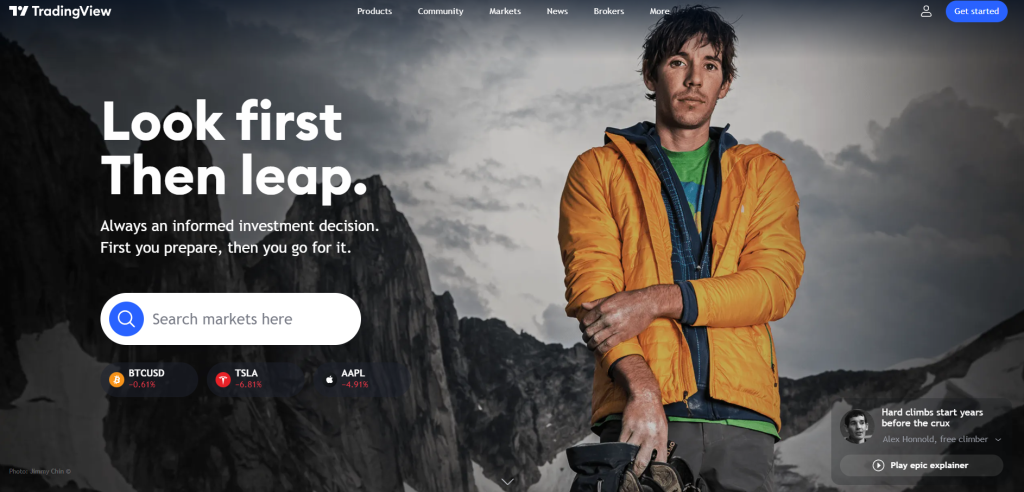 The cloud-based platform is accessible on any device and powered with PineScript programming language, allowing you to capture every trade without missing a beat. With over 500 pre-built studies, 50 intelligent drawing tools, and just about everything else you could possibly want, TradingView has got it all.
Coingapp
---
Coingapp is a free App that lists arbitrage opportunities; it supports over 1000 cryptocurrencies and 20 different exchanges, including USD, EUR, AUD, CAD, and RUB.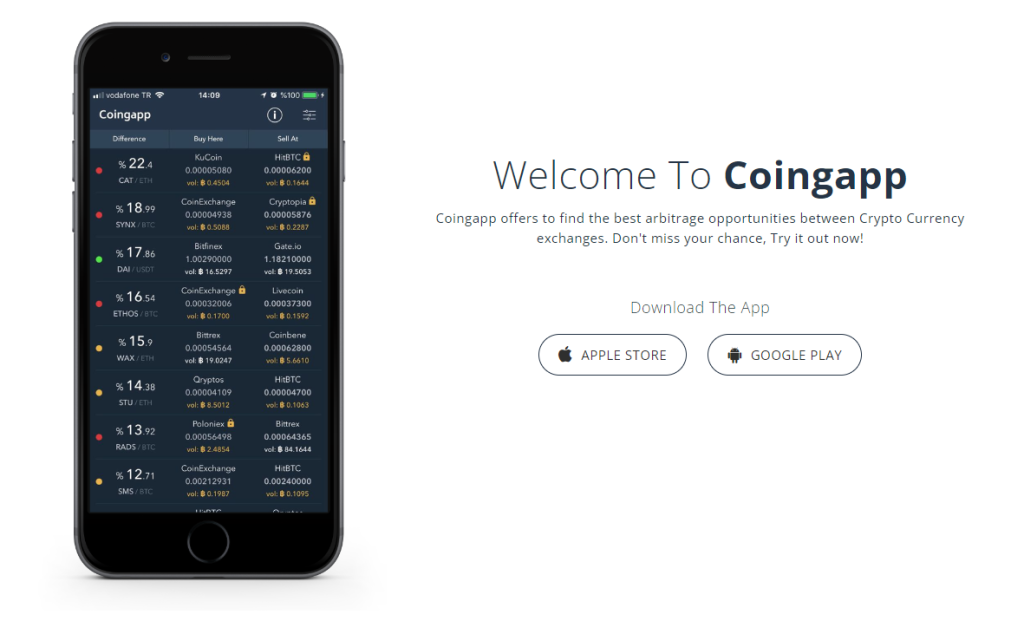 The App offers you real-time data about current arbitrage opportunities within seconds. You can filter arbitrage opportunities by different criteria such as price, volume, market cap, and many others.
You can find information like:
Price difference
Volume difference
Market Cap difference
Time Difference
CryptoAlerts
---
CryptoAlerts is one of those rare tools that does exactly what it says on the tin – it scans multiple cryptocurrency exchanges for trading opportunities. And while there are many similar products out there, none offer quite the same level of functionality.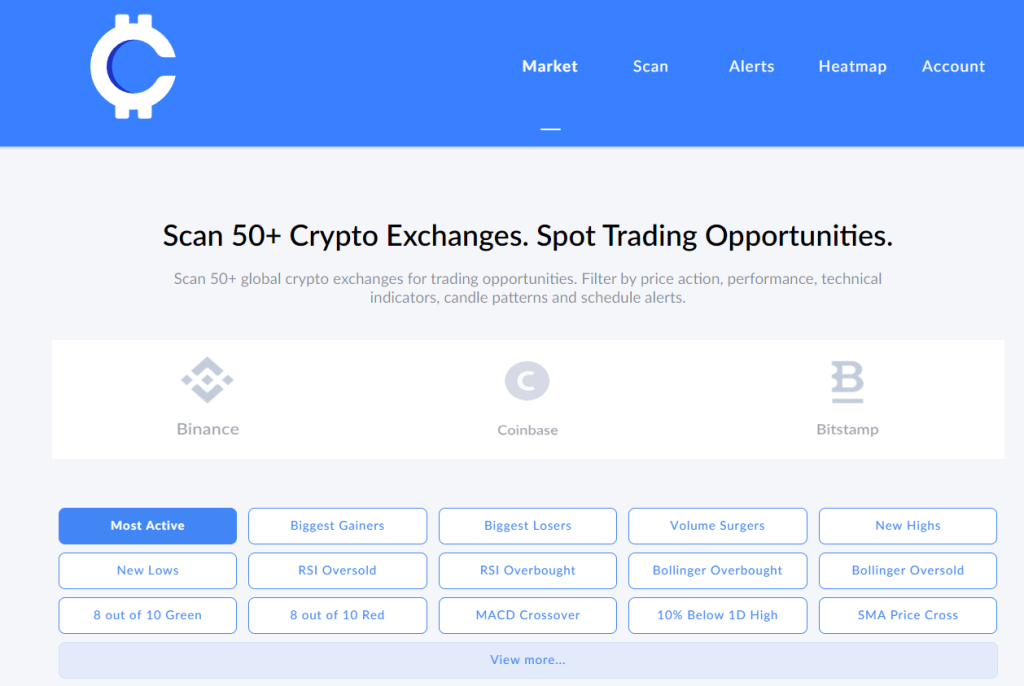 For example, some let you choose specific pairs; others allow you to scan up to 30 different exchanges, while others even let you set alerts based on certain conditions. But CryptoAlerts goes further than just scanning exchanges; it also provides detailed analysis and data on each exchange, along with real-time charts and graphs to help you make better decisions.
Of course, CryptoAlerts offers arbitrage trading strategies as well.
KoinKnight
---
KoinKnight is an arbitrage search tool that looks into different cryptocurrency markets and provides the best possible rates to its users. This software uses APIs from multiple exchanges to provide data about the current market situation. Users can access this information and use it to decide whether to buy or sell cryptocurrencies.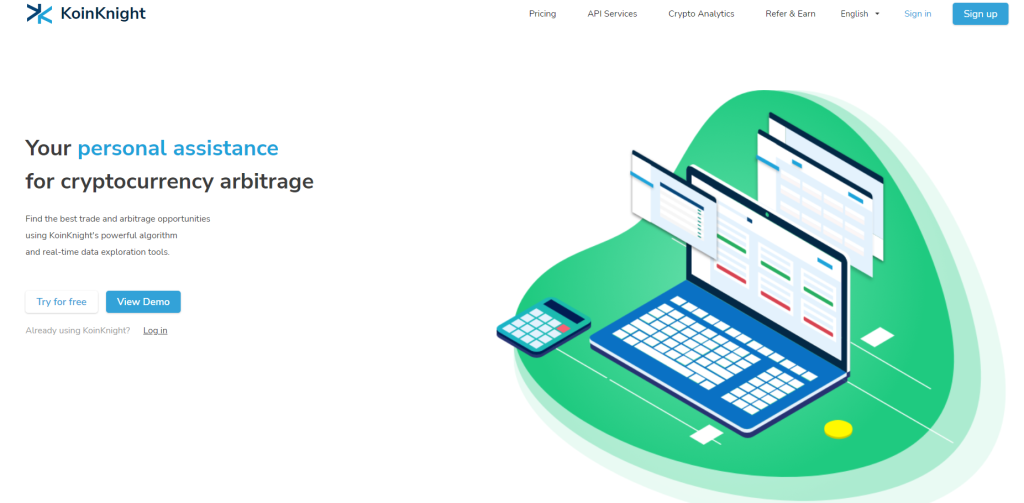 The main idea behind this application is to help people make money while doing nothing. The developers claim that there is no risk involved because everything is done automatically. However, we must keep in mind that even though KoinKnight doesn't require any manual work, it still takes some time to build up a portfolio.
Coygo
---
The cryptocurrency app Coygo provides a suite of professional tools to help traders assess market data and perform day trading activities. It allows users to track their portfolios and view real-time charts on both desktop and mobile devices.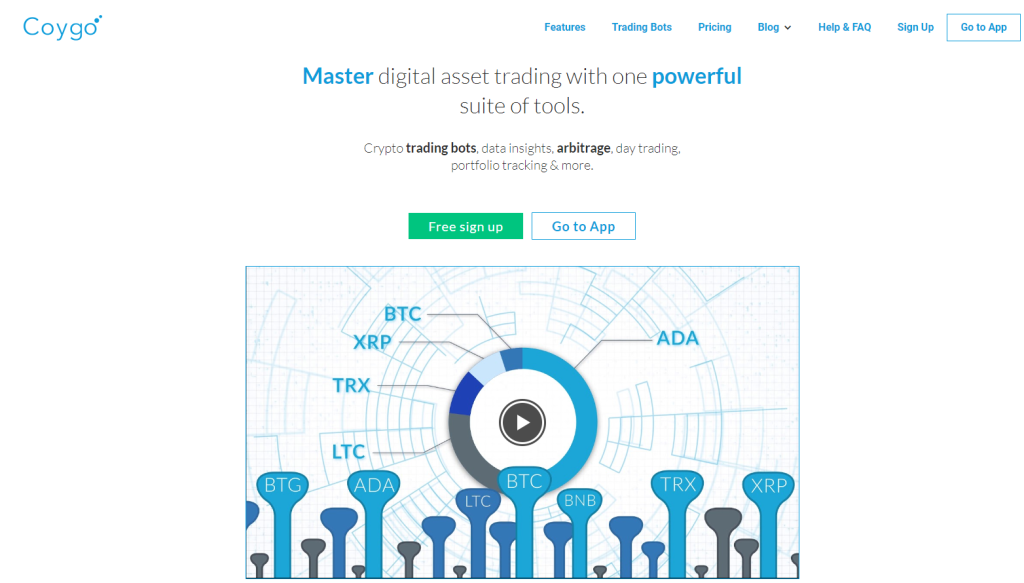 Whether you're assessing market data or day trading Bitcoin at home or running automated crypto trading bots on your computer, Coygo offers everything needed to stay up to date.
All major exchanges are supported, such as Coinbase Pro, Kraken, Bitfinex, Bittrex, Poloniex, Gemini, GDAX, OKEx, Huobi, Bitstamp, HitBTC, KuCoin, etc.
You can even trade against USDT pairs.
There is no free trial or free version. You have to pay a monthly subscription fee of at least $1 per month to use the full functionality.
However, you do have access to a 30-day money-back guarantee. If you decide within 30 days that you don't like the product, you can request a refund.
How to find crypto arbitrage opportunities?
---
Cryptocurrency arbitrage is a strategy where you buy low and sell high. You are essentially taking advantage of market inefficiencies. This is what we call the "crypto arbitrage scanner."
Since the cryptocurrency market's trades are still slow and inefficient in comparison to the stock indices' millisecond trade sessions, there are still plenty of opportunities for traders on the market. Arbitrageurs in cryptocurrencies can still make enormous profits from these inefficiencies.
Using a crypto arbitrage scanner like the Algory Crypto Scanner will help you overcome the flagging inefficiencies. Therefore, even if you might not have access to 50% spread opportunities anymore, a crypto arbitrage scanner might help you take advantage of brief but significant arbitrage opportunities.
But bear in mind that some inefficiencies are decreasing as liquidity increases. Furthermore, new participants have entered the market, bringing with them strong crypto arbitrage tools such as bots with crypto arbitrage scanners. As the markets tighten up as a result of huge volume traders, the days of making enormously quick profits are long gone.
Is Crypto Arbitrage Legit?
---
As mentioned above, crypto arbitrage is a method of detecting possibilities in price divergence of the same asset between two distinct platforms and taking advantage of the opportunity.
In the same way that trading cryptocurrencies are legit, crypto arbitrage is also legit.
But what about the risks involved? The biggest risk is low liquidity for some smaller coins. You might be able to spot the price difference and buy a position on exchange 1, but there is no enough liquidity on exchange 2 to sell the same coin, so you lose money on slippage.
That being said, crypto arbitrage is still a viable strategy for making profits in cryptocurrency trading. We've seen many traders make millions off of this method, especially during high trading volume periods in bull markets.
Which cryptocurrency exchanges are best for arbitrage?
---
There are many crypto exchanges in the market today, but the best exchanges for arbitrage must have high liquidity, low fees and fast execution times.
This leaves the top exchanges like Binance, KuCoin, Gate, FTX as the best ones for arbitrage of crypto assets.
How to calculate the costs and profits of Crypto Arbitrage?
---
Well, that is fairly easy. You take your gains made by arbitraging and subtract the fees charged by exchanges for the trades you made. The amount you are left with is your profit.
FAQs
---
Are Crypto Arbitrage Bots illegal❓
No, crypto arbitrage bots are completely legal. With one or more digital coins, crypto arbitrage trading can take place simultaneously across one, two, or even more platforms. Investors that engage in legal arbitrage look for assets whose price varies between different brokers.
What is the best crypto arbitrage website or app❓
The best crypto arbitrage websites or apps are Bitsgap, Algory.io, TradingView, Coingapp, CryptoAlerts, KoinKnight, Alternately, and Coygo. All of these platforms were explained in detail in this article. 
Do I need to have accounts with multiple exchanges to use crypto arbitrage software❓
Yes, you need to have accounts on multiple exchanges in order to use crypto arbitrage software. The trader buys a cryptocurrency asset on one exchange and instantly sells it on another exchange at a better price.

The pricing of the same asset might fluctuate from one exchange to another, which makes this profitable. To benefit from the price differential, the trader must be quick and have accounts on both exchanges.
What is a triangular arbitrage crypto strategy❓
An opportunity for triangular arbitrage arises when three currencies with different price rates are combined. Typically, traders will purchase the less expensive currency, exchange it for the more expensive currency, and then sell the more expensive currency. For instance:

Let's assume you have €1,000,000. These are the conversion rates:
EURO / USD = 1.02
USD / YUAN = 6.71
EURO / YUAN = 6.83

Sell Euros to buy Dollars -> 1,000,000 * 1.02 -> 1,020,000 Dollars
Sell Dollars to buy Yuan -> 1,020,000 * 6.71 -> 6,844,200 Yuan
Sell Yuan to buy Euros -> 6,844,200 / 6.83 -> 1,002,079 Euros
1,002,079 – 1,000,000 = 2,079 euros of profit (excluding exchange fees)
Can I do crypto arbitrage with $100 on two exchanges❓
In theory, yes, you can do crypto arbitrage with only $100 on two exchanges. However, if you want to make a bigger profit, you will need a bigger budget for this advanced trading strategy.

CaptainAltcoin's writers and guest post authors may or may not have a vested interest in any of the mentioned projects and businesses. None of the content on CaptainAltcoin is investment advice nor is it a replacement for advice from a certified financial planner. The views expressed in this article are those of the author and do not necessarily reflect the official policy or position of CaptainAltcoin.com