Midas Investment Review – How Trustworthy Is Midas?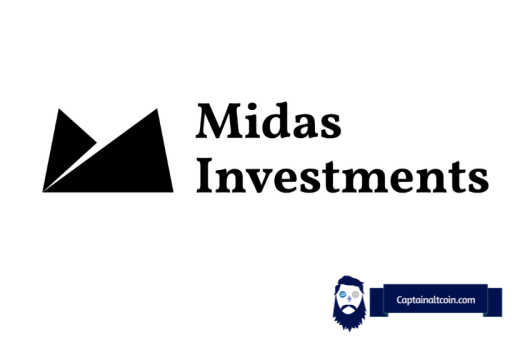 Midas Investment Review – How Trustworthy Is Midas?
High APRs
Lots of supported coins to earn yield on
MIDAS INVESTMENT OVERVIEW
---
As cryptocurrencies become gradually incorporated into mainstream finance, it is becoming increasingly clear that you don't have to engage in active trading before you profit from cryptocurrencies. With the right investment tool, you can set yourself up to enjoy passive income from crypto for as long as you wish.
Today, I will introduce you to one of such investment tools, Midas investment. Pay attention to the features, pros, and cons that will be highlighted in this article. It will help you to determine if it's the tool for you or not.
WHAT IS MIDAS INVESTMENT?
---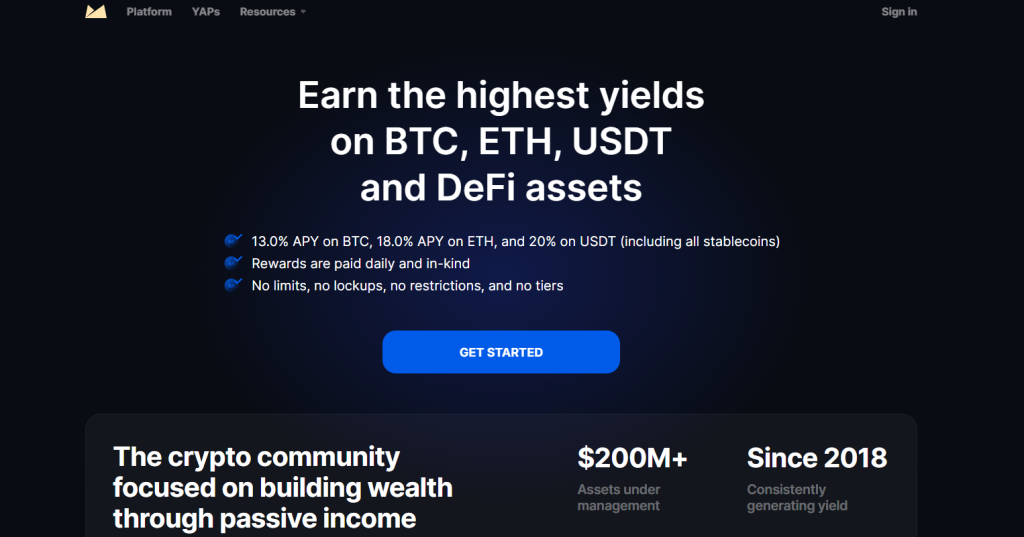 In simple terms, Midas Investment is a passive income platform that was developed in 2018 as a way of giving out steady yields to crypto owners. It distinguishes itself from similar platforms through its unique services and stable interest rates.
Several cryptocurrencies are offered on the Midas Investment platform, foremost being Bitcoin, Ethereum, and USDT (as expected). The interest rates range from 13% on BTC to 20% on USDT. Midas Investment is among the best bitcoin savings accounts out there, along with Haru Invest and Nexo.
WHO IS IT FOR?
---
Midas Investment is for you if:
You have some crypto holdings and want to benefit from holding those cryptocurrencies as much as possible.
You're tired of typical DeFi passive income streams and want something different and more reliable
You have long-term goals for cryptocurrencies and want to build your portfolio in a low-risk environment.
It offers different models of volatility prediction, correlation, strategies, collateral asset models, and hedging to achieve efficiency in all areas of DeFi
Now, we will examine Midas Investment products, one after the other.
MIDAS INVESTMENTS AT A GLANCE
---
STABLE SINGLE ASSETS INVESTMENTS
---
This refers to, as the name implies, single assets investment strategies. If you're familiar with staking one asset in a liquidity pool and earning returns, then this will not be new to you. There are currently 23 crypto assets that you can invest under this feature. They include BTC, ETH, DASH, JOE, MIDAS, LINK, ATOM, AVAX, BNB, BUSD, among others.
STABLE YIELD INVESTMENT PORTFOLIO(YAP)
---
This is a unique investment offering where you contribute various assets into an investment basket and get rewards daily. There are two types of YAPS offering on the platform.
The first is the DeFi YAP, which consists of eight different tokens with high potential in the DeFi world.
They are Ethereum, Binance Coin, Midas Coin, ChainLink, Fantom, Convex Finance, Avalanche, and DAI. The tokens are added to the basket in equal proportions (12.5%), and rewards are given out daily. Rewards can go as high as 21% APY.
Second, we have the Stable YAP offering. This basket is made of three tokens that have proven their stability in the crypto world, along with the Midas token. These four tokens (BTC, ETH, USDT, and Midas) are added in equal proportions (25%). The APY is currently 20.3% and has been stable despite market changes.
To maintain an equal proportion in the value of the contributed tokens, the Midas Investment platform carries out monthly rebalancing for their YAP offerings. This means taking some profits from overpriced tokens and reinvesting them into underpriced tokens in the same basket to maintain an equality. They usually charge a 0.8% fee for this per month
MASTERNODE YAP
---
This is similar to the stable YAP discussed above. There are some significant differences, though. First, the Masternode YAP involves depositing BTC into an investment basket. The deposited BTC is then used to invest in eight different coins (BTC inclusive). This diversified investment strategy increases the profit potential of your investment, making you earn as high as 26% APY on returns.
The seven other coins that make up the Masternode are Midas, ZEN, XZC, NRG, Phore, Divi, and ESBC. Payouts are made weekly and in BTC. The strategy also involves weekly rebalancing as well as an option to set the percentage of each token that will be invested in. The default proportion is 12.5% per token, but you can adjust it as you wish.
SWAP
---
The Swap feature on Midas was introduced at the beginning of 2022 and offers users the opportunity to purchase coins instantly from liquidity pools. At inception, the coins supported were BTC, ETH, USDC, USDT, DAI, BNB, BUSD, etc.
There is a limit to how much the swap feature can handle per day since it is still in the Beta stage. When it reaches that limit, you get this error message: 'sorry, we've reached the swap limit for the source asset'. Don't fret when you get that message. It just means you should try another day.
The platform also has partnerships with other swap platforms, SpiritSwap and BooSwap. There, you can purchase the Midas Coin, the native token of the platform and use it for your various investments
The Swap feature is also used in Yield Automated Portfolio offerings to swap your chosen tokens' YAP shares.
FLINE BOT
---
Fline bot is another one of Midas Investment exciting features. As the name implies, it is a bot, a trading bot that helps automate well-researched strategies into your trading process. It evaluates the entire crypto market, looks for the best trade opportunities, and executes them.
👉 For a price, the platform allows you to mimic the bot's action on your portfolio and benefit from the potential increase in profit. It's not cheap, though; the fee is higher than other financial services on the platform.
Recently, the Midas Investment platform upgraded on their Fline bot by making it accessible to everyone on their platform. Prior to that, it was only available to subscribers to the Masternode YAP. However, with this Fline 2.0 model released recently, everyone can use this bot on the platform, as long as you're willing to pay the fee.
A silver lining regarding the high fee is that the fee is deducted only after you've made a profit in the trade executed. So, there's not much that you have to lose
INSTANT BUY
---
With instant buy, you can purchase crypto using BTC and immediately start earning yields by connecting it to an instant share platform. Let me break down what that means.
With the Instant buy feature, you can instantly use your Bitcoin balance to buy any cryptocurrency from the list of supported assets on the platform. You still have to send Bitcoin to the platform first before engaging in instant buy. As soon as you buy the token, your coins will be converted and added to an Instant Share for you to start earning immediately.
So, now, what is Instant Share?
---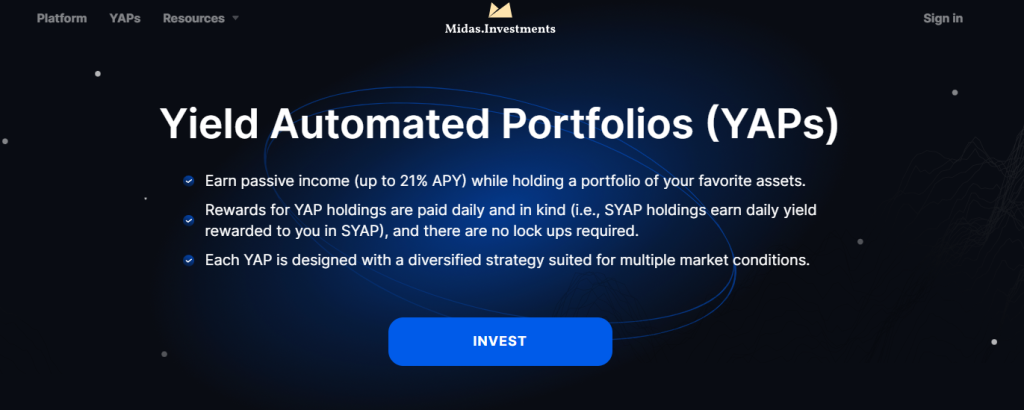 In simple terms, an instant share is a simplified version of a Masternode in which you don't have to wait for others to contribute to the node before you start earning. In original masternodes, everyone involved has to contribute their tokens to the node before it starts running and earning yields.
However, in Instant Share, you are contributing to an already running node, eliminating the need for long wait times before reaping your rewards.
MIDAS COIN
---
The Midas coin is a Fantom-based coin that serves as the powerhouse of the entire Midas Investment platform. It affords users many more ways to benefit from the passive-earning function of the platform. Some of those ways are:
Staking: By staking your Midas token on the Midas Investment platform, you stand to benefit from as high as 24% APY on returns.
Lock-in: You need 350 Midas coins to partake in this service. You simply lock your coins for some time to Midas boost the platform's efficiency. You get rewarded as a result.
Burn-out: This is a one-time investment process where you select the burn-out feature on your account and burn 300 Midas coins. After that, you are eligible to get a fraction of the dividends when someone else burns their tokens.
How can you purchase Midas coins? You can buy Midas Investment on:
The Midas exchange
The Midas Instant Buy feature, as explained earlier
SpiritSwap and BooSwap
Crex24, a centralised exchange.
WHAT ARE MIDAS INVESTMENT FEES?
---
MANAGEMENT FEES
---
The Midas Investment platform charges a fixed fee for its services each month. This is different from the network fees charged for each coin's withdrawal. We will talk about that soon. The management fee is 5% of the payout and a 0.8% rebalancing fee every month.
WITHDRAWAL FEES?
---
These are the additional fees charged on top of the management fees by the particular network of the coin you want to withdraw. There are two types:
Dynamic fees: These fees are applied for Ethereum and ERC-20 tokens withdrawals. The fee includes the mining fee of Ethereum at the point of withdrawal plus an additional $5 fee to cover any unexpected spike in the gas fee.
Static fees: All other coins on the platform have fixed network fees for withdrawals. They are outlined in the table below:
| | |
| --- | --- |
| Asset | Fee |
| BTC | 0.0002 |
| AVAX | 0.015 |
| BOO | 0.01 |
| BNB | 0.00021 |
| CELO | 0.0005 |
| ATOM | 0.01 |
| FTM | 0.1 |
| MIDAS | 0.005 |
| JOE | 0.1 |
| LTC | 0.005 |
| BUSD | 0.5 |
The Static fees can still fluctuate under certain network and market conditions.
THE TEAM BEHIND MIDAS INVESTMENT
---
Midas investment was founded by Iakov Levin and has grown to a company with more than 30 employees, according to LinkedIn. The employees include Trevor, the Chief executive officer; Dan, the Chief operating officer; Mike, the Chief Technology Officer; Maxim, Chief Investment Officer; Chris Meyo-Renn, DeFi Lead; and many others. The complete list of their employees can be found in this link.
HOW MUCH CAN YOU EARN?
---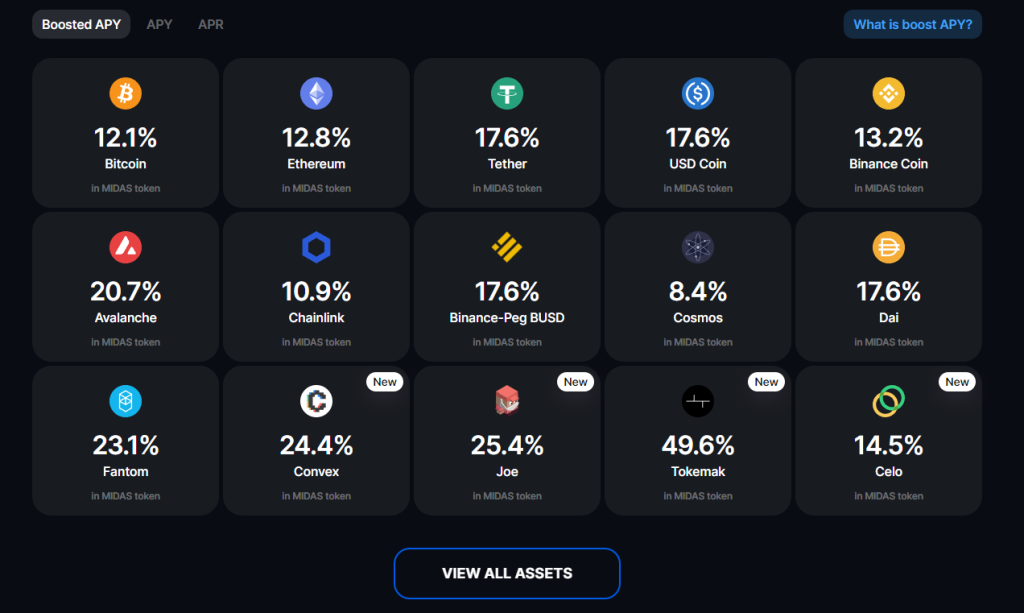 You can earn the following APYs on Stable yield investments:
Stablecoin APYs:
USDT(with APY of 20%)
USDC(with APY of 20%)
BUSD(with APY of 20%)
DAI(with APY of 20%)
APYs on other cryptocurrencies:
BTC(with APY of 13%)
ETH(with APY of 18%)
MIDAS(with APY of 30%)
CVX(with APY of 17.3%)
SYAP(with APY of 20.3%)
JOE(with APY of 17.3%)
BNB(with APY of 11%)
DEFIYAP(with APY of 21%)
AVAX(with APY of 17%)
LINK(with APY of 9%)
LTC(with APY of 1%)
ATOM(with APY of 7%)
FTM(with APY of 19%)
BOO(with APY of 25.9%)
TOKE(with APY of 32.3%)
SPELL(with APY of 23.4%)
CELO(with APY of 12%)
SPIRIT(with APY of 13.9%)
TAROT(with APY of 23.4%).
Bear in mind that these are the current APYs, and they may change with time.
IS MIDAS INVESTMENT SAFE AND TRUSTWORTHY?
---
Midas Investment is a legitimate platform on a number of grounds.
First, it has never been hacked. This says something about its security and is mainly due to the three-step security protection it offers to ensure that whenever your account is accessed, it is really you accessing it.
It stores 90% of its assets in cold wallets with FireBlocks, a leading platform in crypto-asset security. Crypto veterans know that cold wallets are the bank vaults of the crypto world, almost impenetrable and readily accessible.
It is registered with the Switzerland Financial Market Supervisory Authority. Therefore, it has a high level of accountability.
It has a reasonable number of followers on social media. If it were a scam, its spiteful followers would have blown the whistle on social media channels for all to know.
HOW TO GET STARTED WITH MIDAS INVESTMENTS – A STEP BY STEP ANALYSIS
---
You first create an account with Midas exchange using either your Gmail or Discord account. To do that, click on the 'Get Started' button on the front page of their website.
The next step is to make a deposit. You can deposit by clicking the Invest button beside the crypto asset you wish to deposit. Ensure you check the blockchain network well before sending the coin to avoid permanent loss of your tokens.
After sending your tokens, you can then choose which of Midas features you want to go for. If you want to go for Instant buy, you need to send BTC and then use it to purchase your preferred coin.
You also have to go through KYC and AML registration after your initial registration. This policy went into effect on April 14 2022 and is likely due to the regulation policies imposed on Midas Investment by the Switzerland FINMA.
FREQUENTLY ASKED QUESTIONS
---
PROS
High APRs
Lots of supported coins to earn yield on
CONS
Extremely risky
Red flags around their headquarters and management

CaptainAltcoin's writers and guest post authors may or may not have a vested interest in any of the mentioned projects and businesses. None of the content on CaptainAltcoin is investment advice nor is it a replacement for advice from a certified financial planner. The views expressed in this article are those of the author and do not necessarily reflect the official policy or position of CaptainAltcoin.com