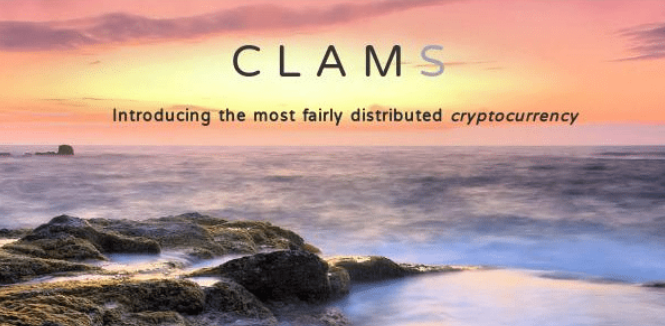 Introduction
Clams Coin is an innovative payment network and a cryptocurrency, the CLAMs Coin, which is also known as CLAM.
The Clams coin is based on the proof-of-stake principle (PoS) and the block chain.
It is also based on the cryptocurrencies bitcoin, litecoin and dogecoin. Unlike many other cryptocurrencies, which are based on bitcoin and copy the basic structure, Clams Coin sees itself as an innovative variation of the actual bitcoin code.
In addition, Clams Coin also relies on a decentralized network, which is becoming increasingly decentralized due to the increasing number of users.
In particular, the use of the network's computing power enables the maintenance and further development of the block chain, in which all transactions are verified.
The cryptocurrency stands in particular for freedom, justice and equality. However, these values cannot be realized by money, since this is primarily used for buying, selling and paying for work.
As Clams Coin only exists in the network, this currency is not taxable and allows freedom from government intervention.
In addition, it enables equality due to anonymity and the waiver of a tax. In addition, more than three million user accounts were allocated equally to the initial coin offering.
What is the CLAM network?
The CLAM network is a peer-to-peer network consisting of computers that have the CLAMS software installed.
By installing and starting CLAMS, each computer automatically becomes a part of the network and helps drive decentralization.
Each additional computer in the network makes it possible to verify transactions and mine the coins.
In addition, the CLAM network is secured by the proof-of-stake principle. This means that more coins will be digged.
With CLAM, a coin is digged every minute, whereby a random user who is currently using the software carries out the verification of the block chain and receives this coin.
The entire process runs in the background so that the user does not have to actively design the verification process.
In addition, the functions of the CLAM network are constantly being expanded, so that the implementation of the proof-of-stake principle is only 90 % complete.
In addition, the code used is updated and the functions CLAMchat, CLAMtrader and CLAMmarket are implemented.
The "Moon" project is on the development agenda for the future, but no further information is available.
What is the market capitalization of CLAM?
The current market capitalization of Clams is USD 21.3 million.
However, market capitalization in 2014 was still around USD 50,000, which means that the market capitalization of Clams Coin has since then increased by a factor of 486.
In addition, a coin of the Clams Coin is currently listed at a value of 7.91 USD.
The daily trading volume amounts to USD 924,000 and is realized with a share of 83 % mainly through the exchange of Clams Coin and Bitcoin (BTC).
How to buy it?

Where to store it?

CaptainAltcoin's writers and guest post authors may or may not have a vested interest in any of the mentioned projects and businesses. None of the content on CaptainAltcoin is investment advice nor is it a replacement for advice from a certified financial planner. The views expressed in this article are those of the author and do not necessarily reflect the official policy or position of CaptainAltcoin.com