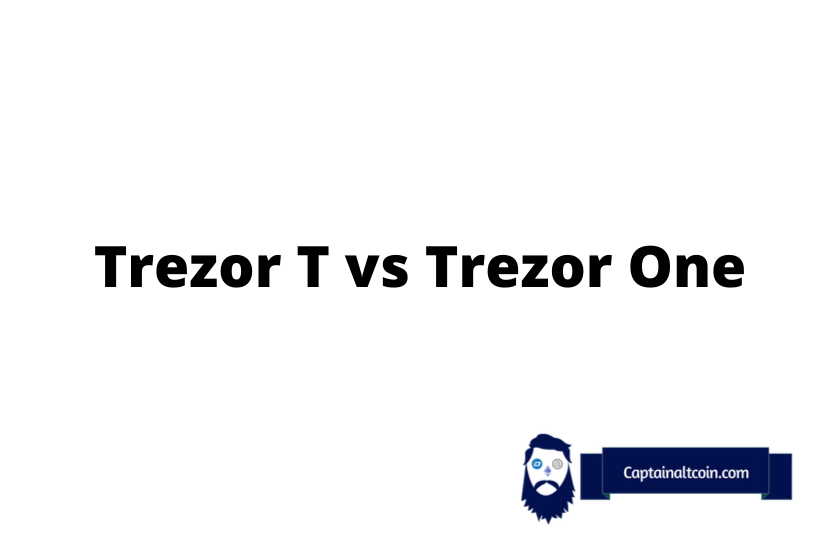 With the crypto market expanding at a rapid pace, holders are constantly in search of the safest alternatives to store their cryptos.
One of the most secure and reliable storing options is hardware wallets. These wallets allow you to keep your private keys and digital assets in a secure physical device. The cryptos that you keep in a hardware wallet stay offline, which greatly minimizes the chances of being hacked.
In this article, we are going to review one of the best hardware wallets available – Trezor.
Intro
---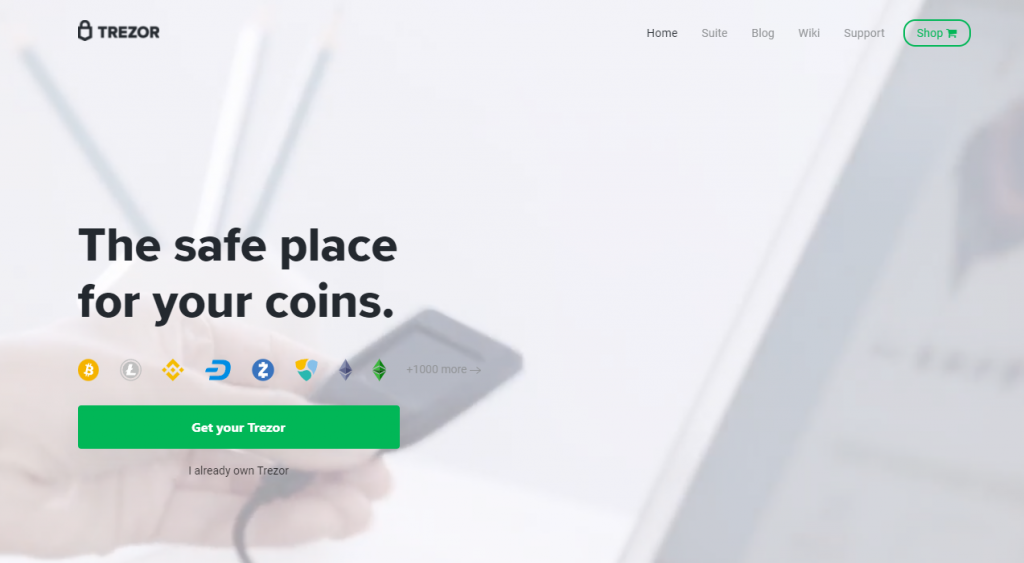 Trezor T and Trezor One are popular hardware crypto wallets that were designed and launched by SatoshiLabs in 2014 and 2018. Both have a large number of users, and it didn't take long for them to become the leading hardware wallets in the crypto community.
Some of their main advantages are enhanced security, usability, and a wide list of supported cryptos.
Trezor Model T is the newer and updated version of Trezor One. It comes at a higher price range, but it offers additional features compared to the Trezor One.
So are these extra features worth the money? Let's compare these two hardware wallets and find out.
Comparison: Trezor One vs Trezor T
---
Trezor One and Trezor T are very similar in terms of security and transaction efficiency. However, Trezor T does offer additional features and a wider list of supported cryptos.
| | | |
| --- | --- | --- |
| | Trezor One | Trezor T |
| Released | 2014 | 2018 |
| Supported crypto | 1000+ | 1800+ |
| Size | 60 mm x 30 mm x 6 mm (2.4in x 1.2in x 0.2in) | 64 mm x 39 mm x 10 mm (2.52 in x 1.54 in x 0.39 in) |
| Weight | 12 g (0.42 oz) | 22 g (0.77 oz) |
| Bluetooth | No | No |
| Display | Monochrome display + 2 buttons | Full-color touchscreen |
| Connectivity | Micro USB connector | USB-C connector |
| Price | ≈ $60 | ≈ $200 |
You can see a detailed review of the Trezor T by clicking here.
You can see a detailed review of the Trezor One by clicking here.
Read this comparison to find out all the details regarding their differences.
Hardware Appearance
---
Both of these wallets have a plastic cover that protects them from damage from accidental drops.
Trezor One is smaller in comparison, it comes at 2.36 x 1.18 x 0.27 inches, and it weighs 0.42 oz. The monochrome display is 128 x 64 pixels, and it includes two buttons beneath the screen.
Trezor T is a bit larger and heavier. The dimensions are 2.52 x 1.54 x 0.39 inches and it weighs 0.56 oz. The developers improved the display by adding a 240 x 240 pixels LCD-colored touchscreen. The device also upgraded the previous USB Type-A cable to a newer Type-C cable.
Price
---
There are three types of Trezor One wallets – white, black, and a Metallic aluminum (limited) edition. The price for the black and white model stands at $60.
Trezor T only comes in one color – black matte. The price stands at $200.
Note: The safest way to purchase any Trezor wallet is through their official online store; avoid purchasing it from eBay or other unauthorized sources.
Box Contents
Trezor One
Trezor T
1 Trezor Model One
1 Trezor Model T
1 Micro USB cable
1 Magnetic dock
2 recovery seed card
1 USB-C cable
Trezor stickers
2 paper recovery seed card
Trezor stickers
Functionality
---
Trezor hardware wallets can be used on computers that run Windows 7+, Linux, and macOS 10.11+. Both of them are also compatible with Android devices and almost any browser since they are controlled through the Trezor Wallet web interface.
Trezor One features a 128×64 pixel OLED display which boosts the functionality of the device.
Trezor T offers the same features as Trezor One in terms of functionality but with a few more additions. The main advantage is the touchscreen that replaced the operating buttons in Trezor One, making it a bit more natural for users.
Supported Coins
---
The main difference between these two devices is when it comes to supported coins.
Trezor One supports 1000+ coins, including all the major ones such as Bitcoin, Ethereum, Litecoin, and more. However, some of the "newer" coins, such as Cardano, Monero, and Ripple, aren't supported. The main downside is that it doesn't support the recent ERC-20 coins.
On the other hand, Trezor T supports more than 1800 cryptos, including all the recent ERC-20 coins. This is what makes it better suited for investors trading newer cryptos.
You can check the full list of supported cryptos of both by clicking here.
Passphrase
---
The Passphrase is one of the most unique features of Trezor wallets.
Both devices offer the passphrase option – a 25th seed word that you need to type in to access the account. This immensely increases the security of your hardware wallet.
However, on Trezor One, you can type in the seed words only on your computer, while Trezor T uses an Advanced Passphrase feature. This feature allows traders to use the custom passphrase on the device itself, using the touch screen.
This can come in handy in case your web app gets compromised because you can use the passphrase feature exclusively on your Trezor T device.
Wallet UI (Trezor Suite)
---
Trezor Suite is the new desktop and web interface for all Trezor hardware wallets. It replaced the Trezor Wallet web app as the main interface and brought upgrades in security, usability, and privacy.
Trezor One and Trezor T devices both support this new interface, and traders can use it by updating their devices and following in-app prompts.
Shamir's Secret Sharing Scheme (SSSS)
---
The Shamir Backup feature is one of the new security standards that protect users from theft and destruction. It is a private key security system based on the Shamir Secret Sharing algorithm.
Trezor is the first hardware wallet to support this feature, and it is only available on the Trezor Model T device.
Invity
---
Invity is one of the most recent additions that SatoshiLabs made to Trezor Suite. It allows users to buy and exchange cryptos directly from their Trezor hardware wallets.
This new platform can be used on both Trezor T and Trezor One devices without any significant differences.
Multisig Support
---
Multisig support means that the wallet requires more than one private key to release signature-related data.
Trezor supports Multisig, and it is available on both Trezor T and Trezor one devices without any major differences.
MicroSD Slot
---
Trezor T devices include a microSD slot for enhanced encryption. Users have keys held on the device to encrypt files located on the microSD card, while Trezor One devices don't have this option.
Trezor CLI
---
Trezor command-line interface refers to its native wallet provider. Unlocking CLI for these two devices requires a different process.
For Trezor One, you will have to enter a scrambled PIN after a specific period of inactivity, while for Trezor T, you just unlock it from its screen before using it.
Password Manager and FIDO2
---
Trezor hardware wallets both use a password manager that is connected to Google Drive. Password manager stores in an encrypted form in case your device gets stolen.
FIDO2 is an authentication procedure that allows Trezor T users to authenticate logins without any need to enter private credentials. FIDO2 is only featured in Trezor T devices.
Pros & Cons
---
| | | |
| --- | --- | --- |
| | Trezor One | Trezor T |
| PROS | Highly secure | Highly secure |
| | Open-Source | Open-Source |
| | Affordable price | Easy to use |
| | Supports over 1000 coins and tokens | Supports over 1800 coins and tokens |
| CONS | A little more expensive than competitors | More expensive than most other hardware wallets |
Conclusion
---
Trezor hardware wallets both surpass competitors when it comes to security and efficient transactions. They are great for protecting users from hacking attacks as long as you buy them from an authorized seller and use them properly.
The answer to which one you should buy depends on your trading preferences. If you want to trade the most popular cryptos such as Bitcoin and Ethereum, the Trezor One will be more than enough. However, if you plan on trading the newer coins as well, you will have to purchase the Trezor T model.
FAQs
---
Is Trezor Model T worth it?
---
Trezor Model T is one of the most expensive hardware wallets on the market. However, the enhanced security, wide list of supported cryptos, and top-notch hardware display make it worth the money.
Is Trezor One safe?
---
Yes, even though it was developed in 2014, Trezor One remains one of the safest hardware wallet alternatives.
Why is Trezor so slow?
---
Slow loading times can be the cause of using multiple accounts.
Read also:

CaptainAltcoin's writers and guest post authors may or may not have a vested interest in any of the mentioned projects and businesses. None of the content on CaptainAltcoin is investment advice nor is it a replacement for advice from a certified financial planner. The views expressed in this article are those of the author and do not necessarily reflect the official policy or position of CaptainAltcoin.com