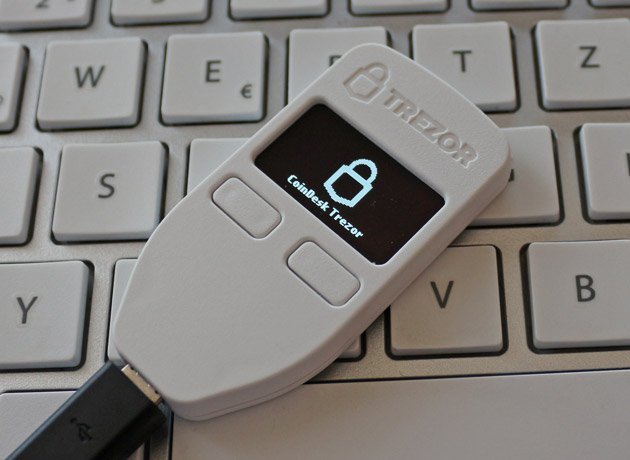 Hardware wallets are very popular among crypto users as anyone who wants to have his coins secured uses either Ledger Nano, Trezor or KeepKey. We also favor hardware wallets such as Trezor and Ledger Nano S. But there are also some alternatives – take a look at this article.
Out of this two, we are a bit more in favor of Ledger. Ledger is known for fast implementation and support for new digital currencies. This does not mean that Trezor is less worthy.
For your information, Trezor was the first Bitcoin hardware wallet in the market. Trezor was the first hardware wallet to use a passphrase feature on their devices.
With the passphrase feature, it protects your funds even in cases of theft or loss. Due to the passphrase they cannot hack into your wallet. Trezor's passphrase feature is more explained in this video.
There are other very helpful features coming with hardware wallets. For instance, Trezor assists you in operating your private keys directly, due to the fact that with a hardware wallet you will receive a 12-word seeds keys which are very easy to manipulate.
When the hard forks were introduced such as Bitcoin Cash, Bitcoin Gold and Ethereum Classic, Trezor was very quick in giving support for these new digital currencies. Using Trezor has many more benefits, such as third party integrations that are extensive.
To make it simple, it is by far safer to keep your digital currency on hardware wallets such as Trezor, than on any desktop or mobile wallet or the worst case scenario on exchanges.
You are probably wondering which digital currencies Trezor supports, so here is the list.
Trezor-supported cryptocurrencies
We bring you the list of digital currencies supported by Trezor including a brief understanding of each coin. Trezor T currently supports more coins than Trezor One wallet.
Trezor T supports 1631 different coins and tokens. Vast majority of them are ERC-20 tokens but the team behind Trezor wallets did a great job adding support for many other blockchains (over 30 of them).
Bitcoin (BTC) – Most famous cryptocurrency in the world and a must have. It is also a pioneer of digital currencies and the most dominant one, so it should take 40-50% of your total portfolio. Other top top bitcoin wallets are mentioned in this article.
Bitcoin Cash (BCH) – As you know it is a hard fork of Bitcoin but with different purpose. We suggest that you HODL (means that you believe your coin will be profitable one day, if not today) of it if you have BCH at the moment of hard fork. It will survive and will rise in price. BCH Public Relations are trying to suggest that BHC is in fact BTC, which is clearly not. Here is our list of other best Bitcoin Cash wallets.
Litecoin (LTC) – Your portfolio should consist 5-10% of this coin because it is an improved copy of Bitcoin with better block timing, different proof of work and different supply. It seems that purpose of Litecoin is to be a test dummy for future implementations for Bitcoin. For that fact only, Litecoin is here to stay. Read here about best LTC wallets.
Ethereum (ETH) – Ethereum is still a good way to invest. It is advised that you hold Ethereum up to 20% of your coin portfolio as it gravitates to be the number one super giant computer in the world. Just be very careful with Ethereum as it has a never ending increase in supply. Wonder what are other wallets for ethereum? Click on the link to find out.
Ethereum Classic (ETC) – Ethereum Classic is a continuation of the original Ethereum blockchain – the classic version preserving untampered history; free from external interference and subjective tampering of transactions.
DASH (DASH) – A cryptocurrency worth your investment with upgraded governance mechanism and better proof of work supported by an excellent crew. Your portfolio should include around 10-15% of this digital currency. Other top dash coin wallets are mentioned in this article.
Zcash (ZEC) – This digital currency is rather unknown. With Zerocash protocol implemented for the first, it is not advisable to hold more than 5% in your portfolio.
Namecoin (NMC) – Namecoin is an experimental open-source technology which improves decentralization, security, censorship resistance, privacy, and speed of certain components of the Internet infrastructure such as DNS and identities. We do not recommend this coin.
Dogecoin (DOGE) – Cryptocurrency featuring a likeness of the Shiba Inu dog from the "Doge" Internet meme as its logo. Introduced as a "joke currency" on 6 December 2013, Dogecoin quickly developed its own online community and reached a capitalization of US$60 million in January 2014; as of December 2017, it has a capitalization of US$1 billion. We do not recommend this coin.
ERC-20Tokens – ERC stands for "Ethereum Request for Comments". This is an official protocol for proposing improvements to the Ethereum network. "20" is the unique proposal ID number.
The above mentioned coins do not necessarily mean they have a supported app. But it is possible to use them with other interfaces. We bring you the list of wallet interfaces supported by Trezor.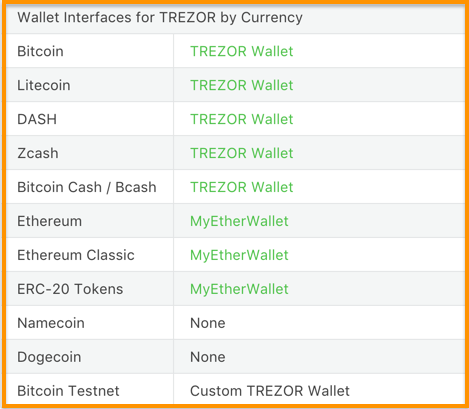 Which Wallets are Compatible with Trezor Hardware Wallet?
One of the great features of using Trezor is that it allows connection with third party apps. You can manage your digital coins via these apps. The best part is that these third party apps behave like the interface and your private keys remain safe and sound on your hardware wallet.
Which Wallets are Compatible with Trezor Hardware Wallet's Seed?
In the worst case scenario such as a theft of your Trezor wallet or you lose it or damage it, it is possible to recover your valuable coins by using your Trezor's seed and a seed compatible wallet.
Final thoughts
It is highly recommended that you use a hardware wallet such as Trezor. Trezor wallet protects your digital coins and even helps you to recover them in case of damage or losing you device.
If you decide to use Trezor as your hardware wallet, you can purchase it from Trezor's official web site followin the link:
– Visit the official Trezor site here.
As the hardware wallet Trezor keeps growing its support for new coins we will keep updating this list.

CaptainAltcoin's writers and guest post authors may or may not have a vested interest in any of the mentioned projects and businesses. None of the content on CaptainAltcoin is investment advice nor is it a replacement for advice from a certified financial planner. The views expressed in this article are those of the author and do not necessarily reflect the official policy or position of CaptainAltcoin.com