ZenGo Wallet Review – How Safe Is ZenGo?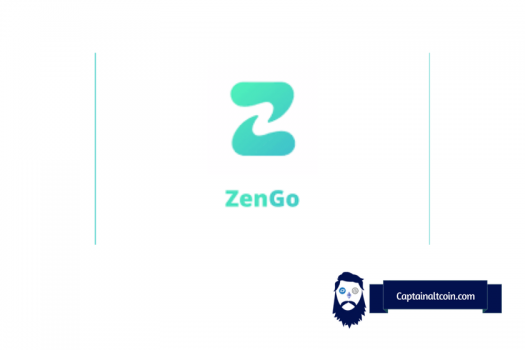 ZenGo Wallet Review – How Safe Is ZenGo?
A great variety of cryptocurrencies are supported on the platform
Straightforward and user-friendly interface
Free to use the application, there is no charge for sending, receiving or keeping crypto on the platform
A lot of useful features and information are provided on the platform
Being non-custodial, it offers high levels of security
ZenGo Wallet Overview
---
The rising popularity of cryptocurrencies for the past several years brought forth the need to have a trustworthy and secure wallet. If you own cryptocurrencies, even more so if you have a sizable amount, you would not want to put your assets into a wallet that you do not trust to keep your cryptos safe.
As of now, there is a good amount of different crypto wallets you can choose from, some better than others and some that are already established and trustworthy. Today we will talk about the ZenGo Wallet and cover everything you need to know about it. So without any more delay, let's begin the ZenGo review.
Quick summary: ZenGo Review
| 📚 Topic | Details |
| --- | --- |
| 🪙 Supported Coins | ZenGo supports over 70 cryptocurrencies including major tokens like Bitcoin, Ethereum, and Ripple. Plans to add more in the future. |
| 💸 Pricing | Currently free to use, but plans to introduce premium paid services in the future. |
| 🛠️ Features | Offers a keyless wallet using Multiparty Computation (MPC) technology, easy onboarding without KYC, staking and interest features, and a user-friendly interface. |
| 🔒 Security | Removes the need for a traditional private key, making it more secure against account takeovers and private key theft. |
| 🌍 Availability | Available in 188 countries, including the United States, but some features may be limited due to local regulations. |
Quick TL;DR
---
ZenGo Wallet is a one-of-a-kind mobile cryptocurrency wallet and one of the non-custodial wallets. Its main goal is to close the gap between the control of digital assets and the ease of accessing them. With its unconventional system, ZenGo is one of the pioneers in providing a non-custodial, remarkably safe well as considerably straightforward to use a wallet where you can store your assets without the need for special codes, passwords, or phrases as a form of backup.
The special codes, passwords, and phrases are replaced with a 2 key share system where one is kept and stored on the servers of the platform while the other one is on your mobile device. ZenGo Wallet, being a mobile app, is available to be downloaded on Android as well as IOS.
ZenGo was founded by Gary Benattar, Ouriel Ohayon, Omer Shlomovits, and Tal Be'ery.
The wallet supports a great variety of cryptocurrencies, amongst which are the most popular ones, namelyBitcoin andEthereum. In addition to keeping your funds safe and easy to access, there are several features offered on ZenGo. You have an option to buy and sell crypto directly from the wallet as well as trade and earn interest.
ZenGo has its own crypto debit card that allows you to spend your crypto the same way you would spend money with any Visa card, for example. You will just have to convert crypto into Fiat before using it because the platform is non-custodial, meaning they do not know what cryptocurrencies you possess and cannot do anything without your permission.
ZenGo is almost on par with hardware wallets in terms of security features. However, Ledger Nano X, Trezor T and CoolWallet Pro are one notch above ZenGo and are still safe options.
Supported coins
---
ZenGo supports a great variety of different coins. Here is a list of some coins that are available on the platform:
Bitcoin,Ethereum,Binance Coin,Luna,Shiba Inu,Chainlink,Dogecoin,Polygon (ERC20), USD Coin,Tether (ERC20), The Sandbox (ERC20),Uniswap (ERC20),FTX Token (ERC20), Wrapped Bitcoin (ERC20), TerraUSD, Curve DAO Token (ERC20), Dai (ERC20), 1inch (ERC20), Aave (ERC20),Tezos, Gnosis,Quant (ERC20), The Graph (ERC20), OKB (ERC20), Decentraland (ERC20), Reserve Rights (ERC20), LEO Token (ERC20), NuCypher (ERC20), LoopringCoin v2 (ERC20), Chiliz (ERC20) , Maker (ERC20), Nexo, Civic (ERC20) , Compound Coin (ERC20),Huobi Token (ERC20) , BAT (ERC20).
Does it store NFTs, Crypto Art, and Collectibles?
---
The research we conducted did not result in any concrete information if ZenGo Wallet allows storing of NFTs, Crypto Art, or any Collectibles for that matter. On account of this, we are led to believe that the ZenGo platform does not allow storing of the above-mentioned crypto assets, but it does not mean that it will not change in the future, seeing that if the demand from the users becomes high enough, the platform might implement such options.
ZenGo Main features
---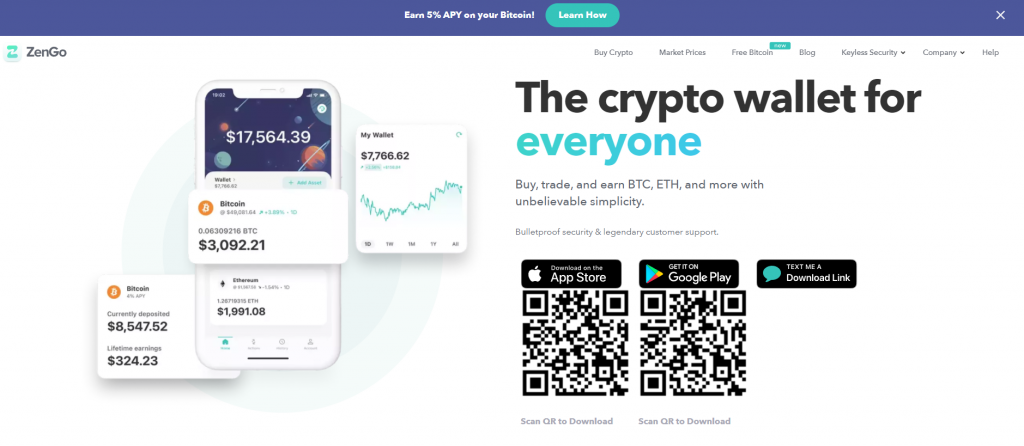 ZenGo platform offers several features to its users, but we will focus on a few of them. Here are some of the main features offered by the ZenGo platform.
Keyless Wallet
---
Like we mentioned before, setting up your account on the ZenGo platform is very straightforward, more so for users that do not have a lot of previous experience when it comes to crypto. The reason for this is because ZenGo, compared to the majority of crypto wallets, does notimplement a phrase or a password that the users are required to write down in case they need to recover their wallet if it happens to be hacked and their assets stolen or simply lost.
What ZenGo opted to use is a system called encrypted secret key share that functions in a way by storing two separate keys, one key being held on the ZenGo platform servers, while the other one is held on your mobile device.
This way, you are allowed to unlock and use your wallet with a simple 3D face scan, in addition, the platform does not have any input on what cryptocurrencies you own and cannot do anything with your funds without your confirmation, making them very safe and secure.
Buy & Sell directly from the wallet
---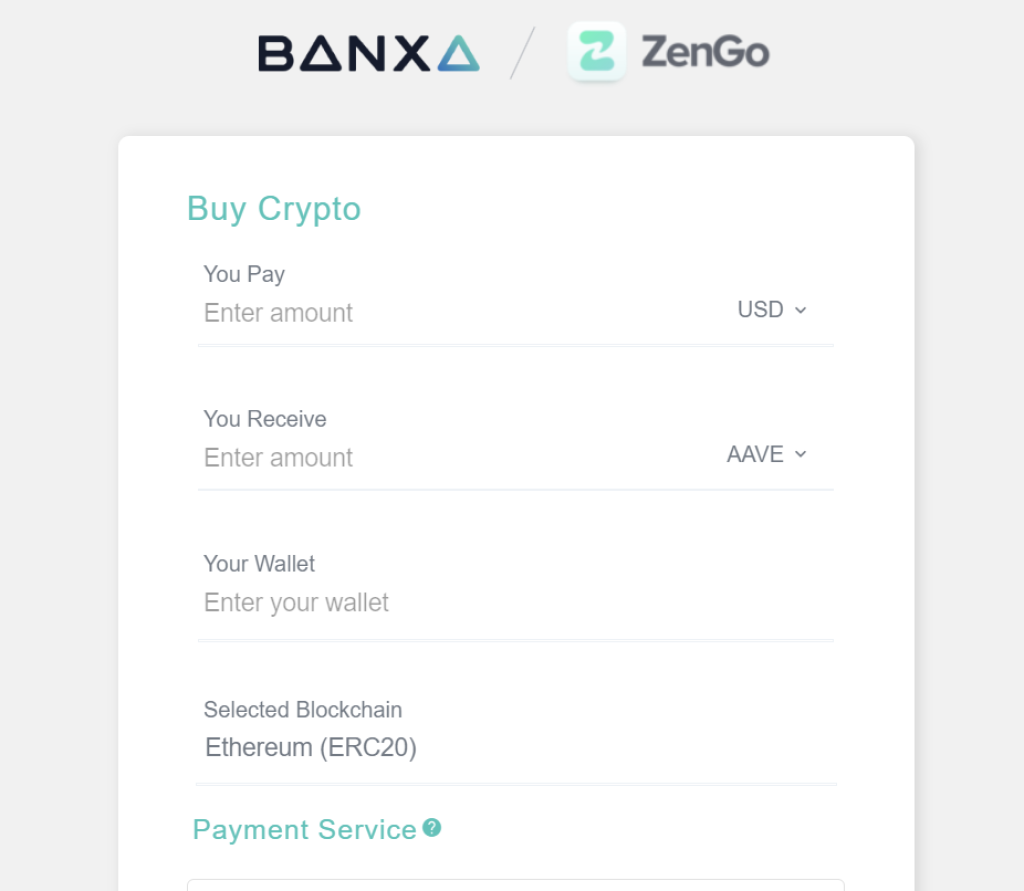 An additional feature of the ZenGo wallet is that you can buy and sell supported cryptocurrencies directly from the wallet. This feature offers great convenience to the users while also earning revenue for ZenGo, making it possible to keep the app completely free to use.
Keep in mind that if you want to buy crypto, you will have to do so through Moonpay and Coinmama. You are able to buy Bitcoin, Ethereum, USD Coin, and many more via your credit card, bank transfer, debit card, or Apple Pay.
There is also a list of regions that are not supported and that are not allowed to buy crypto. If you are located in one of those regions, sadly, you will have to find another way of buying crypto. On the other hand, there is no information that the selling option is geographically limited in any way.
Track your investments at a glance
---
ZenGo has a feature called Historical Charts that helps users track their portfolios. With this, users can keep track of their crypto holdings and how they are progressing, eliminating the tedious process of constantly checking for updates on different exchanges or crypto sites that provide the latest news. This feature helps users to limit their decisions when it comes to crypto investing all in one place without the need for other platforms.
ZenGo goal with this feature is to provide additional control for users when it comes to their crypto investments.
Staking
---
The feature of staking is possible on the ZenGo platform throughTezos. Earning rewards with staking is done basically by holding Tezos. If you do not own any Tezos, you can get them by purchasing them from ZenGo or acquiring them from some other exchange or another wallet.
After you stake Tezos, before you receive the rewards, you are required to wait a period of time that is around 36 days. When you receive the first reward, for subsequent rewards, you will need to wait a couple of days between each of them. These so-called rewards cycles may differ depending on the baker.
There is an extremely small fee to be paid, around a couple of cents, when you activate the staking address, after which you do not have to pay any more fees, and your address continues to be active.
Lending and ZenGo savings account with solid APYs
---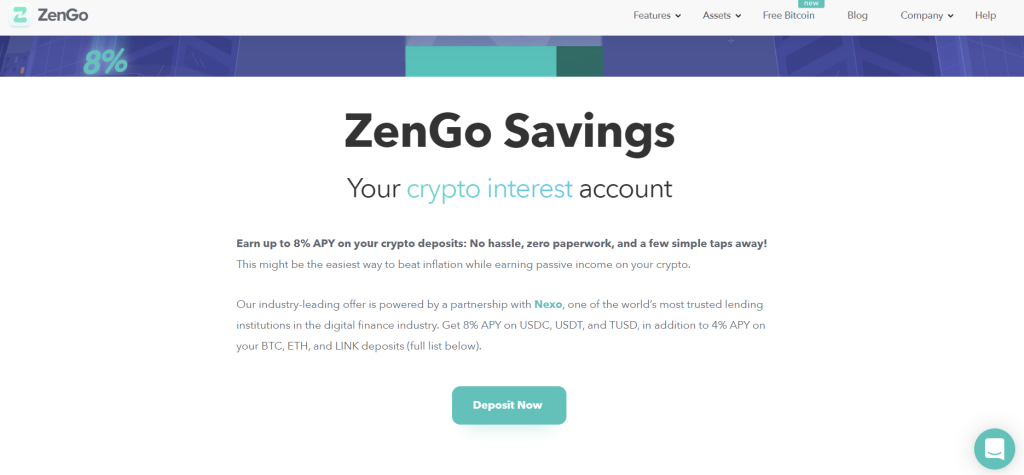 In the case of savings, there are 2 ways you can earn with it. First, there is lending. With lending, you are loaning your crypto assets to a decentralized liquidity pool, at the current time, it is compound, or another option is if you are lending Bitcoin, it is done through Nexo, and in this way, others can borrow them, and you get paid in interest.
Next is earning through staking. You can earn additional income by providing network security. This way, validators have higher chances of invalidating the transaction blocks to earn rewards which they share a part of with you giving you an income.
Customer Service
---
When it comes to customer service, ZenGo takes this matter very seriously. It has 24/7 customer support that you can contact through email address, a live chat that is featured on the app or even on social media. There is also a frequently asked questions section where you can probably find the majority of the answers that you need. Lastly, there is a blog as well, which is very well written and, without a doubt, will prove useful in resolving your needs and questions.
ZenGo-supported countries
---
As of now, ZenGo supports just under 200 regions around the globe but plans to continue adding more in the near future.
The countries that are not supported are Bangladesh, Cuba, Iran, Ivory Coast, Myanmar, North Korea, Pakistan, Panama, South Sudan, Sudan, Syria, and Zimbabwe.
When it comes to the U.S., the following states are not supported: Connecticut, Hawaii, New Mexico, and New York.
ZenGo offers a list on its website where you can check if your country is supported or not.
ZenGo Crypto Debit Card
---
As we mentioned, ZenGo has its own crypto debit card that you can use in your everyday purchases, for example, like any other Visa card you own. Do not forget that ZenGo does not have any input when it comes to your finances as they are non-custodial, so you are required to convert your cryptocurrencies into Fiat ones if you wish to use the card for purchases in your day to day life.
In addition, whatever funds remain in your ZenGo wallet cannot be spent with your card, so if you accidentally lose your card or it gets stolen, you can feel safe as your assets will remain secured in your wallet.
ZenGo Fees
---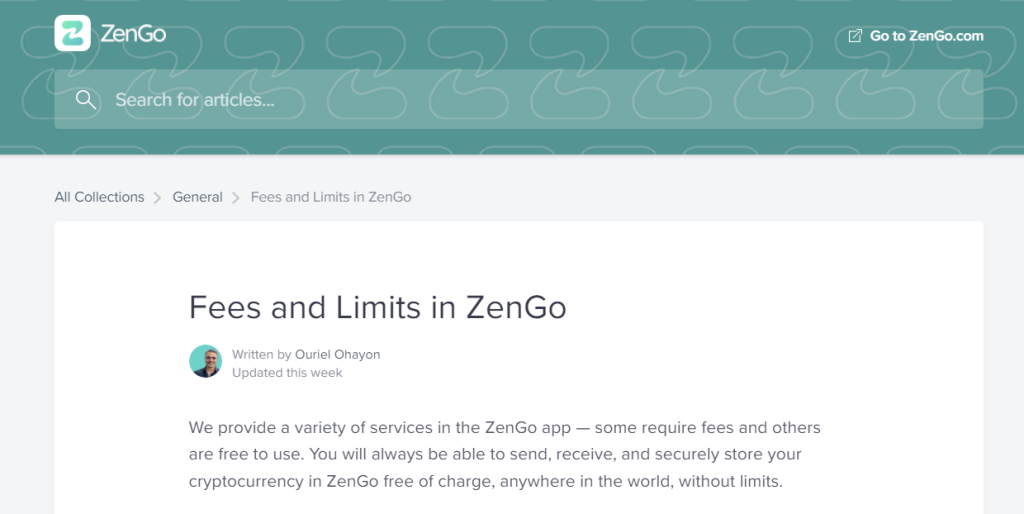 Now, we will cover the fees on the ZenGo platform. Firstly, there is a network fee. This fee is paid to the operators on the blockchain network rather than to the ZenGo platform and may vary depending on the changes in the network conditions as time passes. One important thing is that forERC20 tokens, the fee is being paid in Ethereum.
Secondly, there is a processing fee. This is a percent of the entire amount in the transaction being paid to the operators of trading services, buying and selling, and it may differ depending on the asset traded or the operator.
Thirdly, there is a spread. Used to compensate for the volatility risk, the spread is a difference between the order price and the spot market price that is no more than a few percent. Spread is paid to the operators of trading services, buying and selling.
Lastly, there is a local currency conversion fee. This fee is paid to the service operators when you purchase cryptocurrency in your local currency. Exceptions are EUR, GBP, USD, CAD, and AUD. For these five currencies, there is no fee to be paid.
If you wish to go into more detail about the fees, you can find more information on the ZenGo official website.
ZenGo User Experience
---
The overall user experience on ZenGo is quite positive. The platform is straightforward and easy to use, providing you with all the necessary information. In addition, the application is safe and secure, and if you are having any problems whatsoever, you can turn to the customer support available to you 24/7. Finally, the blog on the website is a great way to inform yourself about what you need and how everything works before you start trading.
ZenGo is a cryptocurrency wallet that eliminates passwords, private keys, secret share, and seed phrase.
Frequently Asked Questions
---
If ZenGo is not to your liking, check out our other articles:
PROS
A great variety of cryptocurrencies are supported on the platform
Straightforward and user-friendly interface
Free to use the application, there is no charge for sending, receiving or keeping crypto on the platform
A lot of useful features and information are provided on the platform
Being non-custodial, it offers high levels of security
CONS
Depending on where you live, not all features might be available to you
There is no option to connect your ZenGo wallet to third-party DeFi apps
The 2 key share systems could prove off-putting for the users that might not prefer this feature

CaptainAltcoin's writers and guest post authors may or may not have a vested interest in any of the mentioned projects and businesses. None of the content on CaptainAltcoin is investment advice nor is it a replacement for advice from a certified financial planner. The views expressed in this article are those of the author and do not necessarily reflect the official policy or position of CaptainAltcoin.com