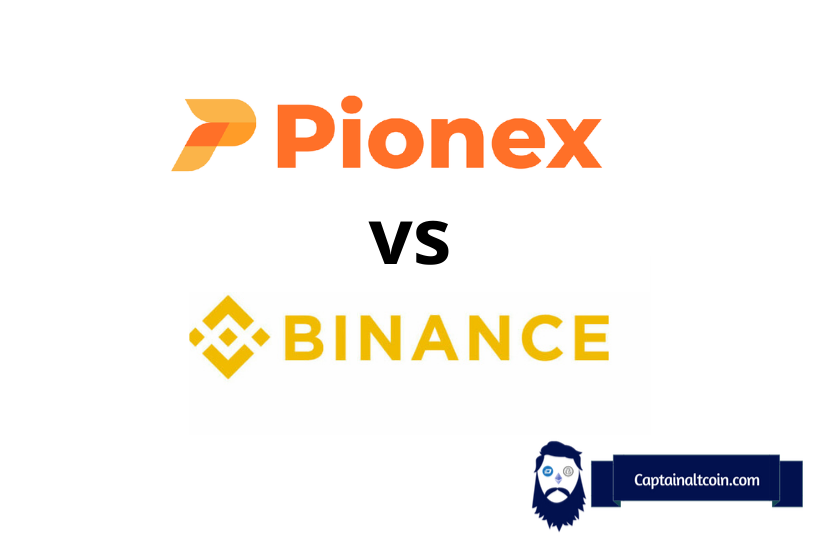 Pionex is a new up and comer into the exchange world, with a unique twist of having in-built bots. They are not the type of exchange that you would expect from regular ones. You could configure their own bots the way you want, so it could trade for you 24/7 non-stop. If you have used any trading bot before, you know what it means to have one built into the exchange.
Binance on the other hand is Binance, there is no need to explain why Binance is the world's biggest and best exchange. Aside from not having any bots in it, Binance far outweighs in every category and is very much loved by everyone. They even have their own network in BSC as well. So it is definitely one that everyone uses or at least used once upon a time.
Key Differences
---
The most obvious difference is that Pionex has bots, and focusing on what it can do, it has 10 different main functions that you can configure. From DCA to leverage to margin or grid and many others. So this is not some "auto trade" deal, this is the whole shebang where you get to decide on every single inch of the detail before it starts.
Definitely a much better option than buying a trading bot and trading on Binance that way. Binance however offers much much more stuff, their features are endless, and the fact that you could buy fiat and send it to your bank account trumps any other feature since it makes trading so much more real. Plus the volume in Binance can be rivaled by only a handful of places as well.
Binance Trading Options
---
Spot
---
Spot trading is the simplest form of trading. You type in how much you want to buy, and you pick how much you would like to pay, and your job is done. It is simple, efficient and quick.
Futures
---
Futures are a bit more complex. You are wagering with as much as x125 leverage and that means there is a good chance you could get liquidated quickly if you are wrong, or you could earn a lot more than what you can earn from spot if you are right.
Margin Trading
---
With margin trading you could basically get a loan to trade, and you do leveraged trading with it, if you lose more than what you owe then it will be liquidated and paid for your loan, if not then you can wait as long as you want to and make as much profit as you can until it's liquidated or you sell.

Leveraged Tokens
---
Instead of having BTC and leverage it, you could also get stuff like BTCX10 which are already leveraged tokens for the coins you could leverage. You could call it "in-built leverage" so to speak. This way they move a lot more volatile and can either make you profit or lose a lot more quickly as well.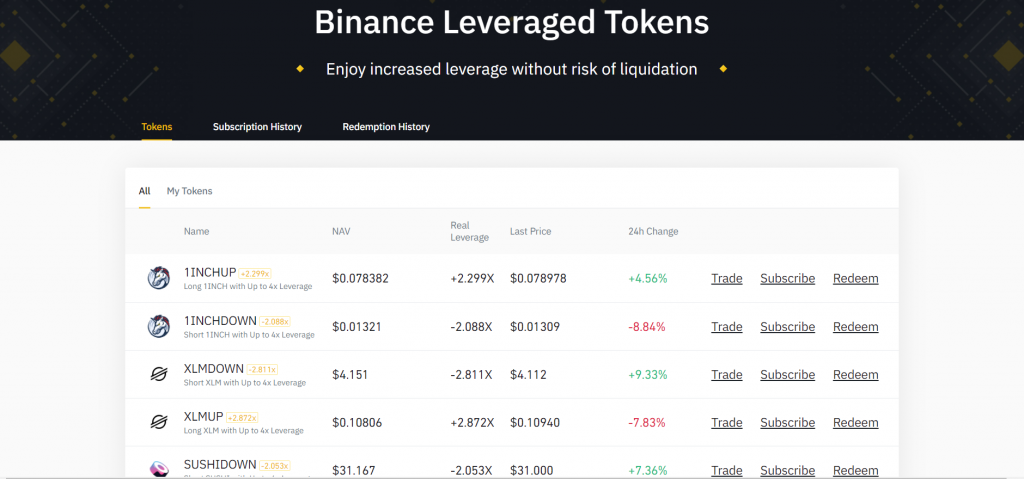 Options
---
You could consider options as "promise of action in the future". Which means you will be either buying or selling bitcoin at a certain date, for a certain price, if you are right then the price will be at where you want, and you will profit, however if you are wrong then the price will be different than what you guessed and you will lose. This way you are wagering on the future price of coins with Options.
Pionex Trading Options
---
Pionex Leveraged Tokens
---
Different from what you may consider as the regular leveraged token, Pionex offers a new "rebalancing" leveraging. This means that you will not get liquidated when you are buying their leverage tokens, but you will profit accordingly anyway.
Compared to spot trading, you will lose more when it goes down, but you will not be liquidated like regular leveraged tokens. At the same time you would earn more than any other leverage token as well. You can read further about it in this article.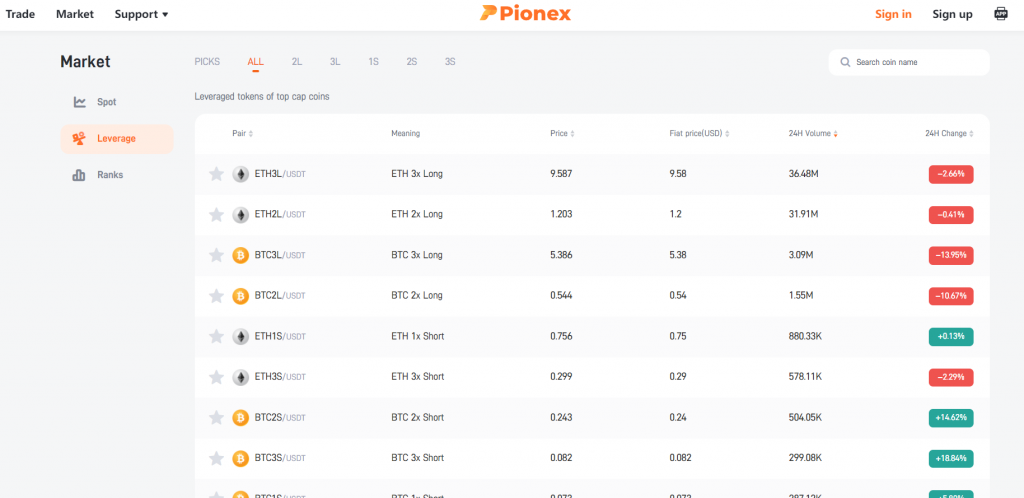 Smart Trade
---
With Smart trade you are doing everything all together. With a model similar to trailing stop, they have a trailing take profit. Which means you can get in, watch as a coin goes up, and as long as it doesn't get out of volatility you put in the settings, it will keep on going up without you selling.
After it drops to a level outside of the parameters you decided, it will sell. This way if a coin goes %900 because of a pump, you will be still holding it all through the increase, and as soon as it falls %5 you will sell. Perfect for the bull run periods.
Staking on Binance
---
Locked Staking
---
You lock your coins for a period of time for a guaranteed return. One example right now is you lock BNB for 60 days, and you get a %6.52 APY return. You lock your RAY for 90 days and get %17.69 APY returns. Your coins/tokens will be locked for the period they are in there.
DeFi Staking
---
Decentralized Finance became huge in 2021. One of the main reasons was DeFi staking. You can go to Binance and stake many DeFi products on the website as well as on many BSC platforms. There are 11 tokens you could stake in their DeFi staking feature with returns ranging from %1.7 to %10.
ETH 2.0 staking
---
Instead of needing 32 ETH to start ETH 2.0 staking, you could use Binance and start with as little as 0.1, which brings many people into the ETH staking world. With their staking pool system, they bring all these investments together and stake ETH and distribute the profits while taking a small cut from the profits.
Staking on Pionex – not available
Bots On Binance
---
Grid Trading Bot
---
We all know crypto is volatile, if you ever downloaded an app to your phone that gives notifications each time price goes up and down, you know the feeling of constantly getting notifications during volatile periods. Grid trading is similar, but you act on it.
If you decide that you want to buy each time bitcoin drops 5k, the bot does that, if you decide you want to sell a certain amount each time it goes up 2.5k then it does that. So you set the parameters beforehand, and it buys and sells each time it goes up and down according to your commands.
Bots on Pionex
---
Grid Trading Bot
---
Same logic as Binance one. You put where to buy and where to sell and the bot does it for you in ups and downs. Each down you registered will be bought, and each up will be sold non-stop everyday until you stop it.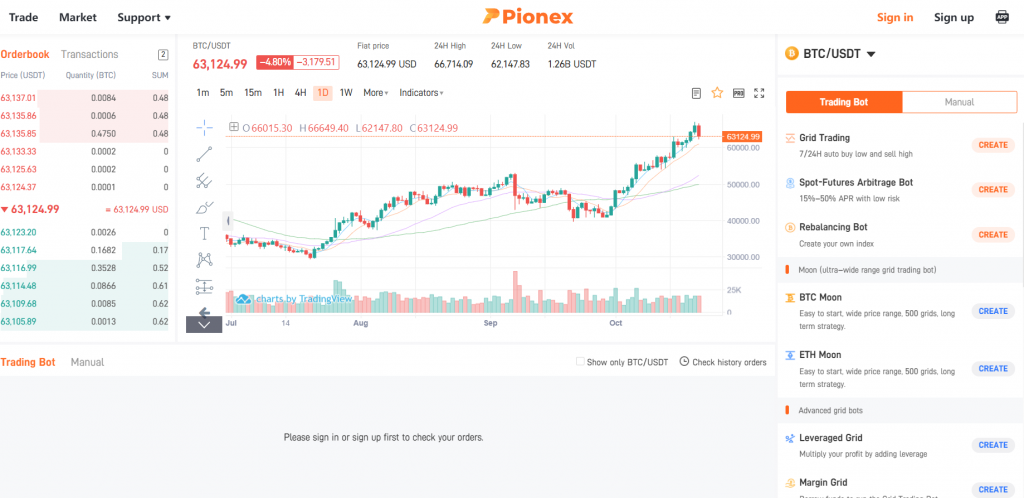 Reverse Grid Bot
---
Similar to Grid Bot, the reverse version focuses on accumulating the coin, instead of making a profit. You may or may not have a profit in fiat by the end, however you will have more coins when it works. It sells when the price starts to fall and buys back from lower price, this way you gain more coins.
Infinity Grid Bot
---
Exactly like the Grid trading bot, Infinity version uses %1 instead of exact prices. So instead of buying when it drops to a certain price, it buys when it drops a certain percentage. It will also keep your coin amount the same at all times. So if you invest with 1k dollars, it will keep it 1k dollars at all times, and it will sell the excess as profit and put it aside. It may reuse it if the price drops and bot buy some more.
Pionex Crypto Arbitrage Bot
---
Arbitrage is the act of taking advantage of the differences in the prices of coins. This is caused by markets acting up a lot faster and not catching up to each other. While btc-eth goes up, eth usdt may not, and btc-usdt may go up as well, in that case bot trades btc to eth, then eth to usdt and usdt to btc to make a profit.
TWAP Bot
---
This is more of a bot for whales. If you own a lot of one certain coin, you would want to dump it and crash the market. Similarly you wouldn't want to buy and pump the prize unrealistically. With TWAP you buy small by small and accumulate, or sell small by small to get out. This way you do not disturb the market.
Trailing Take Profit Bot
---
This is the one we talked about earlier. Trailing take profit allows you to watch the token go up as much as it can without having to worry about when to sell. You end up selling the moment it starts to fall with stop loss. All the "whenever I sell the coin goes up, whenever I buy it goes down" problems are gone with this bot.
Leveraged Grid Bot
---
We have seen leverage trading, we have seen grid bots, now we get to see Leverage Grid Bot. With the logic of Grid bot, this bot works the same way but with leverage instead of regular trading. This way you end up with higher profits, or higher losses. It still buys when going down, and sells when going up, so the only thing that changes is the leverage added on top of it.
Margin Grid Bot
---
With Margin Grid Bot, you give your money as collateral and then you loan as much as you want to depending on the margin you want to trade. This way you get to earn a lot more with getting a loan, but you get liquidated if you are wrong as well. The logic of trading itself is the same as grid trading, that part does not change here either.
Dollar-Cost Averaging Bot
---
DCA is quite common in all aspects of investment, and not just crypto. You invest into a coin, if the price drops then you invest more to drop the cost average. As long as it keeps going down, you keep buying and your purchase price will be lower because of it.
In 2017, if you bought one bitcoin for 20k, and the price dropped to 3k and took close to 3 years to recover, you would have to wait for it to recover. But if you bought 2 more coins at 3k that means your average is not 8.6k, and you could be in profit a whole lot quicker. That is called DCA.
Leveraged Reverse Bot
---
With leveraged reverse bot, you get to leverage your profit based on price dropping by using gird trade method. This way you end up selling even before you ever buy, and then if the price drops you end up buying to pay your debt and the remainder is your profit. Leveraging your profits would mean greater return, and using the grid means you end up selling at certain prices until it reaches your bottom price.
Binance App vs Pionex App
---
Binance APP is vastly more inclusive and has much more features just like the website itself. It also offers a lot more languages and the design is a lot more easy to use without many complex parts.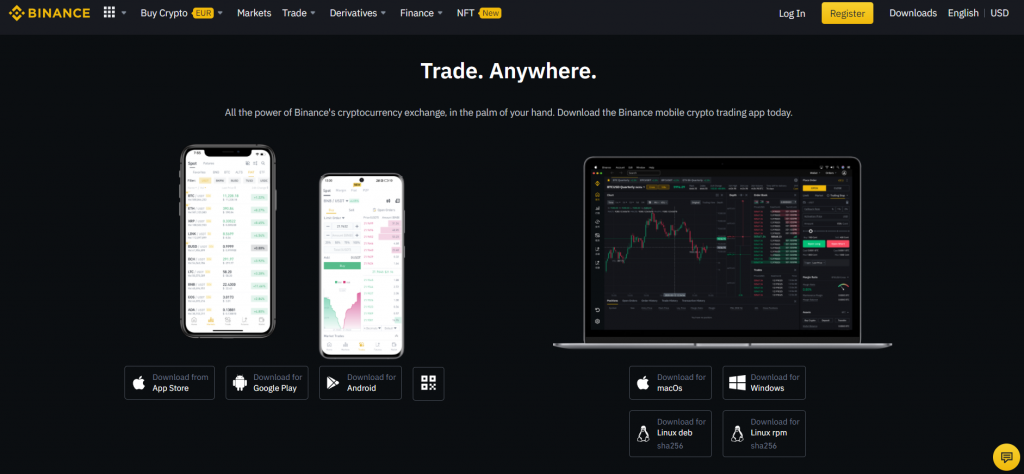 Pionex App on the other hand has the bots builtin as well, this means you could use the app to give bot orders and you could make a profit while you are sleeping or outside having fun and check how it is doing live. There aren't any other exchange apps that can do this, so it is quite unique. In all other aspects, Binance app beats Pionex app aside from the bot feature.


Binance vs Pionex: Fees
---
Pionex and Binance both use the maker-taker method for their trading fees. Pionex charges %0.05 whereas Binance charges start from %0.1 to %0.012, however the lowest requires 150k+ btc trading which is a rare situation. The basic one has %0.075 if you use BNB to pay which is what most people use since it is under 50 btc trading per month. Pionex charges a little less than what Binance charges in most fees while trading in any method.
Other features
---
While having a bot that is built inside the exchange is a marvelous fresh idea for any exchange, Binance brings in so many other things that Pionex does not support. From NFT Marketplace to savings, to fixed returns, to staking and launchpad and nowadays they are even building their own card you can use anywhere in the world.
They have a vast network of products that anyone can use, not limited to only trading but with many other features. They have their own network called Binance Smart Chain which is a 10+ billion dollar ecosystem of its own. All in all, Binance is not just an exchange, but a whole crypto ecosystem of its own with an exchange in it.
Read also:
Binance vs KuCoin: Features, Fees, Safety & more
Security
---
Is Binance Safe?
---
With over 20+ billion dollars traded every single day, Binance is the most traded exchange in the world. They offer a lot of security options from 2FA to multi-signature. You get an email for every withdrawal to confirm your action, yet be careful about phishing mails you may get as well from people who like to abuse this system. They are also an official company that gets regulated constantly as well. You can't get as secure as Binance, they are the epitome of security in the crypto exchange world.
Is Pionex Safe?
---
Pionex on the other hand takes advantage of this situation instead of competing with it. They put their funds in Binance and Huobi to make sure that the funds are safe. This way instead of a cold storage, they get two entire exchanges to back their cold wallet storage claims. They also have MSB (money service business) license from FinCEN as well, which makes them even more trustworthy.
Pionex vs Binance: Conclusion
---
All in all Pionex is not a bad exchange, they are definitely worth taking a look if you like trading bots. It is clear that they have worked on their unique angle and provided so many different options. You get to configure them however you want, or you can even use the AI they provide to fill the bot configuration which makes it even simpler. They definitely deserve recognition for creating a good product that serves a niche but big community.
However Binance is still Binance. They are by far the best exchange, and they are not even remotely close to each other, Binance is at the top of any exchange list anyone makes, and they are far bigger than just being an exchange as well. Coinbase got listed on Nasdaq and has close to $65 billion dollars market cap as of right now, Binance has x6 more volume than Coinbase. That should explain to you how big Binance really is compared to every other place.
If you do not want to use a bot, or already have a bot that works on Binance that you are happy with, then you should go with Binance just like most other people. However if you would like a built-in bot and test how it would be, Pionex definitely brings a new entertainment to trading. A big advice is not depositing excessive amounts for testing purposes, start small and grow larger gradually while getting the hang of it.

CaptainAltcoin's writers and guest post authors may or may not have a vested interest in any of the mentioned projects and businesses. None of the content on CaptainAltcoin is investment advice nor is it a replacement for advice from a certified financial planner. The views expressed in this article are those of the author and do not necessarily reflect the official policy or position of CaptainAltcoin.com