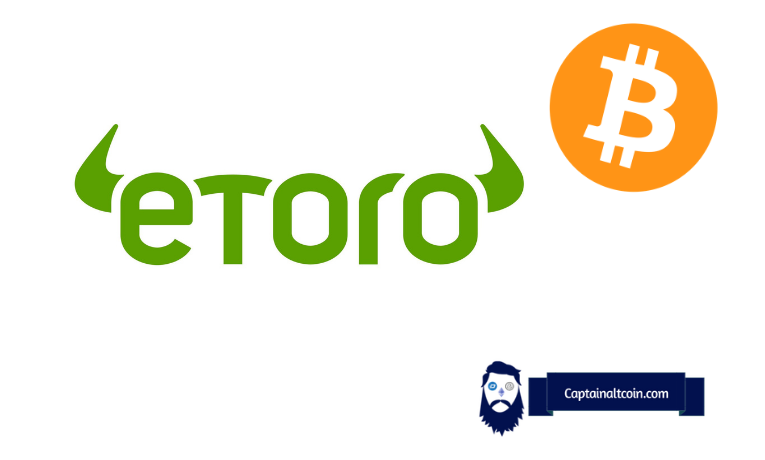 Bitcoin is all the rage in the financial world nowadays and eToro, as one of the most known trading platforms worldwide, lost no time in jumping onto the crypto bandwagon. Ever since adding bitcoin and other cryptocurrencies to its asset offering, eToro kept innovating and adding more features to make buying and trading cryptocurrencies easy and seamless experience.
By now you know and understand that bitcoin is the biggest cryptocurrency in the world. Could be you heard it from a friend or read about it right here. You must know some of the e-currency enthusiasts talk about bitcoin as the next global currency of the future, how you can become rich through trading cryptocurrency and so on.
You have an idea of the goings-on in the crypto sphere and now, you want to delve right into it, right? You want to know how you can buy your bitcoin and benefit from it, the best platform to do your trading and the best way to cash out your bitcoin.
We are going to concentrate on how to buy Bitcoin via Etoro. By the end of this post, you should know everything necessary regarding bitcoin trade and have the right answers to some of the questions you may have. We shall take a step-by-step approach. Here we go!!
Before we move further with this review, here is a link to a complete eToro review, where we discuss eToro as a multi-asset trading platform, not only as a crypto brokerage.
Can You Buy Bitcoin on eToro?
---
The answer is yes. eToro offers only actual coins that can be bought via their platform. eToro USA offers only real cryptocurrency purchases.
eToro charges no trading fees as they work with spreads that depend on the trading pair you choose. BTCUSD spread charged is around 0.75%. eToro is a good choice for beginners because of its safety, clear regulatory status and a vast choice of payment methods. Deposits are free but there is a $50 minimum threshold. Withdrawals cost $5.
In case you want to hone your skills and test the markets out with no risk to your funds, eToro provides you with a virtual portfolio via their demo account. This simulation mirrors the real market data. The idea is to try before you buy. So, if you are a beginner who wants to trade bitcoins on eToro, you have a risk-free training ground before delving into the real thing.
Of course, the most known eToro feature is their social trading section where you can copy other traders' moves or even their whole portfolio via CopyPortfolio.
As a beginner, this enables you to learn the ropes before you get to buy or sell bitcoins.
With that in mind, let's see how you can obtain your bitcoin using the eToro platform.
How to Purchase Bitcoin on eToro?
---
While there are numerous ways of buying bitcoin, eToro is one of the safest and most straighforwards one You need no technical understanding to start buying your bitcoin on eToro as the platform will handle all the background processes like setting up the wallet (but we advise not to keep your coins on third-party servers where you don't control your keys for too long as you never know what can happen. And it beats the core purpose of cryptocurrencies for that matter. So on the first convenient occasion, move your coins to your own hardware wallet, as that is the safest way to own crypto).
Very common question as this is somewhat confusing to people: Do I actually own my Bitcoin bought on eToro or is it just a CFD?
That depends on your country of residence. In the UK, you don't own any of the leveraged and short (selling) transactions.
If you open a non-leveraged, long (buying) position then you are investing in the underlying asset and will own the Bitcoin.
In the US, for example, it is not possible to trade with CFDs and you can only buy real crypto. Leveraged trades are also not allowed on eToro USA.
The process of buying bitcoin on eToro involves the following steps:
👉 Register your account with eToro
For you to buy or sell bitcoins on eToro, you need to open an account first.
Click on the signup now button.
A new window pops up and in it, enter your username, email address and set your password.
After you enter all the necessary details, accept the terms of use and risk disclosure, privacy and cookie policy.
After than click on the 'create account' button. A confirmation link is sent to your email so that you activate your account.
eToro USA LLC; Investments are subject to market risk, including the possible loss of principal.
👉 Deposit funds
Since you now have an account, the next step is to deposit some money directly. Simply click on the 'deposit money' button. This is where eToro will prompt you to do an account verification to proceed. The KYC process on eToro is very detailed and aside of the standard identification documents, you will also need to answer some questions about your financials, like income sources and net worth.
Once you click 'deposit money', a new window pops up and in it, you enter the amount you want to deposit and your preferred payment method.
eToro has a plethora of ways of making your payment. You Can use PayPal if you have an account with them. other payment options include:
Credit card
Instant bank transfer
Skrill
Bank transfer (SEPA)
Union pay
Neteller
Simply choose the best method for you and click on the 'send' button. Should you be in a hurry and you want to see you deposit on your eToro account, make deposits using credit card, Skrill or PayPal. You will see your funds instantly on your trading account.
👉 Buy your bitcoins on eToro with PayPal, credit cards or bank wire
It is very easy to buy bitcoin with PayPal on eToro as the only thing you need to do is to choose PayPal as the deposit method and that is it. Same works for other payment methods like credit cards or bank wires.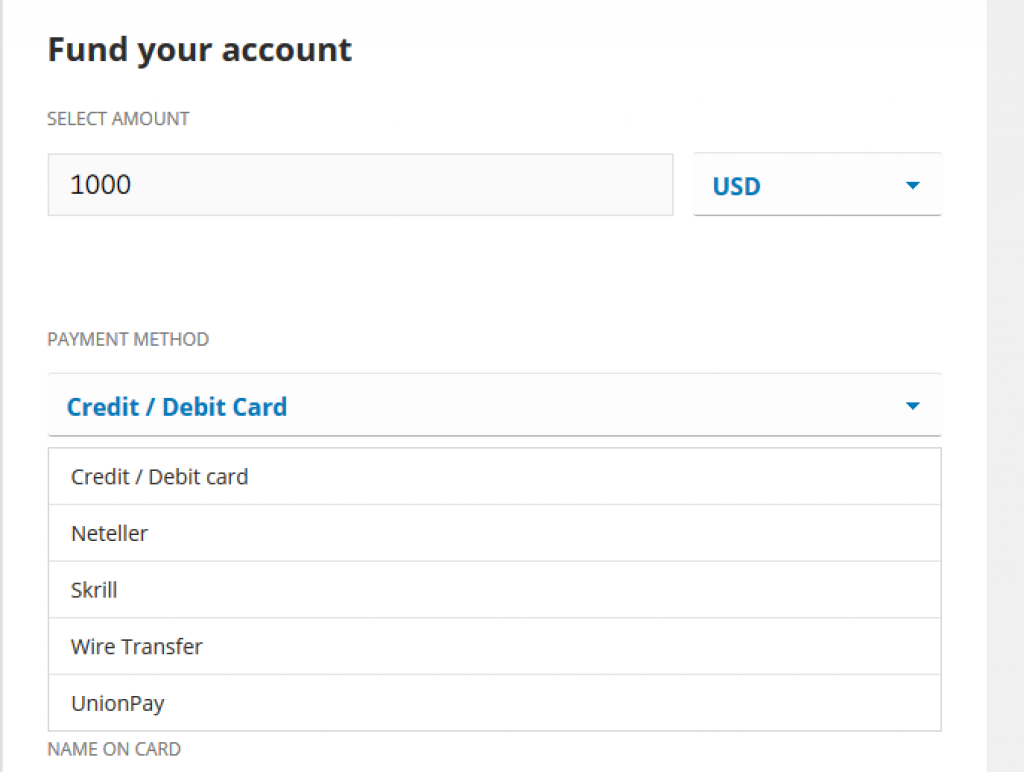 Once the deposit reflects on your account, you are ready to buy bitcoins on eToro. Go to the menu and click on the 'markets', then 'crypto'. You will see a new window that gives you the options to buy and sell bitcoins. Click on the 'buy' button, which leads you to another window.
Leave the settings as default if you want to buy 'real' bitcoin. Do not make any changes except for your preferred bitcoin amount. If you click on the 'open trade', you will buy bitcoins immediately and they will reflect on your eToro bitcoin account.
👉 eToro verification
Remember we said something about verifying your account on eToro? Good.
Now, there are a few things you need to know. Once you click on the verification link sent to your email, you automatically login to your account. If you have not verified your account, you are subject to certain limitations. For example, $2000 will be the maximum deposit you can make.
For you to buy larger amounts of bitcoin and sell on this platform, you need proof of identity, address and a tax number. Also, more recently eToro wants to know more about your finances, income sources and similar. This might sound intrusive but all of these platforms are under heavy regulatory pressure and need to comply in order to keep the gates open.
There is no other option but to verify your account and it is necessary you do it moments after the registration of your account. This process conforms to the tax laws accepted worldwide and is a standard procedure on all digital currency trading platforms. The verification process is free.
Bitcoin Trading Fees on eToro
---
eToro doesn't work with the usual fee models like other crypto platforms. It does not charge a transaction-specific fee on trading. Instead, it earns money via spreads, they buy the asset at a lower rate and sell it to you at a higher rate. The difference is called the spread and that is one of the ways for eToro to make money.
eToro hidden fees?
There are other non-trading fees that you should be aware of:
Inactivity fees on dormant accounts (if they are inactive for 12 months)
Conversion fees (change one currency for another using the exchange)
Withdrawal fees (minimum withdrawal $30, currently set at a flat rate of $5)
Overnight fees
All crypto pair positions (crypto to crypto trading) are charged different spreads/fees and all sell and leveraged buy positions as well. Non-leveraged buy positions are fee-less.
It's important for you to know that fees are subject to change at any time and without notice. Hence, make sure to check up the last up-to-date spreads (they are clearly displayed on the website) before making any transactions.
Buy and sell limits on eToro
---
There are some limits on buying and selling crypto on eToro. For crypto-to-crypto conversions there is a minimum of $20 per transaction and a maximum of $10,000 per transaction.
Trading Bitcoin On eToro
---
eToro is a multi asset platform that gives you easy access to financial markets. If you want to trade bitcoin on eToro, you must first
• Open an account. You achieve this by visiting the website and registering your account. Once your account is ready,
• Login and search for bitcoin you want to buy
• Click on "trade"
• Enter your desired amount
• Click on "open trade"
If you want to sell bitcoin or other altcoins on eToro, you do it by closing the position (this is somewhat confusing to noobies).
Remember we said on Etoro, you get a dummy account with $10000 to experiment first, it helps you to explore the cryptocurrency market. Trading bitcoin on Etoro is not complicated given the simplicity of the registration process. However, what are the advantages of trading bitcoin on Etoro? We look at them now.
eToro's CryptoPortfolio
---
eToro is doubling down on its social trading features as it introduced a new special product called a CryptoPortfolio. It is similar to CopyPortfolio (another eToro trademark) but with an exclusive focus on cryptocurrencies. It essentially allows you to invest in the most popular cryptocurrencies like Bitcoin Ethereum Dash Litcoin Ripple and Ethereum Classic . The minimum investment for the CryptoPortfolio is $1,000.
Investing in this portfolio will expose you to more currencies simultaneously and diversify some of the risks involved with investing in only a single cryptocurrency. There are several requirements that a cryptocurrency has to meet in order to be included in the CryptoPortfolio:
Minimum market cap of $1 billion
Minimum average monthly trading volume of $20 million.
Each currency will have a weight in the portfolio that is equal to the size of its market cap (the minimum is 5%). If for some reason a currency drops below the minimum requirements, it is automatically removed from the portfolio.
The CryptoPortfolio is analyzed and rebalanced on the first trading day of each month.
You can achieve similar portfolio management with Shrimpy, auto-rebalancing bot – you can learn more about here.
eToro USA LLC; Investments are subject to market risk, including the possible loss of principal.
Social newsfeed
---
This feature incorporates elements of social media and online trading to help you follow the financial instruments and traders that you like. You can also interact with a few members and even open discussions on the Etoro community.
You are also free to post your own updates, share posts to your feed as well as comment on what others have posted. The idea is to create a feed that is customized to your trading and investing interests.
The social trading platform on eToro also allows you to receive notifications when a user you have copied writes a new post, when an asset on your watchlist becomes volatile and other important updates you can use for your trading.
Read also:
FAQs
---
This post cannot close without looking at some of the frequently asked questions. It helps in shedding light to some of the queries you or other eToro users may have.
👉 How long does it take to buy Bitcoin on eToro
The process of buying your bitcoin on eToro should be smooth if you have an account. If you do not, open one. Regarding the duration that it will take you to buy bitcoin depends on your mode of payment. You can log into your account and search for bitcoin.
You can set your order to execute the trade immediately. Now, if you set the order, it will only be placed above or below the prevailing market prices. The order will be executed once the market prices trades to the price parameters that you have set.
What's more, your trade is executed immediately depending on the current market buy and sell prices. If you have bought bitcoins and you want to transfer your eToro wallet, it may take you up to five working days. Further delays may happen in the execution of transfers especially during national holidays or weekends.
👉 Can I buy Bitcoin on eToro USA
Yes, you can. Etoro allows you to deposit funds into your account and exchange them for bitcoins. There is also an option of using eToro copy trader where you let a top trader to buy bitcoins on your behalf. Etoro gives you access to top traders on the platform without paying any hidden fees.
You can also buy bitcoins from eToro using your bank account. The platform has a very convenient ACH bank transfer. It's an easy process especially to beginners who want to fund their accounts. Ensure you have an eToro account and then link it to your bank account. You will now be able to buy bitcoins on eToro.
👉 Can you withdraw Bitcoin from eToro?
Etoro allows you to withdraw not only bitcoin, but also other supported cryptocurrencies to an external wallet through the eToro wallet. The eToro wallet username and password must match your trading account login credentials.
Since the eToro wallet is supported by both android and iOS, you need a cellphone with verified SMS capabilities to use the wallet. Etoro wallet has a mandatory two factor authentication (2FA).
You can initiate your transfer for every trade you would want to move to your wallet. However, you cannot transfer all the trades at once pr under one asset.
👉 Is eToro really free?
Some of the eToro features are free, starting with opening your account. There are no charges on management or ticketing. No fee applies even when you copy traders and invest in portfolios. You only incur a $5 fee for your withdrawal with no clearance fees.
There are fees on trading, charged via price spread.
👉 What is the minimum investment in Bitcoin on eToro?
The minimum deposit done through online banking is $50, which applies for both first time deposits and redeposits. Wire transfers have a minimum of $500 deposit for first time users and redeposits. You can do a maximum of $10,000 deposit a day.
👉 Can eToro be hacked?
Everything can be hacked (except blockchain ;)) but chances of a successful hacking attack vary from platform to platform. eToro never suffered a security breach and enjoys a reputation of a very safe trading place.
Security is paramount when it comes to crypto trading. You want a platform that protects not only your investment, but also the personal information you provide to them. eToro is a very safe and secure trading platform.
Etoro client's funds are stored in a secure 1 tier bank and personal information is put under the SSL encryption guard. You can trade confidently on the eToro platform.
👉 How to buy bitcoin on eToro with PayPal
PayPal presents you with an easy and cheap way to buy bitcoins on eToro. Create a free account and buy all the cryptocurrency you want at very low rates. Once you register your eToro account, click on deposit money, verify your identity, enter the amount you wish to deposit and select your currency. When choosing the payment method, select PayPal.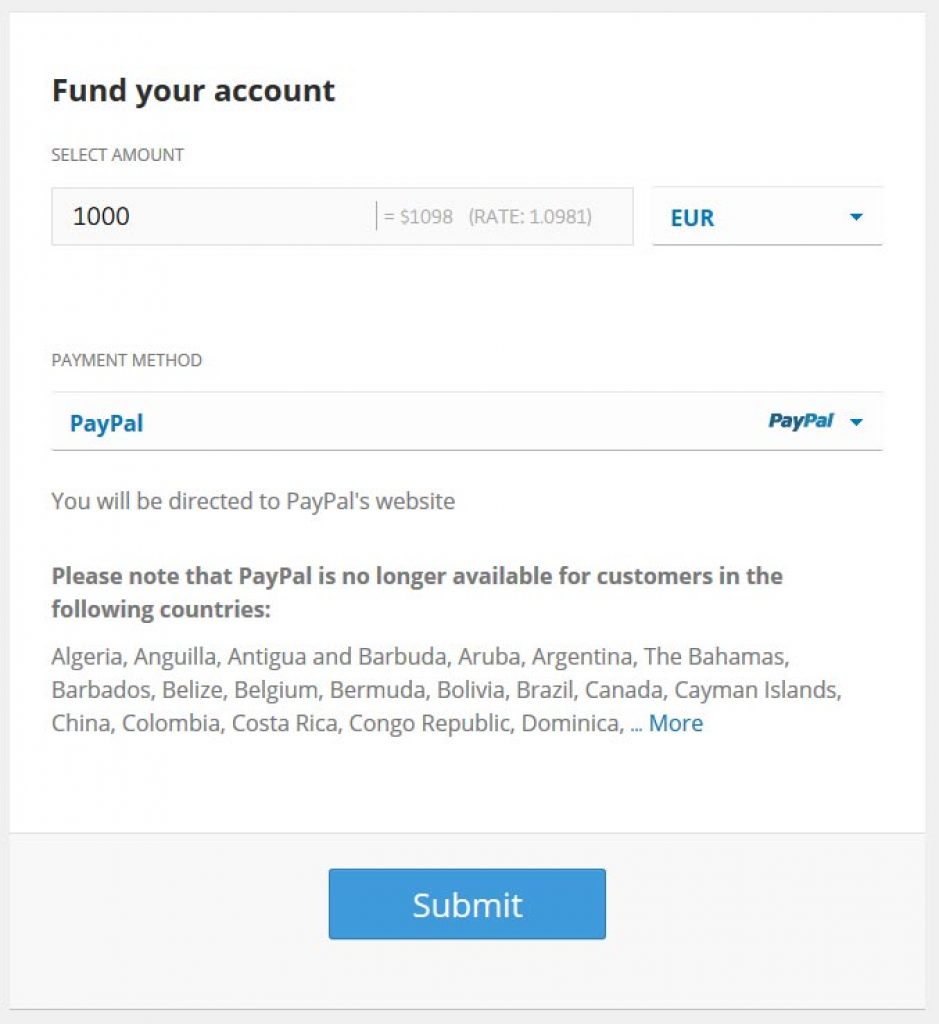 Currently, it is the easiest method you can use to obtain your bitcoin. Other Methods may be a little bit expensive or require more effort.
👉 How Much does eToro Charge to Withdraw?
All withdrawals from Etoro amount to a $5 fee. Note that funds can only be withdrawn from your available balance. As such, before making any withdrawal request, ensure you have the intended amount in your account. For you to make withdrawals from eToro:
Your account must be verified
You can only withdraw a $30 minimum amount
Again, the withdrawal fee is $5
You will get an email notification to confirm that eToro has processed your withdrawal request
Note that all withdrawals sent in currencies other than the USD attract conversion fees. The funding provider involved in your transfer may charge you.
👉 Should I buy physical bitcoin or use CFDs to trade bitcoin?
US Customers can only buy and trade real bitcoin as CFD as a trading instrument are not allowed in the USA.
The first thing you do if you want to buy bitcoin is to create a wallet. See this as opening a bank account for your fiat currency. The wallet will receive bitcoins, store them and make transfers. You may find that buying bitcoins and protecting your wallet is a little bit confusing.
Conclusion
---
Now you know it's easy to purchase bitcoins from eToro, the processes involved and even the cheapest method of payment. Now go own that coin, will you?
Make sure to check our eToro comparisons against the leading crypto exchanges (and brokers that offer crypto trading) to see what is the best place to buy bitcoin.
eToro USA LLC; Investments are subject to market risk, including the possible loss of principal.
PROS
numerous payment options
very safe, never hacked
a regulated and trustworthy broker
social trading platform - follow and copy other traders
beginner-friendly
CONS
small withdrawal fee
takes up to 5 days to transfer your coins to your own wallet
high fees on some crypto trading pairs
eToro is a multi-asset platform which offers both investing in stocks and cryptoassets, as well as trading CFDs.
Please note that CFDs are complex instruments and come with a high risk of losing money rapidly due to leverage. 67% of retail investor accounts lose money when trading CFDs with this provider. You should consider whether you understand how CFDs work, and whether you can afford to take the high risk of losing your money.
Past performance is not an indication of future results. Trading history presented is less than 5 complete years and may not suffice as basis for investment decision.
Copy trading is a portfolio management service, provided by eToro (Europe) Ltd., which is authorised and regulated by the Cyprus Securities and Exchange Commission.
Cryptoassets are volatile instruments which can fluctuate widely in a very short timeframe and therefore are not appropriate for all investors. Other than via CFDs, trading cryptoassets is unregulated and therefore is not supervised by any EU regulatory framework.
eToro USA LLC does not offer CFDs and makes no representation and assumes no liability as to the accuracy or completeness of the content of this publication, which has been prepared by our partner utilizing publicly available non-entity specific information about eToro.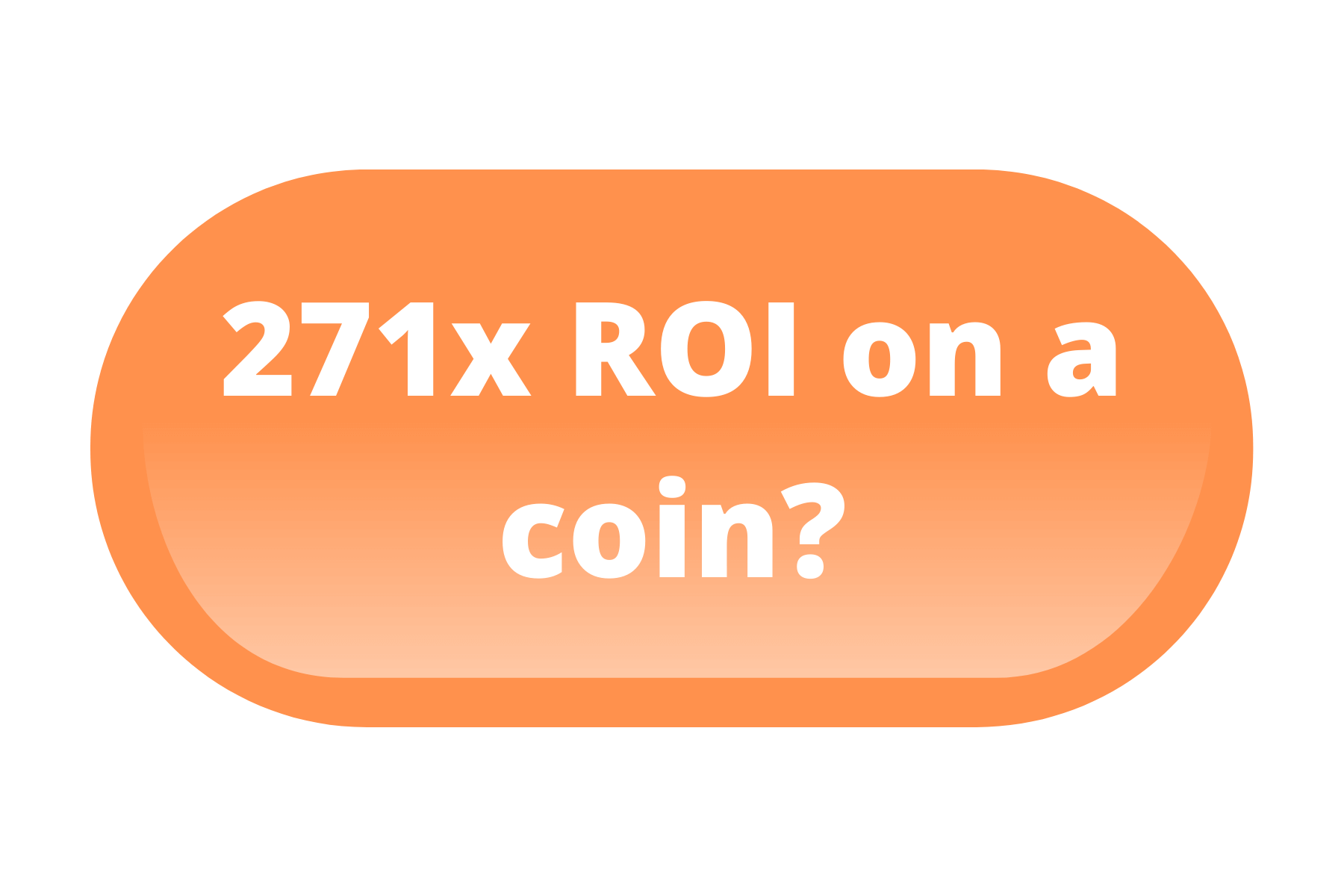 CaptainAltcoin's writers and guest post authors may or may not have a vested interest in any of the mentioned projects and businesses. None of the content on CaptainAltcoin is investment advice nor is it a replacement for advice from a certified financial planner. The views expressed in this article are those of the author and do not necessarily reflect the official policy or position of CaptainAltcoin.com