Domain Money Review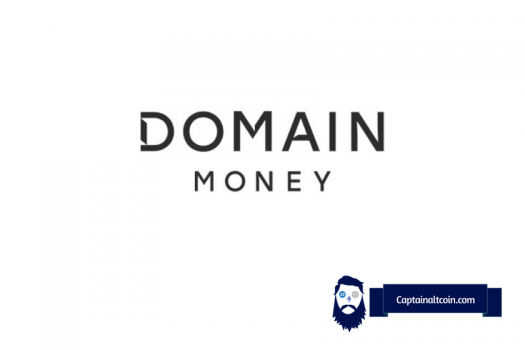 Supports 47 different cryptocurrencies.
No performance fee for the actively-managed portfolios.
The crypto trading fee is 1.49% with a $5 minimum investment.
Customer support can be accessed within the app.
They describe themselves as the platform that solves the crypto investing needs of their users and helps them build their wealth. If you haven't guessed yet, we are talking about the crypto investing platform, Domain Money. Domain Money has the singular goal of providing users with hands-off and professionally handled stock and crypto portfolios.
This article will take a critical look at Domain Money. We will talk about the features and the type of portfolios. We will also attempt to answer some questions about this platform. So if you have an interest in crypto-centric investing and are looking for a platform to help you, then stay with us and find out if Domain Money's that platform.
What Is Domain Money?
---
Domain Money's a platform that has recently taken the investing world by storm. It is an investment platform that supports equity and cryptocurrency. Users can earn interests on their assets, borrow against said assets, and even spend cryptocurrency all from one mega platform. Its goal is to make the whole investment process easier for its users while ensuring that their investments remain secure.
Domain Money's partly a Robo-advisor because it automatically provides you with four premade investment strategies, and you can choose from any of these. So while you cannot create your plan, you still have control over the amount of risk you expose yourself to.
Domain Money team is composed of business professionals who have held positions with companies like Goldman Sachs, Morgan Stanley, Bridgewater Associates, and more.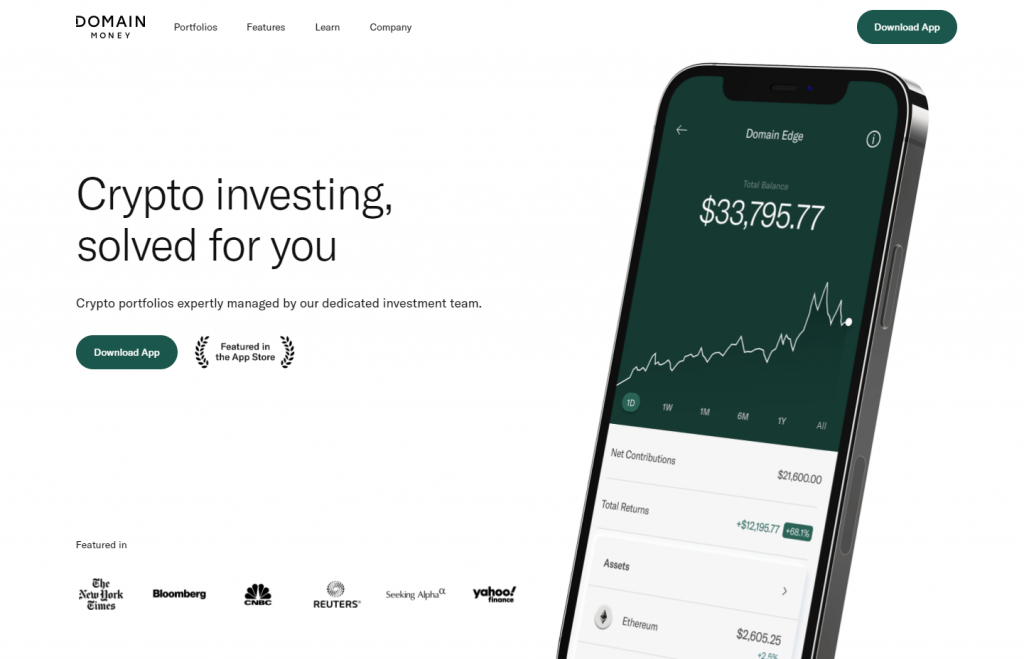 Domain Money Features
---
Let us look at some of the exciting features you can find on this platform.
Stock Trading
---
One of the features of this platform is its self-directed trading and commission-free equity trading option. This feature is fundamental and has little to no complex order types. You don't get extended trading hours, futures contracts, or the ability to trade options.
Recently there has been a new wave in the investment market, with many investment platforms offering commission–free trading. So it is not surprising that the stock trading feature of the Domain Money platform also offers this benefit.
Other properties of their stock trading option include a minimum trade amount of $5 and automatic transfer that can occur daily, weekly, bi-weekly, or monthly.
Cryptocurrency Trading
---
Domain Money also has a self-directed crypto trading feature. Like the stock trading feature, you have a minimum trade amount of $5 and an automatic transfer that can take place daily, weekly, bi-weekly, or monthly.
We have a bit to say about this feature. It does not allow for external wallet transfers, and this is an omission that sets them back. However, they plan on including this feature soon. However, if you want to transfer your funds to an external bank, you can easily withdraw your crypto assets to USD and then transfer that to the bank you want.
Domain Money has also made it so that investors small investors do not have to worry about any flat trading fee. While most bigger crypto exchange platforms charge a flat trading fee and the percentage-based trading fee, Domain Money charges a percentage-based trading fee of 1.49%. This means small investors do not have to worry about spending so much on investment fees.
Investment Strategies
---
We will talk about this in more detail later, but Domain Money has preset and actively managed portfolios for their users to pick from. As the name suggests, investment strategies are solid investment portfolios containing a mix of stocks and cryptocurrency investment options. There ate four options for each user to choose from
The Domain edge is the aggressive portfolio and is made up of 100% crypto investment options.
The Domain Balanced aims to offer a neutral portfolio for equity and cryptocurrency. This option allows for 50% stocks and 50% cryptocurrency.
Domain Access is a conservative strategy and is mainly for people with a major interest in stock investment. It offers 80% stock investment and 20% cryptocurrency.
Domain Spend
---
This is an upcoming feature for people who use the investment platform. It comes in the form of a cryptocurrency rewards credit card. There are still some holes in the information made public, but the most likely scenario is that the card will be a means of spending some reward, like a cashback policy.
The card will be linked to your account on Domain Money and make it easier for you to invest or spend on the platform.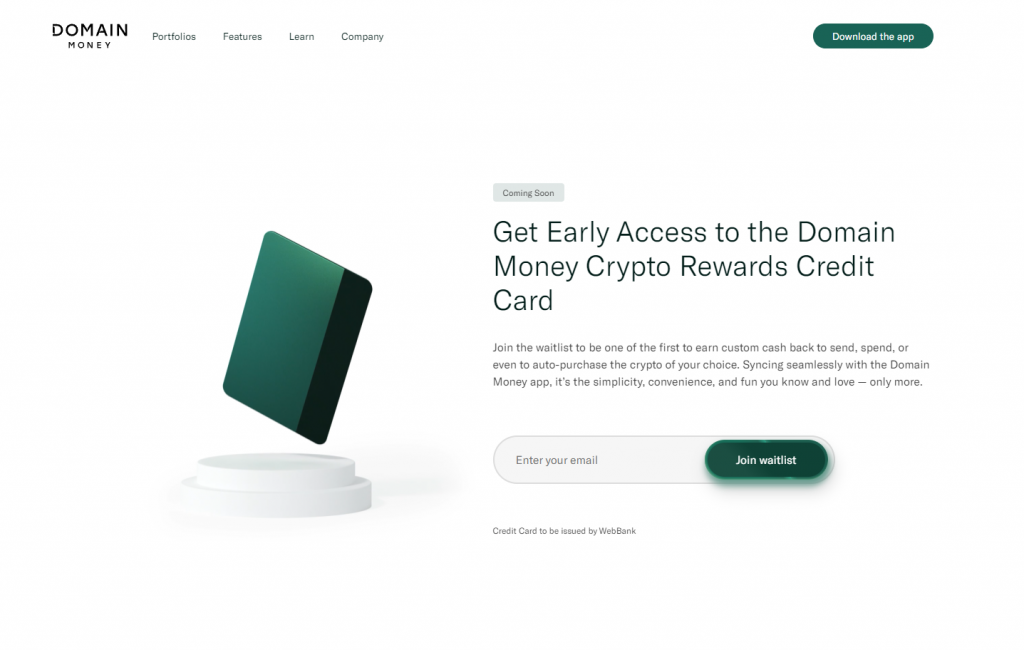 Domain Borrow
---
This is another upcoming feature. It allows the user to borrow up to 40% of their entire portfolio to invest more on the platform. There will be a 7% APR charge on the amount they borrow.
What Can You Trade On Domain Money?
---
Domain money's an investment and trading platform that makes it easier to invest across asset classes. On this platform, you can invest in traditional stocks. But that is not the only option. You can also invest in cryptocurrency. They have preset portfolios to help the user with this. They also have an option for people who are more inclined towards non-fungible tokens and the Metaverse. There is something for every form of investment enthusiast on the platform.
Domain Money is geared towards making wealth creation easier for their uses.
Domain Money Fees
---
Like many of its competitors, Domain Money offers Zero commission stock trading to all its users. So if you are heavy on stock investments, this is an added advantage for you. Those who are more inclined towards cryptocurrency investments have to pay a fee of 1.49% on any transaction they might carry out. As we mentioned before, this is an added advantage for people who make a lot of small-scale transactions.
Apart from the transaction fee, you need to consider a few other charges if you are using Domain Money.
Management Fees
---
If you want to use any domain money strategies, you are liable to pay the annual management fee. This fee is 1% of the total amount of money the portfolio manages for you. So let's say you invested a lump sum of money in one of the portfolios. 1% of that amount will be deducted as management fees at the end of the business year.
This is better than what you might get from other investment platforms that charge a fee for managing a portfolio and still collect a commission on each transaction.
Minimum Deposit
---
This is not necessarily a fee. It is just the smallest amount of money you can use to initiate an investment on the platform. For both stock and cryptocurrency investments, the minimum deposit amount is $100. With this amount, you can invest in the Domain Edge. However, if you want to access the Domain Balanced, Domain Access, and Domain Metaverse, you need a minimum investment of $500. These rates make Domain Money one of the easiest investment platforms to access.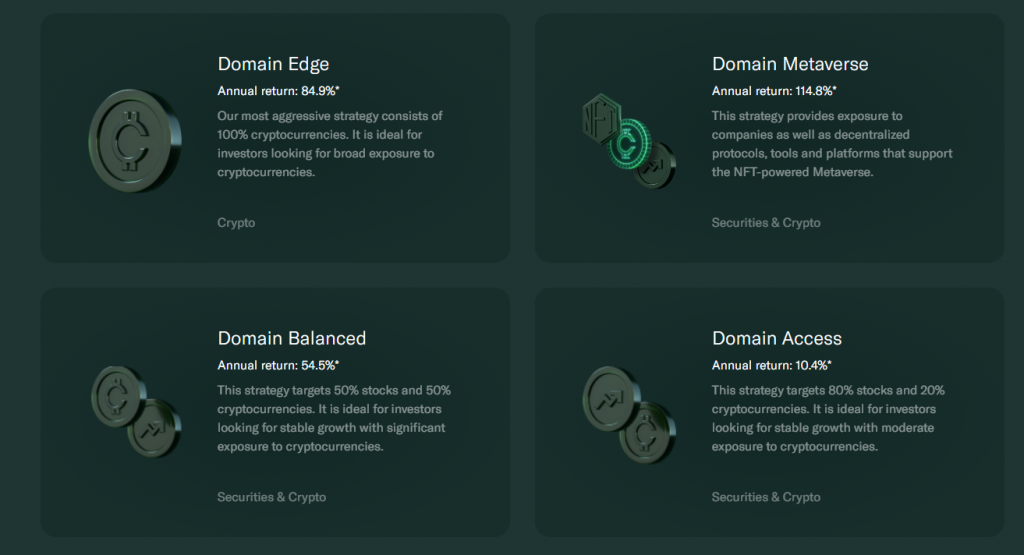 Types of Portfolios Offered By Domain Money
---
As mentioned before, Domain Money has four preset and actively managed investment portfolios for its users. This way, you do not have to spend time researching and picking out investments. This makes the Domain Money platform suitable for both passive and active investors.
The portfolio options available to users on the platform include:
Domain Edge
---
The Domain Edge is an actively-managed portfolio that consists of 100% crypto investment options. It is the most accessible portfolio among the four, as you only need a minimum deposit of $100 for you to start investing with this strategy. It is also known as the aggressive portfolio.
Domain Balanced
---
This portfolio is a neutral ground between stock investments and cryptocurrency investments. It consists of 50% stocks and 50% cryptocurrency.
Domain Access
---
This is also known as the conservative strategy and appeals more to the conservative investor who still focuses on investing in stocks. It comprises 80% stock options and 20% cryptocurrency options.
Domain Metaverse
---
This is a vowel approach to investing, and because Metaverse and NFTs are the trending opportunities, it is not surprising that this platform offers this option. It is a combination of stocks and a crypto investment portfolio that invests in assets linked to the Metaverse.
What we love the most about this platform is that they stick to their belief in cryptocurrency as a source of wealth creation, so no matter the investment strategy you choose, you get at least 20% cryptocurrency investment options. However, we have to mention that investing in cryptocurrency comes with its own set of risks, so people who cannot afford to take such risks should stick to more traditional forms of investments.
Does Domain Money Have Insurance On Deposited funds?
---
Domain money aims to provide a safe place for all your investment needs. The team comprises industry experts who have worked for powerful finance and tech companies.
To further assure users of the platform's safety, any money invested on Domain Money is covered by the SIPC for securities up to $500,000. The FDIC covers any cash under an account for money up to $250,000.
Your cryptocurrency is securely kept offline, and any assets stored online are insured by their providers. These measures are to ensure that users' assets are kept safe.
Domain Money Credit Card
---
This is an upcoming feature on the platform. It is a cryptocurrency reward credit card made especially for the platform's users. This card will integrate your domain money account for seamless use and an easier investment process.
Much news has not been made public about this, but the gist of the feature is that it will grant users cashback so that they can invest it in cryptocurrency. The name also indicates other forms of rewards, and we are excited to see what Domain Money has in store for us when they finally release this credit card.
Borrow Money On Domain Money.- What Are The Fees and Limits
---
We have already mentioned this feature before. It is another upcoming feature from Domain Money. This feature allows you to borrow money up to 40% of your portfolio so that you can use it for more investment opportunities. Users who use this feature incur a 7% APR charge on the amount they borrow.
Is Domain Money a Robo-Advisor?
---
This is one of the most common questions about the Domain Money platform. Domain Money is referred to as part Robo-advisor. It includes some of the best features of a Robo-advisor, but it still makes sure that the user has complete control of the level of risk they are exposed to.
Is Domain Money Safe?
---
Domain Money is a relatively new platform, so many people are worried about the safety of the platform. There is no need to worry, though, as the platform takes the security of the assets in its care very seriously.
All the assets on this platform are secured, and a team of trustworthy people manages the platform. They offer unique biometric access and end-to-end encryption. All your assets are covered under relevant insurance. And should anything happen to them, you are eligible for reimbursement.
Even though Domain Money is new, you can see that they take security seriously.
Who Is Domain Money For?
---
You should know that Domain money isn't for everyone. We feel Domain Money is perfect for investors who need some help with investments. So if you want to make investments but do not have the time or the necessary passion for learning about building your portfolio, then Domain Money is for you.
However, Domain Money is not a low-risk investment platform, so it would not be a good option for conservative investors. If you are a risk-taker looking for a bit of excitement, then this platform is for you. If you are a conservative investor, then steer clear.
Is Domain Money Worth It?
---
It is new, but it is worth it. It has all the makings of a financial and investment trendsetter. It provides investors with limitless opportunities and offers active management of portfolios. It is worth a try, in our opinion.
FAQ
---
PROS
Supports 47 different cryptocurrencies.
No performance fee for the actively-managed portfolios.
The crypto trading fee is 1.49% with a $5 minimum investment.
Customer support can be accessed within the app.
CONS
Many core features are not yet available.
The Android app has yet to be released.
Only allows for equity and crypto holdings.

CaptainAltcoin's writers and guest post authors may or may not have a vested interest in any of the mentioned projects and businesses. None of the content on CaptainAltcoin is investment advice nor is it a replacement for advice from a certified financial planner. The views expressed in this article are those of the author and do not necessarily reflect the official policy or position of CaptainAltcoin.com