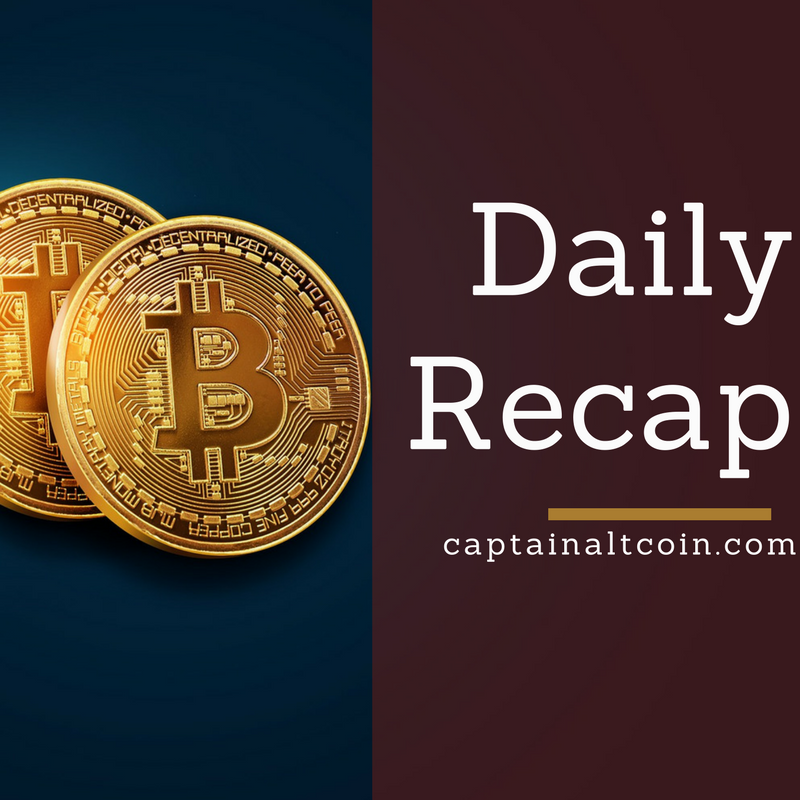 It is back – checking Blockfolio (or Delta) every 10 minutes!
Let's get straight to the news of the day:
Bitcoin bull run is on everybody's agenda and almost everyone gives their opinion and prediction – could we see $10k, could we see $9k. We won't be adding to that conversation as this recap is not about predictions.
One concrete and good news is that Russia might unban bitcoin websites – a court ordered a revision of that decision.
Coinbase banned WikiLeaks Shop with no explanation. Well, WikiLeaks will now learn to use bitcoin as it should be used – direct control of it via your own private key. Ignore and forget all third parties – that is, after all, what bitcoin is all about.
According to this Twitter user, EOS' Github is as active as Githubs of all other cryptos together. So EOS developers are working hard before the blockchain launch that should happen in June (according to Dan Larimer).
People who connected the bitcoin bear market to US Tax day could end up being right – there has been a 13.6% increase in prices since Uncle Sam collected its dues.
Bitcoin Cash is about to do another increase in block size – from 8 to 32 MB. That is going down on May 15 and people are buying them some BCH in the anticipation of the hard fork. The price might be pumped to near all time high levels, but watch out for the dump after the HF.
Yet another banker tried explaining us that "bitcoin can't replace USD" – this time it is a candidate for a NY Federal Reserve Head. Of course, he got his premises wrong so it was inevitable that his conclusion was wrong as well.
Meanwhile, one of the many bitcoin forks, Bitcoin Private is being pumped and almost doubled its price on weekly level – from $24 to $43. There is no substantial reason so it is probably a pump and dump so some of the whales can get rid of it at higher price. If you are risk taker, you can try and ride the way but we wouldn't recommend it.
Top altcoin traded in Asia for the last 24 hours was PPT – Populous. 95% of it is traded on Binance and it gained 20% in the last day. The run is probably generated by the upcoming launch of their beta on May 1st.
BitHumb will launch its own coin but not in S.Korea but in Switzerland. Binance obviously paved the way for other exchanges and it is very trendy to launch exchange and coin along with it. BitHumb is yet to explain the purpose and structure of the coin and ICO. The ICO is going to be similar to Telegram's ICO, aimed primarily for big investors and groups – so if you want in, you might look for a group to join and invest collectively.
Interesting perspective on the upcoming battle of Gold vs Bitcoin. Gold has overcome many challengers over the last millennia but bitcoin might pose the biggest threat for the investors' raining king and safe haven.
Coins to pay attention to these days:
OMG – They came out with an updated strategy, which includes a plan to launch a new subsidiary which will aggressively develop a user-facing crypto exchange network this year. According to the official announcement, they will look to purchase smaller exchanges and incorporate them with the OMG network.
What's new on CaptainAltcoin
We wrote couple of new guides:
A Complete Beginner's Guide to LUXCoin (LUX)
Alternative consensus mechanisms: Proof of Burn
Bitcoin hash functions explained

CaptainAltcoin's writers and guest post authors may or may not have a vested interest in any of the mentioned projects and businesses. None of the content on CaptainAltcoin is investment advice nor is it a replacement for advice from a certified financial planner. The views expressed in this article are those of the author and do not necessarily reflect the official policy or position of CaptainAltcoin.com