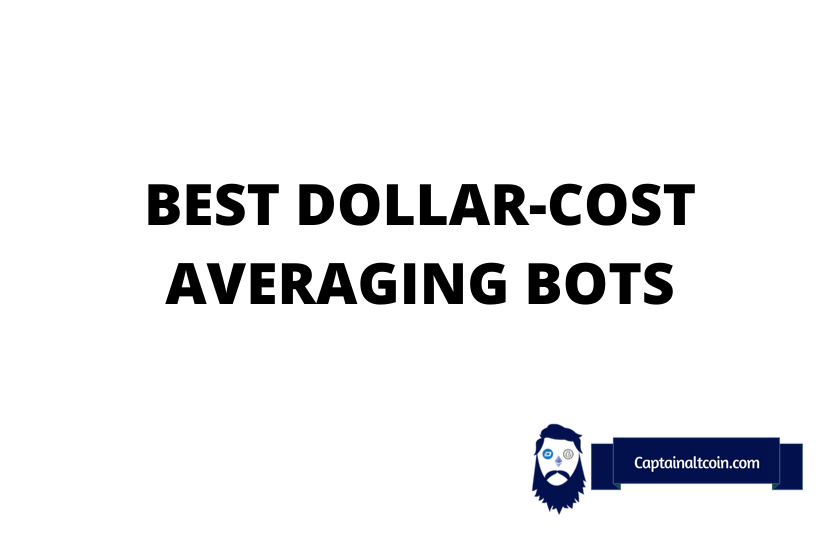 BEST DOLLAR-COST AVERAGING BOTS
---
Dollar-cost averaging is a popular term in the crypto and finance world. It denotes an investment strategy in which traders buy specific crypto amounts in installments at regular intervals. Thus instead of investing all your capital at once, you break it into segments and invest it over a period of time. This method of investing removes emotions from the process and usually proves profitable in the long run.
However, this article is not really about Dollar-cost averaging. It is about services that provide bots that make it easier to implement this strategy. There are a lot of such bots in the crypto world now, but we will discuss eight of the best bots and how they make the process of Dollar-cost averaging even easier than it sounds. Let's start.
DCA Trading Bot – List Of The Best

completely FREE to use (18 different bots)
huge pool of successful traders you can copy
Low trading fees
The Best 8 Crypto DCA Bots
---
PIONEX
---
This trading platform focuses mainly on automatic trades using any of the sixteen trading bots on the platform. Pionex wanted to make it even sweeter – these bots are entirely free to use. The bots have already been coded to perform simple tasks to bring maximum profits with minimal gain. Of those sixteen bots, two are DCA-related.
The first one is the DCA bot which, as the name implies, allows you to invest in the crypto world using DCA. It supports five time-based intervals, namely 10 minutes, one hour, one day, one week, and one month. With this, your portfolio keeps growing with little or no supervision from you.
The other one is the Martingale bot which also employs the DCA method to buy coins by doubling the amount of purchase for each dip in price.
Martingale is predicated on the notion that you will ultimately be correct and earn by averaging down.
In my experience, the bot buys in increments, establishing a new profit objective when the price falls. Small buy, but 5 safety orders.
1/32, 1/16, 1/8, 1/4, 1/2
This is the proportion of your position at risk as the price passes safety orders. Price declines, rolls downhill, and retraces for bigger gains.
In a rising market, you only get the rise up to the take profit ratio, 1% or 0.5% etc.
SHIB is suitable for a Martingale bot due of its price volatility. A Martingale bot might be used to hedge a SHIB investment, for example 15,000 in a Martingale and 5,000 in SHIB. You'll make money if SHIB goes sideways or 10x.
COINRULE
---
Coinrule is a trading bot platform that was founded in December 2017 and launched in March 2018. It describes itself as a smart assistant for crypto traders that allows them to utilize bots for their trading experience without much technical know-how. It provides users with over 150 time-tested strategies and the ability to create their own strategy using simple commands.
Coinrule enables users to participate in either time-based or price-based Dollar-cost averaging method. However, it introduces a unique factor into this strategy by selling part of your portfolio back to your base currency and using it to buy back more of the coins at lower prices. Thus, your portfolio keeps growing regardless of market conditions.
Coinrule has four paid plans, namely:
Free plan with minimal functions,
Hobbyist plan, which goes for $29.99 monthly,
Trader plan billed at $59.99 monthly, and
Pro plan for a massive $499 per month. This plan also includes a dedicated server and unlimited trade volume and exchanges.
BITSGAP
---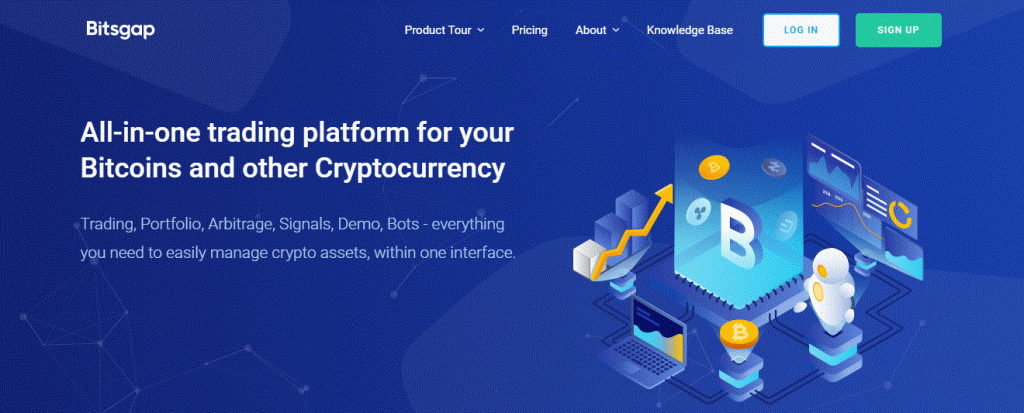 This is one of the most popular names in the crypto bot industry. It is a one-stop shop that provides several crypto services of which trading bots are part. Founded in Estonia in 2017, this platform is integrated with over 20 exchanges, including the top ones.
The Bitsgap DCA bot takes the concept of Dollar-cost averaging to a whole new level by incorporating this concept in futures trades. The bot is known as the Combo bot and places DCA orders for either long or short trades depending on the user's preferences. However, this method comes with more trading risks because it is associated with futures. Thus, no matter how risk-averse the strategy might be, it is still open to the painful possibility of liquidations.
Bitsgap has three pricing plans starting from $29 to $149 monthly. Payments are accepted in many currencies including BTC, LTC, ETH, USDT, Visa, Mastercard, etc.
CRYPTOHOPPER
---


This AI-based platform offers various bot solutions to help traders with smart investment choices. It was created in 2017 and is already integrated with 15 exchanges, with more to come. One of its many features is Dollar-cost averaging.
The DCA function can be accessed from your account's dashboard or by clicking the 'view' tab on an asset and then clicking 'DCA.' Even though setting it up is a bit technical, the platform provides helpful articles that simplify the process. You can set up your bot to DCA after a specific time interval or after the price has dropped by a specific percentage. Either way, you're in full control and can pause and unpause at any time.
The pricing plans on Cryptohopper range from a 'Pioneer' package (free, with many restrictions) to a 'Hero' package ($99 per month, with algorithm intelligence). In between, you have the 'Explorer' and 'Adventure' packages going for $19 and $49, respectively.
WUNDERBIT
---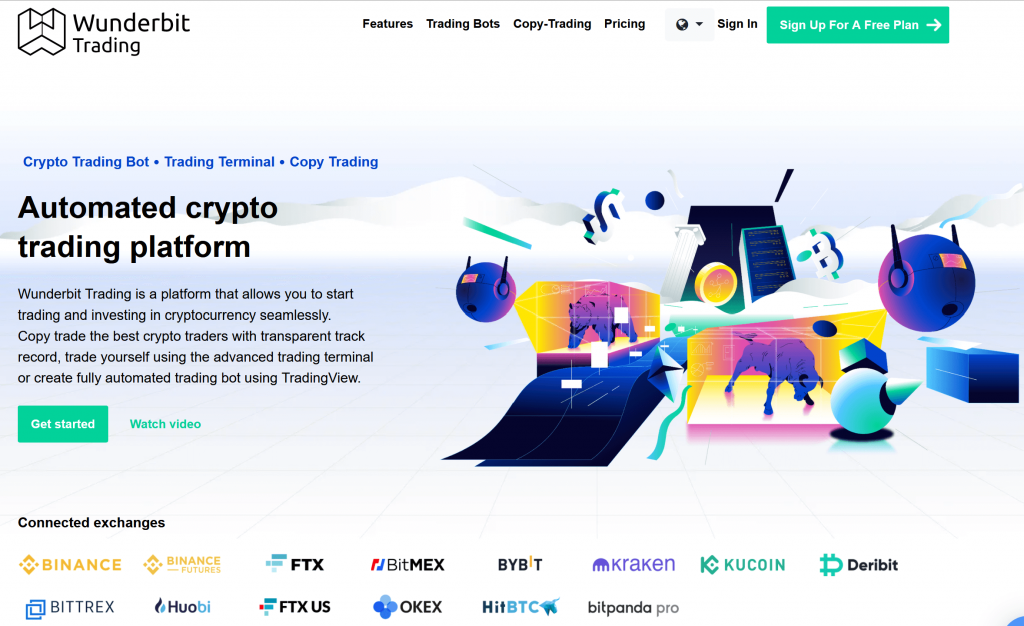 This is a copy-trading platform established in Estonia in 2018 that enables even crypto novices to make a sense of trading with its many features. Those features include social trading, multiple account management, and crypto trading bots.
The Dollar-cost averaging bots work in two ways:
First, you can have a bot dedicated solely to performing DCA buys. This bot is set with all the necessary parameters and deployed into the users' trading accounts. Once the stipulated buying cycle is completed, the bot stops functioning.
Second, you can add the DCA function to the list of functions of any of the bots in the Wunderbit bot section.
Another outstanding aspect of Wunderbit's platform is that it is completely free to use either for traders or investors. The only difference is that investors will share 30% of their profit bimonthly from the second month up. Also, the copy-trading feature is extended to DCA strategies on the platform.
QUADENCY
---
This is a comprehensive crypto platform that was created in 2018 and is currently headquartered in the greater new york area in the US. It endeavours to give its users the complete crypto experience by providing them with a feature that allows them to track and manage their portfolio, a trading function, and a suite of time-tested trading bots
One of those bots is the accumulator bot which enables users to build their portfolio by implementing the DCA method. There are three plans on Quadency. The cheapest is the HODL plan, which is free and allows users to run one bot at a time. It is followed by the PRO plan, which goes for $49 monthly and lets users run up to 10 bots at a time. The most expensive is the institutional plan which goes for $199 monthly.
3COMMAS
---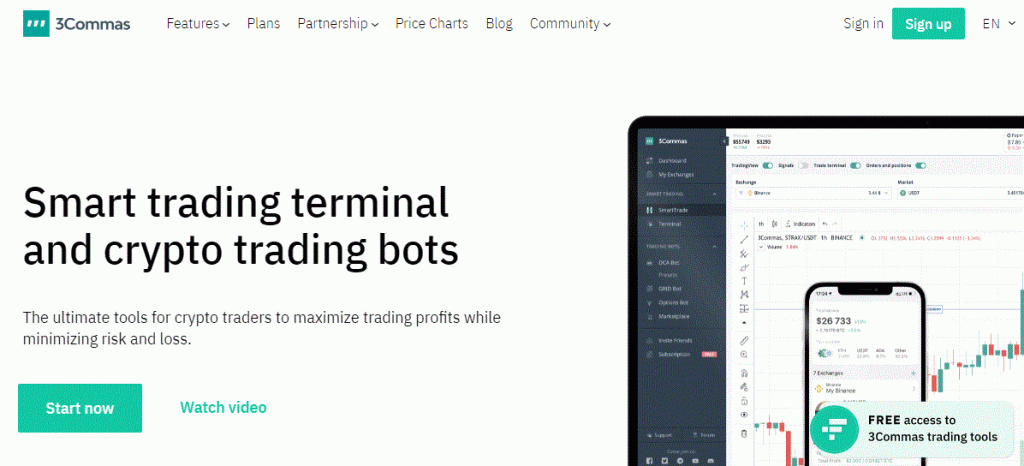 3Commas was created in Estonia in 2017 and is currently based in Miami. It was introduced to assist those with minimal experience in the financial markets to make consistent profits by creating and configuring trading bots. These bots are easy to configure and require no prior technical know-how.
One of those bots is the DCA bot which can be gotten from the 'my bots' page on the website. After that, you can decide to go with a preconfigured bot called a 'Gordon bot' or configure your own bot from scratch using the advanced settings on the page. You can also determine how aggressive your bot should be when entering buy trades.
There are four paid plans available on 3commas. They are:
The free plan
The starter plan which goes for $29 monthly
The advanced plan which costs $49 monthly, and
The pro plan for $99 monthly
The services of the platform are available on about 18 crypto exchanges.
TRADESANTA
---
Tradesanta is an automated crypto trading platform that was established in 2018 and involves various arms of the crypto experience, including spot, futures, and DCA orders. You can start with as little as ten dollars or even a demo account if you don't want to put live money yet.
Tradesanta DCA bots work on two strategies. The first is the long strategy where the bot buys coins with DCA and sells them when there is a profit. The second is the short strategy where the bot goes in the opposite direction. You can configure your bot however you like.
There is a free 3-day trial period for new users after which you have to select one of three plans. The plans are the basic plan (for $14 per month, the advanced plan ($20 per month), and the maximum plan ($30 per month).
FREQUENTLY ASKED QUESTIONS
---
ARE THERE DOWNSIDES TO DOLLAR-COST AVERAGING?
---
Yes, there are. Some of them are:
The market usually tends to go up over an extended period. Therefore, you might be better off investing your capital all at once if you zoom out on the timeframes
If you do not make adequate research into the coin you're employing DCA on, you may end up consistently buying into an investment that has lost its value and keeps going down.
WHAT IS THE BEST COINBASE DCA BOT?
---
There are a number of good trading bot platforms that work for Coinbase. Notable among them are Quadency, Bitsgap, Coinrule, CryptoHopper, etc.
WHAT IS THE BEST BINANCE DCA BOT?
---
Binance itself has an auto-invest function through which you can implement DCA buying on the platform. However, some external DCA bots also get the job done on the exchange. They include Coinrule, Bitsgap, Tradesanta, Quadency, among others.
WHAT IS THE BEST KRAKEN DCA BOT?
---
Quadency, Cryptohopper, Bitsgap, Wunderbit, etc., are some of the best DCA bots for Kraken.
Read also:

CaptainAltcoin's writers and guest post authors may or may not have a vested interest in any of the mentioned projects and businesses. None of the content on CaptainAltcoin is investment advice nor is it a replacement for advice from a certified financial planner. The views expressed in this article are those of the author and do not necessarily reflect the official policy or position of CaptainAltcoin.com