Holderlab Review – Price, Supported Exchanges, Features, Profitability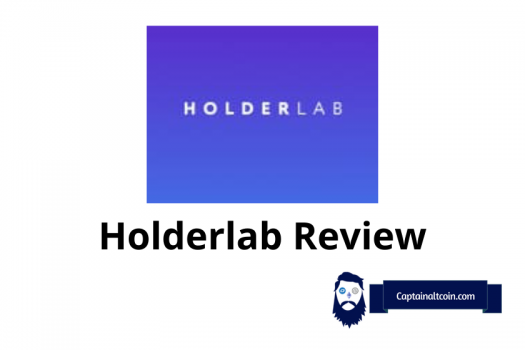 Holderlab Review – Price, Supported Exchanges, Features, Profitability
Easy to use
Portfolio Optimization
Single dashboard
Rebalance options
Free correlation analysis
✅ Backtest crypto portfolio
Holderlab Overview
---
Tracking your portfolio using Excel or Google sheets requires a massive amount of effort and time regarding the amount of data that needs to be entered. Due to the time necessary to handle your crypto portfolio manually, you will probably miss good buys and sells. The answer to your problem can be found on the apps market.
Having a helpful crypto portfolio management app is essential for knowing how well your assets are doing and what their actual value is. So, you need to find a platform that is intuitive and advanced so you can create an automated portfolio of yourcrypto assets.
And that's where Holderlab jumps on stage. In this article, we will review a newcomer in the world of crypto automation, a crypto portfolio management software called Holderlab. Let's take a look at what it is like and what its main benefits are.
What is Holderlab?
---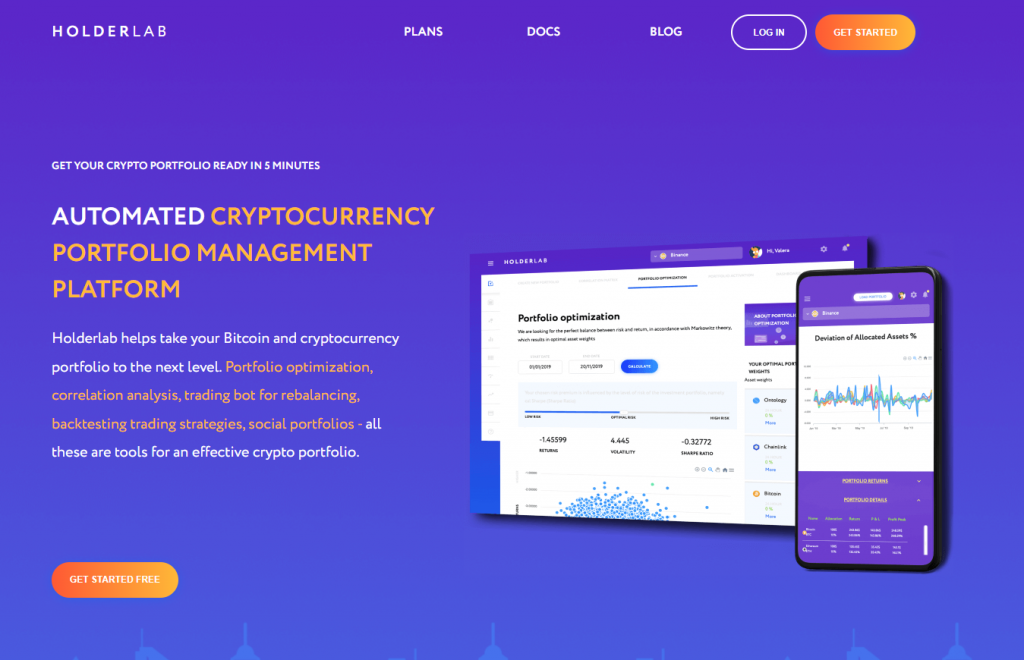 As we already said, Holderlab is a newcomer in the crypto automation sphere. Using tools like portfolio optimization and correlation analysis, this intuitive and advanced platform aims to revolutionize how crypto portfolio management works. Thanks to Holderlab's intelligent trading bot, they provide automated portfolio rebalancing and a superb backtesting tool to their users.
Using Holderlab, you can create an excellent cryptocurrency portfolio with the help of many mathematical models. This software is a platform you can use for managing, trading, and analyzing your crypto portfolio.
During the research for this review, we were impressed by its design and resourceful features. So let's see together what thrilled us about Holderlab.
Holderlab main features
---
Let's see some of the main features that Holderlab offers.
👉 Trading bots (auto-rebalancing, day-trading)
---
Auto rebalancing allows you to create your own rebalancing strategy. You can choose between:
Calendar rebalancing where you set a time period (hour, day, week, month),
Rebalancing by deviation with selecting threshold rebalancing,
or you can combine them.
Holderlab has one of the largestBitcoin bases for crypto trading. This can save you over 300 hours annually on the manual rebalancing of assets.
👉 Crypto indexes
---
Crypto Index helps you to easily and quickly diversify your crypto portfolio. Your crypto portfolio gets altered to the up-to-date market information on a week or monthly basis. Instead of going through the process of buying/selling each coin separately, these crypto indexes are a defined portfolio of chosen digital assets that you can buy, sell, or trade-in with just one click.
You can add new coins, remove or replace them according to the coin market cap and liquidity. This is called rebalancing.
👉 Backtesting
---
To test your portfolio, you can use the history testing section to rebalance strategies in the previous period. The backtesting platform on Holderlab is one of the best platforms in the cryptocurrency industry. The backtesting is included in the Holder and Holder Pro subscriptions.
👉 The Efficient Frontier & Modern Portfolio Theory on Holderlab
---
Holderlab uses Markowitz theory to optimize your portfolio. This theory says that it is possible to create a portfolio that, on a certain level of risk, maximizes expected returns. In line with the risk you are willing to accept, Holderlab will try to maximize your returns using this theory.
Holderlab will pass your portfolio through thousands of simulations using MPT (Modern Portfolio Theory) and give you an answer on the different possibilities you can choose.
👉 Portfolio Performance Indicators
---
After the simulation is over, Holderlab will give you 3 different portfolios. Each portfolio has its own asset allocation and weight, estimated return on the chosen period, according to its volatility (amount of risk) and Sharpe Ratio.
The results will be shown as follows:
one on the left side, portfolio with the minimal risk, and of course minimal possible return,
in the center, an optimal allocation,
one on the right side, portfolio with the highest risk. With higher risk comes higher reward potential.
👉 Correlation Matrix
---
Having a diversified portfolio is a must. And do you have such a portfolio? Hodlerlab provides to their users another exciting feature called Correlation matrix.
Everything you need to do is go to the Correlation matrix section and check whether the assets you plan on including in your portfolio are correlated.
And what does it mean that assets are correlated? For example, if one of your assets goes up/down in price, and at the same time, some other asset goes up/down, these two assets are highly correlated. If their prices move differently, they are uncorrelated.
You can use the correlation matrix in just a few steps:
First, you need to set a date range (there are 4 options – 3, 6 months, 1, 2 years),
Second, choose the crypto assets you wish to compare,
And click to launch the analysis.
After you do that, Holderlab will provide you with an accurate correlation of the assets you choose.
Let's use BTC and ETH as an example. If we look at their trend in the previous period, we can see that their price oscillates almost identically. This means that they are highly correlated. If we look at BNB and ADA, we can easily see that this two are uncorrelated.
👉 Social Marketplace on Holderlab
---
Ready-Made portfolios are Holderlab's social marketplace. You can view and analyze other Holderlab users' portfolios using this option. If there is some interesting portfolio, you can copy that portfolio. You can read detailed instructions about Ready-Made portfolios by clicking here.
👉 Crypto portfolio rebalancing
---
To set periodic crypto portfolio rebalancing, follow these steps:
select and set the rebalancing period (hour, day, or week),
click Save,
press Rebalance.
👉 Multi-account
---
Holderlab allows you to connectmultiple exchanges with your account. This way, you have an overview of all your funds from all accounts in one place.
Automated Trading at Holderlab: Exactly How Does it Work?
---
All the tools mentioned above will help you build an effective crypto portfolio. Using correlation matrix, indicators, crypto indexes, MPT, Markowitz theory, etc., Holderlab finds the best crypto portfolio for you. All you need to do is to make an account on Holderlab and connect your exchange (or several) with that account.
Trading strategies offered by Holderlab
---
As we said above, Holderlab will offer you 3 results depending on the risk you are willing to accept. You can choose one of these options or use Ready-Made portfolios and copy some profitable portfolios of another user on the platform.
How To: Set Up an Account With Holderlab
---
You can set up an account with Holderlab in just a few simple steps:
STEP 1: In the upper right corner of the home page, click on the GET STARTED.
STEP 2: Enter your Holder name, email, password, and if you have a promo code. Read terms of service and privacy policy and click GO.
STEP 3: Go to your email inbox and confirm your email address. After that, you automatically go to the login page, where you need to enter your email and password.
And that is that. After that, all you need to do is link your profile with your exchange. You can read Holderlab's detailed instructions on how to connect your crypto exchange via API keys by clicking here. You can also read detailed instructions for connecting all exchanges supported by Holderlab on the same link.
Holderlab supported Exchanges
---
You can connect your crypto exchange (or several) using API keys. Safety first, so they store your keys using 256 hash encryption. Holderlab provides handy tools that you can use to analyze data from another cryptocurrency exchange in one window.
Holderlab supports some of the largest crypto exchanges we can find on the market. Currently, 11 exchanges are supported, and they are
Binance,
KuCoin,
Bitfinex,
Bittrex,
Kraken,
Huobi,
HitBTC,
Poloniex,
Bibox,
OkEx, and
Beaxy.
The plan is to add more exchanges in the near future.
Holderlab Pricing
---
When it comes to price, Hodlerlab offers its customers three types of subscriptions:
FREE HOLDER PLAN
Monthly subscription – Free
Link any available Exchange and create portfolio step by step
Use Correlation Matrix
All in one portfolio in dashboard
Allocation crypto assets
Portfolio optimization in step by step portfolio
HOLDER PLAN
Monthly subscription – $7.99
Link any available Exchange
Portfolio optimization
Use Correlation Matrix
Automatic portfolio rebalancing
Allocation crypto assets
Save and Load Portfolio
Backtest Any Portfolio
Ready-Made Portfolio
HOLDER PRO
Monthly subscription – $14.99
Link any available Exchange
Efficient Frontier portfolio
Use Correlation Matrix
Automatic portfolio rebalancing
Adjust optimal portfolio weights
Save and Load Portfolio
Backtest Any Portfolio
Ready-Made Portfolio
Emergency option
Trailing stop
Efficient crypto index strategy
Note: if you choose a yearly subscription for Holder Plan and Hodler Pro, you will receive a 12% subscription discount.
If you want to subscribe to paid plans, you will be able to use the following methods of payment:
PayPal
Stripe payments – Debit/Credit cards (Visa or Mastercard)
Holderlab does not accept cryptocurrency payments.
When choosing a platform to automate your portfolio, you need to consider choosing one with low or without fees. Luckily, Holderlab does not charge any fees. You will only pay fees on your crypto exchange when rebalancing.
Customer Support
---
And if this information cannot be found on their official website, we came across an interesting piece of information during the research. It looks like Holderlab's founder Valo Polianskiy is working alone on the project. And if this is an impressive fact, we believe it can affect the speed at which you can get an answer if you have a question or problem.
Nevertheless, you can contact Holderlab via email at contacts@holderlab.io or ask your question to the Telegram group. You can access Holderlab's Telegram group by clicking here.
Holderlab Review: The Bottom Line?
---
With Holderlab creating and optimizing your cryptocurrency portfolio is not just easy but is quite enjoyable and efficient. Unlike some other crypto portfolio management platforms, you don't have to run a bunch of backtests to discover the ideal asset weight and allocation.
The site's design, user-friendly and easy-to-use interface, and many features will surely attract the attention of anyone who seriously wants to carefully manage their crypto portfolio.
When considering the value you get, we can easily say that the price is very affordable. With the possibility of using the free period and the most expensive Holder Pro plan priced at a $14.99 monthly subscription, we could not advise you not to try if you want to build a high-quality portfolio. They support all major crypto exchanges, 11 of them at the time.
All in all, Holderlab is the name you will undoubtedly hear more often, probably in a positive and respectable context.
Does Holderlab support copy trading?
---
Holderlab supports copying other users' portfolios. This way, you can see how other users are managing their portfolios, what their results are, and choose the best option for you.
Is my money safe?
---
Holderlab implements all industry-standard security measures to protect its users.
Holderlab recommends using 2FA via Google Authenticator, which is mandatory to have a protection layer for anyone active in the crypto sphere. You can also enable IP address verification to protect your account.
To connect your exchange accounts, Holderlab does require you to enter your API Keys. API keys allow only you to access and trade your accounts from the Holderlab platform. And you only can allow trading permission for the platform to work while the withdrawal abilities are not needed. This ensures that, even in some unexpected cases of Holderlab security breaches, hackers won't be able to steal your funds.
How user-friendly is Holderlab?
---
Holderlab is, without a doubt, one of the most user-friendly, easy-to-use, and modern platforms in the crypto automation sphere.
With its simple interface, you will have an easy time navigating it, whether you are a beginner or a pro user. A familiar theme of cloud-based platforms is intuitive. Their vibrant colors simply invite you to create your first portfolio on Holderlab.
Read also:
PROS
Easy to use
Portfolio Optimization
Single dashboard
Rebalance options
Free correlation analysis
✅ Backtest crypto portfolio
CONS
Small Marketplace
Limited customer support
API key required
When you rebalance your portfolio, fees on crypto exchange applies

CaptainAltcoin's writers and guest post authors may or may not have a vested interest in any of the mentioned projects and businesses. None of the content on CaptainAltcoin is investment advice nor is it a replacement for advice from a certified financial planner. The views expressed in this article are those of the author and do not necessarily reflect the official policy or position of CaptainAltcoin.com